---



SOUND OF THE UNDERGROUND: Midseason Musings - What's Next? (A-C)


By Ryan Plant (73AF)
Mar 12, 2017 - 7:35:11 AM


Midseason Musings – What's Next? (A-C)
Before we start, I just wanted to share this picture that I was fortunate enough to get with Pentagon at Preston City Wrestling a couple of weeks ago. Cero Miedo indeed:


In two and a half months, Lucha Underground finally returns to our screens. In a few days time, the previous seasons make their way onto Netflix, allowing fans everywhere to either learn of or relive all of the former stories of the Temple. As much as I love the past, what I really want to know is what the future holds.

Over the next couple of months, I wish to thoroughly endeavour into this as I ask: What's next in Season 3 for the warriors of the Temple?

You don't need to wait too much longer however. I'm already asking that question today regarding some of the earlier alphabetical stars of the show...

Except Argenis.

Sorry Argenis.


AEROSTAR:

I think it's easy to predict what comes first for the Man from the Cosmos: it's the loss of his Trios title. If you've noticed with the Trios Division, due to the shortage of teams perhaps, the very moment that the champions get into a legitimate feud/story is also when they tend to lose the belts. It is almost like it has to happen to continue to make it interesting. Don't get me wrong, I absolutely love watching Trios matches and you can be sure that the ring-work is always incredible; I'm just hoping for more teams to emerge.

One team that HAS emerged though is the faction of Kobra Moon, Pindar, Vibora and Drago. Oddly, I've listed four names there, and one of them is already the trios champion with Fenix and Aerostar! Given the fact that the dragon teamed with his fellow reptiles recently, I would not be surprised if we get the good ol' Cody/Holly/Dibiase switcheroo, in which Drago starts off against the reptiles in a title match, turns on his partners, and joins up with them whilst retaining his own belt in the process.

I think given their history, it would give the new champions a bit of steam if Aerostar continued to confront his former friend for a short while. However, himself and Fenix could add a lot to the show as singles stars once more so I wouldn't want the time traveller to come out on top in this rivalry.

In fact, time travel is what I both hope and think is going to happen. Remember that incredible segment from season 2? I don't think that was put in there aimlessly. I think that we'll be getting a follow-up to that, as Aerostar returns to admit that he is having trouble putting together the Gods. Now you might be asking, if Aerostar cannot put together a physical combination of God-like bodies, what is the next best thing?

The Gift of the Gods Title.

I think Aerostar will pursue that gold, linking it into the story. Will he succeed? I'm not sure, but I would love to see him win it and refuse to use it for quite some time, citing that he is protecting the opportunity from falling into the hands of a greater evil. Now that would be awesome.


ANGELICO:

Angelico is in a very weird spot right now.

Given the fact that he was taken out in the storylines by the Worldwide Underground, he almost has a direct route to a main event feud. I say almost because, well, he may have got injured again when he teamed with his former partner Son of Havoc against his foes.

That's another thing though, he also has a way back into the Trios division due to his history there, and should we have brand new rudo champions then we could do with some more face challengers.

The X Factor really is his injury at this point. Angelico's reputation as one of the biggest daredevils in all of lucha libre right now, combined with his history with various members of the roster, means that he could slot into just about anywhere. All of this depends on the one thing that he is known for having no regard for - his health. What a double edged sword.

Should he return during Season 3, I would not be surprised to see him challenging for some form of gold at Ultima Lucha Tres. If he doesn't, I'm going to go on record and say he will win gold once more in a future Season 4.


CAGE:

Cage is in an extraordinary spot. In his last contest, we watched him try to shake off the ruthless aggression that his gauntlet provided him, and he seemed taken aback by the end of the match. Given the fact that he's still interacting with the fans, still seeming as human as a Machine can be anyway, I think we're going to get a slow-burn possession storyline.

I do think Cage is too much of a top face for the promotion and has too big a personality them to turn into a full-blown monster, so I think he will be stopped before anything can happen.

Given the fact that he has to wear the gauntlet for the God to possess him, it's very possible that someone will figure out what has happened and will want to harness that power. For the reasons above, I truly think he will lose the gauntlet to them.

There are two types of people who the glove would best suit. It would benefit a lower-tier rudo who desperately needs the power boost – a wily rudo such as Chavo Guerrero for example, needing a way to get back into the Temple with no one being able to stop him as a God.

My second option seems much more exciting though – it has to be someone with knowledge of such dark arts. This gives us a few options. Could it be Mil Muertes, who would be informed of its power by Catrina? How about Prince Puma, who is now becoming one with the darkness, maybe with Vampiro potentially understanding the glove's origin? Hell, even Jeremiah Crane has shown some form of dark backstory and knows some secrets of the Temple that even Dario seems unaware of.

Any combination of these men could, and should, win the Gauntlet. Cage is far too precious as a monster face whom uniquely possesses underdog qualities against the likes of the superpowered Mil Muertes and Matanza. If you give him the gauntlet for the long-term future, you risk losing that appeal and turning him into that same character.

Cage will lose the gauntlet, but to whom, I can only speculate.


CORTEZ CASTRO:

I debated whether to put him under Officer Reyes or Veneno, but then I thought, let's stick with the name that we've known him under for the longest time.

The undercover cop has been on a downward spiral ever since the close of Ultima Lucha Dos. His friend was killed by Dario. His cover was purposefully blown by his so-called partner, thus subjecting him to beatings from the likes of Pentagon and Matanza. Even when he recovered from his beatings and returned to the Temple under a guise given to him by his true boss, he had to take on The Machine and was accused by a ferocious Sexy Star of planting a tarantula in her locker. You just can't make it up.

If you've noticed, a member of the Crew has lost their life during each season of the show thus far, and given all of that bad luck, you have to believe the trend might continue. Why would Dario keep him around when he could oust him as not only a murderer, but the apparent lynch pin of the end of days? We still don't know what that means, but surely his existence is too much of a risk.

I think that following a short feud with Sexy Star, his guise will once again be given away. As much as the masked Veneno persona could be fun, it just seems too coincidental that it happened to be a spider mask, and it feels like it was only given for the sake of advancing Sexy's storyline.

I hate to say this as I've thoroughly enjoyed his work over the past few seasons – not just in the ring but his fantastic acting work, especially when he sold the loss of his friend Cisco – but I just can't see any feasible scenario in which he makes it out of here alive.

Besides, Officer Vasquez seems to have a deep backstory of her own. What could she do now that one cop has betrayed her and the other is dead? She would have to delve deeper into the Temple herself. The death of Officer Reyes would lead to such an event occuring.

I hate to say it, but in Season 3, I think this deadly trend continues.


What do you guys think of the above? Is Aerostar's path written in the stars? Does Angelico have a god-given right to challenge whomever he pleases? Is The Machine about to become uncaged? Is it the end of the line for Castro?

I want to hear your views. Give me your theories. Give me your fantasy booking. Share. Debate. Argue. Agree. I want it all!

Until then, join me later this week when I will deconstruct the D's – looking at Dante Fox, Drago, Dragon Azteca and Dr. Wagner Jr.

As always, I've been Ryan "Leaf" Plant giving you the lowdown on the Underground.
Believers, don't stop believing. Thank you for reading.





---
WANT TO GO DEEPER UNDERGROUND?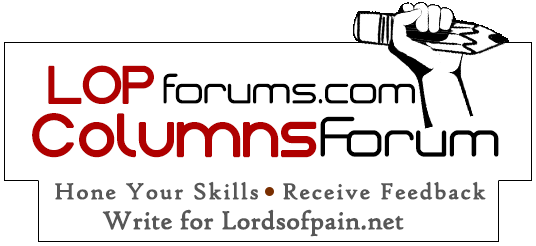 The Lordsofpain Columns forum is very much like Lucha Underground – anyone can appear at any point, and they all have a story to tell. Here are some of my favourite recent pieces:

JSR-13 completes his Black History Month series with an extraordinary look at Claude "Thunderbolt" Patterson: 13 Decrees: Black History Spotlight Season Finale: Can I Get a Witness?

Subho returns to the Columns Forum, and wrestling itself, with a look at Bayley's Story in Sub'isms: Bayley's Story

Mr. Chop provides a unique look into an Arn Anderson promo in his piece The 16 Horsemen: A Criminal Mind!


SOUND OF THE UNDERGROUND: A Character Perspective - King Cuerno
SOUND OF THE UNDERGROUND: A Character Perspective - Pentagon Dark
SOUND OF THE UNDERGROUND: Character Perspective - Johnny Mundo
SOUND OF THE UNDERGROUND: S3 Season God Award - #5 - #1