---



A Story In PROGRESS - Chapter 1: IN THE BEGINNING...


By Ryan "Leaf" Plant
Jan 25, 2017 - 7:37:33 PM


CHAPTER 1: IN THE BEGINNING...
25/03/12 | The Garage, Islington.
This event, and access to any other Progress Shows or chosen partner videos can be accessed via Demand Progress at https://demandprogress.pivotshare.com/ for the low price of $7.49 / £5.93 per month. Buying the event may further enhance your enjoyment of the column. Please support independent wrestling.
---

INTRODUCTION

Whilst I was sat just a few rows away from the ring during day two of the WWE United Kingdom Championship Tournament in Blackpool last weekend, I was able to make a few observations that I found to be particularly interesting:

The VIP guests such as Fit Finlay and Robbie Brookside had a seat brought in for them during a "darkened moment". Whilst a video package aired, they were ushered into their seat. This was a smart move I guess, but it did kill some of the magic behind thinking that legends of the sport experienced the exact same entertainment that you had, in the exact same manner.

The UK's soccer-chant mentality allows us to have some of the most "unique" chants in the business. From fitting in the word Jesus to Hey Baby by DJ Otzi, as an homage to Saxon Huxley, to giving Tyler Bate the most appropriate reaction of approval – by slotting his name this time into Baby Give It Up – we're certainly a mad bunch of collective wrestling souls.

Perhaps more than anything though, I noticed that out of the entire tournament, almost half of the names that participated in the bracket had competed for Progress Wrestling, with several being regulars. In fact, if you also count Nathan Cruz who worked the Day 2 dark match, a man whom you will learn an awful lot about in these coming weeks and months let me tell you, AND Finn Balor/Tommy End, who had appeared at Progess' Birmingham Debut earlier in that very day, it almost felt like a Progress tournament with guests.

Ah, but this means nothing to you right now, I imagine. You may have heard the name, you may have heard of the talent, but what makes Progress this buzz-worthy UK federation? What separates it from the rightfully-praised OTT and ICW?

A lot of things actually, in fact, it's going to take fourty two chapters and counting to really answer that question.

BUT THAT'S EXACTLY WHAT WE'RE GOING TO DO.

That's right, join me – the self-proclaimed "King of the Columnists" Ryan 'Leaf' Plant - from the very start of the story as we learn more about the strong-style British wrestling federation and how it is an integral part of the uprise in British wrestling today. I could have started with the departure of three top stars after Chapter 36. I could have started with the incredible documentary This Is Progress. In order to truly understand this story however, this particular tale starts in the most punk-rock of venues, The Garage in Islington for...








WHAT IS PROGRESS?

Before we start, let me lay down the facts here. PROGRESS Wrestling was formed in 2011 as Jim Smallman - a stand-up comedian who perhaps ironically then, loved the art of steel chairs – and Jon Briley, Smallman's agent first and fellow massive wrestling fan second, or perhaps the other way around, decided to create their own wrestling promotion. They wouldn't be alone, as they would later add the extra fanatic Glen Joseph but we'll get to that in another chapter, my friends.

So you might be thinking, what makes this different? Again, it's not something that I can outline in just a few introductory paragraphs but to begin with, how about I tell you that if Japanese strong style wrestling met punk rock in London, you wouldn't get a British Naito but instead, you'd get PROGRESS Wrestling. 2011 turned to 2012 and after months of planning Chapter 1 debuted at The Garage on 25th March 2012.

What you'll see throughout the series is the immense evolution of the production values, the venues, the wrestling and the talent itself, but because we're at the first chapter, we have no big introduction to kick us off. There's no music to welcome us into the show. Instead, there's two familiar names: One who is currently pursuing Alicia Fox on WWE Television, but at this point was simply trying to chase the fame that I'm glad to say he would later achieve. The other is quite simply the hardest working wrestler on the UK scene today. He's a man that professional wrestling statistics website Cagematch has down as working 171 matches in 2016, but this is something that we know to be untrue as Ligero himself tweeted out this back in October:



What you have here then is two hungry athletes kicking off the first ever PROGRESS Show. So with both men already in the ring, let's get to it shall we?


---

CHAPTER 1

Founder, promoter and ring announcer of Progress, Jim Smallman, announces that the first match is also the first of four semi final matches to crown the inaugural Champion. He announces that "The Mexican Sensation" is in the corner to his right, and the bull-horned luchador who some might say is not actually Mexican gets a rousing ovation from the fans. That can't be said for Noam Dar who cockily saunters around the ring to a chorus of jeers. What I like about Progress is that their referees have personalities of their own and Chris Roberts gets a great ovation, which is weird to hear, you'll see what I mean somewhere down the line. He checks the boots of both wrestlers, along with Ligero's horns, and Dar draws down his tights for good measure.

We actually get a picture-within-picture promo here, as Noam Dar introduces himself quite simply: He's from Glasgow, Scotland and tonight he's going to "knock El Ligero in the face and win the Progress Championship". That's all well and good Scottish Supanova, but does your plan involve the other match later that night, should you advance? The bell rings and it is almost drowned out by a loud "Scotland Sucks" chant. Ahhh, you're going to learn to love these crowds, if you don't already!


MATCH ONE:
PROGRESS Championship Semi-Final Match
Noam Dar vs. El Ligero

Dar isn't too happy with the chants and takes his frustrations out on Ligero with shoulder thrusts however he lets his guard down to be sent flying via some headscissors! Dar sends him into the ropes for that, not aware that the "Mexican" would then use them as his own personal hammock. Noam, who, doesn't appreciate siesta time, is goaded through the ropes and is the victim of a vaulting body press. "ARRIBA!" When both men return to the ring, a standing moonsault gets two for the man who commentator Jimmy Barnett argues might not really be from Mexico. The bull-horned battler takes to the ropes next but a running front drop kick disposes of him, and a fake horn taunt from Dar brings about that familiar chant against Scotland once more!

This angers El Ligero as the two engage in a war of strikes. Here's something to consider here folks: someone's mobile phone just went off. This is how intimate of a venue this is, which is part of the charm early on. Dar seems to have Ligero's number, as he asks the crowd how he can fly with broken wings? Red Bull, Noam. Quite fittingly I might add. The Scotsman doesn't just try to break the "wings", he stomps on the leg repeatedly, perhaps for too long as Ligero gets strength back in his arms again and hits Dar with three big right hands. The heel takes out the knees though with a basement dropkick before posing with his hands behind his chest. You might recognize that taunt from Dar even to this day. He continues to really work the leg as he ties Ligero's limb in the rope and dives... but misses! It didn't pay off but this is some great psychology from Noam here. The fan favourite avoids the stomp, kicks Dar in the face and hits him with duo clotheslines, numerous kicks and a handspring enziguri! He made it look so easy, but Chris Roberts could only count two.

Ligero's next trick is a scoop slam to the canvas and an attempted dive from the corner but he crashes and burns. His opponents hits the Airplane Spin into a Bridging Suplex. I haven't seen that combination before! A rope break occurs when the Mexican reaches the ropes following a leg vice from his foe, and with every last ounce of strength in his legs, he hits a big dropkick to his Dar. For those unaware, Ligero is very much like the overseas El Generico, he really gets the crowd on their feet with his playful mannerisms and this is most definitely on display now as he tries to will himself up with some jazz hands. He does so! Dar still knocks him back down with a thrust kick and a leaping spinning forearm, only for a two, causing him to scream out some obscenities which Barnett must apologise for: "We must remind you, he is from Scotland."

Noam is feeling it now as he shakes his legs as if he is about to perform a Scottish take on the ol' Shake, Rattle and Roll but he runs into a Ranhei from Ligero! It's another two! They trade kicks once more before a huge lariat from the youngster takes out the Bull. He continues to target the leg with a huge stomp onto the limb from the top rope, followed by numerous held kicks to the knee and shin, before another grapevine is locked in. He smartly uses his own legs to kick the flailing Ligero. With the Mexican's shoulders now pinned to the mat too, a couple of pinfall attempts are counted. It seems as if the fan favourite is about to pass out though as his arm almost goes limp for the third time, he raises it with the power of the crowd behind him, and he even takes it all the way to the ropes! Has the damage been done though? That leg has been worked on ALL match but maybe Dar will be too distracted by the "Deep Fried Mars Bars". He gets Ligero to the top rope and, I was right! Noam is elbowed to the canvas though he goes to join his opponent once more, very promptly. This time though, he is slapped down into a tree of woe position which means one thing! It's the double stomp! Another undisputed Mexican would utilize this years later but in the here and now, it has given El Ligero the momentum he needs as he runs against the ropes, flies, and hits a HUGE Springboard DDT! 1...2...3! What a comeback! The crowd absolutely love it.

WINNER: El Ligero

This was a great win for Ligero but more so than anything else, I was impressed by the psychology of Dar here. I admit to having not seen maybe enough of Noam's work considering that I am a fan of British wrestling but this is why I've been so excited to watch the series. I haven't seen him work like that thus far in the WWE but that comes with adapting to the WWE style, a strict focus on match length, and just learning how to apply the psychological warfare within those confines.

As for Ligero, you'll soon see why he's just an absolute standout performer on the UK scene. Whilst Dar can be found in the WWE, you can now catch Ligero as part of World of Sport on ITV. He is more than just a gimmick. He is dedicated, dynamic and downright deadly. I can't wait to cover more of him.


***

Jim Smallman is back in the ring to announce the second of four semi-finals to crown the inaugural PROGRESS Champion. Already, the half-tighted Nathan Cruz receives a "Sh*t Zack Ryder" chant, for his attire which causes Smallman to announce that he doesn't in fact reside on the Jersey Shore but instead now resides in Beverley Hills, California. Chewing gum, and making love to his own ego, Cruz looks far too confident for a man about to face a behemoth.

That's exactly what Colossus is. Smallman announces the boulder in the blue segment, "The Man Mountain" Colossus Kennedy as coming from East Riding, Yorkshire. The crowd are behind the big man already, perhaps because he doesn't claim to hail from the other side of the world. He's the man who we get the box-in-box promo for too, which if the last match is anything to go by, is bad luck. The bearded man explains himself as the biggest man on the roster and tells us that he is here to take the title and to remember that he's coming.

Nevertheless, Cruz gets a hype promo too this time, as I'm guessing Ligero didn't to preserve his fake, I mean, real heritage. The bell rings but the pre-recorded Cruz tells us that not only are we looking at is one of the best talents in the UK, one of the best actors in Beverley Hills, California but also the first PROGRESS Champion. He tells us that the show has been stolen and blows us a kiss. Okay, so Cruz is essentially our Miz here! He's already adjusting his hair once more and checking on the moneymaker after Colossus sent him into the corner. Let's find out what else happens shall we boys and girls?


MATCH TWO:
PROGRESS Championship Semi-Final Match
Nathan Cruz vs. Colossus Kennedy

This already feels like I'm watching a British Miz vs. Big Show match. What's better, Cruz was playing the bratty actor before Miz. Jimmy Barnett tells us that Cruz certainly isn't a wallflower, as he retreats from the ring in order not to be unrooted by the big man. Even Colossus isn't safe from a "Funkasaurus" shout from a member of the crowd. Colossus isn't up for dancing, instead he ties up with the returning Nathan Cruz who overcomes a collar and elbow tie-up with a beard grab. He tries to slap the angered giant though is thrown all over the ring for his troubles. A corner splash and pounce annihilates him and out he retreats again! Payback is a bitch as Colossus drags him up to and over the apron by the hair this time! Cruz tries to use his speed to his advantage though a dive off the ropes sees him grabbed for what I thought would be a fall away slam, it was actually an over-the-shoulder body slam variation. This doesn't put him away but the big boot just might! Nathan takes to the apron and well, his head takes to the turnbuckle involuntarily, and again! "One more?!" The monster screams. "Yeah!" "One more!" "Two more!" "AND AGAIN!" "I love your beard!" are the demands, and praises of the crowd.

Kennedy goes to the well one too many times and Cruz takes out his leg, locks it in the rope and stomps on it similar to how Dar did to Ligero in the last match. This definitely will help though when fighting a giant. The crowd calls it naughty, maybe so, but it's effective. The Showstealer tries to vice grip the leg before screaming his own nickname to the crowd. He once again gets compared to a budget version of the Long Island Iced Z. He lets this distract him momentarily as Colossus grabs a kick and goes for the chokeslam, though the actor breaks free and takes out the knee with a big kick to the back of it.

Chris Roberts is yelled at for his lack of authority as Cruz continues to use the ropes to make his target a lot easier, stamping on the tree trunks of his gargantuan foe. He uses those same legs and ropes in a unique position, getting his opponent in the corner for what seems like a Shattered Dreams before pulling his opponent's leg down to inflict rope-burn to the groin. He strikes his foe and continues to scream "Showstealer" at his tied foe and the fans, though when he tries to sprint at his foe, he eats a huge haymaker. It's on like Donkey Kong, or so I thought, but Colossus' leg gives out when he runs, allowing Nathan to strike and the crowd to ask "Who fell over?". You know, we don't see that enough in wrestling. That's some great selling.

Still, Kennedy manages to overpower his opportunistic opponent and the headbutts go some way towards that. He winds up the battering ram that is his humongous fist which the quicker Cruz manages to avoid, springs bak, and... gets Boss Man Slammed! Oh snap! That's a two though, only just! Colossus toys with Cruz before hitting one of the biggest lariats I've ever seen for yet another close two. He even starts willing the crowd to clap as he ascends like a skyscraper back to being fully upright on the canvas. He drags Nathan, goes for the powerslam, but Cruz shoves him away, hits a dropkick to the knee sending his opponent straight against the ringpost, and hits a HUGE kick to the side of the face, you might as well call it a Showstealing Wizard! But you can call it a win as it got the three!

WINNER: Nathan Cruz

It seems weird not commenting on post-match antics but the cuts from this show make that completely impossible. You have to imagine that Cruz gloated after his big upset victory. This was a great showing for him as he continued to work and work on the legs until finally that target, and the steel of the corner, helped him to cement a spot in the final. Nathan actually appeared on NXT not too long ago in a squash match (as the victim sadly) and performed in a dark match at the WWE UK Championship Tournament so I think he is on the 'E's radar.

Colossus was good here. He did what a lot of big men find hard to do and sold like an absolute champ. I truly believe that Nathan hacked at his legs like a lumberjack and for that, along with that absolutely huge lariat during the match, I applaud him.


***

We're back with Jim but wait, that's Colt Cabana! It is! He's shaking what his mother gave him whilst wearing kamikaze style head gear. It's the other man who Jim introduces firstly though, as he tells us that the tattooed brute from "South Landaaaaan" is 'Loco' Mike Mason. He proves how loco he really is by crawling him along the ring before going for a brisk jog. Loco.

As for his opponent, he gets a rousing ovation as he presses up against the ropes as if he's Rocky getting one final training workout. From Chicago, Illinois, it's Colt "Boom Boom!" Cabana. He throws a few objects at his opponent before the bell, they actually look like rubber ducks and to be honest with you, I'm not going to rewind and spoil it potentially being otherwise as that is far too funny if that's the case. Rubber ducks it is.

We are told that there are no pre-match interviews by Barnett here. Colt was too busy meeting the fans and Mason was too loco. One man in the crowd is out of his mind as he shouts "Scotty Goldman!", earning a "That Guy Sucks" chant and a disapproving but harmless look from Cabana who then goes back to folding up his jacket very carefully, before letting it take to the air. He then insists on Chris Roberts checking his groin on the corner as the fans yell at him to do his job, which now apparently involves checking the outstretched "boom boom buttocks" of Cabana. Mason runs and slides across the canvas once more before retreating, because he's that loco, and now the bell has sounded!


MATCH THREE:
PROGRESS Championship Semi-Final Match
'Loco' Mike Mason vs. Colt 'Boom Boom' Cabana

Cabana swings a tennis ball around to distract the loco man as I finally realise what was thrown earlier. He eventually hits his opponent as it should have earned a disqualification as I'm honest! Nevertheless, he still wants to play as Cabana has the ball again. It's worth noting that Mason has a valet on the outside, Becky James, and I wonder if we'll find out more about their relationship as the chapters unfold. What unfolds right now is downright disturbing, as Colt puts it down the slacks of Roberts which sends Mason inspecting them. Roll-up by Cabana! Kick out! Mason is quick to his feet though, he chases Roberts from the ring and the referee needs to inspect his balls before pulling the green furry one out and rolling it back onto the canvas, but Colt gets there before Mason with a great tackle!

This is important. Barnett tells us that Becky James normally controls Mike Mason. We're also told that he was a last minute replacement for RJ Singh. You'll learn of Singh throughout this too if you don't already know his great work here in the UK. "This is wrestling!" the crowd chants as Becky speaks to her crazed man and Cabana accidentally disposes of the tennis ball. Cabana and Mason tie up now finally and it's the crazed one who takes advantage with a kick to the midsection. He brings Cabana down with a side headlock takedown as Colt wills himself up and locks his opponent into a leg-scissors with ease! The crowd chant for Cabana to hit his opponent in the balls which is quite illegal, so Roberts points out an open handed slap to the spuds is still legal. Colt has a different idea as he turns it into a bridged roll-up. Just a two!

When CM Punk's best friend attempts a wristlock into a chicken-wing, a fan asks if they're dancing. Of course, they are now, as Cabana sends Mason into an involuntarily Waltz before trapping him in a suspended Mexican Surfboard. His next big trick is to Airplane Spin his opponent and this one is far longer than the previous attempt in the evening. "I'm so f*cking dizzy!" Eventually Mason is dropped but it's Colt who has to roll to the outside but wait, it was Becky James who held the ropes open to send the fan favourite crashing! Another Zack-Ryder related chant causes Becky to bark at the fans: "She's a hoeski!"I guess that's a sign of the times as we're watching this back historically. Mason is control now with shoulders thrusts in the corner after rolling his opponent back in. His foe drops. He attempts several clubbing blows on the mat but he can't get the pin. He guillotines Cabana's head on the ropes whilst biting the back of his head this time. That's some unique multi-tasking but it's also just a two from the next pinfall attempt. The crowd believes he has rabies. We'll see if Colt starts foaming, but right now he's toying with Mason as when he's whipped against the corner, he too lies on the ropes like Ligero, but this is trapping Mike in the corner underneath him! When he frees him, he hits several big fists, rolls his hands and hits the Bionic Elbow, Dusty Rhodes style! He even aims for the dangerous Becky James but she escapes it!

Colt hits the Big Splash on Mason for a two count, and another, and another, AND another BEFORE CLAWING THE TESTICLES! That was open handed! It's legal! For those unaware of his work, Boom Boom calls his Rear View the "Flying Assh*le", just in case you wanted a name for a weird aviation-based blue movie. He hits one in the corner and hits one against the ropes. The latter lets him lock in the Billy Goat's Curse submission, a wheelbarrow type sharpshooter maneuver, but all this allows is for Becky James to get on the ropes with a chain, distracting Chris Roberts! She sneaks it to Mason who strikes the fan favourite and he picks up a massive upset with the ensuing pin! He wasn't even supposed to be on the card! That's loco.

WINNER: Mike Mason

This was what it was supposed to be – a comedy match to separate the seriousness of the card. It worked, as the tennis ball gag is something I hadn't really seen in wrestling until now. I wonder if the wrong decision was made here for a winner as Cabana was very impressive here and would have gave the final a bit more of a prestigious feel but having said that, would the comedy antics be hard to book within a fatal four way match? Nevertheless, our last semi-final awaits!


***

In the ring, one man is bouncing about trying to contain his energy, the other is grinning at the antics sat on the ropes. I could introduce them now, I'm sure you'll recognize their names, but I'll let Jim Smallman do it once more. On his right, from Kent, it's Zack Sabre Jr.! He jumps off the rope only to back away from his hyper opponent for a moment who feigns a kick. It's all fun and games though, they know one another very well.

You see, Zack's opponent also represents the Leaders of the New School, their tag team as his shirt signifies. You might have seen him on TV's "Take Me Out", a fact that the wrestler looks apologetic for as the crowd fail to forgive him for it! From Cambridge, it is Party... Marty... Scurll! Yup, before the Villain there was the clean-shaven, fun-loving Party Boy of the UK Scene. And before the submission specialist Zack Sabre Jr. was, well, the same man but with more hair!

It's weird to see Marty like this, as he pops up in a box from earlier today and tells us that when he wins the belt, he is going to hold the biggest party, everyone's invited and they're all going to down jagerbombs and "have an amazing wicked time". The Villain can't come soon enough. Hey though, it's called Progress for a reason though right?! If nothing else it's certainly brogress as Marty plants Zack with a smacker. As for the smack talk, a hooded Sabre Jr. tells us that he'll become the first Progress Champion because he chuffing loves armbars. Oh it feels jolly good to bring some British wrestling to the main page of this website.


MATCH FOUR:
PROGRESS Championship Semi-Final Match
'Party' Marty Scurll vs. Zack Sabre Jr.

Some Greco-Roman style mat wrestling starts the match before both men shrug it out. They play to the crowd as one of the fans says he is cheering for the guys in the Union Jack shorts, which they're both wearing! They again can't outmuscle each other here but they reach high for a tie-up with each man trying to do just that. Scurll finally looks to gain some leverage over his opponent with a series of snapmares but he has to stop when Sabre Jr. quickly looks to hit a stiff kick on the rebound, which he rolls away from out of awareness alone! A "THIS IS PROGRESS" chant starts off and ladies and gentlemen I think that's the first time what will become an iconic chant during this series has ever been started. I mean it didn't even catch on; you'll see why that is mindblowing as the series continues.

For now, let us focus on these two men as Marty locks Zack into a "chuffing armbar" of his own, whilst also locking in a leg-scissors, but the escapology artist lives up to his reputation by bridging out of the move. He then turns it into a leg lock though Scurll too changes the move into a side headlock. We've had so many locks so what could be next? It's Marty attempting a wristlock on his opponent, who twists out of it, bringing himself underneath his opponent's arm before using a neckbridge, and a further twist to attempt to turn the wristlock onto his foe. Scurll manages to use the ropes to spring off and escape, flipping his opponent to the canvas, or so he thought. Sabre comes up with him as if it's no big deal. The two let go of the wrist of one another, hold their hands in the air in truce, and Sabre Jr. betrays his friend by grabbing the legs and taking him out! Sabre cartwheels away and this action is so hard to call here as they now reverse a series of leg submissions. It's hard to believe we're only minutes into the action.

After a Bow and Arrow lock from Zack Sabre Jr. is reversed into a pin attempt by 'Party' Marty but it's not enough. It does however draw the next This Is Progress chant which is just as important at this stage!The next set of reversals features each man attempting waistlocks until Scurll pushes Sabre back against the corner. Marty berates Roberts as angered ZSJ kicks the handshake attempt of his partner away and finally we're getting a bit serious. I think I just heard Marty exclaim that he'll shoot Zack in the dick "sunshine as he slaps him, with his hand thankfully, before getting kicked in the head by Jr. for his troubles. Marty repays the favour moments later with an enziguri in the corner and a big suplex for two, followed by a kidney shot which draws a "No Likey, No Lighty" shout to taunt the former contestant. The next shouts are more conventional as Scurll tries to lock on the Figure Four to "Woo"s. Zack fights it off for a moment though an elbow to the leg leads to a breakthrough for Scurll and the submission made famous by the Nature Boy!

The two engage in a game of slaps before Zack repeatedly rolls one way, then the other, before a big slap to the face causes him to break out. It must have taken a lot out of the technical wizard though, who is lifted into the air next by his opponent, but rolls through and counters into an arm bar! This is what he loves! The ropes are found and the hold is broken, so Sabre unleashes a barrage of kicks instead. His arsenal knows no bounds! Marty sreams obscenities out loud before his friendly rival twists his fingers whilst in a keylock. He then throws his opponent right against the corner to force him to let his guard down before locking him into a modified chinlock INTO another knot that this columnist can't even describe. After a pinfall attempt just a moment after this, Scurll rebounds to his feet and slaps the living daylights out of his fellow Leader of the New School, which of course causes both men to get slap happy in the thrill of competition. Barnett makes a great point here, it's incredible how well these two men have the fundamentals down to a tee and this was around five years ago even! As I say this, Sabre shows his power game too with a sit out powerbomb for a two!.. But he turns it into an armbar straight away! Scurll breaks out but wow, he could have been either pinned or submitted in the space of about ten seconds there.

"Zack and the ref are brothers" is one of the more creative shouts of the evening and maybe Zack ponders his ancestry for a moment too long as the Party master comes back with a dropkick to the knee and a GIGANTIC Suicide Dive into ZSJ right in the crowd. This won't be the last time you see the crowd at risk folks. Marty has really turned up the offence here as when both men are back in the ring, he catches his leaping friend with a sickening lungblower. It wasn't enough but maybe the assisted suplex from the second rope is? No! Just a two! The momentum changes here when Marty attempts to scale the turnbuckle though a charging Sabre Jr. kicks and sweeps the leg from under him. The Kent native works on the arms with a full nelson and a kick before hitting a Dragon Suplex! That wasn't enough but you have to imagine an arm bar is just moments away and the arm was weakened tremendously there.

The next sequence sees both men trade momentum several times. A Tornado DDT from Marty Scurll doesn't put away Zack Sabre Jr, instead he pops right up with a roundhouse enziguri. Ouch! Roberts has no choice but to attempt to count out both men. What does this mean for the title match? Absolutely nothing; both men are up at 8! The two play strike tennis as they trade shots. Their second meeting of fists sees them partake in a symmetrical melee, both clubbing each other in the face at the same time – repeatedly! Zack shows his intelligence though by choosing to sweep the leg instead and by avoiding a roll-up by simply collapsing his knee onto the chest of his opponent, following his missed Shining Wizard.

Scurll makes the mistake of trying to roll up Zack. Both attempts lead to different armbars. This is when he learns to use this to his advantage though. When his friend refuses to let go of the hold, he uses this to lift him into a powerbomb. The two count is one thing, but the two men almost get counted out just a moment later! The pace is dramatically slowed down when the two gain their wits. Though Zack tries to win with a lungblower of his own this time, there's a prolonged rest period after his attempt. Even when both men try to fight again, Sabre retreats after a shot to the face and Marty sits in his own corner. After recharging their batteries, both men go as far as striking each other with roundhouse kicks to the face and just about everything else! Out of nowhere Party Marty goes for a roll-up for 1...2...3! Wow! That could have happened at any time. That ending genuinely surprised me!

WINNER: Marty Scurll

The crowd alongside Jim Smallman acknowledge "what a f*cking great match that was" as the two men embrace.

They chose the right bout to give some attention to post-match. Wow. That has already become one of my favourite British wrestling matches I have ever seen, and I thought I'd seen some great matches since I chose to start watching Progress live from Chapter 26 onwards. The sequences during this match were absolutely mindblowing and if I had to recommend one match – this would be it. The chemistry was apparent, the hours of training were vividly clear, what more could you want here?

There you have it then. The final is going to be El Ligero vs. Nathan Cruz vs. Mike Mason vs. Marty Scurll. That should be as fun as just about anything we've seen thus far!


***

The next contest isn't for the Progress Championship but it IS for the BWC Scarlo Scholarship Championship! This was a belt belonging to the British Wrestling Council that would be defended up and down the country. It's funny, as by the sounds of it, that's exactly what the WWE will now be doing with the UK Championship.

Jim Smallman introduces the two challengers first in this three-way contest. Those who know of the brilliant heat-drawing ability of the Liverpudlian native Zack Gibson might be surprised to see him referred to as "Diamond" here with long hair as well no less, not rocking the Martin Skrtel look at this point!

The second challenger gets a good reaction, in no part thanks to his London heritage, and it's "Dazzling" Darrell Allen. He spins around the ring like a wind-up toy and looks full of confidence here tonight.

In a personally surprising moment, given the fact I had no idea that the man who is actually training myself to be a wrestler at the moment had wrestled for Progress, I see that the champion is The Man For All Seasons, Xander Cooper! The Futureshock regular up in the north west, and now to this date the only Futureshock Triple Crown Champion beams proudly at this point in his career, holding the BCW gold with a grin like a Cheshire Cat. That's quite fittingly actually, as he hails from Knutsford.

Naturally, I'm rooting for Xander here, but once again lets see what happens together.


MATCH FIVE:
BWC Scarlo Scholarship Championship
Zack 'Diamond' Gibson vs. 'Dazzling' Darrell Allen vs. Xander Cooper (c)

We hear the comments of Zack Gibson who tells us that he's came all the way from the Capital of Culture. He tells us that he never walks alone but it's his opponents who will never walk again. Nice. Xander Cooper tells us that he will be taking his Scarlo Scholarship belt and defending it with the style and panache that only he can deliver. As for Allen, he tells us that the match means a lot to him as he gets the chance to show everyone what he can do. At this point, the first two rookies cut stronger promos than most of the other competitors thus far tonight! Allen's wasn't as solid here but he established himself as a clear face which was good to see. I was wondering! Quite hilariously though, he gets sent flying from the ring whilst his promo airs.

This means that it's Gibson and Cooper starting off. Gibson evades a dropkick before Cooper dodges a kick to the face and goes for a roll-up. They're even here. That was a two. Gibson strikes the chest but you have to watch Allen on the top rope, who takes out The Man For All Seasons with a flying lunge. A shoulder block from Gibson floors Allen as Barnett makes the point that PROGRESS are the only promotion to have BWC matches without an affiliated school. At that point, this was rare for the British Wrestling Council to allow, so that's cool. Diamond is sent out of the ring by a headscissors which allows Cooper to stalk Allen, winding him. Darrell returns the favour with a big chop from a hooked arm before Gibson returns to the ring. Cooper tries to backspring onto both of them which sees his two foes turn uneasy allies and grab him. He escapes, but only to be lifted high in the electric chair position by Zack, BUT ESCAPES ONE MORE! Xander stacks his challengers in the corner for a big running arm strike but Gibson comes to meet him on the next attempt. He still manages to outsmart his challenger, finds his way onto the rope and hits a big crossbody to both him and a returning Allen. The champion is looking good here. He may get a "Double J" shout as he buys into his own ego, but there's certainly worst wrestlers to be compared to, right?!

Maybe he gloats a little too much, as when he tries to go to the well once more with the crossbody, both Allen and Gibson take the ropes and stop him right there on the buckle. As he tends to himself, Zack has Darrell placed on the opposite buckle and is slapping his chest. A scouse "Lex Luger" call from one of the fans puts Gibson off from doing his exploder suplex and this actually buys Cooper time to sneak in and send them both to the mat with a powerbomb! He single-handedly turns the This Is Progress chant into jeers with a spin and a grin. With a big double foot stomp onto the shoulders of Zack and a European uppercut, it doesn't impress one fan who calls him "sh*t", quite frankly. He guillotines Gibson with the knee and keeps Allen away. Zack tries to fight back and Darrell tries to re-enter the ring but neither happen. Eventually, feeling the pressure of this challenge, the champion sends Diamond scurrying and invites the Dazzler into the ring. Big mistake. He receives a plethora of kicks and, well, a huge leg lariat back to the challenger changes that. As he calls himself Progress, our rabid crowd believe he's not and tell him that he's "sh*t and you know you are". He doesn't know though, he's been gloating all match!

He tells the fans that he is not as he snapmares Allen out of the corner, kicks Gibson off the apron once more, and continues the divide and conquer tactic. A suplex gets two, and a clap which the Man For All Seasons makes a note of, earning him a "You've Got Clap" chant. The crowd cause Xander to lose his concentration as Zack Gibson makes it to the apron unharmed. Darrell grabs Cooper but Gibson flips over both to deliver a double sunset flip but just as importantly, gets back into the ring! The fans chant the successive number after the referee's count. When the men get up to their feet, it's Allen who seems to gain some momentum with kicks to both men. Of course, this earns him the ire of the two villainous wrestlers. Xander grabs hold of Allen from behind and Zack hits a lungblower that stuns the champion at the back of it all too as the back of Darrell crashes into his chest. Gibson takes advantage by hitting an absolutely massive enziguri to Cooper for a two! Darrell tries his luck next as he takes advantage of his tired foes by monkey flipping one of his foes into the other. His cover on Gibson gets two and it gains him a knee to the back by Cooper for his troubles too.

Xander has both men in opposing corners now and chooses only to charge at Zack. He gets a Yakuza Kick by Allen, who he had neglected, who smiles sensing that he just got rid of the champion. He too looks to charge at Gibson in the corner now who hits a suicide dive through the corner onto Cooper, meaning that Allen crashes and burns into the steel! Genius! Gibson re-enters the ring and leaps with an armdrag into a cradle for two, the reversal by Allen gains two as well! As Allen tries to bring Gibson down for another, Xander Cooper storms the ring and tries to roll up the Liverpudlian for his own gain, that's just a two as well though! Allen's cradle on Xander is a two. In an amazing moment, The Man For All Seasons goes for a Ranhei but Gibson intervenes and pushes both men over for a double roll-up. Sound strategy! Both kick out though. Zack tries a double underhook suplex on the Dazzler which is broken up by Cooper by way of a slap to the back to Allen. He tries for a chickenwing which Diamond breaks free of. Gibson is whipped into the corner though he enziguris the head of Xander and hits a Springboard Lungblower! He goes for the Exploder Suplex and the fans are now behind Gibson here! 1...2... Darrell breaks it up AT THE LAST SECOND! That was damn close.

The champion leaves the ring now, allowing Allen to gain advantage over Gibson with an enziguri of his own, it had mostly been Gibson delivering them in this match. The man they call Dazzling hits the 450 Splash on Gibson but Cooper kicks him in the face and goes for the pin on the Diamond himself! That's one, that's two, and yes that's three. He absolutely stole that win!

WINNER: Xander Cooper

This was a great win for the Man For All Seasons who, judging by the paragraphs dedicated to him, I genuinely felt was the MVP of this match. Spoiler alert, there's not too much more to expect from him in Progress but I do hope they invite him back at some point as he is doing some absolutely great work in Futureshock as British Wrestling's Ambassador, and he is their only Triple Crown Champion there.

Gibson gained some decent heat but trust me when I say there is much more to come from him. For that reason I don't want to comment too much on Zack. His performances will do all of the talking. You can be sure of that. Allen will also feature but again, I wouldn't want to spoil that again either, you can expect some great things from him too. I have to especially praise how well he did to establish himself as the face here in this match. This was an extremely fun match and I think these BWC students were just what we needed before the main event of the evening.


***

"We did say that we haven't got a title belt yet, so essentially, we've got a massive evil staff". That's probably not a sentence you'd ever thought you'd hear in professional wrestling but it's exactly what Jim Smallman tells the fans as he holds up, well, exactly that. Adorning the top of the staff is the Progress Eagle which can be found in the company's logo. Of course, it's all about when eagles dare, and the four winners of our first four matches will now be competing in an elimination match. Jim demands that respect is shown to the staff because it's unusual and he even gets a "staff" chant going. In fact, he gets more than he bargained for: "Nazi Staff!"... "IT'S NOT A NAZI STAFF! NO!" he now pleads aloud. A "F*ck Off Hitler" chant is allowed though as that trickles across the Garage instead.

It's probably just as well that we cut to all four finalists in the ring. I can't wait until the entrances are shown but that's the beauty of starting from the beginning. All the components are here for us though for a great main event match. Smallman first introduces the Mexican sensation El Ligero who is an early favourite with the Progress brethren. In stark contrast, Nathan Cruz is announced next and he basks in the disapproval of the audience. From South Laaaannnndaaaaan comes 'Loco' Mike Mason who is attended to by his valet / overall controller Becky James. Lastly is the ever popular, at this point at least, 'Party' Marty Scurll, fresh off an epic with Zack Sabre Jr early on. He doesn't seem to show any early signs of fatigue though as he CHARGES AT MASON! Game on!


MATCH SIX:
Four Way Elimination Match for the PROGRESS Championship
El Ligero vs. Nathan Cruz vs. 'Loco' Mike Mason vs. 'Party' Marty Scurll

Scurll throws out Mason. Cruz throws out Ligero, and then he disposes of Marty too. Already he's earned himself the ring. At least for now. Ligero hits a springboard bodypress, kicks a charging Cruz in the face and then unleashes a hurricanrana. Mike Mason stops the momentum by dragging Ligero outside of the ring and an opportunistic Cruz tries to vault onto both, who clear the way. Ouch. Scurll tries to get back into the match but Ligero kicks his chest. The Bull realises that everyone else is outside of the ring still and he beats on the turnbuckle to will the crowd on before unleashing a beautiful somersault senton onto all three men! There's barely enough space to even do that in the Garage!

Everyone except Becky James make their way to the walls of the Garage and the camera cannot keep up. We simply know that there is brawling across the venue. In fact, they've all reached the bar. Again, there is not a lot of cameras to cover this at this stage. We have to imagine that Party Marty has a vodka by now. In fact, there's even a chant of "It's Your Round!" aimed at Scurll or Cruz who make their way back. Spoiler alert – that chant carries on to this day but at least now I know the origin! The two men make their way to the stage area now as they fight literally right in front of some of the seated fans. Ligero has joined them! He must have disposed of Mason! He holds Cruz back as Marty stuns the Showstealer with one hell of a loud chest chop. The crowd chant for one more time so unfortunately for Nathan, that happens of course! Cruz's chest is redder than Ligero's tights at this point. In a great show of audience participation, two of the fans hold back the Beverley Hills resident as the Bull joins Marty in a chop this time! Out of nowhere, Mason appears and takes out Scurll. How loco. This allows Nathan to focus on the 'Mexican' and he delivers a slap of his very own before the two retreat.

We hear now that Ligero, Cruz and referee Chris Roberts have apparently ended up in the ladies'. There's no camera to capture the action there. That would just be wrong. We now watch Mason use a water bottle, showing how loco he is to use such a weapon with the referee out of sight. Scurll being sent into the ringpost is far more effective. During this time, El Ligero and Chris Roberts have reappeared and Marty now focuses on the man in red. In a fatal mistake, he goes to hit a chop on the fellow fan favourite but he moves! Scurll hits the ringpost! The party's over! Cruz has reappeared attacking Mike Mason though Ligero pops up to kick the living daylights out of him. He is then sent into an array of chairs. The fans will him on to use it and apparently he does, but at this point the camera has accidentally zoomed in on the mask of El Ligero and you can't see this most emphatic move happen. Nevertheless, the sound of the gasping fans tells us how hard the shot must have been, as Scurll takes out Mason. In an odd moment, the Bull hands the Party Starter a chair, and grabs one of his own, and the two play dueling chairs with one another, with Ligero coming out on top with a chair to the midsection then one to the back! Remember what I said about El Generico earlier? Well here's an olé chant! You have to wonder if the song and dance is over though as Cruz whips him with so much power that he somersaults into a plethora of chairs! Jesus!

Scurll uses a chair of his own in the room, and takes the time to sit down and drink a spectator's beer. He goes to down the drink and, well, I was anticipating to say he gets interrupted but that isn't the case surprisingly. Scurll goes to join the men on the outside as Cruz reverses an El Ligero powerbomb to flip his opponent's back onto the solid wooden stage. They're not softening the bumps for the first show, which is nice to see, as the Mexican Sensation is thrown all the way down the stairs and into the ring. He doesn't even know where he is at this point so Mike Mason enters the ring and reminds him with a few clubbing blows to the back. Watch Nathan Cruz here. He's entered the ring and is just crouched in the corner. Ligero has a chair to fend off Mason and though Chris Roberts fails to take it off him, Mike Mason does, ONLY TO GET IT DROPKICKED INTO HIM! Scurll is now recovering too, resting his head on the apron. Mason is hit with a huge basement dropkick but that's just a two. Cruz is simply yelling at Mason now barking at orders at him, realising that he's going to listen to them all as the Loco one is used to being subservient. He continues to boot a cornered Ligero as Marty still watches on as Cruz himself hits a springboard back suplex. The Showstealer takes out Party Marty so that the two heels can try to take out the Bull. Big mistake. Ligero hits a bulldog on Mason and a kick to the fellow dastardly villain at the same time! Mason is sent to the outside as Ligero continues to stun Cruz, this time with a springboard flying chuck kick. One... Two... Almost three! Mason enters the ring but is thrown out of it for good measure once more. Nathan attempts to fireman's carry his foe who escapes out of it. A superkick looks good for a potential elimination but Becky James wills her man back into the ring. He gets enziguried for that! Not only that, but he suffers a big splash, but Becky James pulls the referee! Cruz hits a big kick to the head to the man from Mexico! Chris Roberts enters to count 1...2...3. Wow, I thought Elimination Number One was Mason's number.

EL LIGERO HAS BEEN ELIMINATED

Alliances are short lived here as Mason sneaks behind his opponent and hits a big suplex. What's this though?! El Ligero reaches in and trips up Mike! He wasn't even the one who eliminated him! Marty Scurll re-enters the fray and rolls him up for a sudden three count! Just like that we are down to two!

'LOCO' MIKE MASON HAS BEEN ELIMINATED

One of these two men will be our first ever Champion, as they sit in parallel corners. The two spring to life and unleash a flurry of strikes which Cruz gets the better of. Never mind, Marty has his own combination now! He pounces at his foe and scoop slams him. A Fist Pump on the top turnbuckle turns into a big knee drop for 1...2... But no, not the Championship! We hear that the next will take place on June 24th, that's three months after this one mind you! The fans are loving the here and now though as they will on the Party man himself! Unfortunately he gets flapjacked into the corner and neckbreakered. 1...2... That's just two. The raucous fans are all for Party Marty who gets his neck almost kicked off from a seated position. There's another pinfall for two. Cruz continues to work on the neck, this time with a sleeper. The Showstealer is all over his opponent at this point. He guillotines his opponent's head on the rope before running and dropping his leg onto the back of rested opponent's head. That's just a two still. As Cruz now continues to strike at a now upright Scurll, Marty staggers about and keeps asking for more, even if he's not all there. With more ring awareness than wits at this point, he suddenly lifts Cruz up for an inverted lungblower. What a move! Still though, he's just as worn as his opponent and it takes out a dual-five count before Marty can go for the cover. You guessed it, another two!

Scurll is feeling it now with several right hands in the middle of the ring and a combination of right and lefts in a corner. Even when Cruz tries to flip him onto the apron, it just means that Scurll can hit an enziguri to the back of the head, and a crossbody! Two! AGAIN! What can Marty do now? A knee in the corner, followed by a double knee gets yet another two count as Cruz still hangs on, even though he looks more collapsed than the end of a Jenga game. After a brief "Nazi Staff" chant that Jim was unable to will away earlier, Nathan shows there's some fight left in him as he drop toe holds Scurll and goes for a pin, with rope leverage! Roberts spots this but is helpless to prevent Cruz's take on the Michinoku Driver II. He lifts Scurll up into the fireman's carry before performing the sitout scoop slam piledriver known as Showstolen! That has to be it. That's one. That's two, and that's a kickout?! What?! The Showstealer is livid as he goes for the move again but Scurll drops down, shoves Cruz against the ropes and rolls him into a Chaos Theory with bridge! 1...2... No! I've never seen so many two counts! Add two more to that as both men try a cradle on one another. Both men try the same trick next, a clothesline a piece! As Justin Roberts counts to nine, and the crowd therefore count to ten, both men raise up to avoid the official call of the referee! This can't end on a double countout. Nobody will let it!

The two groggy grapplers give it all in a brawl, with traded boo/yay hands. This continues for what feels like an eternity before Marty gets the advantage. He hoists Cruz on his shoulders, spins him around, and the Showstealer's legs take out the referee! Oh no, this can't be good! Nevertheless, things don't trouble Scurll for now as a rolling elbow dispatches of his foe. The fans count three but this means nothing when the referee has been taken out! Speaking of which, so are the chances of Marty having kids as Cruz low blows him! There's an Ace Crusher, as the audience chants "The Referee's A W*nker" for they know what happens next. One... ever so slowly. Two... leisurely. Thr- NO! A frustrated Showstealer tunes up the band but Party Marty rolls him up! 1...2.. No! Out of nowhere, Cruz hits a kick of his own to the side of the head. That's how he eliminated Ligero! 1...2... THREE! THAT WAS THREE! WE HAVE OUR FIRST CHAMPION!

MARTY SCURLL HAS BEEN ELIMINATED, WHICH MEANS...

WINNER AND THE FIRST PROGRESS CHAMPION: Nathan Cruz

The Showstealer is handed the Staff and rises it above the head of his downed opponent. He blows a kiss to Scurll as even the fans who jeered him feel that they must applaud him. Jimmy Barnett thanks us for watching the first show as an advert tells us that PROGRESS will return for Chapter Two: The March of Progress. For this event though, the credits roll, literally. Not a bad start indeed!

I had a blast watching this. Other than the moments that you couldn't quite see due to the limited production, and of course, because a small part of it took place in the ladies, you had to love everything that you could see. You can't hate on Progress for the production at this point. This was all about the inauguration; this was their first event and they chose one hell of a heel to be their first champion. Cruz had the crowd in the palm of his hand throughout and with the long wait between the shows at first, his reign will feel extended during these write-ups. There's nothing better than a face chasing the gold for quite some time and Scurll or Ligero would make for excellent choices. I can't wait to find out what happened with any of you first-time watchers and those already in the know.


---

CHAPTER CHAMPION

There you have it, the staff has been decided but there's something else on the line here that will no doubt become rather prestigious and that is the Chapter Champion award. You see, to anyone who reads my other in-depth series, Sound of the Underground, you'll know that I choose who I think made the best impression and award them what I call the Temple God mantle. As we're talking PROGRESS, it's only fair to jazz up the name for this series and to make it relevant.

I think we all know there can only be one winner this time around.

Chapter 1 – Nathan Cruz

Though I was particularly impressed with the performances of the likes of Marty Scurll, Xander Cooper and El Ligero, you can't bet against the man who won the inaugural championship tournament. Will he win this moniker next time around though? Well, let's see what happens when we turn the page.


MIDCHAPTER MUSINGS

The second Chapter occurred three months later at the Garage and was titled The March of PROGRESS. During this time, PROGRESS really branched out with their social media, as the hashtag #BookHavoc exploded. The story followed Jimmy Havoc's desire to appear for PROGRESS Wrestling and Jim Smallman's reluctance to book him, given his reputation as a death match wrestler, a far cry from the strong style image he wished for the brand to represent. As a result, Jimmy trained relentlessly to prove that he had the skills required to make it onto the next card. We'll soon find out whether he succeeded or not but for now, I had to choose this particularly entertaining re-training video:



As for our Champion – Nathan Cruz – he did what many heel champions before him in wrestling had not. He challenged the man who took him to the limits to a rematch for his gold, determined to prove his worth and to potentially defeat the PROGRESS fans' hero right in front of them once more. It was brave, ballsy, but was it foolish? We'll have to see!




FINAL THOUGHTS

Yes it was a little rough, yes it was a little unpolished, but would it be the rock and roll promotion that you've heard the buzz about, or even have been drawn to attend, without such humble yet brash beginnings? Would you be compelled to see how it has grown into the widely successful brand that it now calls itself today? There wasn't a bad match on the card and to be honest, you'll soon see that in fact, that becomes the standard for each show. Here's to PROGRESS, its talent, and its staff. I hope you see what I did there.

I want to know your thoughts of course. Hit me up in the comments section below or on Twitter below via @LeafLOP




Until next time, which shouldn't be too far away considering I plan to eventually catch up to deliver real-time reviews, I've been the "King of the Columnists" Ryan 'Leaf' Plant, telling you that this story is far from over.


---

WANT TO PROGRESS FURTHER?

The LOP Columns Forum has been the start of many Main Page tales. The stars of tomorrow and the veterans of the past become the ever-incredible present, all within one fantastic forum! Here are some of my personal highlights this week.

Xanman makes a brilliant argument for why Pete might well be done- following a finisher kickout - during his view on the week in The X-Patriot Takes for the week of 1/22/2017--First up, "Is Pete Done?"

zzzorf endeavours to find out who picked up the 2016 crown in both WWE and NXT in The King of Stats presents the 2016 WWE Superstar & NXT Superstar of the Year

Mizfan also looks back at last year as he presents his phenomenal countdown of the best and worst matches across all of wrestling in The Bright Side: Match of the Year 2016 Countdown Series Spectacular!!

Start your story. Check out the Columns Forum today.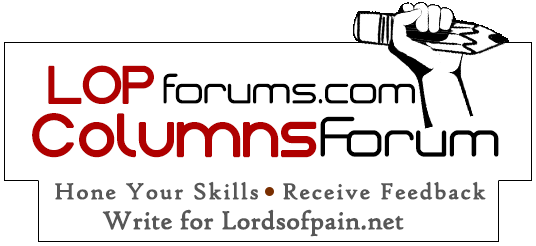 SOUND OF THE UNDERGROUND: A Character Perspective - King Cuerno
SOUND OF THE UNDERGROUND: A Character Perspective - Pentagon Dark
SOUND OF THE UNDERGROUND: Character Perspective - Johnny Mundo
SOUND OF THE UNDERGROUND: S3 Season God Award - #5 - #1