---



The Crow's Nest - Lockdown Wishes and Predictions


By TheCrow
Mar 8, 2013 - 9:52:17 PM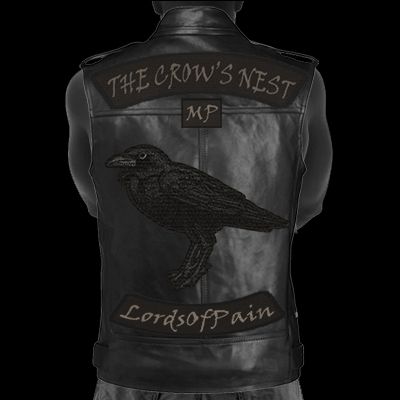 1) Lockdown Wishes and Predictions (03/08/13)




This Sunday, TNA will air its second PPV of the year, Lockdown. It's the ninth Lockdown event in the history of the company, and I'm usually looking forward to the show for the annual "Lethal Lockdown" match, where two teams of five will face off against each other inside a specially modified steel cage. If you've never watched one before and you're even a slight fan of hardcore-style wrestling, I highly recommend checking out some of the Lethal Lockdowns from the past.

This year, I find myself not as excited as I usually am for Lockdown, for many of the same reasons I'm not overly excited for Wrestlemania: there has been very little build-up, and TNA hasn't given me a whole lot of reason to want to buy the PPV. Even the company's biggest storyline, the ongoing drama with Aces & Eights, is quickly losing my interest because even when there are developments, they generally fall flat. Most recently, that would be the "big reveal" of D'Lo Brown as the VP of the gang. Seriously, does anybody care that he's involved in the group? Does that make A&8 look more intimidating at all? My answer would be no to both of those questions.

That all being said, TNA has shown in the past that they can deliver a solid PPV, even when I'm not excited to watch it. Despite my less than enthusiastic feeling for the card at this point, I'll be watching the show on Sunday, hoping for the best. Until then, let's take a look at the card and what I think will happen.



******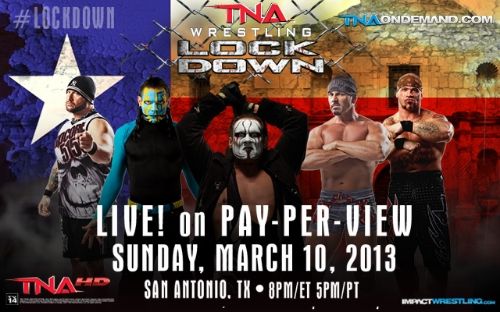 The Knockouts Division is in trouble, plain and simple. For every step forward TNA takes towards getting that division back to the level of prominence it was once at, they take at least two steps back. The biggest problem right now is that TNA doesn't seem able to multi-task with its booking of the Knockouts. What I mean by that is that, while they've done a great job in building up Gail Kim and Tara as credible heels, they have done nothing to build up the faces, preferring to rely on whatever kind of pop the crowd will give them. I know what Kim and Tara are all about, because TNA has allowed them to develop characters. But do we really know anything about who Velvet Sky, Tessmacher, etc. are? No, because they don't have personalities aside from being the "good guys".

But as for the match…

Velvet Sky is still very fresh off of her return to the company, and it's pretty clear that TNA wants to push her as the top name in the division. Gail Kim, who is no stranger to holding the title, is one of the other top Knockouts, and seems to be making a return to regular TV now that the novelty of the Tara/Jessie pairing is cooling off. As much as I'd like to see Gail Kim reign supreme over the Knockouts again, Sky is just too new to the title right now to drop the belt just yet. Like I mentioned above, TNA needs to establish a face Knockout as a top character, and the best way for that to happen is to let Sky have a lengthy title run. She's over with the fans already, but she needs to reach the next level.

What I Think Will Happen: Velvet Sky retains
What I Wish Would Happen: Velvet Sky retains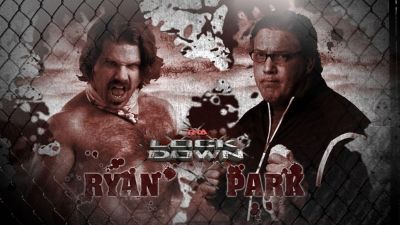 Am I the only one who's confused about this match happening? No? Alright good.

Joseph Park is actually quite entertaining in his newest role, and his shtick is over with the fans. He's never going to be a champion-calibre character, but that's fine because it's not what he's meant to be. Joey Ryan debuted in TNA with a hell of a lot of momentum, but that has cooled down to a crawl. I don't get why he's being fed to Park in a random PPV match, so I don't know what more I can say about it. I don't see Park losing though, that's for sure. TNA appears unsure how to use Ryan after exhausting his initial burst of popularity, so I might suggest he spend some time off TV to refresh, perhaps a stint in OVW.

What I Think Will Happen: Joseph Park wins
What I Wish Would Happen: Joseph Park wins




Speaking of guys who need to spend some time in OVW, it's Wes Brisco!

Despite what many other people believe, I see a load of potential in this kid. He's got a good look (pause) and some very raw talent, but he's just not ready to be on the main roster just yet. His promo work is shaky at best right now, as he just seems to be uncomfortable on the mic. He's very green, but he's still relatively young (30) so there's time for him to improve and get to that level where he's ready to compete with the top names in TNA.

His opponent on Sunday isn't just one of the top names in TNA, but one of the best professional wrestlers to ever step foot in the ring, Kurt Angle. Angle has been acting as a mentor of sorts for Brisco, until the betrayal that is, and that's exactly the kind of thing Brisco needs to step his game up. Thankfully Angle has done a fantastic job in selling his hurt and anger over Brisco turning his back on him and joining Aces & Eights, so at least this match makes sense.

I think Angle is going to carry Brisco to a decent match. But who's going to get the win? Aces & Eights is still being booked rather poorly, so a big win over one of the top names in the company is necessary at this point. TNA needs to start some kind of redemption for Aces & Eights, and that could start on Sunday if the group gets the win in every match they're involved in. I'm hesitant to believe they'll do it, but at this point I think even they know what has to happen.

What I Think Will Happen: Wes Brisco wins
What I Wish Would Happen: Wes Brisco wins




This is a match that's been building for quite some time now. The tension between these two former allies has been compounding for a long time, and it is finally coming to a head at Lockdown. It's not going to be a technical masterpiece, it's hardly going to be the "Match of the Night", but it's going to tell a story. Has Rob Terry ever been as over as he is right now? No, not even close. The man is on a roll right now, and whether or not you personally like him, TNA would be stupid not to capitalize on that momentum.

Robbie E., I still believe, is one of the most underused and underrated talents on the roster. He's made the most of a fairly goofy gimmick, something Zack Ryder has failed to do, and has been entertaining during the run. I hope that once this feud finishes, TNA allows him to take some time off to recharge, and perhaps reinvent his character into something with a bit more staying power.

As much as I like Robbie E., Rob Terry deserves the win. He's riding a massive wave of popularity and momentum right now, and that needs to be capitalized on for all it's worth. It's the simple tale of the abused friend finally striking back against the abusive friend, something I'm sure most of us can relate to, and that's going to help propel Rob Terry to a level of over-ness he's never been at before.

What I Think Will Happen: Rob Terry wins
What I Wish Would Happen: Rob Terry wins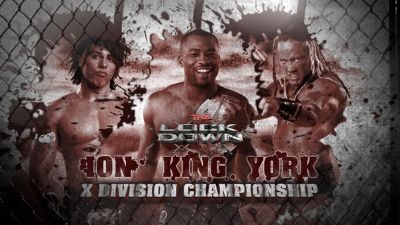 Yet another seemingly random match on this PPV card. TNA finally pulled the trigger and gave King the X-Division Championship, but instead of scheduling former champion Rob Van Dam for a rematch, they put in a couple of guys that haven't done much of anything in recent memory. There's one thing I can think of that would redeem that seemingly random decision, but I'll get to that in a bit.

King, much like Joey Ryan, came into the company with a massive initial push, making it look like TNA had big plans for him. They made a big deal over his signing, but after the "honeymoon" period, he disappeared from TV altogether. Sure, he'd appear for a few random matches here and there, but he was never put into anything major. Now that he's the champion, I'm hoping all that is about to change.

I really like York as a performer, and I think he could be a great addition to the X-Division if TNA would just use him more regularly. He gets great reactions from the crowd, is more than competent in the ring, and could be a big star. Ion, while not the greatest in-ring or on-mic wrestler, is very decent for the X-Division. He's got that high energy style that the division was once known for, he gets (or rather has shown he can get) big heat, and could easily be used as the "spot monkey" of this match.

All that being said, I don't see King losing the belt just yet. He's just won the championship a short time ago, and there's no sort of storyline in place that would explain him dropping it to either of these guys. King retains, plain and simple.

What I Think Will Happen: Kenny King retains
What I Wish Would Happen: Kenny King retains

Oh, you thought I forgot about that possible redemption thing I mentioned? Come on now.

The reason I kept calling the match "seemingly" random is that I could see one possible booking decision that would have it all make sense, at least somewhat. Whether or not this actually happens is unknown, because it is kind of "out there", and I'm sure most of you will doubt TNA would think to pull it off, but I'm going to go ahead and propose it anyways.

Zema Ion looks like he's about to steal the match, when all of a sudden the returning Jesse Sorensen runs out and costs him the victory. I don't know how many of you follow Sorensen on Twitter, but he's been regularly posting pictures of himself, and the kid is in the best shape of his life right now. It's been over a year since he was injured at the hands of Zema Ion, and that's longer than it was said he would need to recover. So he returns to cost Ion the title, setting up a feud between them to finally settle a long overdue score.

Again, I don't know how likely it is to happen, but in my mind that outcome would redeem this match's randomness. I would still wish that the match had had some kind of build-up to at least attempt to throw people off the scent of Sorensen's surprise return, but it would be better than the match just being randomly added to the PPV.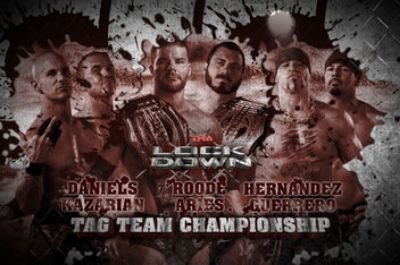 If it weren't for the fact that the tag division in TNA is lacking many real teams, I'd say it's about time to get Chavo and Hernandez all the way out of the company. Hernandez may have improved slightly since his most recent return, but it's too little too late. Chavo, as solid as he can be in the ring, just has no business being in a major company at this stage in his career. He's not over, and he's just taking up a spot that could be better used for somebody who would benefit from TV time.

As much as I'd like to see the "World Tag Team Champions of the World" reign supreme once again, I'm just not sure this is going to be their night. They've gotten to the point where they don't need the belts, because they're already the most entertaining part of Impact on a regular basis. Aries and Roode, however, need something to keep them busy until the World Title scene frees up some space. They've done a great job as champions thus far, and I look forward to the inevitable breakup and feud between the two.

The TNA tag division needs a great team at the helm right now, and Roode/Aries is the perfect place to start. Both are among the top names in the company, giving the tag belts a bigger air of prestige than they've had in some time. I hope that TNA gets their act together and creates some new teams, but until that happens I'm perfectly fine with the champs walking out with the gold on Sunday.

What I Think Will Happen: Aries and Roode retain
What I Wish Would Happen: Aries and Roode retain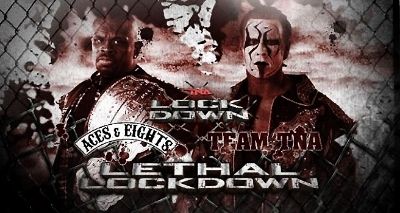 This should be the biggest match on the card, because it contains the biggest feud in the company right now. Sadly, Aces & Eights has largely been a flop, so this match just doesn't have the kind of impact it should. That being said, it's still "Lethal Lockdown", and more often than not that's a match that delivers entertainment and violence in a big way.

Aces & Eights still hasn't won that big PPV match yet, so they need the win on Sunday. They need to give the fans a reason to believe that they are a force to be reckoned with, because at this point they just look like a bunch of whiny babies who throw tantrums when they don't get their way.

The thing that's making this difficult for me to predict is the recent return of Eric Young. I find it hard to believe that TNA would have him return for no reason, so the way I see it there's two ways this match will end: Aces & Eights win after Eric Young betrays Team TNA and is revealed as the leader of the group, or Team TNA wins and the burial of Aces & Eights continues. Maybe TNA will finally try to do the right thing by having Aces & Eights get a victory with no strings attached, but the company has proven in the past that they don't feel it necessary to do that.

I really don't know which way to go with this one. I'd like to believe that things will be different on Sunday and Aces & Eights will finally get their big win, but it just seems unlikely. I'm not 100% confident in this pick, but I suppose we'll see at Lockdown.

What I Think Will Happen: Team TNA wins
What I Wish Would Happen: Aces & Eights wins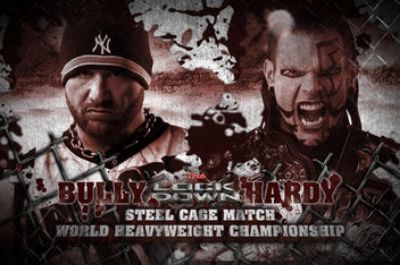 Finally, the man who should be World Champion is getting another shot at glory. Bully Ray was named the #1 Contender by his "father in-law" Hulk Hogan, and he finally gets his shot at Lockdown. This is the moment I've been waiting for since last year's Bound For Glory…

But I have a feeling that things are not going to go Calfzilla's way on Sunday.

Up until last night's Impact, I was all but sure that Bully Ray would be taking the World Championship home with him. It just seemed like the likely outcome, given how he had been built over the last few weeks, but then Matt Morgan came back and kicked Jeff Hardy's skull in.

I have a feeling that Morgan is finally going to get his shot in the main event, and unfortunately it's going to come at Bully's expense. I believe Morgan will make an appearance at the show and cost Bully the match. Bully and Hardy may be competing inside a steel cage, but Morgan will find a way. I don't see the point in having Morgan come back like this if he wasn't going to get put into the main event.

I really hate the fact that Bully is likely going to get screwed out of the title again, but if it means that Matt Morgan is finally going to have his long overdue chance at the top of the card, I'll find a way to deal with it. Of course his involvement could be a total red herring and this match will end cleanly, but who knows. That is the kind of booking TNA needs to be doing more often, the kind that makes people consider a handful of possible outcomes.

What I Think Will Happen: Jeff Hardy retains
What I Wish Would Happen: Bully Ray becomes the NEW TNA World Heavyweight Champion



******



So there we have it, my predictions and wishes for the Lockdown PPV this Sunday. As always, I look forward to hearing what you fine folks think is going to happen, so do the right thing and let me know. Until next time, thanks for stopping by.

Get In Touch With Me

Email: lopcrowsnest@aol.com

Twitter:

Skype: thecrowlop
The Crow's Nest - Welcome Home Angle
The Crow's Nest - 30 Day Challenge: Day 14: Favourite Promo
The Crow's Nest - 30 Day Challenge: Day 5: Favourite Wrestling Company
The Crow's Nest - Jumping Ship: Which TNA Talent GFW Should Go After