---



The Crow's Nest - Final Bound For Glory Thoughts


By TheCrow
Oct 15, 2011 - 8:37:57 PM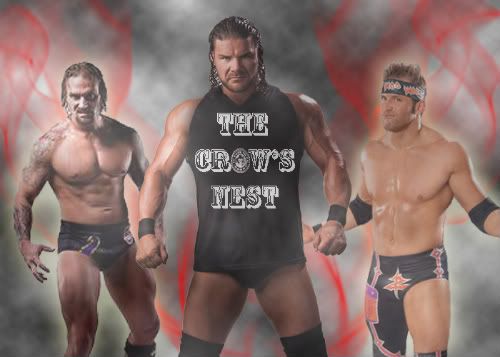 Final Bound For Glory Thoughts



Well folks, it's almost time for TNA to air their biggest PPV of the year Bound For Glory and yours truly is really quite excited for it. Say what you will about TNA, but they usually manage to pull it out and put on a solid PPV event, and on paper it doesn't look like this one will be any different.

The PPV has a 9 match card, and each of them serves a purpose in either ending or continuing a storyline, as matches on a PPV card should. Not one of the matches on tomorrow night's card feels random or thrown together, and while I'm not super high on a couple of the feuds that are taking place, they still serve a purpose.

A little while back I gave my early predictions for the PPV since most of the full card had been posted already. Now that we're only a day from the show, I wanted to take another look at the card and see what, if anything, had changed since then. So to kick things off, let's take a look at my predictions for the show.



************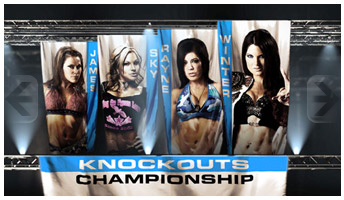 In a move that seems completely foreign to WWE's Creative team, TNA has been building this match for weeks now by having the women compete in qualifying matches to be able to participate in the title match at the PPV, thereby giving the impression that they actually care about their women's division. It's also a match where what I WANT to happen and what I THINK will happen are two very different things, but more on that in a second. Mickie James needs to stay far away from the title. She's still a decent enough in-ring performer, but holding that belt gives her nothing at this point. Velvet Sky has never held the title before, and it would certainly be nice to see her win at the company's biggest event of the year. Madison Rayne is one of the strongest competitors in the company and has already proven before she is capable of leading the division. And of course the current champion Winter, my personal favourite female competitor in the industry today. If I had it my way, Velvet Sky would be taking the belt home tomorrow night. But as for an actual prediction, I have to imagine that Karen Jarrett is going to play a role in the outcome (given that she's "in charge" of the division) so I would imagine that one of the heels gets the victory. Rayne may be deserving, but Winter should hold on to the belt to further establish herself as a top name. So in that case my prediction is…
Prediction: Winter retains




This one hasn't been built up quite as long as others on the card, but it's still one I'm looking forward to. It's a difficult one to call because I would argue that both men are in a position where they need a win to regain some momentum they've lost as of late. I've said in previous columns that Anderson is one of those guys who only seems to shine when he's chasing the championship, and ever since his most recent title loss he's just been floundering around not doing much of anything. Bully Ray built up incredible momentum during the Bound For Glory Series Tournament and seemed to be on his way to becoming a big time player in the company, but much like Anderson he hasn't done much of anything recently. I'm a big fan of both of these guys, but of course there can only be one winner. Being that this is a "Falls Count Anywhere" match, I can only imagine that this is going to be more hardcore than it will be a technical masterpiece and that kind of violence adds to my interest. Both men could use the win, but one of them could use it more. That man is...
Prediction: Mr. Anderson wins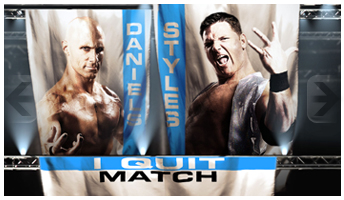 Normally I'd be drooling over this match, but in this case it's one of those matches that I don't fully agree with. Their match at Destination X earlier this year was billed as their final match ever, then they had a rematch on September 1 at iMPACT that was supposed to REALLY be their final match ever. Now we have another matchup between the two tomorrow night in what is REALLY REALLY supposed to be the final match. I do somewhat buy that this may be the last time they face off considering the stipulation, but given the history of the wrestling industry overusing the "FOR THE LAST TIME EVER" storyline, I don't 100% buy it. But enough ranting, on to the match. Regardless of my opinions on the match taking place, there's no doubt in my mind that on any other card this could be a "Match of the Night" contender. Styles and Daniels have both proven that they can work an amazing match together and I doubt tomorrow night will be any different. If this is really the last time that they're going to face off, and for the love of all that is holy it had better be, the logical winner of this match should be quite clear. One of the competitors is in the twilight of his career and may be better served with an off-screen role in the company, the other guy is AJ Styles. Styles is the company's clear golden boy and is still young enough (33) to be the future of TNA, assuming he never gets a chance to dip his toes in the WWE's waters. Styles is the man, plain and simple.
Prediction: AJ Styles wins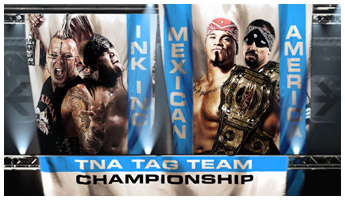 More than any other match on the card, I disagree with this match existing. Ink Inc returns out of nowhere, ambushes the champions, and all of a sudden they're put in a title feud? Meanwhile you have a tag team waiting on the sidelines that is more than capable of pulling a solid feud out of Mexican America, and that team is none other than The British Invasion. Ink Inc should not be anywhere near those title belts, and in my opinion they're nothing more than filler in a relatively small tag team division. Moore and Neal aren't the worst wrestlers of all time, but they're just not faces I would want representing my company as champions. For all of Mexican America's faults they're at least a fairly strong group of wrestlers. Of course there's always that news rumour that Hernandez may not be with the company too much longer, so it might make sense for TNA to take the belt off of him now and at least attempt to build a new team. I thought this match would be an easy one to call, but I find myself having to really think about it here. So that being said, my prediction is…
Prediction: Ink Inc. wins to become NEW TNA Tag Team Champions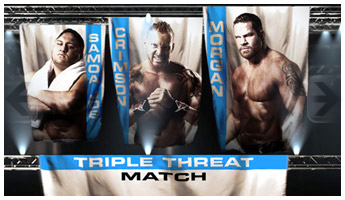 If this match was a one-on-one between Crimson and Samoa Joe, Crimson would be my clear cut choice simply because I don't think it's time for him to end his streak just yet. But since it's now a triple threat with Matt Morgan being thrown into the mix, my pick changes. Both Morgan and Crimson have storyline beef with Joe so I can only imagine that there's going to be at least a temporary bit of teaming up going on to take Joe out of the equation for a while. Crimson has an amazing opportunity here to learn from two of the best that TNA has to offer and if he's smart he'll shut up and pay attention to what they're teaching him. I still believe that Morgan would have won the BFG Series if he hadn't been injured, so he's in need of a big win. I wouldn't be surprised if Morgan and Crimson handled most of the work here with Morgan looking like he's going to steal the victory, but Joe comes back near the end and gets the win over Morgan. It's win/win/win. Crimson technically still has never been pinned, Morgan looks strong even in defeat, and Joe gets a much needed victory over a big name. Joe is on the right path to becoming a monster again, and this win could cement that future. Do it right TNA.
Prediction: Samoa Joe wins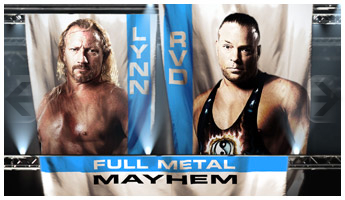 For those of you that may not be aware and didn't catch my last explanation, a "Full Metal Mayhem" match is essentially a TLC match, but with the added stipulation that anything made of metal is a legal weapon. RVD and Lynn don't need any sort of hardcore stipulation to put on a solid match (as they've proven before) but this could turn out being a nice old-school hardcore match. The weapons are going to play a big part in this match and I imagine there will be a couple of high spots, but the critical part is still going to come down to the men in the ring. This feud has kind of flown under the radar on iMPACT so it needs to be especially strong to create the necessary emotion to make it a success. At the end of the day though, there's only one clear winner. Jerry Lynn is not a regular TNA performer and therefore a win serves him no purpose. RVD isn't super regular either, but he's at least a name that TNA feels comfortable using when needed. Unless Lynn is going to be coming to TV on a regular basis, which I for one would not agree with, RVD is the only logical choice.
Prediction: RVD wins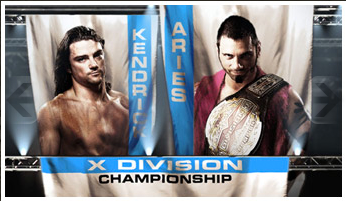 Now THIS is a match that has the potential to steal the show. Since joining the TNA roster Austin Aries has quickly become a weekly must-see. He's developed a nice heel persona that the X-Division was sorely missing and provides a nice bit of humour on the mic while he's at it. And then there's Brian Kendrick. When he was in WWE as "THE Brian Kendrick" people were jumping all over his bandwagon touting him as a legitimate future champion. Then he had to go and get released, which sent him over to TNA, and now he's some weirdo that fails even harder at being deep and thoughtful than Abyss did when he carried around "The Art of War". Kendrick has a lot of potential to help the X-Division regain its lost glory, but he really needs to drop this current persona. It's not working and it's impossible to buy him as a champion right now. Aries is the division's best chance right now and he consistently proves it on a weekly basis. If things were being done my way, he would hold the belt for a long time before losing it. So…
Prediction: Austin Aries retains




This match is creating quite the discussion amongst wrestling fans. I've been against it from the get go purely because Hogan isn't capable of actually wrestling, as he proved in a recent interview where he said he won't be taking any bumps. That's right folks, Hogan will not be taking any bumps in this match. Even the TNA website is billing it as "Hulk Hogan fights Sting". This is going to be brutal to watch and even Sting's still existent skill in the ring won't be enough to save things because, again, Hogan can't bump. Looking at the stipulation that if Hogan loses he will relinquish control of the company to Sting and Dixie Carter, my choice for winner becomes clear. Then again, there's the news that Hogan recently resigned a contract with the company for 1-2 years (depending on the report you read), so that may lead you to think that relinquishing control of the company on screen won't happen since he would then serve no purpose. I really hope that Hogan resigning with the company doesn't necessarily mean he'll remain as an on-screen authority figure. This is easily the hardest match to predict for the PPV because the consequences are huge either way. There's only so many times that TNA can keep using Dixie Carter in storylines without (kayfabe) reinstating her to her position of power before fans start to lose interest. Then again, what happens to Hulk Hogan once he's no longer an authority figure? Does he become a backstage guy? Will his ego allow that to happen? I could make arguments for either possible result, but I'll go with my gut here and say…
Prediction: Sting wins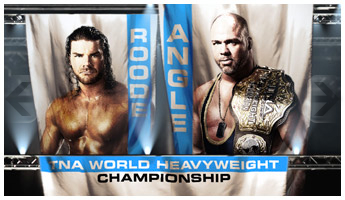 Main event time. The end of months of storyline buildup and the chance for TNA to fully elevate a new main event talent. Bobby Roode vs. Kurt Angle, the TNA World Heavyweight Championship. Kurt Angle is a legend of the ring, so nothing really needs to be said about him. Roode has been with TNA for 7 years now and despite primarily being a tag team wrestler, he's one of the strongest competitors on the roster. Solid mic skills, solid ring skills, a well established character, and years spent in the company building a relationship with the fans? Sounds like a world champion to me. Despite Hogan's ridiculous remarks that Roode isn't "the next guy" (which I could go into a massive hate-filled rant about), Roode is ready to carry the company. There's so many fresh feuds ready to happen with a new face in the title scene and TNA would be stupid to deny that. If Kurt Angle somehow walks out as champion tomorrow night I might have to go and pimp slap whoever made the decision to let that happen. Far too much time has been spent now building up Roode as the #1 Contender to let him fail, and on top of that it's just his time. Roode has been one of my favourites for a long time now, and now his bandwagon grows more each week. I wonder if this is how SuperChrisss felt after people jumped on the Ryder bandwagon despite him touting the Broski's greatness for so long before that? Anyways, here it is. My prediction.
Prediction: Bobby Roode wins to become the NEW TNA World Heavyweight Champion



******



On paper, Bound For Glory looks to be a very strong show. Even the weaker parts of the show (Tag Title match, Hogan/Sting) have me at least somewhat interested. TNA has a chance to deliver in a big way tomorrow night and they really need to do just that. iMPACT has been solid on a regular basis recently, and if TNA can keep that momentum going with a great PPV, they stand to end 2011 in a much stronger position than they entered it at. Sting vs. Hogan is going to determine which direction the company goes after tomorrow night because it will determine who's in charge. If Hogan retains power, I doubt things will change much because we've been through this before. If Dixie Carter regains power the whole landscape of iMPACT is going to change. It's been just over a year now since Immortal took over TNA (October 14, 2010 for those of you that want specifics) so it almost seems fitting that Hogan would lose control tomorrow night. Like I said earlier this needs to be the end of this whole "Dixie Carter tries to take back TNA" shtick because it's starting to get old. Either way, this needs to mark the start of something new. Either Hogan keeps control and (kayfabe) things stay pretty much the same, or Carter takes her company back and begins a new age. I'm hoping for the latter because I'm tired of Hogan. The "Hogan and Bischoff" experiment failed, so they need to try something new.

I'm excited for tomorrow night's show and assuming nothing happens to my cable between now and then, you can bet that I'll be watching it live.



************



Soundtrack From the Nest



I've been a big fan of these guys for years now. At the risk of sounding like a douchebag hipster, I was going to see these guys perform in tiny venues before they ever hit it big. After Jacob Hoggard (the singer) came back from his stint on Canadian Idol the original band broke up, but Hoggard got a new group of guys together to form the Hedley that exists now, and they went on to become a best selling group. This single was released on my birthday in 2007 which was kind of neat but overall probably uninteresting to any of you. They've got a new album coming out on November 8, but for now you should check out some of their other stuff.
The Crow's Nest - Will We See Bully Ray Back in WWE?
The Crow's Nest - What's Next for TNA?
The Crow's Nest - Welcome Home Angle
The Crow's Nest - 30 Day Challenge: Day 14: Favourite Promo
The Crow's Nest - 30 Day Challenge: Day 5: Favourite Wrestling Company