---



ATTITUDE! One Night Only (CPR Productions)


By Maz & Mav
Feb 28, 2014 - 10:08:45 AM


'Sup, Lords of Pain? It's a day later than normal but once again it's me, Mazza back with Maverick to take our weekly trip back to the Attitude Era. Before we get on with the show though, some of you may have seen that I wrote a column a few days back looking at which wrestlers were likely to hold the WWE World Heavyweight Championship in 2014. I put up a poll because I was interested in seeing who the fans thought would hold the gold this year. A massive 78% thought that Daniel Bryan would be champion at some point before the year is out. I find that a huge number considering how many people are not happy with his booking. The internet is confident he will get what he deserves even if it is a lot later than hoped. Batista was chosen as the second most likely to win the strap during 2014 and only a third of people who voted can see that happening. I think that is quite telling that there is such a huge gap between first and second. John Cena and Brock Lesnar were next with 25% and 22%. It's amazing that only a quarter of the people who voted saw a title reign for Cena, and that just goes to show how unpredictable the scene is for this year with one belt and so many upcoming stars. Of those new stars, Roman Reigns was voted most likely to win the belt with 18% seeing it coming before 2015. That is about double the votes his fellow world title virgins Bray Wyatt and Cesaro received. Rather interesting it is also double the votes Phil Brooks received. With under 10% of the IWC believing Punk will be champ in 2014, it looks like we are very much resigned to the fact that the situation is totally legit. I guess we find out for sure on Monday.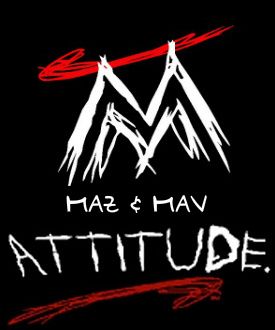 Mazza: Being a British wrestling fan is a strange old business. We are stuck with staying up to ungodly hours or desperately trying to avoid spoilers the next morning on a weekly basis. We don't have an easy/cheap time getting hold of merchandise and we aren't getting the network for probably another ten months at least. We desperately cling to hope that we will get another big event, even though we know it's a pipe dream. All we get for our fever pitch fandom is a Raw, a Smackdown and a handful of house shows every six months. That wasn't always the system though. Back during Attitude (and into Ruthless Aggression), we would get a "PPV" every six months or so. Problem was it was UK exclusive so we were the only ones paying for it.

Maverick: Yep, that's right Maz, they'd give us a PPV, but it was often a piece of monkey crap so bad you'd be hard pushed to even call it a house show. But back in September 1997, when they first instituted that tradition, WWF sprang a surprise and gave us a veritable smorgasboard of a card that did full justice the fanatical devotion of their legion of British fans. Bret Hart and The Undertaker had been even more popular over here than in America for years, while one of Bret's stable mates was one of our own, loved by us all simply because of his birthplace. With these ingredients prepared, it was sure to be a fun night, but just how well does this debut UK PPV stand up to modern day criticism? Let's wait no further as we look at...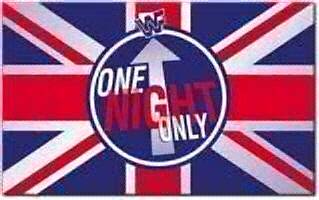 The Event: One Night Only
The Date: 20 September 1997
The Place: NEC Arena, Birmingham, England




BACKGROUND AND BOOKING


American wrestling in the United Kingdom had been a big deal ever since a significant number of households got a hold of a Sky satellite dish, and by the time Summerslam '92 rolled around, main evented by a bona fide British hero in Davey Boy Smith, it was fair to say that almost everybody you knew over here on the right side of the pond knew about and cared about wrestling, at least for that brief window. The New Generation period did see a slackening of interest in the UK, with a good many of the fans of the early 90s Hogan/Warrior/Savage boom years moving on, but there was still a hardcore of fans who loved WWF and packed out arenas on each annual overseas tour the company put on. By '97, the fanbase was growing again, wrestling was becoming hip again, and high street shops were starting to stock the iconic Stone Cold 3:16 t-shirt, and that's why WWF gave the UK a pay-per-view, as opposed to, say, Germany, where interest was also big, but perhaps not quite as rabid. As I said in the intro, this would be a legitimate attraction with a stacked card that was followed the ongoing storylines from the summer. To date, it's the last time Vince and co paid us the honour of providing a PPV that wasn't just a house show with a few bells and whistles, although I suppose we do at least get two Raws and two Smackdowns a year these days.

In the main event slot was the British Bulldog himself, just as he was in 1992. Now a grizzled veteran and in fact a better in-ring performer than he had been during the programme with Bret Hart for the Intercontinental Title, Davey was booked in a match for his European Title against the Showstopper, Shawn Michaels, whose heel turn had done nothing to quench the storyline and real life beef between himself and the Hart Foundation. Davey made the unfortunate mistake of dedicating the match to his cancer stricken sister, vowing not to lose, a promise he made after hearing that he would be going over. Little did he know that the Heartbreak Kid had made a vow of his own; a solemn oath to do no more jobs. With he and Hunter having the ear of Pat Patterson and the booking committee, the finish was changed, on the proviso that Shawn needed more heat going into his big match with the Deadman at the next pay-per-view, which was due to be followed by a hot match in Montreal against the champion Hitman. But let's not get ahead of ourselves.

Bret himself was booked in a rematch from Summerslam against The Undertaker. Having won the gold in controversial fashion, The Hitman was out to prove that he was the best there ever will be, and not just a cheap heel who got lucky. The Pink and Black Attack was very much looking forward to the match as he and the Phenom were good friends and had always enjoyed working together. In fact, they'd been the most popular wrestlers in the UK and the rest of Europe through the New Gen and wanted to give their fans something special. Bret was none too pleased with being in the semi-main event, thinking that the WWF title should always headline, but he had no compunction about headlining over 'Taker through the spring and early summer, so I think we can attribute those remarks to the customary Hitman paranoia.

The other singles bouts were promising on paper; the Dude Love persona brought a whole new dimension to Foley's feud with Hunter Hearst Helmsley (now recognisably degenerate in appearance and attitude) and Owen Hart taking on Vader in an extension of the Border Wars angle (all it took for Vader to be a convincing babyface was for him to decide to defend the USA- crowds went crazy for it) looked like a classic David vs. Goliath encounter in the making. The Patriot found himself pretty directionless following his loss to Bret Hart at Ground Zero, and ended up facing Flash Funk, but the two guys could go, so it at least promised to be a solid bout. Tiger Ali Singh vs. Leif Cassidy was less salubrious than any of the aforementioned contests for sure, but even the best cards feature the odd jabroni!

Elsewhere on the show we had a couple of tasty looking tag matches- Los Boriucas, gaining ground through their gang warfare storyline, had a shot at The Headbangers and their newly won tag team belts, while Legion of Doom (always insanely over in England; seriously, every kid in my school was mad for them) had yet another installment in their long running rivalry with The Godwinns. One thing was for certain; the audience would be hot for the duration. So here's Maz to take you through...


THE UNDERCARD


We start things off with a video package really putting Davey Boy over at the hometown hero.


Hunter Hearst Helmsley (With Chyna) defeated Dude Love in 11:06
Ah the WWF and their love for stereotypes. Today the UK Raw set tends to feature an old-school red phone box (seriously Brits, when was the last time you saw one whilst going about your daily business) and a black cab. In 1997 the idea was to put a couple of Beefeaters to stand guard along the entrance way. Hunter amusingly stares them down on his way to the ring. Foley cuts a promo before the match in a British accent (97 was the year of the first Austin Powers movie) which I could have done without. It feels like the 100th time in a row I am reviewing a match between these two. So far that hasn't been a problem in the slightest because in addition to their excellent chemistry, the matches had evolved along with the storyline. This time however Hunter wouldn't be taking on Mankind, but Mick's Dude Love alter ego. It freshens things up and we have a fast pace early on. We soon settle down and it is Foley who is in control of this one, working the arm and then the leg. He goes to his Sweet Shin Music (which does exactly what it says on the tin if you've never seen it) which leads to Hunter running off around the ring until Chyna interferes with a clothesline. Helmsley now takes charge as the King tries to imagine Chyna as a Page 3 Girl (if only it had stopped there, Jerry!). HHH goes for an abdominal stretch and uses the ropes for extra leverage. The ref eventually catches him and breaks it before they get into each other's face. The match goes back and forth from here as both men pick up some near falls. Hunter soon gets caught on the top rope with an arm drag and Dude follows it up with Sweet Shin Music and a double arm DDT. Chyna makes the save by placing Helmsley's foot on the rope and in the aftermath the King of the Ring hits a Pedigree to pick up the victory. Definitely a change of pace from the bitter feud that had been ongoing but a pleasant one. It was worked with some comedic touches, in part due to the 'face of Foley' involved and in part to the house show type feel of the event.
ATTITUDE! Rating: ***¼


There is a segment interviewing a bunch of fans (who are all very 90s and British) about who they want to win the main event. Definitely a mix of answers. What is strange though is they all seem to be Londoners despite the event being in Birmingham. Actually, thinking about how that Brummy accent would sound on camera it's probably not so bizarre.


Tiger Ali Singh defeated Leif Cassidy in 4:10
Before this match can get underway, we are treated to an appearance from Sunny. She showed up at SummerSlam as a silver lining to something pretty horrible and it's the same deal here. Tiger Ali Singh was the son of wrestling legend Tiger Jeet Singh. To be honest, he looked the part too. I remember when the WWF were building him up being quite intrigued. Obviously however he never amounted to anything and this brief match with the man who would soon be known as Al Snow would give you a clue as to why. He and his old man cut a pre-match promo which generates a heel reaction although it wasn't overly clear that is what he was going for. The match sees both men take turns in charge and has plenty of rest holds, which is ridiculous for a match going less than five minutes. Fortunately there isn't much going on after this. Cassidy struggles to pop Singh on the top ropes (not sure who was to blame but it was painful to watch). Tiger then comes off with a bulldog for the win. Horrible action but at least we get to see Sunny prance around a bit more post-match.
ATTITUDE! Rating: *


The Headbangers defeated Los Boricuas in 14:07 to retain the Tag Team Championship
The tag team champs are ridiculously over in the UK which makes me slightly embarrassed to admit my nationality. I guess a crowd had to get behind the Bangers at some stage with how they were being pushed. Representing Los Boricuas are Savio Vega and Miguel Perez. Vega had been a prominent part of the WWF midcard for a while but Perez was no slouch either. He was a second generation tag team specialist with a stacked CV. He showed it here outside the cluster**** gang warfare environment. He starts off with some nice selling and the Bangers look infinitely better working with good technicians. The action is smooth and eventually the Boricuas take charge. We see a good blend of rest holds and explosive moments and Perez shows off a crisp standing moonsault. We go to the rulebook of basic tag team psychology with Thrasher playing the face in peril, the ref missing tags and the challengers cutting the ring off. After a couple of big hot tag teases, Mosh eventually gets in and is like a house on fire. He gets a two count courtesy of a top rope hurricanrana on Perez when Vega makes the save. The actions breaks down and although Perez hits Thrasher with a powerbomb, Mosh comes off the top again with a Stage Dive to pick up the victory. Really good tag team encounter here. I am a sucker for the fundamentals of two on two action and this definitely showed that off.
ATTITUDE! Rating: ***


We have an interview with Davey Boy and JR where Bulldog dedicates the match to his sick sister.


The Patriot defeated Flash Funk in 9:31
Next up we have a strange face vs face encounter pitting a jobber against a guy who just came off a WWF title match. To make it stranger, that second face is being treated as a huge heel. We start out with a handshake as JR plays up the fact that they have both seen success in Japan. Of course he goes and ruins a good bit of insight by then stating that "Flash Funk needs to win, he's got 6 kids at home. They're all hungry". WOW! Ross was easily as bad as Lawler at this stage with some of the stuff he'd come out with. We get some fun opening exchanges and Wilkes is getting huge heat (my countrymen begin to win my respect back). It settles into your typical big guy-small guy encounter as Patriot uses his size and power whereas Funk uses speed and high flying. We have some rest holds but they aren't overly lengthy and Wilkes does a bit of a Hogan rip-off by hulking up before hitting a nice piledriver/suplex combo. The action continues to go back and forth and both men go close with top rope moves (Wilkes with a shoulder block, Funk with a splash). The Funky one goes to the well one more time however for the moonsault but Patriot gets his knees up. He follows up with the Uncle Slam (still ridiculously named!) for the win to a chorus of boos. As far randomly thrown together midcard matches go, this was pretty fun.
ATTITUDE! Rating: **½


The Legion of Doom defeated The Godwinns in 11:34
This is the part of ATTITUDE! where I give my weekly "LOD cut a mad promo and come out to a huge reaction" speech. This time the promo is even more insane as Hawk appears to be talking about birds shitting (the flying variety, not the female of the species… I hope anyway). The reaction is too as the UK love them some Road Warriors. On a side, as they make their entrance we see a "HBK IS GAY" sign in the crowd! Ah the nineties! The start of the match is very slow as both teams milk the reaction that the fans are giving them. Once they do hook up it is hard hitting like their SummerSlam encounter. It soon gets dull and a bit rest hold heavy as we ease into a face in peril scenario. The hot tag to Hawk comes and the action breaks down. Hawk is soon on the receiving end of a Slop Drop for a two count and we settle into another face in peril run. It's rince and repeat as Animal gets the hot tag and all four men get involved once more. A Doomsday Device sees Phineas almost come down on his head as LOD pick up the win. Animal gestures that they want the titles after the match. The action wasn't awful but it was slow for long portions. On the plus side, the crowd were very much into it which helped it along.
ATTITUDE! Rating: **


We now get an in-ring segment as JR brings out Ken Shamrock. He was due to take on Owen Hart but Vader took his place after he sustained internal injuries courtesy of a Faarooq spinebuster. Shamrock says if it was up to him, he would fight but he'll be right back. He receives a mixed reaction which he sells as a good one. Rockabilly then comes out to boos saying Shamrock was making excuses. Billy heels it up and slaps him. Shamrock puts the ankle lock on and Billy taps. If you take one thing from this event, remember it as the day Billy Gunn's mic skills rescued a segment. That's how uncomfortable Shamrock was on the mic here. You have to say it worked though as The World's Most Dangerous Man ended up getting a big reaction. Kudos Billy!

We then go to a backstage segment with Bret who gets a reaction here reminiscent of John Cena. There are cheers, there are boos but it is loud. He puts himself over in a typical face manner.


Vader defeated Owen Hart in 14:21
We had a little teaser of this match up back at WrestleMania 13 when they squared up in tag team action. I am pretty glad Shamrock couldn't take part here. We'll get to see the World's Most Dangerous Man take on Owen later in this series. Vader comes out to a decent reaction (which is impressive when you consider his face turn was based solely on his nationality). Owen is hugely over however, more so than his big brother and he waves the Canadian flag over the announce team on his entrance. Once the bell rings I'd say about three quarters of the fans were in Hart's corner. Vader's power game gets the better of things early on and he uses this to get a few more boos thrown his way. Owen makes the nice contrast with his speed and athleticism and it makes for some fun exchanges. Vader is soon back in control however and the pace slows down considerably and the rest holds ramp up. Hart tries to slam the mastodon on a couple of mini-comebacks but fails. Finally Owen gets back in the match by countering a powerbomb with an enziguri. He goes for the Sharpshooter but the big man makes it to the ropes. He goes for the slam once more and succeeds but it can only generate a two count. The tide turns back in Vader's favour as we head towards a very nice finishing sequence. Owen gets his knees up on a Vader Bomb attempt and follows up with a top rope dropkick and spinning heel kick for a two count. He then goes to the top once more but gets caught in a powerslam coming off to give Vader the victory. A similar dynamic to the Patriot-Funk match from earlier. The start and finish were great but it was a bit too slow in the middle to make it a classic. Still some very good action and storytelling on show.
ATTITUDE! Rating: ***


Bret Hart defeated The Undertaker in 28:35 to retain the WWF Championship
Before we get down to action we have a Taker interview where he says he has One Night Only to prove himself. A little cheesy but a simple and effective promo. He gets a strong reaction and, like earlier, Bret's is very mixed. It's certainly not the case of the Harts automatically becoming babyfaces in the UK, particularly with a wildcard like the Deadman involved in things. Bret plays on the heat by exposing the turnbuckle early on. He tries to go for the Sharpshooter quickly but Taker kicks him off. The pro-Hart portion of the crowd seem to be finding their voices with Bret controlling the match but once again , it is something very similar to what Cena deals with most nights. We get our taste of the Attitude style brawling as they head outside, up the entrance way and then back to the ring. The Deadman is in charge now but a big DDT from Hart swings things once more. The champion works the legs using the heel handbook for support before he falls victim to the turnbuckle he exposed early on during a reversed Irish whip. Still, Bret manages to control things and by the time he goes for the ringpost figure four, the whole of the arena has pretty much moved to the darkside. Hart soon goes for his finisher again but Taker powers out. The Deadman then hits a Hogan style big boot and leg drop combination which has Bret scrambling to the outside. He goes for the ring bell but Taker manages to take it from him, before the ref sees it. As he tries to wrestle it away from the challenger, Hart takes out his knee. Bret blocks an attempt at Old School (which was newish school back then) and counters a Tombstone attempt for a two count. A couple more counters result in Bret's head getting caught up in the ropes. Taker attacks and the crowd shift once more as they boo the Deadman. The referee calls for the bell and we have a DQ finish. Taker is pissed and chokeslams the ref. Owen and Gerald Briscoe untangle Bret and the future stooge also takes a chokeslam. The Deadman gets some loud boos by the end of it. It was definitely a very solid follow up to their SummerSlam clash. Not quite as good but still a strong encounter which was added to by the crowd ebbing and flowing over who they were behind.
ATTITUDE! Rating: ***¾


THE MAIN EVENT


Shawn Michaels (With Rick Rude, HHH & Chyna) defeated The British Bulldog (With Diana Hart-Smith) in 22:53 to win the European Championship
It's important for the benefit of historical context that I emphasise just how loved Davey Boy Smith was in the United Kingdom through the 1990s. He was representing our group of islands on the crazy international stage of sports entertainment and every time he came home the reception was massive. In the grand scheme of things, there aren't many better upper midcard talents ever than Davey. He was enormously powerful, yet quick and technically sound too. His matches with Bret Hart in 1992 and 1995 are all time classics, and his European Title tournament final win with Owen Hart is a contender for the top ten TV matches of all time. Not only did we have a wrestler in the WWF, he was a bloody good one, and his career is, for me, all too often overlooked. When he got a main event, it was always exciting to us over here, and doubly so when that main event was an important angle, as with Summerslam 92, as with Canadian Stampede, and of course, as we have here.

Shawn naturally gets a massive heel reaction when he comes out, although the ladies in the audience scream themselves hoarse for his pretty boy good looks, and HBK hams it up at ringside, allowing himself to be groped and pawed by Birmingham's womenfolk. The British Bulldog gets the hometown hero reception you'd expect, and he comes out with his sick sister Tracy, who is then deposited at ringside with that veteran of emotive Davey matches Diana Hart Smith. The presence of these two ladies lends huge emotional resonance to proceedings, giving the whole affair a kind of melodramatic desperation. The crowd is crying out for a Bulldog win, and Michaels is smart enough to play off that for heel heat for the duration of the bout.

The initial stages of the contest cleverly illustrate Davey Boy's far superior power, with several lock ups ending with Shawn on his rump; the Boy Toy sells his frustration beautifully, a kind of semaphore of petulance. When Michaels goes to use his quickness, he finds that the Bulldog has him matched in that department too, and he bails out for a breather in time honoured wimpy heel fashion, even making the "time out" sign, much to the derision of the crowd. The break in the action does him no good however, as Smith's monstrous strength sees him throw HBK around like a rag doll; one spot I particularly love is the gorilla press where Davey goes to chuck his opponent unceremoniously over the top rope but is prevented from doing so by the surprisingly (by this time) rules aware referee. For the next few minutes, a Michaels come back is continually teased, but Bulldog always has an answer, turning an attempted huracanrana into a bodacious power bomb.

With his high flying opponent grounded, Davey works mat submissions, an arm ringer and a bow and arrow that'll be immediately familiar to ,modern day fans of Daniel Bryan. This is of course sound psychology, since the European Champion wants to keep Michaels from getting loose and starting to fly around the ring, always the degenerate's strength. With Shawn's chances apparently receding faster than his hair line, the "insurance policy" of Degeneration-X walks casually out from the back in his suit to break up a three count and then fling Bulldog into the ring post. I think this illustrates just how interesting DX were as a heel stable at the outset of their run. Even for fans who remembered Rude's superb work in the 1980s, this new suited and booted version was mysterious and sinister, much like the current corporate incarnation of Kane. JR on commentary goes spare, frothing at the mouth over the "insurance" Shawn has "bought".

Having gained the advantage by nefarious means, Michaels then displays classic wrestling psychology, in a match filled with it, by keeping his larger foe on the canvas with a sleeper hold. Just to stack the deck further, Hunter Hearst Helmsley (now starting to be referred to on commentary as Triple H, which is a landmark moment when you think about it) and Chyna come out too, with Hunter wearing truly abysmal street clothes. Short sleeved turtle neck sweater and gold chain anyone? Jeepers. Despite the loaded dice, Bulldog makes an impressive power comeback that gets the audience on their feet; as we've seen with recent UK episodes of Raw, there's nothing quite like an arena full of passionate Brits roaring their hearts out. However, Michaels is cute enough to move out of the way of the oncoming corner charge so he can hit a pair of picture perfect top rope elbows, but his subsequent tuning of the band is in vain as Davey moves and gets Shawn up for the powerslam...but Rude has hold of his ankle and he can't hit the move. Despite home field advantage, the numbers game works against the Bulldog, even though he had a stable of his own who you'd think would be backing him up...but more on that later.

The end sequence is brilliantly conceived in terms of getting Michaels heat. Out on the floor, Davey goes for the powerslam, but he slips and hurts his leg. After a Sweet Chin Music and a Pedigree outside, Shawn removes Davey's knee brace and tosses it at Diana, before applying the figure four. What follows is a kind of grimly ironic version of the Stone Cold vs. Bret Hart story at Wrestlemania XIII, with Bulldog about to turn the figure four into an Indian deathlock only for Rude to cheap shot him back into the hold, whereupon he eventually passes out so that Michaels receives the stoppage victory.

Immediately, the crowd erupts in rage, filling the ring with garbage in protest at their countryman dropping his European Title in Europe to a performer who didn't need it and who had quite clearly politicked his way into favourable booking. Taking advantage of the volcanic heat, Michaels gets on the mic to dedicate his win to Diana (something which Bret confessed in his book that he quite admired!). With DX surrounding the stricken Englishman, HBK slaps the figure four on again, and Davey's wife hits the ring only to be struck down by the mighty Chyna. Finally the Hart Foundation hit the ring and clear house, but to all intents and purposes, the credibility of the Foundation had been sacrificed in favour of building up the new stable in town. The ramifications of that decision would come back to haunt everybody concerned over the next two months.
Nevertheless, Shawn and Davey worked an absolutely thrilling main event that any fan would be proud to have witnessed. The controversial ending only served to make it even more must see. Watching it back now is certainly a bittersweet experience, but the bout is certainly a testament to the skills of the two wrestlers involved and to the fantastic in-ring chemistry between them. They told quite a story.
ATTITUDE! Rating: ****


OVERALL THOUGHTS


Well this was certainly an interesting event. These UK only PPVs would be no sold on WWF programming going forward but this one was way too important to do that with and that all boils down to the main event. If Shawn didn't go over it may just be a part of history forgotten by all except those who were there. As it is however it will go down as the place Davey Boy dropped the European Championship and where DX was officially born. You can question the motives behind Shawn's politicking to win the match but you can't question the reaction it garnered. It created a furious end to an event where the crowd were really hot. The main event was a very good match too but overall so was the rest of the card. The Hart brothers both gave strong performances against talented big men opponents. Foley and Helmsley delivered once more and aside from the Tiger Ali Singh vs Leif Cassidy debacle, nothing was bad at all. The good news is that this strong PPV will live on in history thanks to the happenings in the main event, something future UK PPVs wouldn't have to fall back on.

Yes it just shows you what strong storytelling and controversial booking can do. The strong double main event involving four veterans from the late eighties/early nineties boom showcased yet again the confidence that WWE were gaining in themselves after a very rough 1996 had stretched Vince and co. near to breaking point. You'd be hard pushed to find many shows with in-ring action as consistent as we find in One Night Only. Perhaps just as importantly, we also saw, just as with Summerslam '92, how much UK audiences bring to pay-per-views. The question this raises for me is this: why can't we have another one? Not a UK only PPV, a proper one. WWE would get a better audience than some of the American cities, and they could actually live up to that first 'W' in their name. For those who naysay such a possibility, let me tell you that we would quite happily queue up for an event starting at 1AM to fit in with American time zones and that we would be just as hyped as we are at Raw tapings!




One Night Only Overall ATTITUDE! Rating: ***¼




MVP - SHAWN MICHAELS




Yes you read that right dear readers, Shawn Michaels becomes the second wrestler in the series to nab two MVP awards (Bret Hart is the other), but the first to win two in a row. Despite the ugly political backstabbing he was engaged in behind the scenes (more of which in a bit), there's no doubt that once he returned from injury he was motivated to prove himself worthy of his nicknames: the Showstopper, the Headliner, the Main Event. Having gone full blown heel at the last pay-per-view we looked at, One Night Only saw him take the heat seeking tactics to new levels. I dare say it's one of the most complete pieces of heel work I've seen in all my years of watching wrestling. As well as wrestling in a minor classic, Shawn managed to elicit the crowd to pelt the ring with rubbish, a precious rarity at a time where fans were more and more aware of the way wrestling worked. Michaels, just like Bret Hart earlier in the year, proved that heels could still be hated if they knew their trade well enough.

As I said in the wrap up, whatever his motivations were for positioning himself to win, you can't deny that it succeeded in achieving a positive for the company. Shawn had gotten over huge as a heel and it wasn't just down to the result. He wrestled a great match and along with his new stablemates produced a masterpiece in the art of heel. Of course their most dastardly act was yet to come but they played everything just brilliantly on this night with Shawn front and centre. There is a reason why this night in Birmingham is so influential and, the combination of Shawn at his best (in the ring) and at his worst (behind the scenes) worked together to make HBK a clear MVP at this event for our money.


THE ONE TO WATCH


This week in One To Watch, we delve into the murky waters of WWF politics in late 1997. There are plenty of sources out there to help put the pieces together if, like me, you've always been fascinated by this uniquely controversial time in the industry, and there are a few certainties we can begin with. Firstly, Davey Boy Smith was told in the week prior to the event that he would be going over. With his sister desperately ill with cancer, Bulldog gave interviews in kayfabe to Jim Ross on Raw and to the tabloids in the UK dedicating the match to Tracy and promising to win. Some time on the day of the event, the finish was changed, allegedly because Shawn Michaels and Hunter Hearst Helmsley used their stroke with Vince to influence the booking. Now, if we take those facts as our starting point, we can base our analysis on a few important wrestling principles. Firstly, in the conventional view of title belt hierarchy, the Heartbreak Kid was way above the European Title and did not need to win it. Secondly, it seemed cruel and petty indeed to deny a great company man like Bulldog a victory at home in the biggest UK event since the Summerslam at Wembley that was his finest hour. More than anything else, it seems as if Shawn and Hunter had the finish changed just because they could.

The counter argument here, of course, is that Michaels, having turned heel in late August, was trying to gain as much heat as possible as quickly as possible, and beating a Brit on his home turf in front of adoring fans was certainly a way to do that. The kayfabe trolling of Diana Hart Smith was masterful and watching it back today it works in the way all classic angles do. However, we now come against Bret Hart's biggest complaint about the evening, that the Hart Foundation were made to look stupid by being booked to ignore the constant Degeneration-X interference for the entire bout, interference which resulted in Davey losing the match and his title. In fact, the Harts only hit the ring when Diana is in peril. And although they stand tall at the end, setting up future kayfabe conflict between Shawn and Bret, the credibility of the stable of the summer took a massive hit from which they arguably never recovered.

What all of this evidence leads us to is the power of the newly formed Degeneration-X stable, both on camera and off camera, and that power would ultimately lead to some of the most controversial moments in wrestling history.

They definitely could have come up with a reason the rest of the Hart Foundation not evening up the score but I guess that was overlooked with last minute changes. On the flip side, if the stable wasn't about to be disbanded a couple of months later it could have been used as fuel for a split up down the line. But we have discussed the Hart Foundation at various points during this series and today it is the turn of DX. The funny thing is that historically DX is looked back on as a face stable. The rehashed versions in the 00s and the second version of the group that feuded with The Nation of Domination were extremely fan friendly. That is a long long way from where they started though. Like we have already mentioned, Shawn gave one of the finest heel performances you will ever see right here. Rick Rude, Hunter and Chyna all played their part too.

They say the best characters in wrestling are extensions of people behind them. I recently watched Thy Kingdom Come, the Triple H documentary and something stuck out at me. When recalling the infamous Curtain Call incident there was an implication that "Davey and them" were riling Vince up about it exposing the business. If Trips can still feel a little bite over that almost twenty years down the line, imagine how he felt less than two years later. He'd eaten a lot of shit during that time and seen Austin's popularity skyrocket after winning what was due to be his King of the Ring. Was this the Kilq's revenge? I think there is a good chance it could be. If this was the case then it could be that DX were actually a version of the Kliq with the volume turned down a notch. The heel work on screen and behind the scenes would notoriously continue throughout the rest of the year and you have to say that ends justified the means. Still, the fact that Davey had dedicated the match to his sick sister just doesn't quite sit right with me and never will.


FINAL WORDS


The editor of Power Slam magazine, the UK's longest running wrestling publication, declared One Night Only the WWF's "best ever in-ring presentation on these shores" and who am I to argue with such a sentiment? The NEC was packed to the rafters by 11000 rabid British wrestling fans, and the event did a 0.5, not bad at all given that Sky subscribers had been used to receiving PPVs for free over here.

Whilst you can't really compare the numbers to any of the normal PPVs or what was going on in Atlanta, One Night Only was still an interesting and important stop on the road through Attitude! Definitely a strong card top to bottom, I'm not sure it tops the two title matches from SummerSlam 1992 (plus the fact that I was there!). But we aren't here to discuss the history of the WWE in the UK. We have a whole lot more Attitude to get through before the series finishes and we go back to the States next week. The problems between the Harts and DX would be put on hold as the Foundation carried on their war against 'Murica and HBK had some unfinished business with the Deadman in a match that would see the debut of the Hell in a Cell, as well as somebody else….






-------





You can hear more from Mazza and Maverick on The Right Side of the Pond, part of LoP Radio. New episodes every are out every Friday at 9pm UK time/4pm EST.

On tonight's show Maz, Mav, Joey and Plan look back at Elimination Chamber and Raw as well as looking forward to WrestleMania.

Click here >>>HERE<<< to listen or download. You can also download LoP Radio shows >>>HERE<<< for iTunes or check out The Right Side of the Pond You Tube Channel >>>HERE<<<


You can like CPR Productions on Facebook




You can also follow us all on Twitter for "stimulating" conversation about all kinds of nonsense…


Follow The Right Side of the Pond on Twitter



Follow Maverick on Twitter



Follow Mazza on Twitter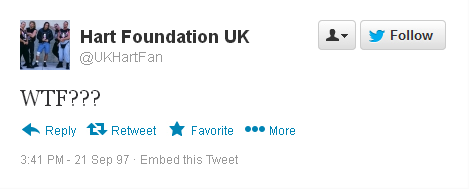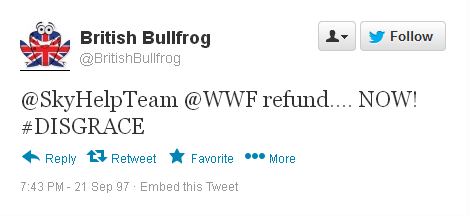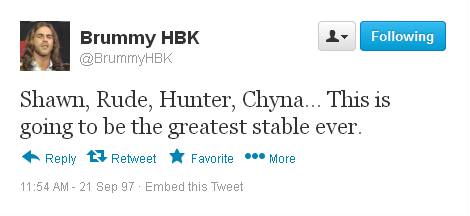 Mazza Marks... For Mania Macho Madness (CPR Productions)
The Devil's Advocate - So Much Universe
Smarks Court - Who Got NXT? (CPR Productions)
Mazza Marks... For Tag Teams (CPR Productions)