---



Statistically SummerSlam #4 - Bow Down... (CPR Productions)


By Mazza
Jul 27, 2013 - 4:21:20 PM


'Sup, Lords of Pain? It's that time of the week once again. This is the bit where I usually give a couple of my thoughts about the week in wrestling but having a whole load of spoilers mixing things up, I am just going to jump straight in this time with another....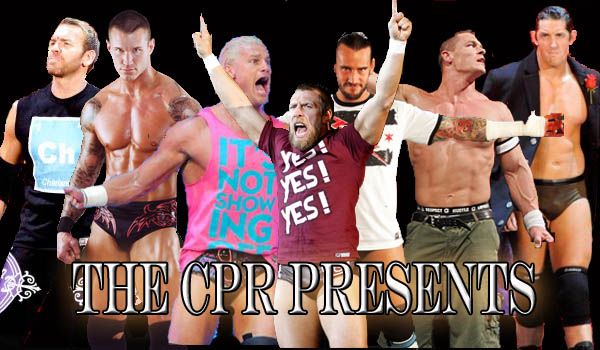 STATISTICALLY SUMMERSLAM




I am not going to hang around here either. If you have been following the series thus far you will know what is going on, if not you can catch up with the rules >>>HERE<<< in addition to finding the other editions of the series listed somewhere over >>>>>>>>> that way. I will get the SLOP answers out of the way nice and early this week seeing as SharpestTool and HiteshKK both nailed them once again. I am going to have to try and get a bit more creative this week! But we have 3 guys to talk about first, starting with...




24 - John Bradshaw Layfield
Appearances: 5 (=15th/29)
Win Percentage: 40% (=23rd/29)
Average MIF: 2.4 (=17th/29)
Average Match Length: 12:09 (=18th/29)
Average Star Rating: **1/2 (20th/29)




Rest assured that right now JBL's epic theme song (complete with cow moo) is going off in my head. Whilst I don't want to see him as an active competitor in 2013, it's a damn shame we don't get to hear it more on WWE programming. Anyway, back to why we are discussing Bradshaw. He is a guy that falls into the category of not appearing in anywhere near as many SummerSlams as he should have considering how long he has been around. Despite being a WWE employee from 1995, he didn't make his event debut until 1999 (yep, that darn tag team turmoil match again) and he only managed 5 appearances over the next decade. He was very much a peripheral figure for the company through the majority of his first 8 years and had it not been for a late in life awesome gimmick change, we could well look back on Layfield the same way we look at Bob Holly. He has a record of 2 wins and 3 losses and that 40% win ratio gives him a share of 23rd place. He is a bit stronger in the rest of the categories but not enough to push him any higher up the card.

His MIF puts him in 17th spot and is his highest scoring category. This is thanks in part to 3 world title matches. Although none of them went on last, it added some prestige in the latter part of his career to the couple of tag affairs he was involved in as part of the APA. He went an average of just over 12 minutes which is not particularly surprising for a guy not really known for his conditioning. In fact his longest match went under 18 minutes, so that is telling for a man that has been in the world title hunt 3 times. In ring quality is another area that you don't really think of as a key factor to Bradshaw's success. A 2 and a half star average puts him 20th in terms of quality. All his matches were around that mid-score range too. The tag team turmoil match got a star and a half and was the worst of his appearances. He was in 6-man action in '01 as the APA teamed with Spike Dudley in a losing effort against his big brothers and Test. His first couple of shots at the big time both garnered 2 stars. The first saw him defeat The Undertaker by DQ to retain his WWE Championship in 2004 whereas the next year he came up short in his effort to strip the World Heavyweight Championship from Batista. His highest rated match was actually in his last match from 2008. Here he put over a guy who needed a bit of credibility during his first world title run by the name of CM Punk. It scored 3 and a quarter stars and was a pretty decent sign off for a guy that was never going to have much to offer in the way of 5 star classics.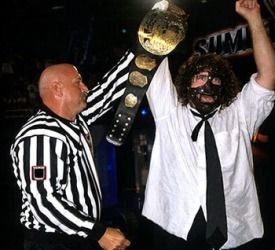 14 - Mick Foley
Appearances: 5 (=15th/29)
Win Percentage: 60% (=11th/29)
Average MIF: 2.6 (=13th/29)
Average Match Length: 15:30 (7th/29)
Average Star Rating: **1/2 (15th/29)




I tend to look at Mick Foley as a guy that managed to do it all, despite having limitations and that is exactly what his SummerSlam record suggests. Mick is the type of guy that will find himself just outside of plenty of top ten lists but always worth an honourable mention. He actually achieves that in almost every category here. He is in the big pool of superstars with 5 appearances to his name and his 3-2 record gives him a win ratio of 60%, equal 11th best. He has been up and down the card and a MIF of 2.6 represents that well and puts him equal 13th there. In terms of quality he has always been capable of putting on a classic but he has never had one of his all time great matches at SummerSlam. He has an average of 2 and a half stars and is 15th overall. The only category where he breaks the top 10 is match length. He has an average of 15 and a half minutes, the 7th longest out of everybody, but let's look at those matches a little more closely.

He started out in the high profile Boiler Room Brawl in 1996. There is no doubt that beating The Undertaker and being given close on half an hour is a good start to your time with the company. It's a match that splits opinion but I personally love it. His ability to work brilliantly within a gimmick led him to a cage the next year during his first (of many) feuds with Triple H. An opener was a new place for the cage but it was a fun match which I think was underrated by Meltzer at 2 and a half stars. 1998 would see him in a match that hurt his overall ratings. He had a storied history with The New Age Outlaws during the Attitude Era and battled against them with a whole host of partners, but this time he would be on his own. Kane no-showed, leaving Mick to defend the tag straps on his lonesome. An inevitable loss followed in a 5 minute, 1 star affair. His crowning moment came in 1999 as he defeated Steve Austin and Triple H in a three way main event to become WWF Champion. He wouldn't get that big Mania title win but he will always have this SummerSlam moment. Semi-retirement would follow but he still had time to take part in a grudge feud in 2006. His I Quit defeat to Ric Flair was very well done, even if both men should have long since hung up their boots, and is probably my favourite version of the gimmick (even over Mick's higher profile WWE I Quit). At 3 and a half stars it is actually the highest rated of his SummerSlam outings and definitely well worth a watch. But know it is time to look at one of the guys Mick really helped to put on the map as a big time player...




4 - Triple H
Appearances: 13 (2nd/29)
Win Percentage: 62% (10th/29)
Average MIF: 2.77 (8th/29)
Average Match Length: 16:39 (6th/29)
Average Star Rating: *** (=10th/29)




As some of you will probably guess, it pains me to see Triple H this low. I often think of Hunter as a good shout for second best performer in SummerSlam history but I can't go overruling my own equation, even for Trips! I think the key word to Hunter's stats is consistency. He makes the top 10 in every category but only making the top 5 in one is why he can't crack the top 3. Obviously his top category is Appearances where his 13 matches put him second to only the Deadman. He has won 8 of those matches and lost 5 which puts him in 10th position for win percentage, so he certainly doesn't quite have the dominating record many would think. Likewise his MIF is only 8th best but that is probably more due to the fact that he worked his way up to the top of the card over a few years. He has closed the show on 4 occasions and sub-main evented another 3 but he certainly hasn't overly hogged the spotlight. He had the 6th longest match length at 16 minutes and 39 seconds. He has a wide range here varying from 7 to 27 minutes. In terms of quality he averages out at 3 stars which puts him 10th. Considering that he can boast matches with the likes of Bob Holly (how the **** did he get mentioned twice in this column?) and The Great Khali.

It is interesting to note that Hunter has only been in the world title scene 4 times, and only once in a one-on-one. He has also found himself working with his buddy Shawn Michaels 4 times, twice as a team, and twice as bitter rivals. Outside of Shawn, he has rubbed shoulders with many of the biggest names in the industry at SummerSlam. Mick Foley, The Rock, Steve Austin, Kurt Angle, Chris Jericho, Goldberg, Kevin Nash, Randy Orton, Brock Lesnar and even Vince McMahon himself. If you count his work as a ref then you can add John Cena and CM Punk to that list. He certainly has his fair share of interesting encounters at the event and, as usual, Bobby Cash and I have discussed these on the latest episode of The Right Side of the Pond (links at the end of the column). It looks like there will be no Triple H at SummerSlam this year in a wrestling capacity but I am sure he has not done adding to his appearance counter just yet. Hopefully we will see him get his shovel out of the cupboard in 2014. In the meantime however, if you haven't seen his 2002 Street Fight with HBK, you can check it out here.






A couple of different SLOP questions before we leave...

SLOP15: How many different championships have been on the line at SummerSlam?

SLOP16: Name the 3 people with the most last match appearances?

SLOP17: How many different people have appeared in the last match at SummerSlam?


As usual you can enter your guesses in the comments section, in addition to Tweeting me or hitting up the CPR Productions Facebook page (links below). Remember that are just for fun though. Going to look them up just so you can look clever in the comments section would be pretty sad! Also, as usual be sure to check out the latest edition of The Right Side of the Pond where you can hear Bobby Cash and I discuss Hunter's SummerSlam record in a little more detail. In addition Plan and Maverick pay tribute to Macho Man Randy Savage in an excellent 101 WWE Matches To See Before You Die. You can download the show >>>HERE<<< (or >>>HERE<<< for iTunes) of simply use the magic LoP Radio box below. I will be back next week as we head into the top 3 but until then, peace!





Like CPR Productions on Facebook



Follow Mazza on Twitter



Follow The Right Side of the Pond on Twitter








Mazza Marks... For Mania Macho Madness (CPR Productions)
The Devil's Advocate - So Much Universe
Smarks Court - Who Got NXT? (CPR Productions)
Mazza Marks... For Tag Teams (CPR Productions)