---



Statistically SummerSlam #3 - It's True... (CPR Productions)


By Mazza
Aug 3, 2013 - 1:31:02 PM


'Sup, Lords of Pain? Tick-tock, tick-tock. Can you hear that? Nope, not the countdown to the self destruction of TNA but the countdown to one of the most hotly anticipated PPVs in years. The SummerSlam undercard is shaping up pretty nicely but it is the double main event that is capturing everybody's attention. I think that Brock Lesnar not being around much in the build up hurt the reception of his trilogy with Triple H but Paul Heyman and CM Punk are totally bridging that gap this time around. The feud is more about Heyman vs Punk with Lesnar the monster that will do Paul E's dirty work for him. It has led to some tremendous segments and to yours truly starting to entertain the fact that Heyman has surpassed even Bobby Heenan in the greatest manager stakes. Funnily enough though, despite how well The Best vs The Beast is being built, it is well and truly playing second fiddle in the eyes of the majority of the IWC to the WWE Championship match. Daniel Bryan fever is heading towards a crescendo at the Staples Center and wherever you look; in the LoP news section, columns section, forums or listen to LoP Radio, it is the story that everyone wants to talk about. I said last week on The Right Side of the Pond that I am not totally sure what I want to happen, but rest assured I plan on enjoying the heck out of it. But there is no shortage of SummerSlam 2013 coverage doing the rounds, I have 25 previous editions of the event to look at as I bring you...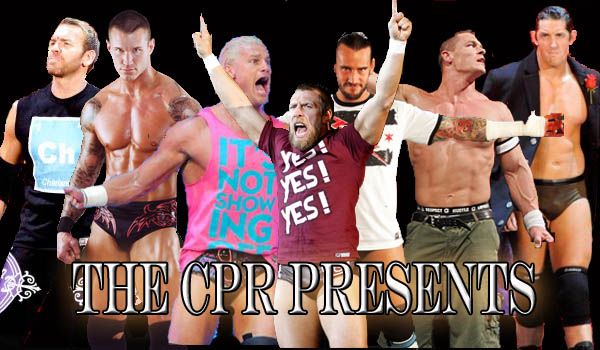 STATISTICALLY SUMMERSLAM




As usual, if you want a more in depth explanation of the series and the scoring you can check out the first column in the series >>>HERE<<< but before we jump into things, here is a quick reminder of who we have seen so far...


29. Matt Hardy
28. Booker T
27. Ted DiBiase
26. Billy Gunn
25. Sean Waltman
24. John Bradshaw Layfield

20. Eddie Guerrero
19. Batista
18. Rey Mysterio
17. Christian
16. Davey Boy Smith
15. Jeff Hardy
14. Mick Foley

10. The Undertaker
9. Hulk Hogan
8. Edge
7. The Rock
6. John Cena
5. Shawn Michaels
4. Triple H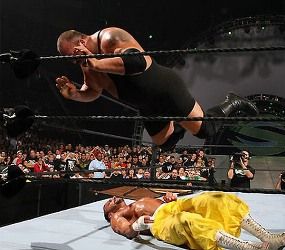 23 - The Big Show
Appearances: 5 (=15th/29)
Win Percentage: 80% (=4th/29)
Average MIF: 2.2 (=22nd/29)
Average Match Length: 9:55 (26th/29)
Average Star Rating: **1/4 (=21st/29)




So the man coming in at number 23 is a guy that should really be higher up the list considering his tenure with the company. To be honest, the fact that he only has 5 matches at SummerSlam is almost as embarrassing as his WrestleMania reel of shame that Cody Rhodes presented a couple of years back. The only thing that saves this huge man from slugging it out at the very bottom of the list is his win percentage. In fact he has found himself with a tick in the win column on every outing until last year. His 4-1 record is good enough to push up to 4th in that category. Last year also saw a positive change however as it was his first real foray out of the midcard as he finally got a WWE title shot at the event. It could still only push his MIF up to 2.2, good for 22nd spot. He performs poorly in the average match length category, failing to get past the 10 minute mark whereas in terms of quality he comes in 21st at 2 and a quarter stars.

Show made his debut in 1999 as one half of the Unholy Alliance. He and The Undertaker won the tag titles from Kane and X-Pac in a decent tag team encounter. Amazingly he wouldn't wrestle at the event again until 2006. Once again gold was on the line as he defeated Sabu to retain his ECW Championship in an extreme rules match. It was back to the tag division on his next outing as JeriShow served as the 2009 version of Hell No. They retained their straps against Cryme Tyme in an enjoyable encounter. It scored 2 and three quarter stars which is as high as he gets in terms of quality. He scored that again last year as part of the WWE Championship match with John Cena and CM Punk, but that time it was more of a disappointment seeing it was much higher profile. His other match came in 2010 as he took on the Straight Edge Society in a handicap match, coming out victorious in a poor encounter. So in reality, Show's SummerSlam record is pretty representative of his career in general - pretty disappointing although he seems to have had a good time playing.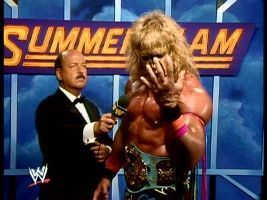 13 - The Ultimate Warrior
Appearances: 5 (=15th/29)
Win Percentage: 100% (=1st/29)
Average MIF: 3 (6th/29)
Average Match Length: 13:28 (15th/29)
Average Star Rating: **1/4 (23rd/29)




There are a handful of guys who played a huge role in the formative years of SummerSlam and, love him or hate him, Jim Hellwig is one of the most prominent. The event has been the scene of a lot of Warrior's best work as he was ever present at the first 5 Slams. Even more impressive is that he managed to pull out the win in all 5 of those matches and obviously a 100% win record gives him a share of top spot in that category. He also scores very well in terms of Match Importance Factor. He has a couple of final matches on his CV which help him to a MIF of 3, 6th best overall. He comes in 15th when it comes to average match length at around the 13 and a half minute mark. Warrior is definitely not known for his ability to put in ironman shifts so that is a decent showing. He has some interesting extremes in that category too, going less than a minute in his first match and hitting 28 minutes in his final one. His average star rating is around that 2 and a quarter mark. Again, Warrior isn't famed for his top quality encounters but he certainly has some interesting ones at the event.

Warrior started things out with a match that had a negative effect on his ratings but is a fondly remembered SummerSlam moment. He ended the Honky Tonk Man's epic Intercontinental Championship reign in just 31 seconds and whilst it didn't get any stars, it was a highly entertaining and feel good couple of minutes on the first edition of the event. He would win the same title the next year but this time in a highly entertaining match during his long rivalry with Rick Rude. The Ravishing One is often regarded as the man who could get the best out of Hellwig and taking him to 16 minutes and above 3 stars certainly helps that claim. By 1990 Warrior was WWF Champion and was once again paired with Rude, this time in a cage. This time they only got 10 minutes and although the match was definitely not as good (2 and a half stars), it was still a decent main event. 1991 was the infamous handicap match where he teamed with Hulk Hogan to take on Sergent Slaughter, Colonel Mustafa (Iron Sheik) and General Adnan. The victory of the dream pairing was overshadowed by the rumours that Warrior "shook down" Vince for extra money to appear at the event. The match was disappointing and Warrior would not be seen again until Mania VIII. He would be back in the WWF title scene on his final appearance in London against old rival (and the guy who actually got the best out of Warrior) Randy Savage. This 4 star match would see interference from Ric Flair and Mr Perfect result in a countout victory for Warrior. So there were definitely plenty of big moments in the crazy career of The Ultimate Warrior at SummerSlam.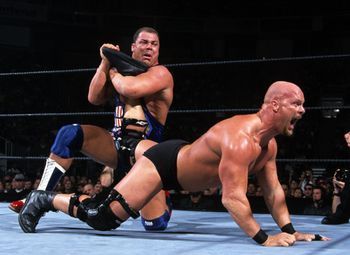 3 - Kurt Angle
Appearances: 6 (=12th/29)
Win Percentage: 83% (3rd/29)
Average MIF: 2.67 (=9th/29)
Average Match Length: 15:14 (8th/29)
Average Star Rating: ***3/4 (1st/29)




Kurt picked a good day to land his latest DWI. Unfortunately the latest episode of The Right Side of the Pond was recorded before the news came in so Bobby Cash and I didn't discuss it there, but I have a bit of time here. In addition to looking at Kurt's 6 SummerSlam matches, we also touch on a possible return to the company for Angle (link to the show at the end of the column). Unfortunately this latest incident puts the chances of more Kurt matches as SummerSlam a little bit lower but as a huge fan, I really hope Angle can find the strength needed to get over his problems. And if that proves to be a bridge too far, I hope he can at least call a cab or catch a lift when he has been drinking before he is involved in a real tragedy. But this is not about Kurt's demons but rather a celebration of the fact that he is the third greatest performer in SummerSlam history. Coming in third is made all the more impressive when you consider he has just 6 matches at the event to his name. He made up for that in other categories though. He finished third in the Win Percentage category thanks to his record of 5-1. He didn't even give up the fall in the "1" as The Rock pinned Triple H in a triple threat match for the WWF title. So he has the distinction of never being pinned at SummerSlam to go hand-in-hand with his record of losing 3 different titles at WrestleMania without giving up a fall for them.

Angle has been up and down the card during his SummerSlam run. He started out in the last match of the night but from there it was a couple of world title matches that didn't close the show in addition to 3 midcard encounters. That gives him a MIF of 2.67, 9th overall. He has the 8th longest average match length at just over 15 minutes. His 3 matches in excess of 20 minutes are dragged down by a sub 5 minute final encounter. Where Angle really has really excelled is in the quality department. With an average rating of 3 and three quarter stars, Kurt finishes top in this category. He actually hit his average rating on 3 different equations. Again it is his final match (against Eugene) that drags him down a touch, his worst performance at 2 stars. He has surpassed the 4 star mark twice. His match with Brock Lesnar garnered 4 and a quarter stars and his match with Steve Austin hit the dizzy heights of 4 and a half. This was the only one of his SummerSlam victories not to occur as a result of a submission. Austin was disqualified, thus retaining his title, in a match that I believe would have deserved a full 5 stars had it not been for the questionable finish. This is easily one of the greatest matches in the history of the event which is often cast aside. A must watch if you haven't seen it before or not seen it for a while.







Time to deal with last week's SLOP questions. As usual, SharpestTool covered all the bases and Jay_Patel wasn't too far behind. SLOP15 asked how many different titles have been on the line at SummerSlam. I have gone with Wikipedia's title lineage for simplistic reasons and have come up with this list...

World Tag Team Championship
WWF(E) Tag Team Championship
WCW Tag Team Championship
Women's Championship
Divas Championship
Light Heavyweight Championship
Cruiserweight Championship
Hardcore Championship
European Championship
United States Championship
Intercontinental Championship
ECW Championship
Million Dollar Championship
WCW Championship
World Heavyweight Championship
WWF(E) Championship

So the answer I was going for was 16. SLOP16 asked for the 3 people with the most last match appearances. The answer is Hulk Hogan, Triple H and The Undertaker, with Cena missing out in 2011 thanks to Alberto Del Rio cashing in technically making it the last match. SLOP17 asked how many people have appeared in the final match at SummerSlam. The answer was 47 and included some very unlikely names, but I think Michael Tarver may well end up being the most obscure.

This week I am going to throw up questions with a little more guess work...

SLOP18: Who will be number 2 and who will be number 12 on the Statistically SummerSlam list?

SLOP19: Name the 8 men who have more than one Summerslam match that have surpassed the 4 star mark?


As usual you can enter your guesses in the comments section, in addition to Tweeting me or hitting up the CPR Productions Facebook page (links below). Remember that are just for fun though. Going to look them up just so you can look clever in the comments section would be pretty sad! Be sure to check out the latest edition of The Right Side of the Pond where Bobby Cash and I will be disecting Kurt's SummerSlam matches. In addition Plan and Maverick discuss Mick Foley vs Umaga and NXT Review's Oliver takes on Joey in Room 101. You can download the show >>>HERE<<< (or >>>HERE<<< for iTunes) of simply use the magic LoP Radio box below. I shall be back once again next week as we look at another couple of also-rans before entering the elusive top 5. Until then however, Peace!





Like CPR Productions on Facebook




Follow The Right Side of the Pond on Twitter



Follow Mazza on Twitter








The Devil's Advocate - So Much Universe
Smarks Court - Who Got NXT? (CPR Productions)
Mazza Marks... For Tag Teams (CPR Productions)
The No Movement (CPR Productions)
Mazza Marks... For the Mid to Late 00s Midcard (CPR Productions)