---



Smarks Court Awards: Results & 2014 Predictions (CPR Productions)


By Maz & Joe
Dec 28, 2013 - 10:40:08 AM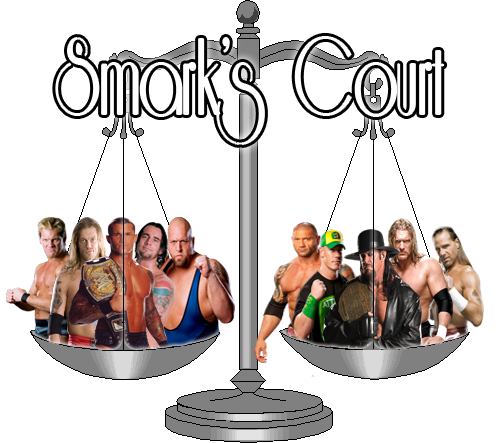 Joe: Season's tidings everyone! We hope that you and your loved ones were able to relax, enjoy each others company and just be merry during this time of the year. Maz and I welcome you back to...well to be frank, I welcome you back to the results edition of Smarks Court; I haven't heard from or about Maz since the last column so I might have to fly this badboy solo. But no worries, I'll try to keep my dick in my boxer briefs for most of it, no promises though. As a matter of fact...hold on guys I'll be right back.



Ok it's been two days since I started this Google doc and not a word from Maz, but as the famous starlet Jenna Jameson once said "Not in my ass!" oh and "the show must go on", or something.

Now that the polls are all closed, it's time to give you the results that we know you've been craving. And thanks to all of you who have voted, we appreciate your support; not sure if it's for us or for your love of voting in random internet polls but either way, thank you. First up to bat:





WWE Superstar of the Year




Joe: There was ever really going to be one winner for this award, but hey it was fun anyway, I guess. With a commanding 45% share of the poll, your winner of Superstar of the year is Daniel Bryan. Kudos to CM Punk for coming in second place; a very distant second but second nonetheless. And FINGER OF SHAME to all 31 of you who voted for HBK; I know my persuasional skills are top notch but there's not a single **** reason he should have gotten more than 0 votes. I am truly perplexed and saddened.

We will accept this victory of the behalf of Subho, who according to his last facebook status is "playing red rocket with Max"; not sure who Max is, as last I heard his living complex did not allow pets but hey, whatever tickles your pickle man. (**** you Maz where are you?)

Now, time for the winner of the event where you preferred two men in tights rubbing on each other over the other!




WWE Match of the Year



Joe: Now, this poll was a tad bit closer, but still this was a landslide victory. While I am disappointed the voters got this one wrong, hey that's why this is a democracy and not just some random guy getting ****ed in the ass and doing whatever his master said: this isn't Parliament after all! With 36% of the poll share (261 votes if you were counting at home) the winner of WWE match of the year goes to CM PUNK VS BROCK LESNAR AT SUMMERSLAM! Congrats to Lesnar and Punk for walking away with such a prestigious award, and kudos to Plan for also the victory. Speaking of the man, here to accept the Smarks Court Scale Statue, 'Plan!

Plan*: 'Ello all. I was informed by Joe that I had marvelously won, and hey can anyone actually be coloured surprised? While I had to unfortunately take time away from masturbating in front of my Bret Hart "Summer of Bret" poster, I will gladly do so if it allows me to wallow in my victory. First I'd like to thank myself for possessing the otherwise unattainable knowledge of wrestling that sets me apart from all of you. I would also like to thank Bret for just being himself and getting me through my loneliest nights; and lastly Joe and Maz for giving me the platform to display my supreme intelligence.

*The part of Plan has been portrayed by an actor for dramatic purposes.

Joe: Well, that went as expected. Now, the third category.




WWE Breakout Superstar of the Year




Joe: Our closest poll yet and this was still a bit of a landslide. Whether it was due to his good looks, huge intimidating physique, or family ritual involving foreskins and pizza, the winner of WWE Breakout Superstar of the Year goes to Roman Reigns. Roman had 255 votes to take a 36% share of the poll. Don't be fooled; Antonio Cesaro and Dean Ambrose were basically neck and neck until Reigns basically pulled away over the course of 48 hours. And here to accept the award, Skitz!


Ok look, in all good conscious, we can't let Skitz accept this award and concede that he actually won; I mean it goes against all things good and decent! I'm sure many of you who know Skitz will surely agree. So yeah congrats and whatever the ****.

So now time to bring this baby home!




WWE Tag Team of the Year




Joe: The closest poll BY FAR; only 5% points separated the winner and the 2nd place guys. Taking 29% of the poll share with 108 votes , the Rhodes Brothers! And now, for the winners, taking 34% of the poll share with 126 votes, your winners for WWE Tag Team of the Year are The Shield! Hats off to Tito and Maverick for giving us the closest poll out of this whole affair.

Maz: What the ****, Joe? You just going to do this whole thing without me?

Joe: You ****; I called you, I texted you, I waited for you outside your bathroom, and you were nowhere to be seen. You threw me into the fire and I'm doing the best I can! You know you never even notice when I do my hair, or lose a little bit of weight or even ...you know what this isn't the time or place. Anyway too little, too late as I'm done with the whole she bang bang.

Maz: Well it seems you have something wrong. I have had a word with the site I use for the polls and apparently they can't cater for votes in excess of one million. That means we actually got 1,000,035 votes and won the tag team category hands down. I'm late because I was picking up our trophy.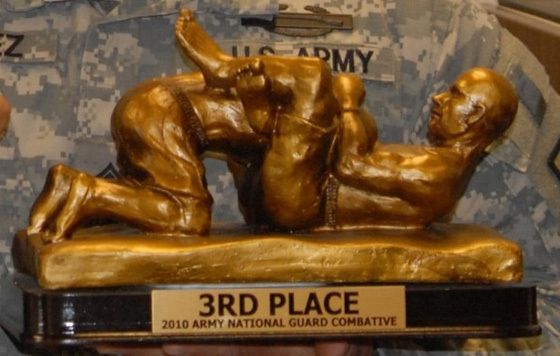 Joe: Where in Christ did you pick that thing up at? From Pat Patterson's house?

Maz: Actually… yes. I think the most important thing that came out of that last category is the fact that we got more votes than Plan's argument for the Real Americans. But seriously a big thanks to everyone who voted and to everyone who argued a case in the Smarks Court End of Year Awards. Also a big congratulations to the winners Subho, Plan, SkitZ and Maverick.

But we are at a bit of a loose end now. We can't do a column this short can we, Unc?

Joe: Iono my ex wife said the same thing about me...and well that's why she's the ex, and not current. Hey Maz, lets take advantage of your gypsy heritage and do some predictions for the year 20 and 14!




Maz & Joe Predict 2014




Maz: Ok then. Seeing this was your idea, you can go first. What's gonna happen in 2014?

Joe: You mean other than tons of masterbation and transactions with hookers?

Maz: Obviously.

Joe: Kane's gonna retire by the end of the year. IF I were a gigantic **** I would take the safe route and suggest he'll retire from in ring duties and stay as on air character. But Joe ain't lick, so I'll say he's gone as both a wrestler AND character.

Maz: Well I think it's been reported in recent years that Glenn Jacobs has some sort of political aspirations. I wouldn't be surprised if that is part of the reason why he has ditched the mask and the gimmick that helped make him successful for so long. It's definitely not a huge stretch from that to retirement.

Joe: Wow well thanks for no selling you ****. Well since you're all Abraham Lincoln about shit what say you?

Maz: Who the **** is Abraham Lincoln, some American pornstar or something?

Joe: No he just had jungle fever or someshit. Anyone, go on...

Maz: Ok, my first prediction is that Dolph Ziggler wins the WWE World Heavyweight Championship during 2014. The dude obviously has a bit of a chip on his shoulder and a bit of lip, but you know what, so did plenty of other guys. I am not talking in bygone eras either, I'm talking as recently as CM Punk. I think he is too good to languish at the bottom of the card for much longer. WWE know this. This is a guy that was doubling up on PPVs not so long ago. He'll either be gone or back to an upper midcard position, but if he manages to play corporate ball, I think he may well get a short "atta boy" run during a quite part of the year.

Joe: That's a pretty bold bet, which segues into my next prediction that...

DOLPH ZIGGLER WILL BE RELEASED BY NOVEMBER.

Like you said, the guy has a big mouth on him and isn't afraid to pop shit even it couldnt come at a worse time. Another thing, Dolph really gives off the vibe that he HATES the generational direction the WWE has taken (ie PG era). I mean remember when he debuted they were doing a vince vs hbk and God match, so its not like PG is all he's ever known. He also makes (well used to) make tons of references to masterbation and would retweet pornstars often, and you gotta imagine thats a virtual no no.

Most importantly the guy realizes he's got good looks, and maybe doesn't want to jeopardize mind body and soul "for nothing". Remember, the guy is one of the craziest bumpers in the world, and why would you do all of that especially life and health threatening shit if youre gonna be stuck jobbing to Aksana on NXT? ver the last few months he's been doing stand up and has been known to work on material, and I think the further he gets into outside ventures, the further away he gets from the rabbit hole.

Plus he's still butthurt over his brother getting released.

Maz: I tell you something, if he lasts 11 months and gets future endeavoured in December you are gonna be pissed. But moving on from Dolph to another guy who is a bit of an IWC midcard darling… Cody Rhodes.

Joe: But how can that fantastic bulge do any wrong Maz?

Maz: It can do no wrong. I mean look what it landed him as a wife. But the bulge isn't everything. It's no secret I am not a huge Cody fan. I have always thought he was very good in the ring but have always disagreed with people who praise his character work. I think that side of his game is always going to hold him back as a singles star and my prediction is once his team with Goldust comes to an end Cody will struggle to assert himself in the midcard. For me, his work as part of a team far outshines his work on his own and his destiny is this generation's Billy Gunn. Not that there is anything wrong with that. The other thing is that although it appears that Cody is extremely over right now, I think a good portion of that is riding the wave of his brother's popularity. I reckon it is going to be key for Cody just how they book the ending of the Rhodes Dynasty. If he can feed off that Goldie momentum, then great, but if Dustin takes it with him, we will be seeing more of that bulge on Main Event as opposed to in the main event.

Joe: I agree because although Cody has picked up a lot of good shit from Goldy, 90% of the Rhodes brothers awesomeness comes from Goldust. Great sense of timing, awesome FIP, crazy bumper, good seller, outstanding offense. But Cody… Cody just seems so meh to me, can't quite put a finger on it, and I think that's his main issue. He lacks a certain something.

Maz: Well whatever he lacks, it sure isn't in the pants department. So Joe, you got another prediction for us?

Joe: This isn't a prediction thats concrete, rather it's something that you're gonna have to read between the tea leaves.

You will be seeing less John Cena in 2014.

I think Vince and H are learning a lesson that while you ride the lightning you prepare for thunder. They see Cenas injuries are REALLY catching up to him and dont wanna get caught with their pants down. I dont think its a coincidence that they're seemingly putting a lot of stock behind Big E, Roman Reigns, Orton, the Wyatts, Cody etc.

I mean Takers gone soon, Kanes gone soon, mark henrys got a couple years left, del rio and punk are always involved in retirement talk, cenas aforementioned injury history, shit man even Daniel Bryan isn't a spring chicken either.

This isn't to say Cena won't be main eventing but as they try to transition to the stars of tomorrow, we'll be seeing less of the old guard than before.


Maz: Yeah, the IWC I think would be happy with that. The fact is that the WWE seem to be looking to bring new stars through more than they have at any point since it was guys like Cena and Batista coming up. Love him or hate him, Cena has put in work for the company and has arrived at that stage where he could definitely take that legend spot and essentially do what he wants. When you think about the role he took while Punk went on his long run, I think it really suited him. Sure people bitched that Cena was the main event and not the title but it is what it is. As long as he doesn't end up main eventing Mania XXX in a singles match with Bray Wyatt, I'm good.

Joe: God save the queen if that happens.

Maz: I guess we have time for one final prediction before we sign off for 2013. WWE have struggled to book all parties involved in a team well following a break up over the years. Sure, there have been teams that have had all members be successful eventually but we usually have one guy break out whereas the partner becomes Jannetty. Right now it is clear that Roman Reigns is being positioned for a huge push upon the inevitable implosion of The Shield but I am going to put my hat on the fact that all three Shield Members will be successful solo stars by the end of 2014. They won't all be world champs by then, hell there is a chance that none of them will but I think they will all be performing at a high level that will see them mixing it up with main events on a semi regular basis.

Joe: Maz don't be such a sissy, that prediction lacks balls.

Maz: It's better than the obvious "Reigns will rule the world, Ambrose will be the next IWC darling being held down in the midcard and Rollins will be looking for JTG on Superstars". But if you want to try your hand at a last prediction, feel free.

Joe: I could've went for a death or major injury prediction but that's lame as shit so I'l go with this...

IN 2014 WE WILL SEE THE HARDY AND DUDLEY BOYZ BACK IN A WWE RING.

Enough time has passed and I believe there is enough water under the bridge for these two awesome and immensely popular teams to come back.

Maz: I'd definitely be all for that. They would make a great addition to the tag team division and I have to say I'd even be very interested to see Bubba try his hand as a singles heel in a company where it would actually count for something.

But I think that wraps things up for Smarks Court for 2013. I am sure we will be back in the New Year and even if we do disappear for months again, we will definitely be back to laugh at just how wrong our predictions turn out to be. Please feel free to share your predictions for the year with us, but please, nothing obvious. We don't want anybody predicting that Undertaker will go 22-0 or that Triple H will bury multiple people. Until next time, be good to each other and see you next year… Peace!





Like CPR Productions on Facebook



Follow Mazza on Twitter




Follow Uncle Joe on Twitter






The No Movement (CPR Productions)
Mazza Marks... For the Mid to Late 00s Midcard (CPR Productions)
Mazza Marks... For One More Match (CPR Productions)