---



Smarks Court - THE VERDICT - Can Bryan Surpass Punk? (CPR Productions)


By Mazza
Mar 2, 2013 - 12:52:20 PM


'Sup, Lords of Pain? It's verdict time again so let's go over to the Court and... errr.... well... me....

Judge Mazza: Right ladies and gents, welcome back. This case looked like a foregone conclusion from the moment the polls opened but it did end up a lot closer than it looked like it world. Still, by a score of 254 votes to 168 the winners are...



JoeyShinobi and Daniel Bryan



Judge Mazza: So it seems that Lords of Pain very much believes that Bryan shall go on to surpass Punk's success in the WWE. Anything you'd like to say about the case before we're out of here, gents?

Uncle Joe: I take solace in the fact that people totally ignored my points, and voted yes because 1) They just want to believe Bryan will get to the sun when he may not even reach the moon. 2) They wanted to spite me 'cause of my Jericho bashing. 3) They love penis. 4) I've forgotten how fun this shit was. Anyway, JBL knows whos the real winner here.

JoeyShinobi: Nobody ignored your points, in fact, they agreed with most of them. It's just you seemed to be batting for Bryan...er, no homo. No-one's enjoyment or lack thereof of penis had anything to do with it, Joe.

Uncle Joe: For what its worth, Punk certainly carried his end of the deal in the great match on this past RAW, but can we please stop saying he carried Cena when it was clear Cena outworked him? Other than the loose crossface, Cena was nearly flawless so quit it. Speaking of... I'd LOVE LOVE LOVE to see a program with Cena and Bryan; they had a super fun match last year.

JoeyShinobi: You know, it's phrases like 'super fun' that make me question your self-proclaimed love for the poontang, Joe. I'd like to see Bryan work with the top tier; he's mixed with Punk and shone, I'd love to see him in programs with Cena, Rock, Lesnar. Given that he's got to where he is without having any huge name feuds yet simply adds weight the the argument that I've already won.

Uncle Joe: Oh shit gives me an idea for the next Smarks Court...bah **** it.

JoeyShinobi: I think I may have to retire from Smarks Court with an unbeaten record. Thanks for having me, gents, it was a blast.


Judge Mazza: The pleasure's been all yours, Joseph. I shall catch up with you in a bit outside Wrestling Room 101 (PLUG!). As for you, Unc, another defeat in the court. You are certainly no David Otunga. That said, I have an idea as to how you can get your mojo back next time out by doing a little rookie whipping. Stay tuned for that people, but until next time, Smarks Court is adjourned.





----------------------------------------------------



'Sup, Lords of Pain? Well we had so much fun with the comeback edition of Smarks Court that we just had to play again. The most important thing to think about when doing one of these is finding a topic that will probably have the audience split. When you think back to last year, there were two standout performers in the WWE. First and foremost, there was the man that went coast to coast in 2012 holding the WWE Championship, having great matches at pretty much every PPV. Then you have the guy who proved that he could do comedy just as well as anyone else in the history of the company whilst bringing tag team wrestling back to prominence and getting over far beyond the expectations of probably everybody. That's right ladies and gents, we are pitting CM Punk against Daniel Bryan.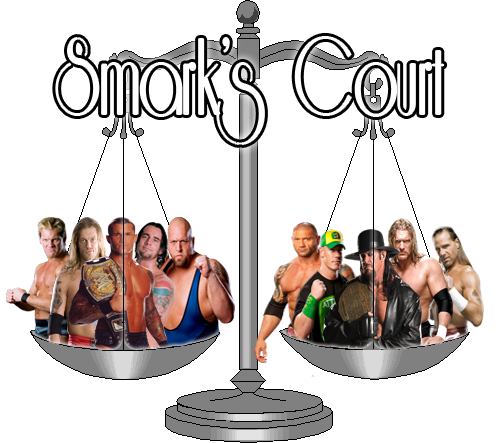 So the question then was what would be the actual case. We don't want to simply want this to be a "Who is Better" column each time out, so thankfully my co-host Uncle Joe found an interesting hook. CM Punk has risen to what is probably a career long main event spot since the summer of 2011. It took him awhile to establish himself there but one pipe bomb seemed to pretty much seal the deal. A lot of people believed that Daniel Bryan, as great as his in-ring work is, would struggle in the WWE's world of entertainment. He easily proved those doubters wrong last year but the big question is can he surpass the success that Punk has had at the top of the WWE. Going to bat for D-Bry will be former main page columnist JoeyShinobi whereas Unc shall be fighting the corner of the Straight Edge Saviour.




Uncle Joe vs JoeyShinobi: Can Bryan Surpass Punk?



Judge Mazza: So gents, Court is in session. You both know the deal. No eye scratching, hair pulling or spitting. Everything else is fair game. Mr Shinobi, you're up first. Go!

JoeyShinobi: Punk and Bryan are opposites, in my opinion. Sure, you can draw similarities; they've got their principles of being straight edge and vegan respectively, they are both excellent technical wrestlers, they are both "internet darlings", yadda yadda. But I think their key difference comes in how they come across; Punk comes across as a bit of a cocky jackass who people got behind because they believed in what he stood for. Bryan comes across as the kind of guy people want to see do well. He has, too; he's grown so much since he started. He came to the WWE as a bland personality who could outwrestle anyone on the roster; he proved it in an early match on NxT against Chris Jericho, if I remember rightly. I remember the buzz at the time, but there was an overwhelming majority of smarks who, cynically, believed WWE would always hold him back, holding his charisma deficiency and his size against him.

Here we are, three years on, and we are now talking about a former United States and World Heavyweight Champion, a Money In The Bank winner, a current Tag Team champion and arguably the most over Superstar on WWE programming. Bryan is the current MVP of WWE programming - you can practically guarantee anytime he's on your screen, he will entertain you. The man has been turning shit to gold ever since he brushed shoulders with Big Show on WWE programming, and you know what the scary thing is? I don't think he's even finished getting started yet.

I realise that I'm taking on the ultimate indy darling by suggesting Punk will ultimately be emulated by Bryan, but given the progress Bryan has made since he arrived in WWE, how he has adapted his game so quickly and become such an integral part of WWE programming, I don't see it ending soon. He's also got the can-do attitude that Punk doesn't; my impression is that Punk is at his best when he is raging against the machine, so to speak; he doesn't like to fall in line. Bryan, on the other hand, has thrived within the boundaries he has been set. In terms of career longevity and how far WWE will let him go, I believe that will work in his favour and see him overtake Punk in the all-time list - both in WWE's eyes, and ours.

Uncle Joe: Hmmm, "will Bryan ever surpass Punk?" - interesting question. What aspect? Well if we're debating in ring skills, then the answer is a clear cut as day "NO". Simply because last time I checked, Punk has never been, nor ever will be better than Danielson in the ring so there is nothing for him to surpass. Now, without going into a tangent of explaining what wrestling is (which I think I should because I've seen people say that chris Jericho is better than Stan Hansen which made me want un-circumcise then re-circumcise myself, after which I castrate myself), Bryan Danielson...er Daniel Bryan has Punk beat in every face of the game.

He's a better mat wrestler; he portrays struggle, and grittiness; his transitions from hold to hold are more varied, better executed and he is a better stretcher. He's a more complete striker as well; whether it be his kicks (which are better by a country mile and is rather humorous, considering they heavily play Punk's martial arts background but I'm wild sleep) or his forearm shots, not to mention DBry is a better brawler. Let's also clear things up while I'm here, kiddies; yes stiffer workers tend to have greater punches compared to those who don't (ie. Foley/Lawler/Dundee/Taker vs Jericho/Orton/HBK/Edge) and both Punk and D-Bry work that style, it doesn't inherently mean you're going to have a good looking punch. It's honestly more in your form, which is also weird since Cena has really really SHITTY punches he uses regularly but has really great looking body shots that he breaks out on occasion. Anyway, Bryan has him beat there.

As far as match layout goes, that's where these two are really close. Both of these guys have proven to be able to show that they can see what they want to accomplish in a match and where they want to take it and how to get there (ie. Joe/Punk 60 minute draw or Danielson/McGuinness). Punk is great at establishing what visuals he wants to come across in a match; take his match with Mark Henry from RAW of last year. Henry is smartly working over Punk, when Punk goes for his big hope spot (the come back) he breaks Henry down systematically with kicks, and it was like a wolf taking down a deliberately evil grizzly bear, and it was ****ing GREAT. They're both great at working sprints (heavily fast paced matches), and with big men (no homo). The thing that gives D Bry the edge is that Punk doesn't have nearly the amount of good sub 5 minute matches. Yes, there are great sub 5 minute matches out there (with Drew McIntrye and Chris Masters on Superstars proving that, respectively). Bryan's match with Batista in a "beat the clock" match is better than any of Punk's sub 5 offerings.

Where they're the farthest apart is execution. Punk tends to be very sloppy with his moves (check out the MITB PPV match with Cena. Cena has to cover up some of Punk's mistakes/sloppiness, with his escape from the FU for ex.), and his spot calling is still pretty bad on occasion. Punk also fails to realize that half the things he wants to perform are things his body wasn't physically meant to handle. And really, his awfulness performing the GTS is enough to make my case. And lastly...charisma. Punk, contrary to popular belief, isn't as charismatic as many make him out to be. Charisma is something intangible, something you honestly have and can't teach. Del Rio, Mysterio Jr, Austin, Rock, Bryan; they all have charisma, loads of it. What people seem to be confusing is the fact Punk is a thoughtful guy with a great wrestling mind: yelling out "it's clobbering time" during his springboard, donning Macho Man's tights and adopting his elbow drop; snow angels in the ring pro-promo; all wonderful doings by Punk, but charisma that is not. The aforementioned guys Hogan etc, they all have a presence; something about then that you can't quite put your finger on that keeps your eyes glued to them on the screen. Not to say Punk doesn't have any (he does) it's just that people confused one for the other. Bryan, is like a nerd hobo Doberman who will **** you up, who exudes nerdiness in his movements, no matter how precise or vicious they may be. I first saw Punk and thought "who the **** is this guy?" and flipped the channel.

Hey look, I know that it looks like I'm making Shinobi's case for him...and I kinda sorta DID veer in that direction, but...um what was I saying? Pardon, s'been awhile since I've done this writing thing.

Judge Mazza: No shit?! Maybe I should get back to being your ghost writer. Mr Shinobi, is there anything you think you can actually add to that to improve your case?

JoeyShinobi: I think Unc's made most of my points for me...I'm just going to read all that back to see if there was anything he thinks Bryan hasn't already surpassed Punk at. Two seconds...

Nope. You have me stumped here, Joe, and it's not the first time.

Uncle Joe: Goddamit Shinobi, ok, well even though I completely shitted on Punk (sorta) in order to praise Danielson; I don't think he will surpass Punk in terms of star power (which is more important to the WWE); Danielson cannot and will not reach Punk's level of transcendence out of the squared circle, simply because it was a matter of being at the right place at the right time, under lucky circumstances, catching lightning in a bottle and whatever ****ing worn out cliches you so care to choose to use for that point.

Punk was given the greenlight to do something rarely ever given a star in Vinnie Mac's promotion; ability to name drop people NOT involved with the WWE in any way shape or form. And if we're being honest; that's the main reason people have overrated the initial "pipebomb" promo. I mean, people have pointed out that he was allowed to kinda shoot on real life situation (ie his expiring contract) but that's been done already, by Eddie and Hunter and HBK and Bret, and so on and so forth. Good company to have in terms of company standing, but let's not act as if it broke any new ground here.

JoeyShinobi: Right place at the right time? Bryan would likely be the first to admit that the "Yes! Yes! Yes!" phenomenon was a complete accident. I've always been a firm believer that wrestlers make their own luck. The Rock got over with his talking in the third person gimmick with a fluke. Punk got his break because he had the balls to go out and do what he did. Scripted or not, it was a hell of a thing to do. You're going to try and tell everyone that Punk will be remembered as being better because of dumb luck? I don't buy it.

Uncle Joe: Luck had its role but it was more of circumstance. The night after the pipebomb promo, we had guys who are very into the wrestling scene who are pretty big sports anchors/columnists/personalities (Bill Simmons, Robert Flores, Michelle Beadle amongst others) tweeting and writing and mentioning the promo, which gave it more exposure than any other promo would have garnered. They were instrumental in garnering buzz for Punk and his pipebomb (no homo).

JoeyShinobi: So, by that logic...C**** B****t has the greatest legacy of them all, if we're going by media reaction. So far, all you've said is Punk isn't all that charismatic, he hasn't really broken any new ground, and he's not as good in the ring as Daniel Bryan. Even if we are going by luck...there's every chance that Daniel Bryan will have a similar opportunity to grab the brass ring. Judging by his career to date, he'll grab it with both hands, first time - something Punk couldn't do. That's why I think he'll go further in the long run. That's why I think WWE will invest their trust in D-Bry.

Uncle Joe: It's not that I don't think he doesn't have the ability; it's that if you look at all the circumstances of how it gained so much exposure, from media guys covering it to Punk being given the chance to namedrop those guys, to WWE's mastering of being able to manipulate the masses into thinking something is greater than it is (hello HBK, Kurt Angle and Edge), to the WWE being seemingly ho hum and then given a jolt of electricity due to these events, it's a bunch of things that ensures that while you can go ahead and try and reproduce what happened, you won't achieve the results of what happened first, like the feeling you get the first time you got drunk or the high you feel when you first ejaculate when you're beating off. Not saying it won't happen (I hope they can up that) but it's very unlikely (Punk dropping his second "pipebomb" to a meh reaction).

Think about it; every major wrestling incident was helped out by a good chunk of luck; Hogan being convinced by Scott Hall at the last minute to be the 3RD man for the nwo;the screwjob creating evil rapist boss vince and thus creating the phenomena known as stone cold steve austin; jake roberts slipping and inventing the DDT; HHH marrying Steph which lead to us eventually seeing less and less of that twat on our TVs; scott steiner: all the major and genre bending stuff in wrestling happens out of nowhere with much improbability.

JoeyShinobi: So, what you're actually saying is...Punk had very little to do with...well, him. That's not exactly a ringing endorsement. That said, I can't help thinking you're trying to trick these people with some reverse psychology. Or are you? I'm confused now.

Uncle Joe: Either way, **** Mazza.

JoeyShinobi: That, we can agree on.

Judge Mazza: You know it's not too late for me to go to bat for that Joker guy in the Shield and make this a three-way? Actually, it is. I'm tired and I've heard enough. I think both Joe's are pretty much in agreement that Daniel Bryan is the better talent but luckily that is not the question. What we need to know is whether you, the public, believe that D Bry can be more successful than CM Punk and you can do that below....


(Poll Now Closed)


I will hold the voting period open for approximately one week from the time of posting the column, at which point we shall return with the verdict. A big thanks to Unc and Shinobi for going to war. If you have more to say than a simple Yes or No, there is always the comments section below and as always feedback is appreciated. I shall be back with Joey and a couple of others for a new concept we will be trying out in the next few days, but until then... Smarks Court is Adjourned.


Like CPR Productions on Facebook



Follow Mazza on Twitter




Follow JoeyShinobi on Twitter




Follow Uncle Joe on Twitter





The No Movement (CPR Productions)
Mazza Marks... For the Mid to Late 00s Midcard (CPR Productions)
Mazza Marks... For One More Match (CPR Productions)