---



Ranking the Talent - SummerSlam 2012: It's My Party (CPR Productions)


By Mazza
Aug 20, 2012 - 9:07:32 AM


Writer's Note: 'Sup, Lords of Pain? It's your old buddy Mazza back again to drop some knowledge. So today was originally scheduled as a day trip to see you guys thanks to me winning July's Columnist of the Month award in the Columns Forum of www.lopforums.tv however, this is in fact going to be the first column in my permanent return to the main page of Lords of Pain. For those of you who don't remember my last stint, I mainly did reviews of old and new WWE pay-per-views (Classic/Current Paper Review) and the Smarks Court series. This time around however I have a few different titles up my sleeve. I plan on starting a new "once a month" series in September as well as a different type of interactive "predictions" column before Night of Champions. Today however I shall be bringing a different type of review that I call Ranking the Talent. As you can probably work out, what I do here is review the individual performances of the event rather than the matches or PPV as a whole. But enough of the explanations, let's get on with the show.
PRESENTS
RANKING THE TALENT
IT'S MY PARTY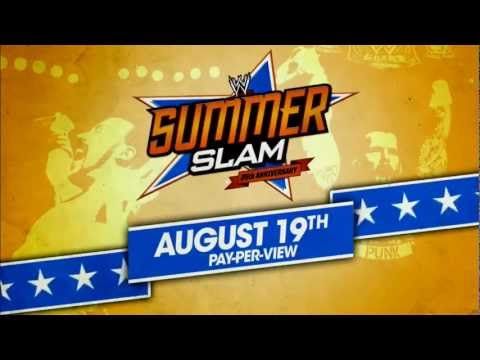 The Event: SummerSlam 2012
The Date: 19 August 2012
The Place: Staples Center, Los Angeles, California




So ladies and gents, the biggest party of the summer is officially behind us. I thought it was a pretty good night of wrestling and even though the undercard outperformed the big matches, nothing on the card was bad. Well, nothing aside from the singing fatty and terribly dancing divas which seems to be becoming an unfortunate SummerSlam tradition. But as I said earlier, I am not here to review the event as a whole or the matches, I am here to countdown the best performances of the night. And I will start out by see just who was the...


PARTY POOPER


13. The Big Show
I sat down last night trying to work out in my mind exactly where the issue is with Show at the moment. I think he is a lot better when he is being booked as a big bad giant yet his addition to the WWE title match just meant it went from an intriguing rematch to a hot mess. Then I realised what the problem is. The years of inconsistent booking have finally caught up to him. Not that long ago he always remained a believable threat despite his long CV of embarrassing losses but he just doesn't have credibility at the top level any more. On top of that he adds nothing but his size, his chops and those kayfabe breaking grins that just make me want to turn the channel. He is still a long way from the worst wrestler around but there are only a certain amount of times he can go back and forth between Big Nasty Bastard and Knucklehead and have people caring.
CPR Grade: D


WALL LURKERS


12. Sheamus
We are just going to have to accept that Sheamus is rarely going to add much to his matches and the quality will usually be down to his opponent. He has basically taken that Batista role in that he is dominating the blue brand and is more than carryable to a great match, but is also at risk of putting on a stinker. His match with Alberto Del Rio was neither but it is time for the WWE to realise that these guys really don't mesh well. A solid outing by the World Heavyweight Champion but nothing more. The sooner he gets a new challenger, the better. It is unfortunate that it doesn't look like it will be happening anytime soon.
CPR Grade: C-

=10. The Miz/Alberto Del Rio
I am pooling these two guys in together as I see them both in a very similar fashion at the moment. They just do absolutely nothing to hold my interest even though I can't really pin point anything they do particularly poorly. The Miz has been enough of a heat magnet in the past to earn a main event win at WrestleMania, and whilst he was the spare wheel in that scenario, it was still huge. I think it might be that he just struggles to come across as a legitimately strong heel now and relies purely on a handful of ridiculous facial expressions. ADR on the other hand, repetitive promos aside, seems to do everything right but he just can't connect. He has the gimmick, the look, the skill and I can understand why WWE want him to get over but it just isn't happening. What isn't going to work however is to keep throwing him at Sheamus and hoping it sticks. He may be best off turning a heel on the brink (possibly Ziggler) and trying to ride that wave of heat. It might be cheap but that can work long term.
CPR Grade: C-

9. John Cena
It's been a strange old year for Cena but I think when we look back at 2012 in his history, it will be seen as wasting time before his rematch with The Rock. This WWE title match was another one of those but it could have been so much more. Another feud and big match with Punk really could have worked well and would have raised the profile of SummerSlam but the pointless continuation of his feud with the Big Show running along side just diluted the whole thing. As a result, instead of getting another potential classic, we just got to see Cena's Superman act of FU'ing a giant for the one millioneth time. Let's put this one right at Night of Champions, WWE.
CPR Grade: C

8. Rey Mysterio
The return of Rey Rey has to be a good thing for the company even if it does look like he has had a few too many tacos whilst he has been on the shelf. He made a decent fist of it against The Miz. It was a fun short match and although it won't stand up to any of his classics, it was perfectly acceptable bout for two guys who haven't wrestled much at all recently. It will be interesting to see just where Rey fits into the grand scheme of things next.
CPR Grade: C+

7. CM Punk
For Punk you can pretty much say the same thing I said for Cena. After some great matches with Ziggler, Jericho and Bryan this year, Cena would have made for an interesting change in styles but unfortunately John brought his rather substantial excess baggage with him. Did as well as you could have hoped for but didn't have much chance to do anything special. On a positive note, his trunks were pretty cool and he pulls off pink a lot better than Titus O'Neil.
CPR Grade: C+


SCHMOOZERS


6. Triple H
As usual the haters were in full effect before the match, convinced that the Game wouldn't do the job that may or may not have been necessary (depending on what is next for Brock). Not only did he do the job, he did it pretty emphatically, tapping out once again to close a major PPV. Just like he has done with Taker at the last two Manias, he kept a slow and deliberate pace to the match and that made sense in the end. Going back to basic psychology was a good move and it was fun to see him really go to town on Lesnar's gut. On a slightly negative note, he didn't do a great job of selling the arm whilst he was on the offensive but he proved once again that he is still that big time player when the occasion calls for it.
CPR Grade: B-

5. Kane
In my No Way Out version of this column, Kane actually took top spot in being able to hang with guys who can legitimately claim to be the best in the business. He showed here once again that with the right opponent, Glenn Jacobs still has a lot more gas in the tank. Whilst his career has mirrored The Big Show's over the last decade, Kane still seems to have the in-ring ability to really mix it up with the younger guys rather than solely being reliant on his size. That said, the poor guy has taken so many stiff kicks this year he surely deserves a holiday.
CPR Grade: B

4. Chris Jericho
If, as rumoured, Jericho is doing the offs soon, he certainly wanted to go out with a bang. His opener with Ziggler was really good but maybe not quite as great as some (myself included) would have hoped for. Whilst the action was exciting and generally crisp, they didn't quite gel as well as they have with others over the years. As the senior partner, Y2J has to take his fair share of the blame for that but we are talking about a margin between great and phenomenal. He also made up for it a bit with a Frankensteiner and using the Liontamer to pick up the win. In hindsight he was the right man to win too, otherwise his credibility would have been shot to shit.
CPR Grade: B+

3. Dolph Ziggler
With the Money in the Bank briefcase at his side, he could afford to lose this one. He is still a cash-in away from a world title and hopefully will have another match with Y2J to pass the time. As for his performance, it is what we have come to expect from the Show Off. He flew around the ring, showed excellent athleticism and sold like his life depended on it. There may come a time where it gets boring and there will definitely come a time where he will need to adapt his style to avoid dying but that time isn't now and he remains the most exciting talent on the roster.
CPR Grade: B+

2. Brock Lesnar
Once upon a time there was a big ol' hoss who could go hold for hold with the best of them. Sure, he couldn't talk very well but WWE booked him to perfection by pairing him up with the right mouthpiece. There is no doubt the business would have been all about him but he decided he wanted to chase eggs instead. A decade later Brock Lesnar is back and despite clearly not being in the same shape and having dealt with major health issues, he showed plenty of signs last night of why he was once the future of the company. Alistair Overeem may have ended his credibility in the octagon but he still looks a legit badass in the squared circle. The pace was slow which definitely helped (he looks like the tank will get to empty very quickly) and he showed off an arsenal of crisp and deadly looking moves. Whilst the build up to this match has been questionable, his dominance (aside from one high profile weakness) of Triple H has made him look immense. In fact I don't think anyone has had the privilege of no-selling a Pedigree since WrestleMania 12.
CPR Grade: B+


PARTY ANIMAL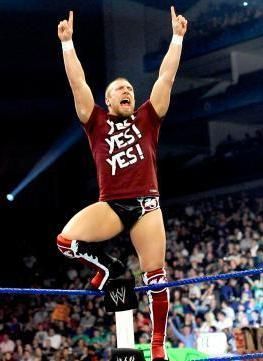 1. Daniel Bryan
Once again however, there is one man that is head and shoulders above the pack right now. D-Bry continues to be the ultimate sports entertainer in the game today and I honestly can't point to a weakness in his game at the moment. He put on a very strong match with Kane whilst having the crowd eating out of the palm of his hand once again. I said it recently in feedback to Hustle's Raw Running Diary and I will say it again here... WWE would be foolish not to make the most of the reactions that Bryan is getting. It is a massive opportunity to establish D-Bry as a main eventer and top star. Whilst the "YES!" and "NO!" chants have been likened to Austin's "WHAT?" phenomenon, I think it fits in more with Angle's "You Suck" phase. In fact, it is the Olympic Gold Medalist's career I see Bryan emulating. He can shift effortlessly from goofy to intense, can go with the best of them in the ring and I think will soon become a go-to guy for the company.
CPR Grade: A-


CONCLUSION

So there you have it, ladies and gents. Daniel Bryan takes the star of the night award for SummerSlam 2012 and to be honest, will probably be hot favourite to do so again come Night of Champions. This was somewhat of an odd edition in that nobody performed particularly poorly. I guess no Sin Cara match helped with that and there was very little in the way of filler just to get people on the card. In fact my biggest criticism of the event was that it seemed very short. Probably could have done with an extra match or a bit more time for a couple of the encounters. Overall it was an enjoyable night's action, even if it won't be able to match-up to the better SummerSlams over the years.

That brings me to the end of my re-debut. I hope you enjoyed my thoughts on the performances of SummerSlam. I shall be back soon but in the meantime please feel free to let me know your thoughts. Was someone else other than D-Bry the standout performer? Have I criminally underrated or overrated somebody's night? You can use the handy little comments boxes below, shoot me an email >>>here<<< or hit me up on my Twitter @MazzaLOP. Until next time... Peace!

Smarks Court - THE VERDICT - Reigns, Rollins or Ambrose? (CPR Productions)
Wrestling Room 101 - April's Fool Edition (CPR Productions)
Mazza's First Podcast inc SmackDown House Show Review (CPR Productions)
21-0 (CPR Productions)
Ranking the Talent - Favourite Mania Storylines (CPR Productions)