---



Ranking the Raw Talent - Week 1 (CPR Productions)


By Mazza
Aug 21, 2012 - 6:02:52 PM


Writer's Note: 'Sup, Lords of Pain? My name is Mazza and I am the newest columnist on the main page of Lords of Pain. Well, maybe not the newest as this is now my second stint (give yourself +10 e-cred if you remember my first!). I dropped my first "comeback" column yesterday but there was a little glitch which meant it wasn't being linked on the main page. This was basically a introduction to my new style of review called Ranking the Talent as I checked out just how well the WWE superstars performed at SummerSlam. If you fancy checking it out you can find it >>>here<<<. Today however I shall be bringing the Ranking the Talent format to Raw and starting a new series where I countdown the "A" show's top ten performers each week. Unlike the PPV version of the column, this won't have grades and all on-screen talent will be eligible for inclusion. I shall also be keeping a running total as we go along, seeing just who gets top marks over a whole year. But that's enough of that, let's get on with...

PRESENTS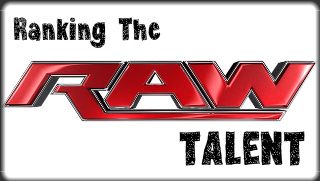 WEEK 1: 20/08/2012




Lucky me! I start out a new series that will last for a year and Raw was terrible. In fact it was so bad that there were times I thought I wouldn't even manage to find ten people to write about in a positive light. And this is a three hour show. As a wrestling fan I always looks for the positives in a bad show and the negatives in a good show to get some balance. That said, just looking for good things about last night's Raw almost made my head explode. So before we get underway with what you will soon recognise as the "norm", I will countdown the five most mind numbingly bad things from the post-SummerSlam Raw.


SO BAD IT HURTS


5. Keeping Up
Ok, I was thankful that the "Khloe Kardashian: Social Media Ambassador" (WTF?) talk was kept to a minimum but just knowing I was watching the same thing as that "thing"made me feel dirty... and not eating ice cream whilst watching Sofia Vergara dirty either. The thing is, if you are going for a Kardashian, at least don't go for the sister who looks like she is actually the brother. Kim, Kourtney, Kris, Rob I could have coped with. Hell, Scott would probably have been perfect for the role. Now I am going to carry on and pretend that I don't really know who anyone I just mentioned is. It would be a much better world.

4. Funk's Roll
A certain main page colleague of mine has been calling for the Brodus experiment to come to an end for some time now. Whilst it has definitely been going round in circles pretty much from when it begun, I have been happy just to watch the stupidness for the five minutes it takes up each week. Until last night that is. I am a big believer that wrestlers need to sell properly. A lot of today's stars don't bother at all most of the time and I have learnt to live with that but one thing I cannot stomach is inconsistent selling. The Funkasaurus danced his way to the ring last night, danced his way back but for a rather odd 30ish seconds in the match, he decided to sell the dodgy leg that Damien Sandow took out. It was just plain bizarre as moments later he was back on the offence again and nothing. If you can't handle something that basic, you really have no business being in that ring.

3. Abdication Time
Jerry Lawler's commentary was just so bad last night that I am not convinced he wasn't doing it just to help the final segment with Punk. Then I realised it has pretty much been the same for far too long now to be a booking ploy. Now I like the King, he did a great job in the Attitude Era and could be a positive element for the company in many different roles, but he really needs to get out from behind that announce booth. There have been plenty of hints coming out of Bermuda and I think the WWE will be really missing the boat by not putting a certain Mr Layfield in his place.

2. The Ham Baked Kid
As you are likely to find out as the weeks go on, there is probably no bigger Triple H fan on the internet than me. That said, even I found the tribute sections of Raw over the top. The crowning moment however was Shawn Michaels' promo. I mean I actually felt embarrassed to be watching it and there was nobody else around. Shawn has always loved a bit of ridiculously over-the-top acting but there were more restrained promos in the Eddie tribute Raw.

1. Viva la Diva
Over the last few years we have endured some of the worst wrestling ever televised thanks to the divas division but I honestly cannot remember seeing anything as pathetic as that divas battle royal. It was like all the worst parts of a diva match multiplied by ten and happening in three different parts of the ring at once. I actually can't remember one move in the match that was smooth. It even made me miss the Bellas.

Right, now that the bad is out of the way I can get on with the meat of the column as I bring you the first edition of the...


THE REAL POWER 10


10. Wade Barrett - 1 Point (Total - 1 Point)
Coming in at ten is somebody that wasn't even at Raw (kind of sums up the night). Wade Barrett's vignettes continue and I, for one, am anxiously awaiting his return. He was on a roll before his injury and had improved enough in the ring to look ready for a world title run. Vignettes are always a cool way to build a return or debut and these ones are cooler than most.

9. The Miz - 2 Point (Total - 2 Points)
Didn't have a great night by any stretch of the imagination but slotted in well to the role he was given. Whilst questioning Daniel Bryan's sanity and skipping out of an attempted tag weren't groundbreaking, adding them to his solid support role in the tag match earned him a spot in the top ten.

8. Randy Orton - 3 Point (Total - 3 Points)
The most impressive thing about Randall making this list is that he really is doing absolutely nothing but killing time right now. With his wellness suspension behind him and a movie shoot coming up, he couldn't even snag a spot on the SummerSlam card. That said, he looked very crisp in his match against Del Rio, proving that even short term he would be a better choice to go after Sheamus. As for the crowd, they were as hot for The Viper as they were for anyone else all night. Add that to the fact he went over the number one contender to the big gold belt and I think it is safe to say that Orton long term term position in the company is pretty safe.

7. Kane - 4 Point (Total - 4 Points)
The Big Red Monster impresses once again. His interactions with Daniel Bryan were great and I think this is one storyline that is coming together just nicely right now. Quite where this war between two angry guys goes, I am not sure but it should be a fun ride. 2012 has seen some of the best work Glenn Jacobs has produced in a long career which is all the more impressive when you consider how strong the rumours of his retirement were a couple of years back.

6. Chris Jericho - 5 Point (Total - 5 Points)
Jericho fired from Raw? I think I've seen this story before. There is no doubt the booking came about in a strange way but we did see the veteran put over the young gun on his way out the door. I felt their match was similar to the one from the previous night in that the chemistry seemed a long way from perfect but they still pulled off a strong showing. His attack of Ziggler after the match seemed misplaced and backfired as he was booed more than cheered when he left the ring. Whilst Jericho has seemed to lack a little something on this run, I hope he is back soon because even without it he is still a top performer.

5. Paul Heyman - 6 Point (Total - 6 Points)
I have never been a big fan of Paul E. I hated his announce work but at the same time always respected him in the managerial role. That is where he excelled on Raw as he gave a promo that made his man look immense whilst throwing his adversary whatever the opposite of a backhanded compliment is called. Whilst cutting Triple H down he also bigged him up far more than Shawn sure did with his emo-schtick. That's the sign of somebody who really knows the business and is why it would be good to see Heyman stick around, even after Lesnar goes off to try and become hop-scotch champion or whatever.

4. Daniel Bryan - 7 Point (Total - 7 Points)
Despite a relatively minor role in comparison to recent months, D-Bry still manages to snag fourth place. I get the feeling you are going to hear this same song from me a lot in future editions but his crowd interaction was excellent. He is working every crowd he is dealing with to perfection whilst still putting on a master class in the ring. His work with Kane was great and his anger management issues could become absolutely "must-see" television.

3. John Cena - 8 Point (Total - 8 Points)
Every so often Cena gets to do a promo that he can really sink his teeth into. Last night was definitely one of those times. With the Big Show clearly out of the way now, Punk and Cena finally begun to build to a match that will come one month too late and they both did very well indeed. Cena's speech about why he needs to believe he is the best was heartfelt and a lot less corny than some of "rise to the challenge" promos. With so many other distractions out of the way it is looking like the WWE Championship could finally main event a PPV this year at Night of Champions and I get the feeling it could be an extremely good main event at that.

2. Dolph Ziggler - 9 Point (Total - 9 Points)
Mr Ziggles was very close to taking the top spot this week. He was his usual self in the ring in his match with Jericho and should get a nice rub from sending him packing. On top of that he gave a slightly stronger than usual promo with Vicky before his match. He finally looks to be on his way to that main event spot that he deserves. That said, it seemed to me that he made a bit of a mistake when Y2J was attempting a Frankensteiner which may have ended up worse than it did.

1. CM Punk - 10 Point (Total - 10 Points)
And closing the column this week is the man who most likely believes he is exactly where he should be. Like Cena, Punk excelled in their war of words and you could certainly see his side of the story. Whilst clearly the heel he gave a compelling argument that you will hear day-in, day-out in the IWC. I think he just about outshone Cena in the segment and... Ah, who am I kidding? He gets number one spot solely for this...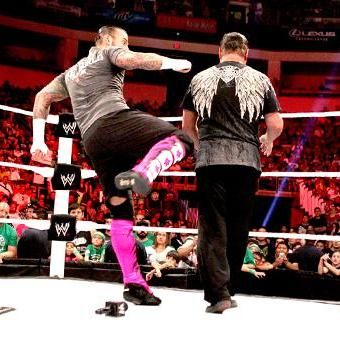 #ThankYouPunk


And there you have it ladies and gentlemen, the first Ranking the Raw Talent is in the record books. Once the series builds up a little steam I shall begin to do a section at the end looking at the overall standings but we are still way too fresh to be breaking that out. As always, I would love to hear your thoughts. Is there anyone badly out of place or missing in the top ten? Did I leave out a particularly poor segment from the worst of Raw? Did you think HBK's promo was awesome? You can use the handy little comments boxes below, shoot me an email >>>here<<< or hit me up on my Twitter @MazzaLOP to let me know. A final shout out to my good buddy Prime Time who put together the RTRT banner on very short notice. Make sure you follow his series on the Monday Night Wars which Mizfan is currently hosting. I shall be back with more of the same next week. Until then... Peace!

The No Movement (CPR Productions)
Mazza Marks... For the Mid to Late 00s Midcard (CPR Productions)
Mazza Marks... For One More Match (CPR Productions)