---



LOPedia - Randy Savage (CPR Productions)


By Mazza
Jan 11, 2013 - 12:13:32 PM


'Sup, Lord of Pain. Mazza here. You may recognise me from such columns as Ranking the Raw Talent, but today I am bringing you something different. For a long time now I have wanted to do a series where I profile wrestlers. It is basically the default mode of most people who are active in the Internet Wrestling Community. We sign up to forums and leave comments on stories more often than not to give our view on a superstar, whether positive or negative. Anyway, a few weeks ago I finally decided to take the plunge and start working on the series. The success of Columns Forum writer, 'Plan and his excellent "101 Matches to See Before You Die" series (check out his latest installment >>>here<<<) made me want to follow a similar route but I soon realised I didn't want to be constrained to just over a century of columns. Ultimately what I want to do with this series is build a database of information involving as many professional wrestlers as possible. A real Lords of Pain Encyclopaedia so to speak.

Don't be put off by the title though. LOPedia isn't just going to be a Wiki rip-off. First of all there is going to be plenty of opinion involved as well as history recaps. There will also be a few of the little touches that have been the hallmark of my columns over the years such as match reviews and rankings. The last thing you need to know is that this won't just be a series looking at the usual suspects. It will be a long long time, if ever, before you see one of these on Shawn Michaels, The Undertaker, Steve Austin, The Rock or even my boy Triple H. I doubt anyone visiting a wrestling site won't know almost all there is to know about these guys already. In fact I want a lot of this series to be a learning process for me as well. I have always been mainly a WWF guy since I started watching wrestling in the late 80s and so every other column in this series will be a wrestler whose reputation was brightest outside of Stamford, Connecticut. Expect to see representatives from the territory days, WCW, ECW, TNA, Japan, Mexico and of course, the UK as this series goes on. Anyway, I won't keep going on. You are all smart enough to work out what is going on as the series gets started... And it does with probably the highest profile name you are going to see for quite a while.
---------------------


Name: Randy Poffo
AKA: Randy Savage, Macho Man, Macho King,
Born: 1952
Died: 2011




WHY RANDY SAVAGE?

Johnny Nash once sung that "there are more questions than answers" but this is one question that redresses the balance slightly. The Macho Man makes this series for a whole host of reasons. First and foremost, it is because he is my favourite wrestler of all time and hands down the most influential superstar in me becoming a fan of the WWF. He also makes this series as I believe a lot of the younger fans have missed out on just how good he is. Like many from his generation, he is recognised as a legend but many people won't know why outside of spouting off some old results. More than anything though was the fact that Randy Savage was ahead of his time. Of all the greats of that generation I believe that his matches hold up really well with today's work. I am a big fan of the Attitude Era but most of those matches don't age well, and they were a lot more recent. Shawn Michaels often gets a lot of credit for how he has innovated the business, and rightfully so, but Savage was doing the exact same thing just a few years earlier.

A couple of years ago I did a series counting down who I believed to be the greatest performers in WrestleMania history. It threw everybody off when I placed Savage at number one ahead of HBK and whilst I am not sure I made anyone a believer, I think most who read the series could certainly see that Macho Man had a legitimate case. Unfortunately Randy died not long after I finished the series and my next Savage column was sadly a tribute. Over a year has passed since then and it is time for another Macho Man column that is more of a celebration of the career of a legend. I can think of nobody better to kick off this new series which will hopefully go on a long long time.


CAREER SUMMARY

Despite being born into the wrestling industry (his father Angelo Poffo was a pro-wrestler) Randy spent much of his youth pursuing a career in baseball. He spent four seasons in the minor leagues but eventually realised that his calling was the family business. He adopted the ring name Randy Savage early on in his career thanks to Ole Anderson, who said he wrestled like a savage. He worked the territories for a while with his dad and brother, Leaping Lanny Poffo before eventually spending a good bit of time in the Continental Wrestling Association where he had a long history with Jerry Lawler.

Vince McMahon soon came calling and Savage joined the WWF not long after the first WrestleMania. Upon his arrival they ran a storyline where all the fed's managers were trying to sign him up but he eventually unveiled a new lady as his manager by the name of Miss Elizabeth (in reality Randy and Liz had married a few months previously). There started a strange dynamic of heel wrestler being with a face manager. It worked wonders as Savage soon won the Intercontinental Championship from Tito Santana and holding it for over a year before losing to Ricky Steamboat at WrestleMania 3.

After the legendary match with Steamboat, Randy slowly began to turn face and eventually went after new IC champ, The Honky Tonk Man. It was during this feud where an alliance with Hulk Hogan started to take shape. Being part of the "Mega Powers" would pay dividends for the Macho Man as he would win his first WWF title during a 14-man tournament at WrestleMania 4, with a little help from the Hulkster in the final. They remained close partners for the rest of 1988 but a new year saw jealousy over Elizabeth creep in and the Mega Powers exploded at WrestleMania 5, with Hogan winning Savage's championship.

Savage would continue to feud with Hogan throughout the year but would also become WWF's new king after defeated Jim Duggan. The Macho King would find himself a queen in the guise of Sensational Sherri and feuded with Dusty Rhodes before turning his attention to new WWF Champ, The Ultimate Warrior. He would cost Warrior the title at the 1991 Royal Rumble and the two would settle their rivalry in a retirement match at WrestleMania 7. Savage would lose but turned face in the aftermath, reuniting with Miss Elizabeth.

The Macho Man would turn his attentions to the announce booth for a while before marrying Liz on-screen at SummerSlam that year. The reception was crashed however by Jake Roberts, The Undertaker and a snake. A bitter feud with Roberts eventually led to Randy being reinstated by President Jack Tunney. Savage won a low profile ending to the rivalry and turned his attentions to WWF champ, Ric Flair. They feuded over Elizabeth with Macho Man eventually winning his second WWF title at WrestleMania 8. He would later drop the title back to Flair before returning to the booth and wrestling a lot less frequently. By the end of 1994 Savage's contract had expired and he jumped ship to WCW.

Randy started out life "down South" as a face, helping Hulk Hogan and feuding with Avalanche (WWF's Earthquake). It wasn't long however before he found himself revisiting his rivalry with The Nature Boy. Savage would win his first WCW title at World War 3 but would trade the strap back and forth with Flair, with their feud continuing until mid-1996 when Hogan and The Outsiders formed the New World Order. Macho Man would unsuccessfully try to take the title from Hollywood Hogan before briefly leaving the company.

He returned to WCW in January 1997 and joined the nWo as well as reuniting with Elizabeth and embarked on a feud with Diamond Dallas Page for much of the year. Savage would win his third WCW title at Spring Stampede '98, much to the annoyance of faction leader Hogan. They fought the next day on Nitro with Macho Man dropping the belt but the nWo would split into two factions, Black and White and Wolfpac. It wasn't long however before he once again found himself taking a hiatus.

When Randy returned, it was with a new look and new young girlfriend by the name of Gorgeous George. Madusa and Miss Madness soon joined up as Savage headed Team Madness. He would win the WCW title for a fourth time at Bash at the Beach 1999 in a tag match where he pinned champion Kevin Nash (Nash's partner was Sting, Savage's Sid Vicious). Once again however, his old foe Hogan reared his ugly skullet and took Randy's belt the next night on Nitro. His WCW career would wind down from there, with a match against Dennis Rodman being the most notable thing he did before leaving in the spring of 2000.

He would go on to make a couple of appearances for TNA in 2004 with one PPV match that saw him team with Jeff Hardy and AJ Styles to defeat Jeff Jarrett, Scott Hall and Kevin Nash. A TNA title match with Jarrett was due to take place but never occurred and Savage was soon totally retired from the business due to "health issues".


LEGACY

On the 20 May 2011, Randy suffered a heart attack and died whilst driving. What he left behind was a great legacy. He will go down as one of the greatest wrestlers of all time, a perfectionist, a workhorse and an innovator. He was stealing shows (and probably girlfriends) whilst Dolph Ziggler was having his nappy changed. He was stopping shows whilst Shawn Michaels was as green as goose shit. Whilst Hogan would be the reason most people tuned in, Savage would be the one they would be talking about come the end. One thing that always struck me about Macho Man is he never looked out of place in the ring. He could be the bigger guy, he could be the smaller guy. He could be with a high flyer, he could be with a brawler. He could be at the top of the card, he could be at the bottom of the card. No matter what, he looked the part and wrestled the part. He had a great ability to adapt to what the situation called for. Another of his great assets was his ability to tell a story between the ropes. It's somewhat of a lost art form in this day and age unfortunately but Savage (like many from his generation) relied on that a lot more than flashy moves. Of course he was one rare wrestlers of the time who used the flashy moves in conjunction with the wrestling psychology.

I did not follow his WCW run as closely as others but he definitely was a great acquisition for the company. It is probably his feuds with Ric Flair and Diamond Dallas Page that will be most fondly remembered but throughout his run there he proved once again that he could mix it up with anybody. It is his work in the WWF however for which he will be most remembered. If there was a Best Supporting Actor Award for Hulkamania it would no doubt be Savage's. His IC title run was stellar and he was arguably the first man of many to be the company's best worker and hold the famous strap. It is his work as WWF champion in 1988/9 however where he really showed his worth. The similarities with CM Punk's current reign are uncanny. He started off winning the title as a face whilst remaining in the shadow of the company posterboy. That would be enough to trigger a heel turn mid-reign and turn him into one of the best bad guys in company history. The story of the Mega Powers forming and exploding is one of the greatest pro-wrestling has ever offered up. It lasted a year and a half and Savage was on top of his game during every single moment, effortlessly transitioning from good guy to bad guy whilst not only making Hogan look a million bucks, but giving him one of the best matches of his career to boot.

Aside from Hogan, his WWF feuds with George Steele, Ricky Steamboat, Honky Tonk Man, Ted Dibiase, Dusty Rhodes, The Ultimate Warrior, Jake Roberts and Ric Flair will all be remembered as some of the best in the company's history. His story with Elizabeth may never be topped as wrestling's greatest love story. His dedication to his craft was almost unrivaled at the time. Doing all kinds of mad shit became the norm in the late-90s but seeing a top star take a snake bite in the name of feud advancement in 1991 was just crazy (interestingly, the snake died a week later). Also impressive is the fact that he wrestled four matches on a single PPV, not once but twice during his time with the company. The first time was on his PPV debut at The Wrestling Classic before he famously did it again when he won his first WWF title at Mania 4. And it is WrestleMania that is the crown jewel in his legacy. He is undoubtedly the star of the first decade of the event and for me he remains Mr WrestleMania to this day. When you list off his opponents at the Granddaddy of Them All it reads like a who's who of wrestling at the time. Steamboat, DiBiase, Hogan, Rhodes, Warrior, Flair. The difference in styles is huge yet he took them to some of their best in-ring performances.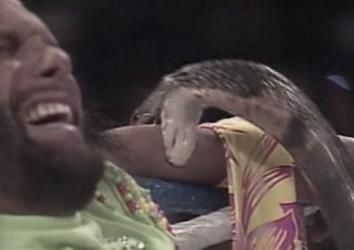 TOP 3...

As I go on with these columns I will be doing a top three each week. Exactly what the top three will be will change from person to person, depending on what kind of interesting angle I can find. Having referred to Savage as Mr WrestleMania, in this edition I will be looking at what I consider his top three performances at the Granddaddy of them all.




3.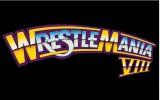 Water into Wine



WrestleMania 8 was a strange one from a booking perspective. As January 1992 came to a close you could see the makings of an extremely stacked card. Leading the way would have been Hogan vs Flair for the WWF Championship, with Savage taking on Jake Roberts in a blood feud, leaving the door open for a battle of the giants between Undertaker and Sid Justice. Some serious second guessing must have been going on behind the scenes however and we ended up with a heel Sid taking on Hulkamania (maybe Hogan wanted to prove a point after getting booed over Justice at the rumble). The knock-on effect of this saw Taker turn face and feud with former buddy Roberts whilst Savage got a shot at Flair's WWE title. At face value the changes were highly disappointing. Flair vs Hogan was the biggest possible match in the business whilst Savage vs Roberts would probably have been a psychological masterpiece to give an epic ending to a bitter feud.

Whilst Sid and Hogan had a hot mess of a match, Flair and Savage produced brilliance on short notice. The irony of it all was that for the first time in Mania history, the WWF title match was pushed down the card as posterboy Hogan closed the show. Randy and Ric easily showed that that was the wrong decision. The funny thing about it all is that the championship was almost an afterthought in a feud that seemingly popped up overnight. It was all over Elizabeth and the fact that Flair had apparently dated her before Savage and had some rather risque pics to prove it. Ric and Executive Consultant Mr Perfect vowed to parade the pic over the ring after The Nature Boy had retained his title. Obviously he didn't do that (although I admit to being a little disappointed) and it was Savage who lifted his second WWF Championship. The match itself was a high paced brawl. It's testament to both men's storytelling prowess that they wrestled in a style that isn't their strongest but still brought the house down. The fight continued even after Savage's victory but he was eventually able to celebrate with Liz, leaving Sid and Hogan with no chance of being able to follow it up.




Ric Flair vs Macho Man Randy Savage-WWF Title... by TSteck160






2.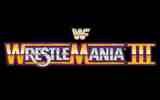 Instant Classic



When I first got into the WWF I really didn't have too much of a concept of timelines. I would just get videos (often thanks to playground recommendations) and watch them. Blockbuster and borrowing from mates was a big source in the early stages but soon my pocket money was going on buying my own vids. The first and most played out VHS however was WrestleMania 3. I may have bought it for the cool stare down on the cover between Hogan and Andre but the teeth marks on the film reel came a couple of matches before then. I guess I was always a bit of a smark because whereas most of my friends were taking their vitamins and saying their prayers, I was immediately infatuated with The Madness, and it was all because of this match. I guess for a lot of kids at that age, at that time, wrestling was about good vs evil. I don't know if growing up on pantomimes and the panto-like British wrestling scene allowed me to look past that, but all I saw was a guy who had grace along with captivating movement and expressions.

I liked the guy he was fighting too (who had similar characteristics) but I remember despising the brute who accompanied him to ringside, constantly trying to have an unwelcome influence on the art that was occurring between the ropes. Of course as I got older I saw the merits of George Steele and Elizabeth's roles in the match but it was Savage and Steamboat that made that Intercontinental Championship encounter so legendary. The story goes that Randy made them go over the match again and again and again until it was perfect, and it ended up as close to perfection as you can get in pro-wrestling. I have four "go-to" Mania matches over the years that I consider the absolute best and that match from almost 26 years ago is amongst. The thing is that you don't even have to put it into the context of time. I holds up just as well today. When you look back at wrestling since then, time and time again you see the influence of that match on so many superstars who have come (and gone). You need to look no further than the current WWE Champion for proof of that.




Randy Savage vs Ricky Steamboat_WrestleMania 3 by 1BadboyMMA






1.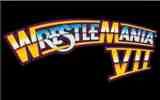 Turd Polishing



Whilst I don't think that the Mania 3 classic can be topped as a match, as an all round experience, there is nothing I like watching more than Savage at WrestleMania 7. First things first, you have to look at the match. You have the culmination of a blood feud between two of the three biggest names in the company and the men who had main evented against Hogan at the two previous Manias. Both men were very much in their primes but on the grandest stage of all they put their careers on the line... and they threw absolutely everything they had at each other. A year earlier in Toronto, The Ultimate Warrior had an epic moment with Hogan but this time he was actually having a great wrestling match. Warrior was paired with many greats during his initial WWF run that made him look like a star but for me none of them could drag anywhere near as good a match from him as Savage. And after all he had put the Warrior through, the Macho King finally got his comeuppance as he lost the match and his career.

That is when it really started to get good. Down and out, Savage was getting berated and beaten down by his manager Sensational Sherri, when who should show up but Elizabeth to make the save. Following the Mega Powers exploding a couple of years earlier, Savage and Liz had gone their separate ways. There was no better way to mark the end of Randy's career than to have him reunited with the woman he had been so protective over. Savage and Elizabeth was wrestling's greatest love story and when they got back together in that ring, the company's most dastardly heel instantly became a fan favourite. To this day I can't watch the aftermath of the match without welling up and for me it is quintessential WrestleMania moment. You can keep your ticker tape parades and everything else. It doesn't even bother me that he was fighting for the WWF title a year down the road because the moment is everything in the crazy world of pro-wrestling.




Ultimate Warrior vs Randy Savage - WrestleMania 7 by 1BadboyMMA




ACCOLADES

It will come as no surprise when I tell you that Randy Savage is a highly decorated wrestler. Starting at the very top, he managed to win six world titles during his career. The first two of these were in WWF and the others in WCW. A rather interesting side note is that there are only two men who have managed to take those titles from him - Ric Flair and Hulk Hogan. His work in the big two companies also saw him pick up an Intercontinental Championship and King of the Ring and King of Cable tournament. He picked up titles in various other feds during the territory times but perhaps his most famous accolade is the one that has eluded him so far. Like most fans, I would love to see him inducted in WWE's Hall of Fame but in death, as in life, things seem to be getting in the way. His brother states that he wanted to go in with his family which seems unlikely. Randy still has other Hall of Fame inductions to his name including the Professional Wrestling Hall of Fame. Dave Meltzer has also inducted him in addition to giving him Match of the Year honours for his masterpiece with Steamboat. He won the same honour for the same match with Pro Wrestling Illustrated along with a whole host of other awards, most notably Wrestler of the Year in 1988.


FURTHER VIEWING

In you are a relatively new to Randy Savage's work or consider yourself a big fan, there is always a lot to enjoy. As I have previously mentioned, the guy was ahead of his time in terms of his in ring work and as such most of his matches hold up very well today. Most of his WrestleMania CV is definitely worth a watch, obviously including the three classics about. The Hogan match is worth looking for, as is one of WWF's early attempts at a Falls Count Anywhere match, with Crush at Mania 10. The Mega Powers vs The Mega Bucks from the first SummerSlam and his second big match with Warrior from 1992 are others from his WWF run that you need to see. As for WCW, his feuds with Flair and DDP produced some very good work with Halloween Havoc 1997 and Starrcade 1995 perhaps being the most notable. In fact, I strongly recommend that you invest in the WWE's Macho Madness: The Randy Savage Ultimate Collection. A great DVD stacked with all his best matches and highly watchable once you get past Matt Striker and Maria's hosting of the thing.




---------------------




Well ladies and gents, the first entry to LOPedia is in the record books. I hope you have enjoyed this look at the career of Randy Savage. As of now, this will be the format for the whole series so I'd love to know what you liked and what you didn't. I shall be back again soon to take a closer look at a Puroresu legend who comes highly recommended by a certain Mr Meltzer. Of course I will also be back on Tuesday with your regularly scheduled Ranking the Raw Talent. Until then, Peace.






ATTITUDE! No Mercy 1999 (CPR Productions)
InVasion 2014 (CPR Productions)
ATTITUDE! Unforgiven 1999 (CPR Productions)
ATTITUDE! SummerSlam 1999 (CPR Productions)