---



ATTITUDE! WrestleMania XIV (CPR Productions)


By Maz & Mav
Apr 10, 2014 - 5:35:12 PM


'Sup, Lords of Pain? What a week it has been. I don't think I've ever been on an emotional rollercoaster ride like I was on Sunday night and unfortunately that continued through until Wednesday morning when I found out the tragic news regarding The Ultimate Warrior. Watching him on WWE programming on three consecutive nights was bizarre in itself and then hear that news almost felt like it was part of a storyline. Sadly that was not the case and a part of my childhood had gone. Rest In Peace, Warrior. Your unmatched energy will never be forgotten by wrestling fans.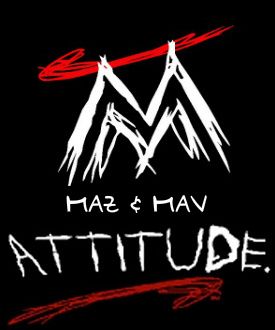 Maverick: Well, we've just had one of the most exciting Wrestlemanias of all time, but we shouldn't forget that back in 1998, we had one which was every bit as anticipated. There are so many parallels between Steve Austin and Daniel Bryan's respective ascents to the top, and Stone Cold was poised to become "the man", having dominated the Rumble, scored the winning pinfall at No Way Out Of Texas and tangled with the Baddest Man On The Planet. I'm excited just writing about it.

Mazza: Yeah, it's almost a perfect time to hit this event. WrestleMania XXX is being seen as the night the Reality Era was fully established and, although we started this series with Mania 13, it is this night in Boston where Attitude would hit top speed. Mania XIV isn't one that tends to be remembered particularly fondly however. Both men in the main event would be be a long way from fit and the card would be supported by a war between two supernatural brothers and a tag match where you would win by essentially binning your opponents.








The Event: WrestleMania XIV
The Date: 29 March 1998
The Place: FleetCenter, Boston, Massachusetts




BACKGROUND AND BOOKING


The month of March, as I briefly alluded to in the introduction, was all about Stone Cold Steve Austin. The proposed addition of Mike Tyson to the title bout with Michaels brought the best out in the Rattlesnake, who had spoilt McMahon's grand unveiling of his celebrity guest back in January by giving the former heavyweight champion the finger and starting a massive brawl. Following that explosion, Tyson's involvement was changed to special outside enforcer in order to avoid bias and in order to prevent DX interfering...the only problem was that the Degenerates unveiled Iron Mike as their newest stable member on the 03-02-98 episode of Raw, seemingly placing the Bionic Redneck at a massive disadvantage in the feud. Due to the nature of Michaels and Austin's debilitating injuries, the rivalry was largely one that took place over the microphone, although the presence of Hunter and Chyna did allow for the multi-person ambush beatdowns of Stone Cold on the stage, with a memorable segment involving the bald Texan being tied in the ropes while Shawn taunted him with the gold a prominent image moving into Wrestlemania week.

In many ways, you can't help but wish that both men had been healthy, because if they had been, we likely would have got a feud to match the talent of the two main protagonists, but what we got was still a standard bearing Attitude rivalry that cemented Austin's status, which is basically what WWF wanted at this stage. Backstage, as previously discussed, HBK's mangled back and broken dreams were making him bitter and combustible, and some very awkward exchanges with fans took place at the 1998 equivalent of Fan Axxess. There has always been a prominent rumour that Shawn was refusing to drop the belt backstage on 'Mania night- ironic given his involvement in screwing Bret Hart for similar reasons- and had to be "persuaded" by locker room leader The Undertaker to do the job. Thankfully, Michaels complied, as we shall see later…

Speaking of The Undertaker, his was the next most prominent storyline, and what a storyline it was, one that began right at the beginning of this series in the spring of 1997, when Paul Bearer threatened to reveal a dark secret from the Deadman's past. After 'Taker refused to do Bearer's bidding any longer, the Hall of Fame manager revealed that his former charge had burnt down a funeral home belonging to his parents, but that his half-brother Kane had survived, albeit mentally and physically scarred from his ordeal. The legendary Bearer line "Kane's alive!" will live in infamy for a very long time, and the truth of his statement was finally revealed at Badd Blood when Kane, masked and dressed in red, arrived to Tombstone his brother and cost him the inaugural cell match against the Heartbreak Kid. Following that, despite this attack, The Phenom refused to fight his younger brother, causing Kane to go on a rampage of destruction, taking down Mankind and Vader, while also costing his brother yet another match with Michaels, setting him ablaze in a casket to boot...or so The Big Red Monster thought. The Deadman's bell tolling interrupted Kane and Paul Bearer several times on television, with the manager denying that it truly was The Undertaker. Eventually, a sarcophagus appeared which 'Taker sat up in to officially set up the match for Wrestlemania.

In the midcard, several of the most prominent stars of the era were coming into their own. As second-in-command of DX, Triple H found himself dealing with Owen Hart, whose vengeful return to television as the lone remaining Hart Foundation member prompted Shawn and Hunter to describe him as a "nugget of shit" that wouldn't flush. Hart had won the European Title from TAFKA Goldust after he subbed for Triple H and Slaughter upheld the title change. However, Helmsley won it back when an injured Hart was goaded into a title defence on Raw while selling a kayfabe leg injury. The Ninth Wonder of the World's interference led to Hunter regaining the belt, but the rematch was signed for the Showcase of the Immortals.

Also pulling up trees was The Rock, whose last few months of 1997 and first few months of 1998 cemented him as the hottest property in the company not named Steve Austin. Showing huge charisma and an increasing amount of ring savvy, Rocky's struggle with Farooq for control of the Nation while simultaneously feuding with Ken Shamrock was excellent midcard booking which showcased a lot of what was great about the early-Attitude Era. The cocky young stud had managed to gain a sneaky victory at The Royal Rumble, but Shamrock had got a measure of revenge in the tag match at No Way Out Of Texas. The third match, the second for the Intercontinental Title, would serve as a bridge between the Rock/Shamrock and Rock/Farooq feuds, both of which were key in propelling young Johnson up the card.

A burgeoning tag division was also prominent moving into Wrestlemania, with The New Age Outlaws proving to be supreme antagonists, and as representative of the new "Attitude" as anybody else in the company. After their dismantling of LOD in December and January, they pushed Cactus Jack and Chainsaw Charlie off the stage after locking them inside a dumpster. After the two hardcore legends recovered to play a key part in defeating The Outlaws, Trips and Savio Vega in the eight man tag main event of No Way Out Of Texas, the feud between the two teams was once again the central focus of the tag division, with a first ever "Dumpster Match" being announced for Wrestlemania, the rule being that the team who locked both their opponents inside the dumpster so the lid could be closed would be the winners and the champions. Also booked on the show was a tag team battle royal for number one contendership involving all the other extant teams in the division.

The final belt defended on the show was the Light Heavyweight Championship, which had been held by Taka Michinoku since it was first created back in December. He was due to defend it on the grandest stage against Aguila (who later became better known as Essa Rios) in what turned out to be the only occasion that belt was defended at Wrestlemania. The card was rounded out by a mixed tag featuring Mero and Sable against TAFKA Goldust and Luna, after the men's tag team became dysfunctional due to the kayfabe marriage problems of Mero and Sable. The two put their issues behind them somewhat to fight the threat of the two odd bods. Mrs Mero remained one of the most over performers in the whole company throughout the build to 'Mania.

Looking at that card and breaking down the history, it seems we have a historically underrated iteration of the Granddaddy on our hands...but will that be born out when we re-watch the matches? There's only one way to find out! Here's Maz with...


THE UNDERCARD


We begin with a very cool promo focusing on the untraditional becoming traditional in the main event.


LOD 2000 (With Sunny) won a 15-team Battle Royal in 8:19
We jerk the curtain with a cluster**** battle royal to crown number one contenders to the tag team titles. The rules are that if one team member is eliminated, the team are out. The last team to enter the ring was a surprise entry and it was a slightly repackaged version of The Legion of Doom lead by Sunny (finally something higher profile to do). Needless to say the reaction for them is huge. Savio Vega & Miguel Perez are first eliminated which is disappointing. It is very tough to keep up with what is going on. There is some beef with Kurrgan and the Truth Commission's going on which leads to Sniper and Recon's elimination. Chainz is teamed with Bradshaw and Barry Windham makes a run in to send them packing. The other Boricuas pairing as well as the Rock N Roll Express, the Quebecers and the team of Flash Funk and Steve Blackman get eliminated, as do both Nation of Domination pairings, although Mark Henry doesn't seem to realise this and carries on. The Headbangers and a very early incarnation of Too Cool are next to go (known simply as Brian Christopher and Scott Taylor). We get down to the final four of LOD, Godwinns, Skull & 8-Ball and the New Midnight Express who are Bodacious Bob (Holly) & Bombastic Bart (Gunn), who has an uncanny resemblance to John Morrison. The Disciples of Apocalypse are eliminated, as are Henry and Phineas, who return to attack LOD with their galvanised buckets! This puts the Midnight Express in charge but Animal and Hawk hold on and eliminate both men. Not a great battle royal but a great way to get the crowd hot. Always nice to see the Road Warriors and always nice to see Sunny.
ATTITUDE! Rating: **


Kevin Kelly and Honky Tonk Man shill the Superstar Line backstage in what is comparable to a Maverick plug.


Taka Michinoku defeated Aguila in 5:47 to retain the Light Heavyweight Championship
We get some light heavyweight international flavour as Japan takes on Mexico. The action is high paced and Aguila hits a moonsault from the top rope to the outside early on. Taka is not to be outdone however and hits a springboard splash to the outside. The challenger takes charge and shows off some great athleticism and high flying. He gets a two count with a moonsault and then nails a huracanrana on Michinoku from the top. Taka gets back in it though and goes for the Driver which is countered into a hurricanrana and re-countered into a powerbomb. The back and forth continues and the champ eventually hits the Michinoku Driver for the win. The men hug after the match. This was a really fun match which could have stolen the show given a few more minutes. Excellent stuff.
ATTITUDE! Rating: ***


The Rock has a sit down interview with some tart going by the name of Gennifer Flowers. They talk about if Rocky was president and it is full of innuendo in the era of Clinton scandals. Time specific but The Rock was in his element.


Triple H (With Chyna) defeated Owen Hart in 11:27 to retain the European Championship
Triple H comes to the ring with a live performance from the DX band, although he wasn't ready yet for the slave wenches (credit: Mav). Chyna then gets handcuffed to Commissioner Slaughter to prevent interference. That's a whole lot of chin on show there. Owen hits the ring like a house on fire and we are underway. He gets a couple of two counts early on as he controls things whilst taunting the Ninth Wonder of the World. A rake to the eyes turns the tide however in the champion's favour as Lawler starts the Stu and Helen abuse (which is less amusing post-Montreal). The DX man gets some good heat as he takes time to pose during his domination. HHH cuts out Owen's comeback attempts and starts to focus on the injured ankle. The challenger does make a comeback as he crotches Hunter on the ringpost and follows up with a missile dropkick for a two count. A belly-to-belly as smooth as one of Kurt Angle's and a dropkick get near falls and Owen then hits an Enziguri which hurts his injured ankle. We then go through a beautifully smooth series of counters which eventually sees the Sharpshooter locked in. Chyna manages to drag Sarge and helps Trips get to the ropes. She then throws powder into Slaughter's eyes which allows her to interfere some more. She hits a low blow on Owen which allows Hunter to get the Pedigree and the win. Chyna then decks Sarge once the handcuffs have been unlocked. This was an excellent midcard match. Great storytelling with extremely strong in ring action to match. Owen proved how good a worker he is whereas Hunter proved he was ready for a step up.
ATTITUDE! Rating: ***¾


Marc Mero & Sable defeated The Artist Formerly Known as Goldust & Luna in 9:05 in a Mixed Tag Match
There is a pre-match recap of the issues between Mero and Sable in addition to Goldust and Luna's part in it. TAFKAG and Marvelous Marc start things out but Luna gets the tag quickly when Mero gets the upper hand. Sable gets tagged in and Luna hightails it and tags Goldie back in. Mero takes control again and tags Sable in and they hit a nice double team move. Things then settle as the men work the match despite the crowd desperate for Sable to get her hands on Luna. Eventually the ladies get tagged in and the crowd go bananas as Sable takes down Vachon. Luna tags out and Sable nails Goldie before bringing Marc back in. There is some good action between the men with lots of counters and Mero hitting a springboard moonsault and top rope hurricanrana. Luna gets involved as Mero covers Goldie after a TKO to break up the pin. The action breaks down and Sable tags herself in. She gets a two count on Goldust and then one on Luna after a powerbomb. Luna gets the upper hand though until Sable hits a TKO to pick up the victory. Mero celebrates like he has won the lottery and raises his wife's hand. I've never been a big Sable fan but her popularity is undeniable. She was as over as anyone not named Austin which says a lot. To be fair to her, she did well in the ring (although I have been conditioned by the state of the current diva division) and credit to Luna for helping her along. Again it was a nicely built feud and the in ring action delivered with the men carrying the the majority of the match.
ATTITUDE! Rating: ***


The Rock (With The Nation of Domination) defeated Ken Shamrock in 4:49 to retain the Intercontinental Championship
Tennessee Lee is in the ring and he introduces Jeff Jarrett and Gennifer Flowers. Flowers is there to be the guest ring announcer. Rock brings his crew with him but Faarooq is notable by his absence. Shamrock is explosive and the champ teases a walk-out before he is brought back to the ring. The challenger is aggressive but Rocky turns things in his favour. He hits a People's Elbow for a two count before the action spills to the outside again. Shamrock gets a chair but a mini ref bump sees Rocky use it but only gets a two count. Ken gets back in control however and throws on the Ankle Lock and picks up the victory. The Nation hit the ring but the new champ gets rid of them. He then puts the Ankle Lock back on Rocky. Faarooq comes down to make the save but looks at his stablemate and walks away. Officials come down to make Shamrock break the hold but he freaks out and hits them all with belly-to-bellys. Rock is stretchered away but it is announced that the decision has been reversed because of Shamrock's actions and Rock wins by disqualification. This sends Shamrock mental again and he attacks Rocky on the stretcher before celebrating with the title. The story was fun and unique but the action in the match was a little disjointed and didn't have much time to settle into anything particularly good.
ATTITUDE! Rating: **½


Cactus Jack & Chainsaw Charlie defeated The New Age Outlaws in 10:00 in a Dumpster Match to win the Tag Team Championship
The Outlaws do their schtick on the way to the ring and are clearly starting to get face pops. Foley and James pair off whilst Funk and Gunn lock up at the start as the Hardcore Legends get the early advantage. The young guns soon take control though as the dumpster comes into play early. Chainsaw and Cactus get their heads slammed with the dumpster lid as the Outlaws go to finish it. Foley blocks the lid being closed on the challengers however and hits Billy and Jesse with a double Mandible Claw. The legends use trays to take it to the champs before Cactus brings a ladder into things. Mr Ass and Mick fight on top of the ladder but it gets knocked over and they go flying into the dumpster. Billy gets pulled out and Funk gets powerbombed in. Foley managed to escape however and the Outlaws fight him to the backstage area. The champs are in control until Mick uses a chair. He piles Roadie and Billy onto a pallet and Chainsaw returns to lift them on a forklift and throw them into a backstage dumpster to crown new champions. This was one of my favourite ever matches but time hasn't been overly kind to it. It was extremely innovative for its time in the WWF but of course hardcore stunts would be raised on a monthly basis during Attitude. Still a very fun watch but not quite classic it once was.
ATTITUDE! Rating: ***


The Undertaker defeated Kane (With Paul Bearer) in 16:48
A recap of the epic build to this match plays before we get underway. We then get guest ring announcer Pete Rose come down and cut a basic but very well delivered heel promo. He is introduces Kane who comes to the ring and gives Rose a Tombstone. It's an iconic Mania moment but you do have to question giving the Big Red Machine a face pop before he plays a huge heel in the match. Poor old Pete gets stretchered out and The Deadman makes his entrance, complete with druids. We get a huge staredown and Taker is the first man to strike. The early action is hard hitting with Kane soon settling down in charge. Action head to the outside and a Paul Bearer distraction allows The Big Red Machine to use the ring steps on his big brother. The Deadman starts a comeback but he is put down with a chokeslam. Kane goes for the pin but lifts his brother up after two. Things slow down as we have rest holds interrupted by brief Taker comebacks. We get a holy shit moment as The Phenom flies over the top rope towards his brother but Kane dodges the attack and Taker eats announce table. Kane continues to control things and he hits a Tombstone for a long two count. The Deadman comes back however and hits Chokeslam/Tombstone combo but he can only get a two. He hits a second Tombstone but once again Kane manages to get a shoulder up. The Phenom goes to the top and hits a clothesline before hitting a third Tombstone and hooking a leg to finally go 7-0. Paul Bearer hits the ring and attacks Taker and The Big Red Machine nails his brother with a chair before landing a Tombstone onto the steel. Kane and Bearer leave as The Deadman sits up. That is how to book someone strong in defeat ladies and gents. Like the dumpster match, it has lost a little bit of its magic over time but still one of the stronger efforts in the streak before it became the streak.
ATTITUDE! Rating: ***½


THE MAIN EVENT


Steve Austin defeated Shawn Michaels (With Triple H & Chyna) in 20:01 to win the WWF Championship
With Tyson apparently in the DX camp, he enters to a sea of boos and to the DX Band's live performance of the stable's theme tune, wearing their t-shirt to boot. Austin is shown exiting the locker room in hyper realistic fashion, in a similar way to Bret Hart's last WWF appearance in Montreal a few months earlier. The glass breaks and he's through the curtain, striding to the ring in that signature rolling fashion. The crowd are absolutely wild for him and there's a definite big fight feel in the air. Austin and Tyson of course get in each others' faces to sell the storyline going into the Showcase of the Immortals, until finally Shawn Michaels, flanked by Chyna and Hunter, makes his entrance into the arena. It's pretty hard to watch actually. The flipping of the bird and the cocky strut to the ring feel very forced. It's obvious that Michaels thought this was the last time he'd be doing this. What a bitter pill to swallow that must've been.

As the bell rings, the two men circle each other warily, perhaps reflecting the presence of a boxing great at ringside. Michaels is elusive and sticks and moves, twice managing to pepper Austin with left jabs. His speed and cunning are both sold early on, and the crowd are all the more eager to see The Rattlesnake get his hands on him. The cat and mouse game spills out of the ring and Michaels tries to create separation for a flying move off running the ropes, but Austin knocks him down to a mighty cheer and proceeds to open up an almighty can of whup ass, dragging Sexy Boy all around the ring by the air, exposing his buttocks to the world and back dropping him right into Triple H and Chyna with his tights still way below South. As a hot opening, it certainly works, and Michaels shows true grit in taking such a big bump early given the state of his back.

However, Helmsley is not down and out from having his stable leader thrown into him and manages to ambush Stone Cold to even the odds, sending him careening into a barrier. Chioda responds by sending both Hunter and Chyna from ringside, assisted by the "impartial" Tyson. Michaels manages to get cheap shots in outside the ring, which then degenerates (no pun intended) into an outside brawl emblematic of the Attitude Era we have been in ever since the Rattlesnake's match with Bret Hart the previous year. Back in the ring, HBK comes off the top but is met by a gut shot, before taking a turnbuckle shot back first. Man, that must have taken some guts. From this point, you can see Shawn visibly wincing whenever he takes a bump or gets to his feet and it's pretty difficult to watch at times as the match progresses.

Austin is in the ascendency here and he goes about punishing the champ like the brawler he is. I particularly like the spot where Michaels is punched off the ring apron face first into the announce desk; it shows how far the Heartbreak Kid was willing to go to put Stone Cold on the map, despite the rumours of his reluctance to drop the gold. Given one last outing, Shawn did a very professional job indeed. The man from Victoria constantly seems to beat the man from San Antonio to the punch, preventing him from applying a ring post figure four with a well timed boot and proceeding to once again use the outside of the ring's furniture to put the hurting on him, until Michaels manages to find a backdrop counter that sends Austin over the barrier into the timekeeper's area. HBK follows up with a gnarly bell shot that fells the challenger, buying some breathing space for him to get Stone Cold back in the squared circle for some attritional strikes and stomps. He holds his lower back throughout this passage, which JR morbidly sells on commentary, and again, it's some tough stuff to see. Shawn flips off the crowd for some great heat before he's ambushed by the Rattlesnake who grounds and pounds the champion before sending him over the top rope Rumble style.

Once he's on the outside though, Michaels manages to catch Stone Cold's leg and fling it against the ring post several times; this precipitates an extended passage of working the leg, a psychological touch that his friend Triple H would take forward in future years. The advantage does not last long though, with Austin countering a figure four with leg strength and sending the DX leader into the post shoulder first, but straight afterwards Shawn is able to once again go for the leg and cut his opponent down. After a baseball slide, the Texas Rattlesnake is once more outside the ring, but Tyson tosses him back in, for motives that remain ambiguous at this stage. Michaels manages to get the figure four locked in, and in a repeat of the previous Wrestlemania, Stone Cold refuses to give up. The hold is turned over, but once it's broken, HBK is on his opponent yet again, trying a sleeper which Austin breaks by ramming him back first into the turnbuckle.

From this point, a brawl breaks out again and we are back in Steve Austin territory, with mudholes being emphatically stomped. The referee is down, having taken a bump, and then the two wrestlers go down...until the bravest kip up of Michaels' career sends him back to his feet. Ascending the turnbuckle, he hits the flying elbow one last time. The band is tuned up, but after a series of breathtaking reversals, Austin hits the stunner and Tyson counts the three for the crowning of WWF's new king to become official. "STONE COLD! STONE COLD! STONE COLD!" yells JR as the guard officially changes. The celebrations of the Rattlesnake bring in Iron Mike, who is given a 3:16 t-shirt. When Michaels remonstrates with him, the former heavyweight champion of the world knocks Shawn down and the master of bumping is able to draw on that skill one last time before his first retirement. What an end to a Wrestlemania.

The match itself is perhaps the bravest effort by a professional wrestler I have ever seen. It had no right to be that good given the physical condition of both men, and yet it was an excellent Attitude style brawl in which Shawn Michaels brought out his big bumping heel antagonist one last time to put over the man who would absolutely dominate professional wrestling for the next four years. Make no mistake, it was a massive and historically significant clash, and probably a 'Mania headlining bout that deserves far more attention than it gets.
ATTITUDE! Rating: ***¾


OVERALL THOUGHTS


Before this watch I'd never thought of Mania XIV as a particularly strong event. It was a PPV very much promoted on the main event and whilst definitely not a bad match, the injuries to both men prevented it from being the classic it could have been. Where the fourteenth edition of the Showcase of the Immortals excelled however was on the undercard. It was consistently strong and very well built. Everything outside of the Light Heavyweights and the Battle Royal had a story behind it (with the latter incorporating multiple feuds) and every match delivered in one way or another. The whole night seemed to flow extremely well too and it is one of the better structured Manias. Overall I think I'd have to call it possibly the most underrated WrestleMania of all time.

I definitely agree with you there Maz, although I'm probably more sold on the main event than you are. I said on 'Plan's Thirty Years Of Wrestlemania TRSOTP special that I felt that the Wrestlemanias of the Attitude Era never truly put together a Wrestlemania that reflected the quality of its year round product until Wrestlemania XVII. Now I've rewatched XIII and XIV in fairly quick succession I'd have to say that I've revised that opinion. Both shows have very strong undercards full of fun wrestling, and both show a great deal of confidence in pulling the trigger on a different type of product. Wrestlemania XIII pushed the reset button, while XIV kicked everything into high gear with the Austin title win, the dumpster match, the Triple H upper-midcard push and the battle of the brothers. Definitely worth your time!




WrestleMania 14 Overall ATTITUDE! Rating: ***¼




MVP - HHH




Both Maz and I have been very taken with the performances of Hunter Hearst Helmsley through this first year of Attitude. Truthfully, he was performing at a very high level long before he finally broke out as a legitimate headliner in 1999. Paul Levesque worked his ass off to make it to the top, showing total commitment to the business, no matter what obstacles were placed in his way (the main one of course being his post Curtain Call "shit eating"). He spent a long time in the midcard paying his dues and getting over the old fashioned way, and at Wrestlemania XIV that work finally paid off massively with a fantastic match and a superb character performance which set him up to take the DX reigns the next evening in one of the most memorable Monday Night Raw segments of all time. In a week where we have all been celebrating what Triple H brings to Wrestlemania as a performer, this feels like the ideal time to honour him for one of his more overlooked performances.

This was without a doubt a huge night for Hunter. Shawn would be moving on and as the man that would take the reigns of DX, he had something to prove. We saw this weekend what The Game is capable of in that type of situation and his performance in the European Championship match was a great one. With Owen probably feeling a similar need to show management his worth, the pair went out and put on a masterclass in big event midcard wrestling. The story was a good one and they continued it in the ring with a crisp and exciting title bout. Hunter showed at the right time that he had the stuff needed for a shot at the top level. His friend in high places would be out of the picture come the next day both on and offscreen. It was time for Helmsley to sink or swim and this performance gave him a strong diving start.


THE ONE TO WATCH


If you have been following this series since January you will have seen me refer to Austin, Rock, Helmsley and Foley as the Four Pillars of Attitude. The thing I had never realised before is that all Four Pillars left this huge stop on the road through the era holding championship gold. We have already seen how well some of these guys work together through 1997 and early 1998 and as the era would continue we would find out that any combination of these four men would produce chemistry that is off the charts. Feud after feud, match after match, these guys delivered time after time again and made the greatest era in professional wrestling. Of course, they weren't alone in this and had plenty of supporting characters but at least one of the Four Pillars would be present in all the most important moments of Attitude. But now as we settle into the Reality Era, who would make the most appropriate comparisons?

Stone Cold Steve Austin - Who is this era's SCSA would have been a very open ended question a few months ago but as of right now there is only one answer. Daniel Bryan. During his rise there have been many comparisons to wrestlers from eras gone by and the IWC have tried to predict just where his ceiling would be. Mick Foley was a logical and popular choice for a while. There were a lot of natural similarities to Chris Benoit. Cases could be made for Bret Hart or Shawn Michaels. Personally I thought Kurt Angle was the best fit for a long time. But the storyline he is currently in, his position in the company right now and the sustained reaction he is getting from live crowds mean he is the best fit as Austin at the moment. Sure he is unlikely to have the impact on the business that Stone Cold had but there is a good chance nobody ever will. The only other option I could see for that right now is John Cena but with the changing of the guard I see him becoming to the Reality Era what The Undertaker was to Attitude. Although not one of my four pillars, Taker was kind of the central support beam shifting easily from the title picture to marquee/special attraction feuds. A role I can definitely see Cena excelling in over the next few years. Plus who wouldn't want to see him repackaged in 2015 as Biker Cena?

Triple H - A lot of people have been putting Bray Wyatt comparisons out there recently. I do get that. A good heel, a strong worker and someone you can see having a very long career. There is just something that keeps tapping away at me however that says Dean Ambrose will end up as the better comparison. At first glance there aren't too many similarities but if you look a little deeper there are more than you would think. First off is the fact they both seem to have heelish tendencies oozing from their pores. Whilst Ambrose comes across as chaotic rather than cerebral, I always get the distinct impression that there is very much a method to his madness. Right now is he a lot more rash than the Game but I think it is a very minor change in character that would make him just as calculating. Also I feel that Ambrose's rise will be a marathon rather than a sprint. Triple H won his first world title a good while after the other three pillars and I also believe that the Shield's Lunatic Fringe can take his time to shine in the midcard whereas others at a similar point in their career will be sprinting towards the finish line, but not necessarily arriving.

The Rock - The popular comparison will often be popular for a reason. Sure it's easy to point to family ties, similar looks, clear backing from the company but that doesn't mean it is wrong. Roman Reigns is very much in the best position to be this era's version of his cousin. Don't expect a Rocky clone however. They share a look, physique and natural presence but Reign's brooding demeanour will be his ticket as opposed to Dwayne's unrivaled ability to control a crowd with a microphone. With both Shield members down, it would be unfair to leave out Seth Rollins. As of WrestleMania 14 I think the best comparison is Owen Hart. A natural talent with a decent amount of charisma behind his in-ring work. Going longer term into Attitude however I can see him being more of a Chris Jericho. Like Ambrose, I don't think there is any rush needed to push Rollins to the moon and his run through Reality can be in phases matching a couple of my favourite Hart Dungeoneers.

Mick Foley - You can relax now buzzard followers because Bray Wyatt is still coming into play during this column. I do a lot of ebbing and flowing on Bray as followers of The Right Side of the Pond will know. I am a fan of the guy. I am a fan of his in ring work and his natural ability for wrestling. I am not always sold however on the gimmick he is running. I don't think it is bad but I do question how long it will work for. One of my worries is that I find it more funny than I do creepy. Sure, that probably says more about me than the average fan but the fact that crowds are getting behind the extremely heelish gimmick is also something you have to think about. This week on TRSOTP we talk about the Wyatt character being closest to Mankind's historically but I believe that Bray will have a level of versatility that might rival Mick's. In last week's column I talked about how Foley fit into so many different roles between Manias 13 and 14 and I can certainly see Wyatt doing something similar in the long term. I think he will have the ability to switch between roles very well, play the good guy or the bad guy at any position on the card. I expect him longer term to be a guy that elevates a lot of the talent who will come through to spark the era that follows Reality as well. A little nod to his Family too at this stage. Luke Harper is one mega talented big man and could well become this generation's Kane. Eric Rowan has shown continual improvement and that is great but I do worry about his long term future and could easily see him as a bit part player who may have a couple of runs with the company between spending time elsewhere. If I am pushed for a definite comparison I will go with a blend of Bossman and Albert.

So there are the four pillars in addition to a couple of side players. There are of course a few more guys out there looking to make a splash in these early days of Reality but the one who sticks out the most at this moment is Cesaro. He is building some serious momentum right now and there is a comparison to be made with a couple of guys who would show up later in the Attitude Era. Whilst Chris Benoit makes for a very natural comparison, I could see him going a little bit further which also makes Kurt Angle an option. I can see him ending up as a bit of a hybrid of the two. Triple H is of course taking on the role of his father-in-law. The advantage he has over Mr McMahon however is that he has the wrestling background. Of course Part Timers weren't really a factor in Attitude and they add elements to PPVs and feuds in this era with Brock Lesnar now taking pride of place as king of that particular jungle. There is a lot more talent on the roster these days without major competition and there are a lot more comparisons you can make with the upper midcarders and occasional main eventers but we could be here all day long looking at those. Before I pass over to Mav however I have one final comparison. Bret Hart was the man who was extremely instrumental in starting Attitude but was gone by the time it really begun to bear fruit. To this day he hasn't seemed to get over his bitterness about it (and a whole bunch of other things). Hi Phil!

I think the important thing about the four pillars of Attitude at this stage is the way they combined to work with each other and create a fresher, more interesting product. When Foley came into the company in '96 under the Mankind gimmick, he was initially slated to be one of many "monster of the month" characters to face down The Undertaker and be sent back to hell, but Mick proved his worth in giving The Deadman his best ever matches, as well as perhaps the greatest Shawn Michaels title defence at Mind Games that same year. Foley went on to bring back his WCW Cactus Jack character in 1997, as well as his "original" teenage idea for a gimmick, Dude Love, allowing him to feud with literally anyone on the roster, and that was just what he did, facing Rocky Maivia, Triple H, Kane and The New Age Outlaws in interesting midcard programmes. Like Bray Wyatt or Dean Ambrose in today's WWE, Mick was so superb as a character that fans got behind him through 1998, meaning that he would ultimately be involved in the "moment that turned the war" in early 1999. The Three Faces of Foley all represented the way that gimmicks were still a part of wrestling even in the more "real" arena of Attitude; again, Wyatt is a prime example of that today.

The Rock and Triple H were clearly the sort of young midcarders that Vince was very much behind. Of course, Rocky got the early babyface push from Survivor Series '96 to Wrestlemania XIII, but fan antipathy meant that Vince had to think again, and what happened was the creation of an arrogant, cocksure member of the Nation of Domination. Being placed in a stable gave Rocky the opportunity to reset his character with no real pressure on him, and freed from the "Blue Chipper", he revelled in sitting on the villainous side of the fence and nailed the change so completely that he became the top heel in the company after Michaels almost overnight. Hunter Hearst Helmsley, as I mentioned in the MVP report, had been around longer than Rock, but just like him, he had to take a New Generation gimmick and give it a dose of Attitude. Chyna was the key for him; with the silent assassin by his side interfering in his matches, the Blueblood schtick got dropped, and by the summer of '97, the feud with Mankind was entering a violent, arena brawling place that transformed his prospects. The midcard feud that Rocky and Hunter have in mid-'98, which I am VERY excited about getting to in the next few weeks, was vital to both of them developing into headline talents.

Austin is the odd one out in a way, because he was probably ready for permanent main event status from the moment his Wrestlemania XIII match ended. He headlined Revenge of the Taker and Canadian Stampede, but was back in the midcard by Summerslam, where the catastrophic piledriver botch caused all manner of problems for WWF's booking committee. Still, just as with Daniel Bryan in the present day, Stone Cold's long rise to the top ultimately just made him even more over than he already was. With the departures of Michaels and Hart, the way was clear for Austin to work with a variety of new and old stars that were not on his level but whom he could help up that particular ladder. Foley, under the Dude Love persona, is next, followed by Kane and The Undertaker, whose work as flexible special attraction/headline performers was so important to the era. Obviously, we covered in this series already the brief Intercontinental Title feud with The Rock, and by the time the year ended, we would see the Wrestlemania XV main event begin to take shape, the first of three feature bouts at the Showcase of the Immortals.

Which I suppose is a very long winded way of saying that the chemistry and interaction of the four pillars is what made them all stars, and what helped them become the defining Mount Rushmore of the era. Will Bryan, Reigns, Ambrose and Wyatt be the modern equivalent? It's honestly too early to say, and one thing the modern WWE has in its favour is the sheer depth of their roster and the lack of competition which means they can grab literally anybody who's getting big on the indy scene. There are a number of workers who really should get further chances to grab the brass ring, meaning that the main event scene should end up resembling 2001 and 2002 more than it does 1997 and 1998, despite the parallel of the transition between eras. I mean, it wouldn't take much for Ziggler, Del Rio, Sheamus, Cesaro, Rhodes, Barrett and company to be brought back into relevance, and when you mix that with Rollins, Ambrose, Wyatt, Harper and the best of the NXT roster- Zayn and Neville in particular- you have an incredibly diverse and interesting collection of superstars, far more so than the one WWF had access to in 1997.

The future certainly looks very bright, with Bryan now as over as anybody since Austin, with part-time talent playing its role well and not overshadowing the product, and with young guns clearly on the rise. I think we just have to sit back and enjoy it now, just as we are sitting back and enjoying reliving the entire Attitude Era...


FINAL WORDS


When we reviewed the first of these Attitude pay-per-views, Wrestlemania XIII, I asked what went so right in the year between Chicago and Boston. The answer lies in both WWF's embracing of an edgier product and in their confidence to make bold booking decisions. With the Tyson star helping to pop the buyrate and with Steve Austin the hottest property in wrestling, Wrestlemania XIV drew a massive 2.3 buyrate, translating to an increase of over 600,000 buys on the previous year, as well as putting 19,028 butts on seats in the Fleet Center for a $1029230 return. When those figures came back, the wrestling world was stunned that WWF, the underdog for the past couple of years, had it back in such a dramatic fashion. The wars were about to get interesting...

Whilst it was definitely a successful night for the WWF, WCW were still doing pretty well themselves. Uncensored was not one of their big PPVs but they still managed a buyrate of 1.1. The event was headlined by Hogan vs Savage in a steel cage and had an undercard which included Bret Hart renewing his classic rivalry with Curt Hennig. But Vince needed to build on a great night by holding onto his audience. Tyson wouldn't be there for the mainstream exposure and HBK would be settling into retirement by the time Unforgiven rolled around. Who would be the first man to challenge the new champion and would they be able to keep up the momentum? Find out on next week's ATTITUDE!






-------





You can read Maverick's WrestleMania XXX review on LoP Forums >>>HERE<<<

You can hear more from Mazza and Maverick on The Right Side of the Pond, part of LoP Radio. New episodes every are out every Friday at 9pm UK time/4pm EST.

On tonight's show Maz, Mav and Plan break down WrestleMania XXX, have a quick chat about Raw and pay tribute to the Ultimate Warrior.

Click here >>>HERE<<< to listen or download. You can also download LoP Radio shows >>>HERE<<< for iTunes or check out The Right Side of the Pond You Tube Channel >>>HERE<<<


You can like CPR Productions on Facebook




You can also follow us all on Twitter for "stimulating" conversation about all kinds of nonsense…


Follow The Right Side of the Pond on Twitter



Follow Maverick on Twitter



Follow Mazza on Twitter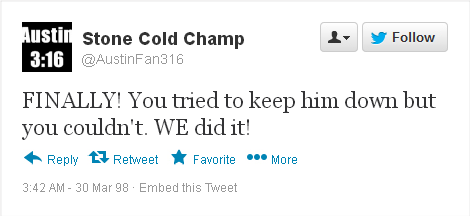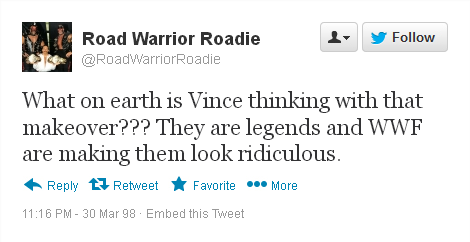 Mazza Marks... For the Mid to Late 00s Midcard (CPR Productions)
Mazza Marks... For One More Match (CPR Productions)
From Five Stars to Crashed Cars in Philly (CPR Productions)