---



ATTITUDE! Survivor Series 97 (CPR Productions)


By Maz & Mav
Mar 13, 2014 - 11:40:08 AM


'Sup, Lords of Pain? So is everybody finally happy about Mania? If you aren't by now you probably won't ever be. Monday night played host to a moment what I am sure will become one of the most replayed in Raw history. The visual of the Daniel Bryan and the Yes Movement hijacking Raw will live on forever and the moment in time we could be about to get at Mania will be amazing. It's been a long old road since SummerSlam. People have gotten frustrated at various points but believe me, if it ends how I think it does in a couple of weeks, it will all be very much worth it. Anyway, enough about Daniel Bryan's pay off, today Mav and I have the small matter of a little event back in the autumn of 97 to discuss.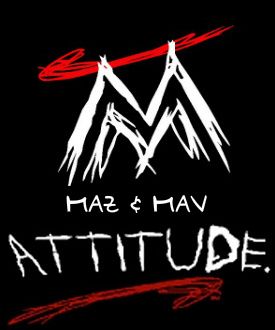 Maverick: Is there any more controversial wrestling event in history than Survivor Series 1997? It's a pretty daunting prospect to review a pay-per-view like this, containing as it does the single most talked about moment in the annals of professional wrestling. The Montreal Screwjob casts such a massive shadow over this period of time that everything else that happened that evening in November has been more or less forgotten about. We'll certainly be talking at length about Vince's fateful double cross of Bret, but hopefully we can also put a little more perspective into Gang Rulez as a whole event...

Mazza: If ever a Survivor Series event came at the perfect time it was this one. The company had gone faction mental and I can imagine Vince waking up every morning with a vision of a new stable in his head that could rival the NWO. Of course the battle of the stables that everybody really wanted to see was on hold as the leaders of DX and The Hart Foundation would go to war for the title in the main event. We did get to see a bastardised version of the Foundation represent Team Canada however in addition to the Nation of Domination, Disciples of Apocalypse and a new group known as The Truth Commission take the stage. There were so many gangs out there that Los Boricuas were given the night off. A rather disappointing omission considering that Mav and I have both become total marks for Miguel "Hairy Back" Perez.








The Event: Survivor Series
The Date: 9 November 1997
The Place: Molson Centre, Montreal, Quebec




BACKGROUND AND BOOKING


On October 5th, Bret Hart met Eric Bischoff in Los Angeles. The WCW executive was completely unaware of the fact that Vince had encouraged his champion to negotiate with the competition, warning the Hitman that he'd need McMahon's formal consent before negotiations could begin. A few days later, having established that WWF were not about to sue the pants off him if he contacted their man, Bischoff faxed Hart his company's first offer, which he did not find in the least satisfactory. The Pink and Black Attack decided to hold out for $2.8 million per year. By October 24th, Vince was flip flopping and told Bret that he could pay him after all, but when WCW came back on Halloween with an offer of $2.5 million a year for a mere 125 contracted days per year, McMahon's position was still too unclear for Hart to not accept Bischoff's offer. The documents were duly faxed over to the Hitman, who stared at them numbly until Vince finally called him. The man Bret had worked with for the past fourteen years told him, with paternal condescension, to think with his head, not his heart, and when an emotional Hitman asked McMahon what he would do with him if he stayed, the boss' convoluted idea for an extended feud with Michaels convinced Hart that he would have to sign the WCW deal. We see the aftermath of this in the Paul Jay documentary 'Wrestling With Shadows'. Bret stands by the fax machine he sent the contract back with, looking haunted, and says disbelievingly, "I just stood there and punched the numbers in and watched my career end in about 20 seconds."

Of course, the thorny problem for Vince McMahon was that the man he had encouraged out of the door still held the WWF title, and how, where and when to drop that belt were all contentious issues. The problems between Bret and Shawn, which had been flaring up intermittently since February, had once again burst into flame. After Hart re-asserted his intention to be a professional, a petulant Michaels twisted the tiger's tail by snapping back that he would never put Bret over. This made the Hitman's mind up; he had reasonable creative control written into his contract for his last thirty days of the company. For the first time in his career, Bret Hart refused to lose. The footage on 'Wrestling With Shadows' is particularly revealing of The Hitman's state of mind at this time. In the opening monologue he declares that he would just as soon blow his brains out as lose to Shawn. Later, he remarks to Honky and Neidhart that if he put Michaels over he would be allowing them to "rape" him in the middle of the ring. Bret was not due to debut in WCW until mid-December and he therefore believed that McMahon would see sense and allow him to leave under more favourable terms. More on which later.

With all of that going on backstage, the ill will filtered into the feud for the Survivor Series main event. The "Degenerate" character Michaels had created endlessly disrespected the Canadian flag, picking his nose with it, humping it, you name it. In one comedy skit, he and Hunter Hearst Helmsley announced on live TV that Stu Hart was dead. All of this just increased Bret's resolve to stick to his guns. Ironically, it was compelling stuff and an indicator of just how far WWF had come in the year since Hart first returned from hiatus at Survivor Series '96. The new "Attitude" programming was yielding results, even if the company's champion was increasingly antagonised by the lewd content of weekly TVs. In fact, Bret even went on a chat show to denounce the changes to professional wrestling, something then debated by the likes of Meltzer in the weeks that followed. Everything was at boiling point and it's interesting to ponder what might have been had all the protagonists stayed in place. Let's not get ahead of ourselves, though.

History has largely forgotten what went down through the rest of the evening, even though a couple of significant actions were due to occur. Steve Austin's neck had recovered enough for him to work short matches. Truthfully, he needed surgery, but WWF just could not afford to have him on the shelf when he was starting to really carry the assault on the ratings, and besides, Stone Cold himself had waited too long for this opportunity to give it up now. Therefore, he was booked to face the Intercontinental Champion who had shoot injured his neck in the first place, Owen Hart. This had of course been set up at Badd Blood, where Austin had deliberately interfered in the vacant title match to get the belt back on his hated enemy so he himself could open up a can of whup ass on Owen. The other major story going in was that of Kane, whose spectacular debut at the conclusion of Badd Blood led him directly into the path of an ex-client of Paul Bearer, Mankind, who re-appeared after the Dude Love persona got a major beating from the Big Red Monster following a no sell of several Foley chair shots. Mankind brought back the crazy to proceedings and his manic assault on Kane with a metal bar and Mandible Claw to his former "Uncle Paul" set up a first PPV appearance for the Kane gimmick beautifully. If anybody had a chance against a deranged monster, it was a deranged monster, after all…

Elsewhere, the event consisted of traditional Survivor Series elimination matches, giving the night its subtitle "Gang Rulez". The three way gang warfare between Los Boriucas, the Nation of Domination and the Disciples of Apocalypse had been going on since the summer, but this event introduced yet more factions to the fray. The New Blackjacks and The Headbangers formed a coalition to take down the Southern heel faction of The Godwinns, Road Dogg and Billy Gunn (whose transition from feuding singles nobodies to tag team greats had well and truly begun). The Truth Commission, an authoritarian stable from South Africa were due to take on the DoA, while the Nation were down to face Legion of Doom, former member Ahmed Johnson and Ken Shamrock. Finally, the last throes of the Border War were due to be fought by Davey, Neidhart, Furnas and La Fon against Vader, Goldust, Marc Mero and the debuting Steve Blackman, whose introductory angle hilariously had him leap the barrier at Raw to clean house with martial arts skills when the Canadian Team were beating the Yanks down.

Such was the card, destined to be forgotten amidst more momentous events...so here's Maz to jog your memory...


THE UNDERCARD


The evening starts out with a video package building up the hatred between Shawn and Bret since the iron man match at WrestleMania 12. The announce team introduce themselves and for the first time in this series, there is no Vince with Ross and Lawler.


The New Age Outlaws & The Godwinns defeated The Headbangers & The New Blackjacks in 15:25 in a Survivor Series Match
All hail the saviours of the tag team division! We finally get our first glimpse of the New Age Outlaws in this series as they make their PPV debut as a team. Roadie cuts a promo on the way to the ring and uses the term "southern justice" when discussing their partners, a name the Godwinns would later adopt. The match begins and we get a glimpse of what they will be about as a team when Roadie refuses to tag in. The Blackjacks and Godwinns go at it in the ring and Bradshaw eliminates Henry by rolling an abdominal stretch into a pin which was rather cool. Phineas evens things up thanks to a clothesline on Windham as The Headbangers get their first taste of the action. The Outlaws finally get tagged in with Mosh in trouble and Billy gets some great heat. He soon eliminates Mosh when he counters a bulldog into a face slam and immediately tags out to celebrate with his partner. On commentary King asks where Vince is and JR says that he is at the arena. In the ring, Thrasher evens it up by eliminating Phineas with a Stage Dive and we are down to two-on-two. Roadie gives the Outlaws the advantage with a roll-up on Bradshaw, who levels Road Dogg with a Clothesline From Hell before leaving. Roadie and Thrasher go at it but a blind tag to Billy pays dividends as he nails a Fameasser off the top when the the remaining Banger reverses a pump handle slam. The action was pretty boring and the eliminations not particularly believable here. On the positive side it was a great introduction for the New Age Outlaws who showed off their character in surviving.
ATTITUDE! Rating: *¾


The Truth Commission defeated Disciples of Apocalypse in 9:59 in a Survivor Series Match
Ladies and gents, I am going to fly through the review for this match as it was horrible. The Truth Commission were a stable of white South African separatists managed by The Jackyl and built around The Interrogator (later to be Kurrgan), who was a giant of a man. He quickly eliminates Chainz with a sidewalk slam. The Jackyl gets cocky and tags in with DOA on the backfoot but pays for it by being eliminated. It's actually a clever move as he heads to the announce booth to put his team over. Recon (who will later become Bull Buchanan) is next to go before The Interrogator gets involved so send both of the Harris twins packing (even JR couldn't tell you which was Skull and which was 8-Ball). It's down to two on one and Crush gets rid of Sniper before Interrogator becomes sole survivor courtesy of the sidewalk slam again. If you want to know why the traditional format of Survivor Series died, it is because of matches like this one. Horrible to get through with eliminations coming thanks to four sidewalk slams (three of them from the giant), a powerslam, a bulldog and a clothesline. Definitely watered down wrestling which had past its sell by date even in 1997.
ATTITUDE! Rating: *


We get a video package of fans discussing the main event. Half of it is in French with no subtitles or translations which is a bit strange. Still all the comments were pretty standard and interchangeable so it didn't really matter.


Team Canada (The British Bulldog, Jim Neidhart, Doug Furnas & Phil Lafon) defeated Team USA (Vader, Goldust, Marc Mero & Steve Blackman) in 17:05 in a Survivor Series Match
Vader cuts a promo for Team America before the match saying they have nothing in common aside from their dislike for Canadians. They come to the ring to Kurt Angle's theme (The Patriot was due to be on the team before an injury ruled him out). Team Canada cut a quick promo too with Doug Furnas, an American, explaining why he has turned his back on his country (Lafon was amusingly the only Canadian on the team). They come out to the Hitman's theme as the crowd finally have something to cheer about. We have some nice posturing to start out as Mero throws his stars and stripes bandana at Davey who uses it to wipe his arse. "Marvelous" Marc seems more concerned with Sable's position at ringside however and Vader tags in. It's not long until we get our first look at Blackman who shows off a couple of impressive moves and some nice aggression before being outsmarted by the Canadians and getting counted out. The Americans soon turn the advantage in their favour however as the team captain eliminates Neidhart and Lafon with a pair of splashes. Mero then shows off some of the skills that were far too rarely seen in his WWF run but ends up the victim of a Furnas roll-up as we go down to two-on-two. Goldust however has no intention of entering the match and when Vader eventually tags him in with a slap to the face, Goldie walks to the back and gets counted out. The big man rallies and a Vader Bomb sees Furnas' night come to an end but a lurking Davey Boy uses the ring bell and ensures that the sole survivor in a battle between Canada and America is a Brit. With apparently more at stake, the action was better here than it had been. Lafon and Furnas were a strong team alongside Anvil and Davey whereas Vader did a strong job in carrying most of the action for his side. Blackman's debut was clever as he showed some potential as well as naivety in getting counted out. The Goldust stuff seem rather misplaced in this match. He was in the midst of a turn which had him walk out on his wife and daughter and would become increasingly more bizarre in future weeks. It would have worked a lot better if he walked out on a different match however as it didn't really have a place in the patriotic theme of this one. So to sum up, there was some decent action here but it was destined to end up being nothing more than a poor man's version of the Canadian Stampede main event.
ATTITUDE! Rating: **¾


We get a segment where some woman wins a competition to have dinner with a superstar. She chooses Austin and Lawler is pissed. Not something you want to see on a PPV but it was kept brief, unlike that awful million dollar giveaway at SummerSlam.


Kane (With Paul Bearer) defeated Mankind in 9:27
Before the match gets underway we get a video package looking at Kane's impact so far. We also get a Mankind interview where he compares the match to him versus a brick wall. Before the match can officially get underway, Kane goes on the offensive and destroys Foley. Once the bell rings it is apparent it will be wrestled with a dull red lighting (like the blue one used in Sin Cara matches). It makes things a little more difficult to watch but at the same time it adds to the mystique of Kane very well. We go to the outside where The Big Red Machine uses the steel steps. He continues to dominate with high impact moves in the ring but with seemingly no intention to finish the match. Mankind gets a huge reaction from the crowd as he makes a comeback. He uses the steps and a chair before following up with a piledriver. He shapes up for the Mandible Claw but puts the hold on Paul Bearer which allows Kane to "chokepush" Mick off the apron and through the Spanish announce table. Mankind still has some fight left in him however and lands a DDT to the concrete floor and an elbow from the apron. He goes to the well once too often however as Kane catches him on the ropes and throws him off. Foley crawls back into the ring but he is met with a Tombstone and that's all she wrote. This was intriguing stuff. The pace wasn't great but the action was all hard hitting and it did an excellent job in the continued build of Kane. Foley was the perfect choice of opponent at this stage in the development of the character and it led to a fun match.
ATTITUDE! Rating: ***


Backstage Slaughter and McMahon talk about adding extra security for the main event. Cole asks Vince who will win to which he simply replies "I don't know". I think you do Vince… but then again what match doesn't he know the winner of beforehand?


The Legion of Doom, Ahmed Johnson & Ken Shamrock defeated The Nation of Domination in 20:28 in a Survivor Series Match
We finally have what we the crowd had been waiting for all year and that is LoD as tag champs. As per we get a strange promo and huge reaction from the crowd. D'Lo and Hawk start things off and the Road Warrior no sells a piledriver but is eliminated moments later when Rocky tags in and hits a Rock Bottom. It was a strange elimination for sure. We are soon level again however when Ahmed sends Faarooq packing with a Pearl River Plunge. D'Lo comes in and hits a picture perfect frog splash but the Nation's junior member's offence is soon being no-sold once again. Faarooq is still hanging about at ringside however and holds Ahmed's leg down allowing The Rock to pin him. The strange thing is the outside ref was trying to pull the Nation's leader off but still allowed the elimination. Rocky gets some good heat as the action slows down with Animal and Kama in the ring. The Supreme Fighting Machine gets a bit too cocky however and the remaining Road Warrior roles him up after drop kicking him into Rock. Shamrock then plays a short face in peril role as Rocky and D'Lo work him over. When Animal gets the hot tag, the New Age Outlaws make their way to the ring in LoD's shoulder pads. They get involved with Animal and he gets counted out after having powder thrown in his eyes. It is down to two on one and the crowd are firmly behind Shamrock. He quickly taps D'Lo out with the ankle lock but Rocky immediately levels him with a chair. He works over Shamrock and gets a whole host of two counts, including one from a People's Elbow which we see for the first time on PPV. Shamrock gets back involved with a suplex however and a hurricanrana is followed up with an ankle lock which has Rocky tapping out. It was a fun ending in a match that was heavy on storytelling and setting the scene for the next couple of months in terms of new feuds. The action in the match itself however wasn't particularly consistent. It had its positives however, in particular the growth of The Rock character.
ATTITUDE! Rating: **½


Steve Austin defeated Owen Hart (With Team Canada) in 4:03 to win the Intercontinental Championship
We get a recap of how the feud has gone so far before Owen comes out with Team Canada as back up. He does a great job of stalling before Anvil sneaks in the ring but he catches a Stunner. The bell rings and the crowd chant for Owen to "break his neck". The pace is intense as they lock up and Hart tries to hit a piledriver early on but it is reversed by Stone Cold. Team Canada leave and Owen tries to go with them but Austin drags him back to ringside. Hart takes control at ringside however thanks to some cables that he uses to choke the challenger. He asks the ref to disqualify him but he doesn't. In the ring the champ continues to control but a poke to the eye, a few punches and a Stunner sees Austin win back the IC title. Furnas and Lafon come down to ringside and get stunned post match. This was short for obvious reasons but it was as good as you could have asked for under the circumstances. Chaos reigned supreme here and it would become the trademark of Austin matches for the next couple of years. Fun for what it was.
ATTITUDE! Rating: **½


THE MAIN EVENT


Shawn Michaels defeated Bret Hart in 12:19 to win the WWF Championship
Sitting here in 2014, and knowing what ended up happening at the conclusion to the match, the entire build to it on the evening in question takes on a ghoulish, haunting quality. There is something almost funereal about it. A visibly uncomfortable Michael Cole in the rafters of the Molson Center asking Canadian fans who is going to win. DX marching through the backstage area accompanied by no commentary whatsoever. Shawn stepping through the curtain and strutting to the ring solo, with a noticeable tightness to his jaw as he frantically chews gum. Even his ritual mocking of the maple leaf insignia seems more charged; perhaps it's me projecting, but he seems distinctly jittery as he humps the flag. This may be because of his part in what is to come, this may be genuine concern that a patriotic lunatic will leap over the barrier and attack him. Either way, you can cut the tension with the knife. The camera work is gritty, almost like a 90s cop drama, and Bret's determined stride through the backstage area, leaving the Hart Foundation behind at the curtain. It would be the last time Bret Hart walked to a WWE ring for thirteen years.

We've talked a lot in this series about the transition to an Attitude main event style and this match completes the process, for me. Before the bell even rings, Shawn jumps the champion, but Bret gets the advantage with his greater power and clotheslines the Sexy Boy to the floor. The crowd are wild, unhinged even, and the two men go on to brawl across the entire arena in a manner already seen in this historical overview with Austin/Bret and Foley/Helmsley. The two antagonists really sell their storyline and real life animosity in this brawl, and it's utterly convincing in its execution. Remember that Bret was under the impression that they'd have a heated brawl that ended in a no-finish after Hart Foundation and D-Generation X interference, so the story they tell in these opening minutes is entirely appropriate. Those of you who enjoyed the Wyatts/Shield match would find a lot to love about the sheer theatre of this contest. The actual bout has long been forgotten by most, with the closing minutes and their aftermath being the prime focus, but it must be stated for the record that, had the match gone the distance, it would have been a stone cold classic. Yet another thing to be sad about with Montreal, I suppose.

There are a red flags all over the place as to what will happen later in the night, but the biggest, of course, is Vince McMahon's appearance with Commissioner Slaughter. This is a clear sign that, in the stories, the fact that he is the company owner is going to be openly referenced. Little did those in attendance know that he was there in a real life capacity. Ross on commentary remarks on "speculation" about the Hitman quitting the company if he loses, another sign of wrestling's fourth wall breaking down, as Bret's impending arrival in Atlanta was well known among dirtsheet readers. It's also a ghoulish piece of foreshadowing. The sense of chaos is palpable, and the Pink and Black Attack's assault on Jack Doane is another key thing we'll see a lot more of as the era continues.

As the bout proper begins, Hart uses the Quebec flag to choke out Michaels, a fantastic piece of revenge symbolism which is only broken up by referee attention. However, Shawn recovers quickly with a flying forearm and the action spills to the floor once more, adding to the theme of unpredictability that has been a major theme of the encounter to that point. In the ring, HBK uses sound heel psychology, trying to take the crowd out of the equation by working submissions, grinding Bret down, taking him on at his own game. The crowd respond with a brief "Shawn is gay!" chant, a reminder that the 90s weren't as politically correct as one might find ideal…On commentary, Lawler remarks on Hart being taken out of his gameplan, which seems to telegraph the Hitman very much getting back into the stride of his gameplan, with a chop block, ringpost figure four and in-ring figure four.

We seem to be settling into a gruelling, psychological classic, with Bret just embarking upon his famous sequence of moves when Shawn, in a spot planned between the two, puts on the Sharpshooter, which, in a horrible irony, he almost performed wrongly, with the Hitman telling him which way to cross the legs. What happens next is still utterly surreal, even now. The Sharpshooter is turned, and Hebner runs to the ropes and yells to timekeeper to ring the bell.

How long does it take to screw someone out of their life's work? About five seconds, in this case.

From the camera angle broadcast to us, you can clearly see Vince in the foreground. Michaels and Hart collapse in a heap and Shawn flees the scene held up by Triple H (suspicious!) as Bret spits full in McMahon's face. Davey Boy Smith had warned Hart before the match not to allow himself to be placed in any submissions, but the Canadian had assured his brother-in-law that Earl Hebner could be trusted. How wrong he was. How tragically wrong. As the broadcast goes off air- ten minutes early, infamously- the crowd is turning very ugly as Ross sells the title change as if it were business as usual. But never in the history of wrestling has a "goodnight" to a PPV audience seemed so loaded and so inappropriate.

The irony of the Montreal Screwjob as a match is that it's a damned good one that would've been a classic if only it had gone to its original conclusion as a twenty to thirty minute epic invaded by the two warring factions that backed up the protagonists. I think we were probably looking at four and a half stars minimum until the sudden ending, and perhaps that's a fact we should insist upon more forcefully when we discuss this infamous incident.
ATTITUDE! Rating: ***½


OVERALL THOUGHTS


Well there you have it. Survivor Series 1997. The main event had promised so much and delivered something out of the ordinary. I remember watching it live as a 17 year old and not having a clue what was going on. Of course today we know all too much about it but you can't let one match overshadow an entire PPV. This event was pretty hard going to watch. I've always been someone who has called for a return to the original Survivor Series format but watching this I can see why it has no place in the product. Despite there being factions left right and centre, all the traditional matches felt watered down at best. None of them had the time they needed and, as such, were full of weak eliminations. That said, the event still managed to show some great character work, particularly from The Rock and The New Age Outlaws. The undercard singles matches delivered too. Austin won back the IC title in a way that found a decent formula to get past his injury problems. Mankind also continued his run of making people look like gold, this time with Kane.

On reflection, it's understandable that the undercard has been entirely forgotten by the wrestling public at large. It was filled with throwaway matches and didn't even use the Gang Wars angle particularly coherently. As Maz alludes to, young talent like The Rock and The New Age Outlaws were starting to show what they were made of, but in fairly unremarkable matches, in the case of this event at least. The Owen and Austin match was great for getting the Texan over even further than he was already, and Kane's impact up against Foley cannot be denied, but ultimately this pay-per-view will always be remembered for what became universally known as the Montreal Screwjob, an issue which is hotly debated to this day, though perhaps less so since Bret Hart's Hall of Fame induction and subsequent embracer with Shawn Michaels four years later. For once, the star rating is completely irrelevant.




Survivor Series 1997 Overall ATTITUDE! Rating: **½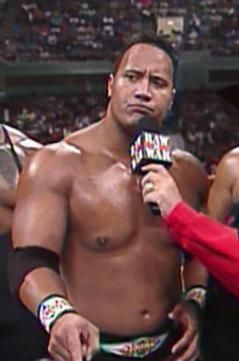 MVP - ROCKY MAIVIA




As I said in summing up, this wasn't a PPV littered with great in-ring showings but there were a few standouts in terms of character work. The Outlaws were quickly establishing themselves as the team in the tag division. Foley did a typical job with Kane. Vader and Bulldog did strong jobs as team captains whereas Austin arrived, raised hell, and left in interesting fashion. It is The Rock however who picks up the MVP award this week. There were signs of potential in the corny "Blue chipper" character but his return as part of the Nation of Domination gave us a different guy. He was an arrogant heat magnet who was as assured as anybody on the roster. At Survivor Series 1997 he found himself a year on from his debut and a year away from his first WWF world title win but he was already so much closer to the man he would be in 1998 as compared to who he was in 1996. This was only his second PPV outing with the new character but you could already tell he was destined for greatness. It's the little touches that go a long way in pro-wrestling for me and everything Rocky did screamed "look at me, I'm great at this shit".

Oh definitely. As soon as he enters the fray at Survivor Series, Rocky is oozing charisma, telling fans not to touch him and walking with an arrogant swagger far more natural than the hand slapping Blue Chipper of a year before. In the ring, he's crisper than he was, harder hitting than he was, and he breaks out the finisher that would stay with him for the rest of his career. The Nation do well to show how happy they are to have him aboard and the announcers put him over nicely too. This was really just the tip of the iceberg for the third generation star, but he finally had a character that worked for him, and the confidence boost would ultimately take him into the wrestling stratosphere. And to think, it all started here...


THE SCREWJOB


In 1910, Brigadier-General Henry Wilson explained to cadet officers that a general European war was inevitable and that Britain would end up allied with France to take on the might of the Germans. When a student remarked that only inconceivable stupidity on the part of statesmen could create such a catastrophe, Wilson responded derisively "Haw! Haw! Inconceivable stupidity is just what you're going to get!"

I can't help but feel that this little anecdote from the build towards The Great War is alarmingly apt in the case of the Montreal Screwjob. Only inconceivable stupidity could have resulted in such a horrible, bungled, mangled end to Bret Hart's WWF career, and that bitter ending had profound consequences for the next thirteen years of the lives of all parties concerned. The failed negotiations, the broken promises, the betrayals and gunboat diplomacy, it all feels very much like the breaking point that causes a declaration of war. Ultimately, The Montreal Screwjob happened because nobody did enough to stop it from happening.

The river of stupidity with this pro wrestling crisis, just as with European statesmen of the early twentieth century, ran very deep indeed. For one thing, Vince had put his flagship belt on Bret Hart at Summerslam only to decide a mere month or so later that he couldn't afford the bumper twenty year contract he'd awarded his workhorse a year earlier and would have to phase him out of the company. Inconceivable as it seemed at the time, with Bret actually doing career high work in most ways that mattered, McMahon was perhaps beginning to see that he had extracted most of the juice from The Hitman, just as he had from Hogan. At Titan Towers, nobody was indispensable.

Once Vince encouraged Bret to negotiate with Turner and Bischoff, the clock was ticking, and what remains bizarre to me to this day was that The Hitman could have been booked to drop that title at any time between late September and early November. McMahon had first broached the problem of the contract on September 22nd, he then confirmed that he could not afford the deal on October 5th. Even then, with One Night Only and Badd Blood over, there were episodes of Raw and such where the title could have been dropped, but the biggest corner WWF were booked into was that Shawn Michaels had defeated The Undertaker at Badd Blood and was therefore the number one contender. When Shawn delivered his legendarily petulant line about never doing a job for Bret, the die was cast as far as The Hitman was concerned. He invoked the creative control clause of the last thirty days of his contract.

Perhaps McMahon underestimated Bret's stubbornness. What became clear in the weeks running up to Montreal was that the Canadian had taken mortal offence to Michaels' antics- the unprofessionalism, the attacks on Canada and the remarks about his family- so was prepared, for the first time in his career to refuse to lose. Within the circle surrounding Vince McMahon, this provoked consternation, but it probably shouldn't have done. Bret was old school, a man of his word, and if he said he was happy to vacate the title in the States on Raw or to lose the title to 'Taker or Austin, then he meant what he said. After fourteen years, there was no chance that Bret would do an Alundra Blayze and waltz into WCW with the WWF title so it could be deposited in a trash can. Vince should have known that Hart was not cut from that cloth. But these were the Monday Night Wars, and Vince had suffered too many indignities to countenance another one.

If his more belligerent interviews are to be believed, Paul 'Triple H' Levesque played a key role in convincing Michaels and Vince that a screwjob was needed. In the Shawn Michaels documentary DVD 'Heartbreak and Triumph', Levesque reports that he said "if he won't do business, screw him!". Michaels, in the same documentary, says that he went to McMahon and said "what do you need me to do?" Both statements sit uncomfortably with the footage from Paul Jay's 'Wrestling With Shadows' documentary, where Shawn Michaels, sat in the dressing room with a well rehearsed "shocked" look on his face, says "as God is my witness, I had no idea" and his stable mate desperately pleads his ignorance to Julie Hart in the corridor outside the dressing room. Worst of all for Bret was the fact that he had checked with Earl Hebner, who he considered to be rock solid, that there would be no funny business, and the fact that Davey had warned him about being put in any submission predicaments. The simple fact was that Hart was naive enough to imagine that his invocation of his creative control would be enough to prevent the humiliating loss in Canada. The "schmazz" that had been planned with Pat Patterson seemed like a natural finish for the match; the Hart Foundation and D-Generation X would interfere in order to set up a Raw or two where he would finally relinquish the belt with some dignity and leave the WWF with his head held high.

In the event, of course, he was turned into that Sharpshooter, the bell rang almost immediately after, and The Hitman went on a rampage, destroying monitors, tracing "WCW" in the air and vowing to get his revenge on Vince. The worst thing for the owner of the company was that many of his wrestlers were on the verge of mutiny. The Undertaker, moral compass of the dressing room, ensured that McMahon faced Bret man to man, whereupon the architect of the Screwjob was punched out. Rick Rude left immediately, as his contract was by appearance, causing an embarrassment when he appeared on Nitro the same week as he appeared on a taped Raw. Davey immediately had surgery and thereafter managed to escape his contract. Mick Foley and Ken Shamrock were furious and would perhaps have left if they could have done. Owen was cruelly forced to honour his contract. What a mess. What a tragic, horrible, thoroughly avoidable mess.

The real question though is what effect it had on the rest of the wars. At the point where Bret was let go, it has to be said that Vince was taking a massive gamble. Letting one of his top stars go to his competition after openly admitting that finances were running low...that could have been a disaster. Many now will voice the mythical view that Attitude's progression was only possible without Hart, and later Michaels, around. Truthfully, I don't think it's anywhere near as simple as that, and what ifs are fraught with dangers anyway. But, Maz, I wonder what your take on that idea is?

Well to be honest I feel a lot less dramatic about it all. I agree that it could have been avoided but the very nature of the business almost made a situation like this inevitable. You have companies fighting each other for market share and McMahon's past ruthlessness had shown he wouldn't hesitate to make what he saw as the right move. Within the companies you have everybody scrambling to be the man. This was also a concept that wasn't new to the business. Backstabbing and politicking were attributes that would help you along the way. The fact is though that both Shawn and Bret thought they should be the captain of a ship that was sinking, and had been sinking ever since they got any part of control. It is funny that by this stage both men were showing for more character on screen than they had at any point of their careers previously. As is often the case in wrestling though those characters were extended versions of the men behind the superstars. Hart seemingly took things way too seriously and his refusal to do what was asked and what he should have done was the end result. Shawn was the almost the polar opposite and worried little about what the consequences of his backstage actions would be for others. It's a great on-screen rivalry over the years and it became a bitter backstage one. At the end of the day however, I reckon it boiled down to self-preservation. Bret and Shawn essentially wanted what was best for them and not necessarily what is best for business.

Do you know who is always looking out for what is best for business? Vince McMahon. As much as Shawn and Hunter may have had his ear, Vince already had the reputation as a successful and ruthless business man. I am sure his decision on how to deal with the situation at Montreal isn't one he took lightly, but at the end of the day it was his to make. From a business standpoint it was a great one. It wasn't about Shawn vs Bret for him, it was about WWF vs WCW. All the ingredients to win the Monday Night Wars were at his disposal prior to Survivor Series and as much as it may have hurt their massive egos, Shawn and Bret were pretty much non-factors. Don't get me wrong, their influence at the beginning of Attitude had been huge (as we have looked at so far in this series) but when you look at what would turn things in Vince's favour, Hart and Michaels would take a big backseat. Stone Cold was clearly the future at this stage. Shawn and Bret were essentially fighting over who would put him over at Mania. Sure we were still likely to have seen interweaving feuds between the four main men at the time, The Hitman, HBK, Stone Cold and The Deadman, throughout 1998 if Bret and Shawn had both stuck around but the focus would have still been all on Austin. At the same time The Rock was progressing at an extraordinary rate and was showing a level of charisma and heat that I believe would have had him pass both Hart and Michaels as top heel wrestler pretty quickly.

Of course, the man who would become number one heel in the company was Mr McMahon himself. With both Hart and Michaels gone once WrestleMania had ended, he had the character to really take that role. He was the perfect foil to get the most out of the insane popularity Austin had developed. The Top Face vs The Boss has become one of the most popular storylines in pro-wrestling and it is currently being rehashed in the WWE with Daniel Bryan getting the kind of reactions not seen since Austin because of it. Anyway, the Screwjob was used brilliantly to get heat on the McMahon character based off of perceptions of his backstage moves (sound familiar?). That is where Bret's legacy helped the WWF win the wars. It fed Vince's character brilliantly although I would argue that Mr McMahon would still have become Austin's primary antagonist simply because he was becoming more and more prominent as the company owner throughout 1997 and the Stone Cold character had been key in that. Shawn's legacy on the WWF victory over WCW, of course, would be carried out by his best bud. Triple H would go on to make Degeneration X a ridiculously over face faction as he and Rocky would drag each other to the top of the company (essentially the new Shawn and Bret). Hunter had learned a lot from Michaels about politicking too, albeit with seemingly more focus that his mentor as he was much more a cerebral guy than a degenerate.

A combination of Stone Cold, Mr McMahon, The Rock and DX won the Monday Night Wars and I think in that there is more than enough justification for Vince's actions on that night in Montreal. Nobody was killed. Sure there may have been a bit of emotional pain but such is life. Bret still would have gone on to WCW and probably had the same career. Anybody that left because of the screwjob did so off their own backs and it was their decision to make. Of course you have to feel a little sorry for Owen in all this but he remained an important part of the midcard until his tragic death. Any guilt that Vince, Shawn or Hunter carried was theirs to deal with and all seem to be doing just fine. Of course there were plenty of questionable decisions made by all involved but I look back on it as a businessman making a high pressure business decision.

Unless it was all a work of course.

Well I might be known on The Right Side Of The Pond as "the boy who cried work" but this is one shoot that was and is so clearly a shoot that only the most mind bogglingly unhinged conspiracy theorist could possibly believe that it was some sort of thirteen year master plan! Over the years, the events of the latter part of 1997 and the early part of 1998 have obsessed me more and more. The twin tragedies of Bret being screwed and Shawn destroying his back come straight from the darkest corner of the literary imagination, whilst their twin redemptions and subsequent hand shake were almost too incredible to credit. I'm quite an emotive person, what with all that literature I've read over the years, and the human side of Montreal does make me deeply sad, even though things have been ironed out to an extent since. I personally feel that the Screwjob being the catalyst for all of the great business Vince did from then on is very overstated. If you watch the development of the Mr McMahon character, it's not as sudden as "HEY! LOOK AT ME! I'M YOUR NEW MEGA HEEL!" However, I do certainly credit Vince and his writers for the idea of masking Stone Cold's injuries by putting him in a feud with his boss, seeing how over it was and milking it for all it was worth. That was truly great booking I'm looking forward to exploring in future weeks and months.

Another interesting point Maz brought up was on the new talent coming up through the ranks; it's definitely true that Hunter got better very quickly out of HBK's considerable shadow, and The Rock certainly benefited from the relative lack of top draws in the company after the two leaders of the New Generation had departed. You could say that the difference between WWF and WCW in this period of time is that Vince and Co. trusted their young talent to succeed where Turner's underlings continually pushed ageing stars at the expense of their very talented midcard. Ultimately, that would come back to bite them on the ass, with Jericho leading a procession of outstanding wrestlers to Connecticut and helping WWF to win the war's final stages.

However, it's always going to be interesting to ponder what Hart and Michaels might have brought to the rest of the Attitude Era if they had both stayed with the company; that is, if Bret's twenty year contract had been honoured and if Shawn had not been hurt at the Rumble '98. Some have assumed that Attitude was only possible without the perceived po faced views of The Hitman, but those people forget how much the Canadian did to create it in the first place, at least from the point of view of brawling, hot promos and reality based storylines. In all honesty, despite certain things he's said over the past decade and a bit, I don't think Bret had such an issue with the in-ring product of the Fed. His real problem was with the crudeness and licentiousness of stables like DX and the increasing emphasis on the pneumatic chests of Sable, Sunny et al. And in that respect, Hart might as well have been King Canute sat on the beach, telling the waves to get out of reach. As for Shawn, well, let's save his fate for the Rumble in two weeks time...








FINAL WORDS


The fall out from Montreal had an immediate and profound impact. Bret Hart called Dave Meltzer and gave his side of the story to the world's foremost dirt sheet proprietor. Thousands of subscribers to Meltzer's newsletter heard the full backstage account. The wrestling business was exposed as never before, meaning that fans got smarter very quickly from hereon in. The Shawn Michaels "lost my smile" promo and subsequent vacation of the belt in February had started the trend, and now the Screwjob cemented it. The publicity for Vince was adverse at first, as you might expect, but eventually the owner of the company found a way to turn things to his advantage with the invention of the Mr McMahon character who would come to define the era alongside the rapidly rising star of Steve Austin. In the short term, Survivor Series drew strongly with a 0.9, the best buy rate since Wrestlemania XIII, but there was still a long way to go before the WWF could conclusively take charge in the wars.

Quite. Survivor Series comfortable outdid WCW's World War 3, which was headlined by a three ring battle bowl won by Scott Hall (which did 0.56) but December would see Turner's biggest PPV of the year in Starrcade. What could the WWF do to immediately capitalise on the Screwjob, McMahon's new found infamy and Shawn's run as a heel champion? Tune in next week to find out.







-------





You can hear more from Mazza and Maverick on The Right Side of the Pond, part of LoP Radio. New episodes every are out every Friday at 9pm UK time/4pm EST.

On tomorrow's show Maverick and Plan take over.

Click here >>>HERE<<< to listen or download. You can also download LoP Radio shows >>>HERE<<< for iTunes or check out The Right Side of the Pond You Tube Channel >>>HERE<<<


You can like CPR Productions on Facebook




You can also follow us all on Twitter for "stimulating" conversation about all kinds of nonsense…


Follow The Right Side of the Pond on Twitter



Follow Maverick on Twitter



Follow Mazza on Twitter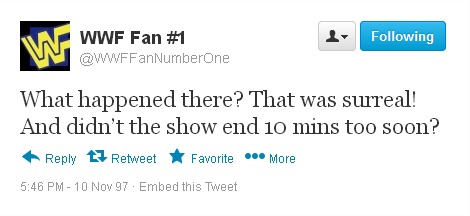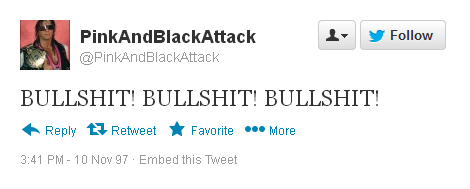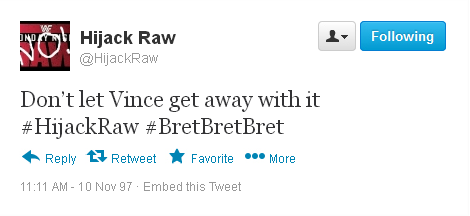 The Devil's Advocate - So Much Universe
Smarks Court - Who Got NXT? (CPR Productions)
Mazza Marks... For Tag Teams (CPR Productions)
The No Movement (CPR Productions)
Mazza Marks... For the Mid to Late 00s Midcard (CPR Productions)