---



ATTITUDE! No Way Out Of Texas (CPR Productions)


By Maz & Mav
Apr 2, 2014 - 5:11:51 PM


'Sup, Lords of Pain? There's not much to say right now in terms of the real world. Well that's not strictly true. There's lots to say. We are on the verge of WrestleMania XXX and I am hyped as hell following a pretty badass go home edition of Raw. Whilst the Daniel Bryan mark and Triple H mark in me do battle in my heart, I just sit back and get ready to enjoy a dream match between my current favourite and favourite ever living wrestlers. Of course, as much as I love the Game, I want this to be a big night for the Yes Movement. Keep an eye out as I will be dropping a column on the subject in the next couple of days. Today however is all about the past...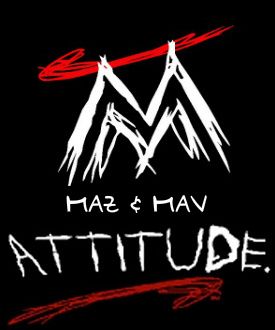 Mazza: So here we are at the final stop on the Road to WrestleMania 14. It had been a bumpy one thanks largely to Shawn Michaels' injury at the Royal Rumble. To cover up for that, the main event for No Way Out of Texas would be a big eight man tag match but even with plenty of people about to cover the cracks, HBK still would be unable to compete. The New Age Outlaws were pretty much unofficial DX members by this point and it would be interesting to see who would team with the tag champs and Triple H. They would be taking on a team led by number one contender Steve Austin. Amazingly he would find himself joined by Owen Hart, his big rival through summer and autumn as well as Foley and Funk as Cactus Jack and Chainsaw Charlie, the team that took over "putting over the Outlaws" duty from the Legion of Doom.

Maverick: Yep, it was bad enough that Stone Cold's neck was still destroyed from Owen Hart's botched piledriver back at Summerslam, but to have Michaels injure himself in career ending fashion at the Rumble was nigh on disaster. Put simply, WWF absolutely had to get those two men to Wrestlemania, and the eight man tag would cover for the two main players admirably. In the end, the announcement of Shawn's non participation was made on Free For All before the show, only hours before, and DX were to be provided with a randomly picked replacement. What effect would that have on the match quality and how were things going with the 'Mania build? Let us see as we take a look at...








The Event: No Way Out Of Texas: In Your House
The Date: 15 February 1998
The Place: Compaq Center, Houston, Texas




BACKGROUND AND BOOKING


As we discussed, the eight man tag match which would be the centrepiece was fairly much constructed as a way to keep Michaels and Austin healthy enough to main event the biggest show of the year, and various feuds were thus worked into the bout. Triple H had got The Artist Formerly Known As Goldust to sub for him in a European Title match against Owen Hart on the 1/26 episode of Raw, and Goldie, dressed as Trips, had promptly lost the strap to Owen. The decision was upheld by Commissioner Slaughter, and Owen thus got a small measure of revenge for all the humiliation heaped on his family by DX. Meanwhile, The New Age Outlaws dealt with the challenge of hardcore legends Cactus Jack (Mick Foley) and Chainsaw Charlie (Terry Funk) by locking them in a dumpster and shoving them off the stage, in a truly iconic moment that saw the duo get over even more than they had by shaving off Hawk's mohawk prior to the Rumble. Jack and Charlie would get their revenge however, interrupting a DX stand off with Austin (who had, the week before, locked Los Boriucas up and stolen the WWF championship) by chainsawing their way through the ring as Owen hit the ring, in one of the coolest segments you could hope to see.

It would also be remiss of me not to mention Mike Tyson, who had a huge influence on the entire month. After Austin ruined Vince McMahon's grand unveiling of his special Wrestlemania guest enforcer (taking issue with Tyson's "Baddest Man On The Planet" moniker) by brawling with him in one of the hottest segments in Raw history, the former heavyweight champion of the world became a key part of the post-Rumble ratings bump that Raw exhibited, and excitement for 'Mania was white hot, as WWF teased Austin/Tyson as well as the title match between Austin and Shawn (DX were shown as trying to manipulate Austin into giving up his title shot to go after Tyson).

The next most heavily hyped match on the card was Vader vs.Kane, in a true battle of monster vs. monster, the unstoppable force meeting the immovable object, the Big Red Machine vs. The Mastodon. The Man They Call Vader had settled into a kind of jobber to the stars role in his latter WWF career, and was damned good at it. Therefore, he was the ideal fodder for Kane as the slow burn towards an inevitable Wrestlemania match with The Undertaker continued. As a former client of Paul Bearer, Vader also made pleasing storyline sense as a man for Kane to attack. Their build to No Way Out Of Texas had all manner of cool stuff going on, particularly The Mastodon using a fire extinguisher on the young monster. With two hard hitting, physically massive specimens due to clash on pay-per-view, anticipation was high.

Also gathering pace was the tension between the component members of the Nation, particularly Rock and Farooq. Their feud with Ken Shamrock ended up being overshadowed by their own internal drama, with Maivia's attempts to "patch things up" being interpreted by Farooq as insincere, particularly a picture of Rock with the Intercontinental Title! This foreign object even cost Farooq a match as Rocky tries to stop him using it on Steve Blackman. Nevertheless, despite most of the focus being on the heel team's dissension, the idea of a hot tag match between the entire Nation and Shamrock's team of himself, DOA and Ahmed Johnson certainly sounded like a lot of fun and an ideal way to continue to tease a break up.

Speaking of conflict between allies, the onscreen relationship on Marc Mero and Sable was very much coming to an end as the valet got increasingly over as a face with Attitude Era crowd who were completely in love with her. I think her impact on Mero's career downturn is often overstated, but certainly WWF had no choice at this stage but to break her out as a babyface, and the break up was brilliantly constructed. The Marvellous One sending his wife to the back and verbally abusing her in front of live crowds brought him huge heat and her massive sympathy. The tension was played up further by Mero's alliance with TAFKA Goldust and Luna being something that Sable clearly disapproved of. Indeed, she had active beef with Vachon heading into the pay-per-view. Mero and Goldie were booked to take on The Headbangers, but everyone knew that the ongoing Sable turn was the whole point. We're developing a trend here where the story is king and the matches are secondary…

The card was rounded out by Bradshaw's war against Jeff Jarrett and his NWA cronies (he had recently been betrayed by his New Blackjacks partner Barry Windham), a tag match between The Godwinns and the recently returned Quebecers, and a Light Heavyweight Championship match between the champion Taka Michinoku and the lucha challenger Pantera (not to be confused with the metal band!) who was backed up by the vengeful Brian Christopher.

All in all, on paper, the No Way Out Of Texas card looks like a series of cluster****s, but actually, it would be considerably more than that, as Maz will be able to tell you about in...


THE UNDERCARD


Before our curtain jerker we have some hype for the main event and speculation over who will replace Shawn Michaels in the match.


The Headbangers defeated The Artist Formerly Known As Goldust and Marc Mero (With Luna) in 13:27
We start out with a thrown together tag team taking on a team whose star was falling with the rise of the New Age Outlaws. Goldie and Mero had both been experiencing their fair share of woman trouble and that continues for Marvelous Marc courtesy of a massive pop for Sable. TAFKAG comes down dressed as Marilyn Manson as Luna and Sable argue before we start. The crowd chant for Sable which prompts Mero to send her to the back. The Headbangers come out as the crowd continue to chant for the future Mrs Lesnar. The action is fast and unpredictable early on. There is not much regard for the rules but it works well despite the crowd once again seemingly having Mero's missus firmly on the mind. The heels eventually settle in control and bust Thrasher open. Things drag a little as the crowd finally change the record to let Mero know that he sucks. He uses it to do some great heel work as they keep Thrasher in peril by any means necessary. Mosh finally gets the hot tag and clears house. The Headbangers go for a Stage Dive but Luna interferes. Marvelous Marc hits a TKO on Mosh but Sable comes down to another huge ovation. She goes after Luna and as Mero and Goldie break it up, the Bangers pull off a little twin magic allowing Thrasher to use an inside cradle on Mero for the win. Luna and Sable try to get at each other but their guys break it up again. Goldie and Luna leave whereas Sable pushes Mero. I know that it isn't particularly cool to throw praise in Mero's direction but he was brilliant here. A fun opener overall.
ATTITUDE! Rating: ***


Taka Michinoku defeated Pantera in 10:09 to retain the Light Heavyweight Championship
It's that time of the PPV where Sunny gets involved in something that doesn't seem to matter, just to get her on TV. She is wearing a little pink number and as far as I am concerned Sable wasn't even in her league. She is on ring announcing duties and she kisses Taka before the match. Brian Christopher comes down and we get two Lawlers on commentary. The action is high paced in the ring and Taka takes charge. Pantera turns things around on the outside however and he slows the pace down a bit. He works over the back well until Taka gets a foot back in but gets caught in an inside cradle going for a Michinoku Driver for a two count. Taka then counters a hurricanrana into a powerbomb to get a two of his own. He follows it up with a top rope dropkick and Michinoku Driver and gets the victory. Christopher gets annoyed and Michinoku attacks him. The Lawlers try to corner him but he escapes through the crowd. There was some good action with Taka on offence but was a bit dull with Pantera controlling even though he had a decent moveset. A fair showing but the WWF were not tapping into the Light Heavyweight division to the standard of WCW and the Cruiserweights.
ATTITUDE! Rating: **¾


Cactus Jack and Charlie Charlie cut a promo whilst on laptops on AOL. Bearing in mind that this was still the 90s, it puts the whole Bray Wyatt tweeting thing into perspective.


The Godwinns defeated The Quebecers in 11:15
I am not sure where The Quebecers popped back up from but as a fan of both men, particularly Rougeau, I was happy to see them. The face-heel divide was always a bit vague during Attitude but it was especially hard to tell who were the goodies and who were the baddies here. Jacques heels it up and the Quebecers use illegal tactics to take charge early on. Rougeau is soon playing the face in peril however and the action is dull despite one of my all time favourites being involved. Jacques gets the tag which isn't hot at all and the Quebecers start cheating again as they reach for some double team tactics. The action breaks down which results in Henry landing a big clothesline from apron which allows Phineas to pin Pierre. The Godwinns use their buckets on their opponents after the match. Unfortunately this was just not very good. Jacques showed a few signs of why I class him as one of the most underrated wrestlers in history but in 1998 he was carrying a bit too much weight to show off his talents.
ATTITUDE! Rating: *¾


The New Age Outlaws are asked by Doc who Shawn's replacement is and they say they don't know.


Justin Bradshaw defeated Jeff Jarrett (With Jim Cornette) in 8:33 by disqualification in a match for the NWA North American Heavyweight Championship (Jarrett retains)
We get a recap of Bradshaw getting beat down during an pre-match interview with Jarrett and Cornette. Double J comes to the ring with the Rock N Roll Express and Barry Windham but they are sent to the back. Bradshaw unleashes on Jarrett early on and beats him with his chaps which rather amuses me. After a few minutes JJ tries to regroup on the outside and the challenger goes after Cornette which gives him a way back into the match.
The champ uses good heel tactics and Cornette gets involved well. Jarrett works the knee but he gets kicked off during a figure 4 and Bradshaw goes for a Clothesline From Hell, which was simply names a lariat back then, but JJ ducks. He goes to the top rope but Bradshaw manages to crotch him. The challenger then goes for a superplex but is pushed off. The champ goes for a crossbody but Bradshaw counters into a fallaway slam. He then hits a powerbomb but Cornette gets involved. Bradshaw brings him in and Irish whips him into JJ. Jarrett uses the racket however and we get the disqualification. Bradshaw gets hold of the racket and beats on Jarrett and the Express before slamming Cornette. He goes for the lariat again but Windham stops him and the numbers game sees the NWA beat down on Bradshaw until LOD make the save to a huge pop. I thought this was a really fun match. The storyline of the NWA would continue over the next few months but this was pretty much as big a deal as it would become.
ATTITUDE! Rating: **½


Triple H and Chyna are with Michael Cole. He wants to know who will take Shawn's place. Hunter says so many people want to take the spot but nobody can replace Michael and it will be a handicap match. Cole says WWF officials will probably appoint a partner which is odd when you consider it is a non-sanctioned match.


Ken Shamrock, Ahmed Johnson & the Disciples of Apocalypse defeated The Nation of Domination in 13:44 in a War of Attrition Match
Doc interviews the Nation and they talk about the dissention in the group. When he asks to hear from the leader, Rocky tries to speak but Faarooq cuts him off with a "you're just begging me to whoop your ass ain't ya?". Both men are brilliant in the promo. The Nation get huge heat and the faces get a lot of love from the crowd. The pace is quick early on with plenty of tags. Mark Henry gets in and asks for Ahmed which has the crowd going bananas. Henry eventually gets slammed and tags out. The frequent tags continue and the Nation work well together cutting off one of the Harris Boys. D'Lo misses a moonsault and Shamrock gets the hot tag and all hell breaks loose. The ring looks like a war zone but Shamrock manages to put the ankle lock on The Rock and the IC champ taps out! Rocky is upset after the match and gets in Faarooq's face. Faarooq then hits D'Lo but the rest of the group break it up. Rock walks off to "Rocky sucks" chants. Faarooq calls him back and they strike the Nation pose to end things. This was a fun little cluster****. It played up the problems in the group well as well as continuing the Rock-Shamrock feud.
ATTITUDE! Rating: ***


There is a interview with Cole and Austin where Stone Cold threatens to kick his ass. A shame he didn't really.


Kane (With Paul Bearer) defeated Vader in 10:57
Both men stare each other down at the start and Vader throws the first punch. Kane gets the early advantage and the action is hard hitting and the pace is slow but steady. Vader hangs tough though and after a long beat down makes a comeback with punches and a splash. He hits a moonsault but Kane sits up. They go to the outside where Vader uses a fire extinguisher and hits a powerbomb in the ring. Kane no sells it as Bearer gets involved and he hits a chokeslam and Tombstone for the win. Kane isn't done though and nails Vader with a wrench post-match. This did the job of continuing to build up the Kane character and Vader was the perfect man for the job. Things were a little too one sided for it to be a classic it could have been but still highly entertaining.
ATTITUDE! Rating: ***


THE MAIN EVENT


Steve Austin, Owen Hart, Cactus Jack & Chainsaw Charlie defeated Triple H, Savio Vega & The New Age Outlaws (With Chyna) in 17:37 in a Non-Sanctioned 8-Man Tag Match
With Chyna, Hunter and The Outlaws coming out to the DX music- a sign of things to come- Savio Vega is then announced as the last man of the team, which actually made a good deal of sense, since Los Boriucas had served as the Degenerates' hired guns through most of January and February. The faces are out next and the carnivalesque atmosphere is most definitely enhanced by Chainsaw coming out with that eponymous tool, and Cactus pushing a trolley full of weapons (or "toys" as JR calls them on commentary) which are then tossed into the ring willy nilly as soon as the hardcore legends make it to the squared circle. There's certainly a feeling of unpredictability in the air and the match being "non-sanctioned" makes the audience aware of the violence and hectic brawling to come. The faces take the high ground as the glass shatters and Austin comes out to a roar from his home state crowd. It really is an incredible pop for the Toughest S.O.B in the WWF and whets the anticipation for his 'Mania title challenge to come.

The bout kicks off with a gigantic brawl in which Austin is front and centre, pummeling Billy Gunn with a trash can lid and then taking out Road Dogg and Helmsley too. This opening schmazz really is the stuff Attitude Era dreams are made of and a ridiculous amount of fun. Trips getting a broom snapped over his head is a massive highlight, as is watching him get crotched with a camera cable, while back in the ring, Road Dogg gets hit with Charlie's vile chair shot while Cactus prepares a table in the corner. If you think back to the Chicago Street Fight at Wrestlemania XIII, which was fun but a bit aimless, you can see how far WWF had come in booking these sorts of slobberknocker weapons matches. Owen Hart brings his technical acumen to the hardcore setting by powerslamming Billy through the table, as Austin completely destroys Savio outside the ring. It goes so fast that it's hard to keep track of everything that's going on, but it's brutal and brilliant and the first thing I thought when I first re-watched it was that it was just like the recent Wyatt Family vs. The Shield match at Elimination Chamber.

When the heels finally get the advantage, the action grows less hectic but more vindictive, with each member of the babyface team receiving a complete dissection. Particularly entertaining is Chainsaw taking six or seven trashcan shots to the head and begging Triple H for more! Finally, the future Game has to resort to an actual wrestling move, DDTing the veteran on the lid of the bin. As this goes on, Austin and Savio are still going back and forth with chair shots on the outside, something which masked the Rattlesnake's limitations brilliantly, and reminded one of the very underrated feud the two had back in the spring and summer of 1996. Owen then tries to get a Sharpshooter on Helmsley but is whacked over the head with a chair by Road Dogg. The play is mainly spilling into the ring now and the wreckage of weapons and furniture on the canvas makes for a compelling visual, and then finally the referee manages to get two men in the ring and the rest on the apron! And that's over ten minutes in! Bear in mind, that tactic had also been used during the infamous Shawn vs. Bret match back at Survivor, so it wasn't a first by any means, but it certainly wouldn't be the last time it was used.

Billy Gunn beats on Chainsaw Charlie with a piledriver on the trashcan lid and a powerbomb onto the folding chair. Again, if you think of The Shield, that's a move they were employing on Daniel Bryan in their debut PPV match at TLC 2012. Very interesting to detect the influence of matches like this on the current product. With the normality of a tag format finally established, Charlie plays the face in peril- and does it superbly- as Jack and Owen break up heel pin attempts. Helmsley and Vega work over the hardcore legend, and distract the referee so that a legal tag to Hart goes unnoticed. Eventually though, Foley gets the hot tag and takes on the entire villainous team single-handedly. The Outlaws in particular bump like madmen for Cactus, with a nice corner spot where Road Dogg is covered in a sheet of plywood and has Billy whipped into him, and when the Bad Ass reels out of the corner he gets the double arm DDT. The man from Truth and Consequences, New Mexico does not hold the ascendancy long though, as Helmsley plays the heel superbly with a well-timed low blow. The Outlaws then do a number on Jack, burying him in the steel steps outside as Triple H mocks Charlie from across the ring.

Foley, as his Cactus avatar, displays his usual skill in taking and selling a heinous beating, allowing himself to be wrapped in barbed wire! Of course, this sort of thing was by now par-for-the-course in Paul Heyman's ECW, but it was still largely new to the mainstream wrestling audience and it was certainly a shocking visual. There really is nothing quite like Jim Ross yelling "CACTUS JACK IS BEING HOGTIED! WITH BARBED WIRE!" is there? There's a terrific visual once a missed chair shot allows the hardcore grappler to escape the clutches of the heels, literally pulling barbed wire from his mouth before getting the hot tag to Austin who goes absolutely crazy, unleashing a huge can of whup ass on DX and affiliates. This passage shows you everything that was great about the Texas Rattlesnake, knocking down one opponent after another before tossing Savio Vega from the ring, stomping mudholes in Triple H, pummeling Billy in the corner and hitting the Stunner on Road Dogg for the victory! Just for fun, Gunn gets a Stunner too, and Helmsley gets punched off the apron to take a face first bump onto the announce desk. Just fantastic stuff.

Austin had only been in the actual ring for two to three minutes in the whole match, which shows you how well WWF had constructed a formula for protecting his neck without sacrificing the rise of their hottest star. Everything the Texan touched at this point turned to gold, and seeing him whupping ass outside the ring and getting the final hot tag to win the match within it showed you why he was as popular as he was. All eight men deserve immense credit for putting together such a balls to the wall effort, with underrated workhorses like Vega and Hart shining alongside veteran stunt artists Jack and Charlie and sneaky heels in the Outlaws and Trips. I can't recommend this match highly enough- definitely a must watch for those of you with the Network. This has been the most pleasant surprise in this re-watch project so far. I didn't remember it too well, which surprises me as it's just a great example of its genre (see also the "Inaugural Brawl" from the one off InVasion pay-per-view) and when I saw it again, I immediately had to go back and watch it again. Visceral, confident and grin inducing...exactly what a main event should be.
ATTITUDE! Rating: ****


OVERALL THOUGHTS


Whilst No Way Out of Texas doesn't look much on paper, it was actually a very good PPV. A lot of the matches turned out better than expected and the main event was actually way better than I remembered it. When you consider all the changes that had happened in the company, a big tag match like this had no business being anything but awful but with a glimpse of the post-Mania DX on show as well as some very solid hands, the match delivered.

Awwww hell yeah! WWF just had a knack in '97 and '98 of making average cluster****y looking cards turn out to be incredibly fun wrestling shows, and this is right up there with the most enjoyable pay-per-views we've reviewed so far. That main event in particular delivered hugely and represents to me everything that was enjoyable about the era, while the Nation internal beef was excellent and featured some great character work from Rocky yet again. I could go on and on, because pretty much everything on here delivered, and against all odds given the Shawn situation.



No Way Out Of Texas Overall ATTITUDE! Rating: ***¼




MVP - MARC MERO




As Maz said in his review of Mero's match, it isn't necessarily fashionable to praise Marvellous Marc Mero. In many ways, he was disadvantaged from the start because Vince thought he could use the Johnny B. Badd gimmick but WCW's legal team prevented him from doing so. Mero then ended up with the "Wildman" character which did little for him, and he and Sable thrashed around in the midcard, with the odd highlight like an Intercontinental Title reign in the autumn of '96 and the distinction of being one of Austin's most important early opponents (the other being Savio Vega). After he tore his ACL in February '97, Mero returned from the injury with the "boxer turned wrestler" gimmick which did a lot more for him and he showed his technical ability against a variety of opponents. Mero was a strong worker and an underrated talker, and this February '98 storyline with his real life wife was one of the best things he ever did. He was in great ring form throughout the tag match against the 'Bangers and brilliantly detestable on the mic as he sent Sable away. A slightly leftfield MVP award for some of you perhaps, but Maz and I thought he was superb on this night in February 1998.

If you had told me I would be handing one of these awards out to Mero before we started this series, I would have insisted you be checked over by men in white coats. Don't get me wrong, I'd always rather liked Mero. His work as Johnny B Badd was eye catching for me as a younger Maz who stayed up to ungodly hours to watch WCW on ITV in the early 90s. His work in the WWF was never bad at all really although he has been a victim of the the company's propaganda machine over the years. He is painted as a bitter man who couldn't handle the fact that his wife was better suited to the business than he was. A lot of this may well have certain levels of truth but to say Sable's popularity was all her own doing would be grossly unfair. The on-screen relationship was very similar to the Savage-Elizabeth and more recently, the Bryan-AJ dynamic. Liz and AJ got over huge as vulnerable face ladies of dominating heel men and this was no different. Just as Savage and Bryan played their parts, Mero played his, and he played it brilliantly on this night. A strong in ring showing coupled with excellent character work which was getting Sable huge reactions as well as getting him some molten heat. You can't really ask much more from a wrestler.


END OF SEASON AWARDS


This week in this section we will be doing something a little different. No Way Out of Texas marks the end of the first year cycle of this series so we are going to look at the best of Mania to Mania "season". We have quite a few awards to give out so we will start out by looking at the Undercard Match of the Season. This basically goes to the best match that didn't close the show it was on. Almost all the contenders here came early on in the series. Shawn Michaels vs Steve Austin from King of the Ring was an exciting encounter. The whole of the undercard of Canadian Stampede definitely deserved a mention too with HHH vs Mankind, Great Sasuke vs Michinoku and Vader vs Undertaker all delivering. There was only ever going to be one winner in this category though.

Yes it almost seems absurd to call Bret Hart and Steve Austin's submission match from Wrestlemania XIII an "undercard" match, but that was technically where it sat on the card! There's a terrific segment on the Bret vs. Shawn documentary where the Pink and Black Attack recalls how he felt about the booking of the Stone Cold contest only a couple of months after their Survivor Series '96 encounter. "Why would I wrestle Steve again?" Bret says rhetorically, only for Shawn to pipe up, humorously "I don't know, to tear the house down?". It's a lovely moment and shows what incredible regard the match is still held in. And it is the most amazing thing to watch, to this very day. There's nothing else quite like it and it basically brought ATTITUDE into the mainstream of popular wrestling culture through Austin's bloody mask and the double turn that it helped to execute.

Our next award is forFeud of the Season and again there was no shortage of contenders. The Border Wars storyline between USA vs Canada was a great example of how the Attitude Era was doing "reality" long before the current era, Bret vs Austin spawned an all time classic match and some none too shabby follow ups, whileBret vs Shawn had a watershed effect on the entire wrestling business. It might be said thatShawn vs Taker was unlucky to miss out on the top spot given how critically acclaimed the storytelling of that rivalry was but in the end we decided to go for more of a hipster choice...

Quite right. Hunter Hearst Helmsley vs Cactus Jack saw both men grow and change throughout the feud. They both left the feud stronger than when they started and would be close to snagging a decent main event run soon. On top of that the summer of 1997 saw them deliver in the ring PPV after PPV. Their feud in early 2000 will be the one that gets remembered historically but this one three years earlier may have been just as important in the development of the two Attitude linchpins. It's funny really that Mick actually started and ended this season in the tag division which segues nicely into Tag Team of the Season. Early in the season Owen Hart & The British Bulldog were doing a great job and it really helped as the new Hart Foundation was formed. Recently we have been looking at the rise of The New Age Outlaws and whilst Billy and Roadie had done brilliantly, they hadn't done it for long. TheGodwinns aren't a team that I have ever been particularly fond of but they did a decent job adding depth to the division throughout the year but didn't do enough to take the award.

One of the nicest things about this series and re-watching a whole year with of 1997 pay-per-views was that it gave us a whole new perspective on the second WWF run of Legion of Doom. While they are rightly more associated with the first boom period in wrestling, their work in 1997 was the glue that held many of the shows together. They were crazy over throughout the entire period whether they were working with The Godwinns, The Headbangers or Owen and Davey. Perhaps most significantly though, they did an absolutely epic put over job for the New Age Outlaws, giving Road Dogg and Billy the momentum to dominate the tag division for the next year and a half.

Speaking of teams, we have a gong to give out for Faction of the Season. Towards the end of the period we are looking at in The One To Watch today Degeneration X had an undeniable influence on the product, as well as giving Triple H the chance to mix it with main event talent. The Nation of Domination meanwhile had a high profile role throughout the year, starting with the Street Fight at Wrestlemania XIII, following on into the Ahmed Johnson stuff and then into their recruitment of Rocky Maivia, whose transformation into The Rock was pretty damned amazing to see. Los Boricuasare hugely underrated and was a faction of elite workhorses. Not often you see that (Team Angle is another example from much later on).

But the winner here has to be The Hart Foundation. The group formed in the aftermath of Bret's double turn at Mania and the dynamic over the summer was absolutely brilliant, particularly when on home soil. The whole idea of them being heel in one place and face elsewhere may not have been a new concept in itself but it had never been done so successfully to that level. It's just a shame that things went south before they could have a prolonged feud with DX. Next up is PPV of the Season and it wasn't a tough category to decide on. Three of the big four gave us a decent show in WrestleMania 13, SummerSlam and Royal Rumble whilst Badd Blood was a very strong edition of the In Your House series. One event however eclipsed the rest.

As a whole card Canadian Stampede is one of the best put together wrestling shows in history. From the fantastic Mankind vs. Triple H match which ended up continuing all night around the arena to the closing ten man tag which is rightfully held up as the best multi-man non-elimination match of all time, the show delivered, and the nuclear crowd helped it move to another level entirely. If there's one pay-per-view from this first year that we would urge you all to watch, it's that one. The height of the Border Wars, with some superb work from Owen, Bret and Austin in particular, as well as an impressive undercard. It just shows you that "minor" PPVs are often much better than their much vaunted counterparts.

Speaking of underappreciated, the next statuette goes to Midcarder of the Season and again we have no shortage of contenders Triple H is someone we see transition out of his Blueblood character with the help of his badass valet, and by the time he takes on Mankind at King of the Ring, he's a different wrestler. You can see the confidence building, and then he creates DX with Michaels and puts himself in a great position moving forward. The Rock meanwhile starts the year a way behind Helmsley in experience terms, but embraces his new character even quicker than his future rival and begins 1998 slightly ahead of Trips in the race for the push to the main event. Vader is a different kind of midcarder to the others we mention here, someone who had become the kind of worker who fit in wherever he was placed on the card and just kicked ass. Fun matches with 'Taker, Shamrock, Owen and Kane give him a very solid '97/'98 CV.

This was definitely a category that was close to call but in the end we have had to go with Mick Foley. He proved he could do a job whether he was curtain jerking or main eventing, face or heel, against newcomers or veterans, in singles or tag action, as Mankind, Cactus Jack or Dude Love. Such a versatile talent who seemed to have brilliant chemistry with almost everyone he came into contact with. That is something that would be key in the big battles as Attitude rolled forward too, putting a load of butts in seats. We move on now to the Main Event of the Season. We have looked at some big matches so far in the series. Shawn vs Taker at Ground Zero was exciting and chaotic whereas Taker vs Hart at SummerSlam was a huge deal and historically massive. This award was realistically a two horse race however between the only two matches to get that elusive five star treatment from both Mav and myself. The 10 Man Tag at Canadian Stampede was the one to miss out though which means only one thing.

That's right, the winner by a whisker is Shawn vs Taker at Badd Blood a match which innovated a new gimmick (Hell in a Cell) and managed to prove that old adage of the original being the best. For pure wrestling execution, no cell match since has come close to it, and Shawn took several bumps which were almost as loopy as the more famous ones Foley took a year later. The storytelling was exceptional, the violence murderous in intent and the choreography off the charts. It's a highlight reel classic for good reason.

That leaves us with our final award Main Eventer of the Season. While a certain Shawn Michaels started the year in poor odour due to losing his smile, he came back to have a fun match with Steve Austin at King of the Ring, play the guest referee to perfection at Summerslam, and put on a fabulous trilogy withThe Undertaker, who was no slouch himself, although he did often find his title reign eclipsed by other goings on. Steve Austin would find himself facing Bret Hart on multiple occasions, with predictably brilliant results.

Which can only mean that the winner is Bret Hart. Not bad for a B+ player. I think I will hand over to Maverick to take this home in the name of avoiding "doing a Plan".

Yes as the resident Bret Hart fan here on ATTITUDE it's an honour not to bury The Hitman but instead praise him to high heaven! Honestly, you can't say enough good things about Bret through '97. The slow burning heel turn started with him flipping out at Vince in February, was enacted fully during the Austin match at 'Mania, cemented during the Sid/Taker main event that same night, and further solidified by the best mic work of the year by anybody. His promo the night after Wrestlemania XIII is up there with the best promos of all time for my money, and despite a nagging knee injury, Hart had another excellent match with the Rattlesnake at Revenge of the Taker, before being the most entertaining man in the building even while on crutches at Cold Day In Hell. We have spoken about Canadian Stampede and Summerslam already, classics both, and his bout with 'Taker at One Night Only was very good also. Even the infamous Montreal Screwjob contained a thrilling brawl through the audience before the bell rang for the actual match. He may have gone out under circumstances that would haunt him for the rest of his days, but for my money, the Pink and Black Attack did the best work of his whole career through 1997.


FINAL WORDS


No Way Out Of Texas did a 0.5 buyrate, which has pretty much been the average for a non "Big Four" event in the first year of Attitude. It was certainly a show which displayed the growing confidence WWF had in their product and interest was high for Wrestlemania XIV, particularly with Austin being so hot and Tyson being thrown into the mix. However, Vince and co still had a lot of work to do as seen by the fact that...

...WCW gave us Superbrawl VIII which was headlined by Sting defeating Hulk Hogan for the world title. It did a very good 1.1 buyrate, once again proving that the WWF were a long way from getting back on even terms. A WrestleMania can change everything though and we shall be back next week to see just how the bumpy road to Mania 14 would pan out in the end.






-------





You can hear more from Mazza and Maverick on The Right Side of the Pond, part of LoP Radio. New episodes every are out every Friday at 9pm UK time/4pm EST.

On tomorrow's show we go live for the first time as we look forward to Mania.

Click here >>>HERE<<< to listen or download. You can also download LoP Radio shows >>>HERE<<< for iTunes or check out The Right Side of the Pond You Tube Channel >>>HERE<<<


You can like CPR Productions on Facebook




You can also follow us all on Twitter for "stimulating" conversation about all kinds of nonsense…


Follow The Right Side of the Pond on Twitter



Follow Maverick on Twitter



Follow Mazza on Twitter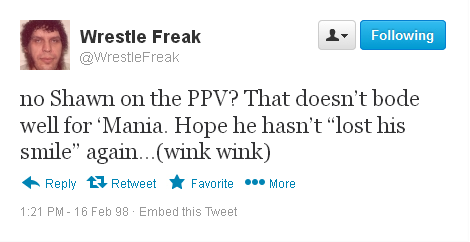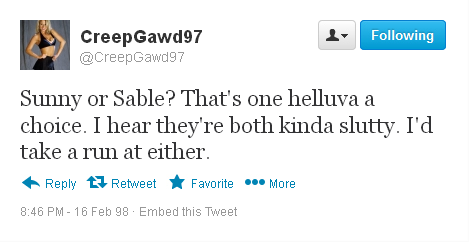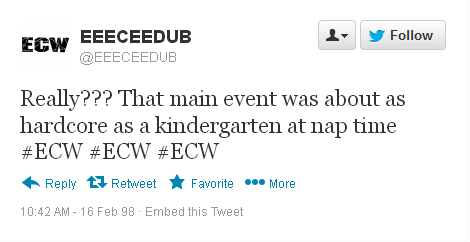 Mazza Marks... For Mania Macho Madness (CPR Productions)
The Devil's Advocate - So Much Universe
Smarks Court - Who Got NXT? (CPR Productions)
Mazza Marks... For Tag Teams (CPR Productions)