---



ATTITUDE! D-Generation X: In Your House (CPR Productions)


By Maz & Mav
Mar 20, 2014 - 1:05:42 PM


'Sup, Lords of Pain? We are another step closer to WrestleMania and WWE continue to build to the thirtieth edition of the event brilliantly. It has been a hell of a long time since I was last this excited for Mania and layers of intrigue are being added across the board. I am 100% ready for the event right now but there are still a couple of weeks build up to go where the company could send my interest into the stratosphere. But today is not about looking to the future, but looking to the past in the latest edition of...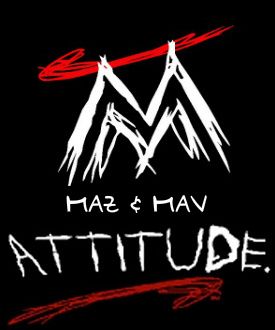 Mazza: After the events in Montreal, everything had seemingly changed. For the first time in a hell of a long time, Bret Hart didn't work for the company. The knock-on effect of this meant that a highly influential and important part of the WWF had been ripped apart. It essentially ended the Border Wars storyline which had begun around WrestleMania. We had a new champion, top heel and primary stable leader in Shawn Michaels, and those are just the on-screen benefits he received with Hart gone. HBK would be defending that title as number one bad guy in the main event of the next PPV which just so happened to be named after his stable. His job now was to prove McMahon's actions in the screwjob right. He had been on fire between SummerSlam and Survivor Series but the chase is always easier. At D-Generation X: In Your House Shawn would be looking to establish himself as champion.

Maverick: However much Vince might or might not have gained in the long term from The Montreal Screwjob, in the short term, losing a wrestler of the stature or Bret Hart, along with an important upper midcarder in Davey Boy Smith, was bound to leave the next couple of pay-per-view cards looking a bit thin. We tend to think of DX as an overnight success nowadays, but truthfully, a lot of their early work is a little bit too ahead of its time, certainly for live crowds, who were often unsure how to react initially. However, there's no doubting the quality of Shawn's heel work, and Triple H was beginning to come into his own too. These two men would be the undoubted in-ring focus of D-Generation X: In Your House, but Rocky and Austin would be putting in signature performances too. So without further ado, let's dive into...








The Event: D-Generation X: In Your House
The Date: 7 December 1997
The Place: Springfield Civic Center, Springfield, Massachusetts




BACKGROUND AND BOOKING


In the immediate aftermath of Montreal, D-Generation X were used by Vince McMahon to do exactly what Bret Hart had always feared; to spit on his legacy. One segment a week after Montreal had them bring out a dwarf in The Hitman's signature ring jacket and sunglasses to Bret's entrance music, whereupon a cornucopia of short jokes were rolled out, until a bastardised version of the Screwjob was re-enacted. Poor Jim Neidhart, who was still with the company for a time and needed the pay cheques, was ritually humiliated by being named as the newest member of D-Generation X and then turned against that very same evening. In a match a week later, Neidhart was soundly beaten by Trips and had "WCW" spraypainted on him, which was presumably a reference to Bret's air tracing on the night itself and a tribute to Hall and Nash who had spray painted "NWO" on fallen victims down in Atlanta. Central to DX's modus operandi was a defiance of authority, and the on screen authority at the time was Sergeant Slaughter, the WWF Commissioner (a role I deeply miss actually; it was a lot more discreet than the 2000s "General Manager" trope) who did his very best to keep Shawn and Hunter in check, but often ended up on the wrong side of their humour. One particularly memorable moment back in November had Michaels and Helmsley come out in helmets with windscreen wipers attached, as they often mocked Slaughter for spitting as he spoke.

Due to their constant baiting of him, Sarge decided to don his wrestling boots again and face Triple H in a "bootcamp match" (basically a Street Fight/No DQ type of arrangement). Meanwhile, he booked Shawn Michaels to face the World's Most Dangerous Man, Ken Shamrock. In some ways, the title match might have come a bit soon for Shamrock, who was red hot with crowds but still learning when it came to the feud building aspect of sports entertainment, but he was a good transitional opponent for Michaels, playing a deadly serious shooter against a sophomoric prankster with a background in high flying and risk taking. Shawn mocked the ankle lock submission with a fake leg twisting all the way around in a typical comedy skit, but on the go home show, Shamrock and Slaughter hit the ring to put HBK in the ankle lock and Triple H in the Cobra Clutch, which built to the feature matches rather well, I thought.

Meanwhile, in a wonderful foreshadowing of epic events to come in this series, The Rock feuded with Stone Cold Steve Austin over the Intercontinental Title. The third generation star had held that piece of gold under his old babyface gimmick back before and just after Wrestlemania XIII, and now set his sights on it once again. The Nation viciously beat Austin down so that Rock could steal the title belt, after which the young stud declared himself "the best damn Intercontinental Champion ever" while fearing to actually face the wrath of the Rattlesnake mano a mano. Therefore, on the December 1 episode of Raw, the title match was booked so that Austin could get his hands on The Rock and the title belt that rightfully belonged to him.

The tag team title scene had been hotly contested throughout 1997, with all manner of teams around the belts and a lot of title changes going on. Business really picked up though with the formation of the New Age Outlaws, who went from singles losers to the most over heel tag team in the business almost overnight. When they won the tag straps from the veteran Legion of Doom in Fayetteville, North Carolina on the November 24 Raw, the two ran straight into a waiting getaway vehicle, whereupon Jim Ross went on one of his brilliant rants, calling them outlaws leaving the scene of a robbery. The name stuck and the feud with LOD would propel The Bad Ass and The Road Dogg to great things over the next three years. The return match would be a vengeance gig for the veterans from Chicago, Illinois.

Also on the card was the climax of the tournament to crown the first WWF Light Heavyweight Champion, yet more Gang Warfare between Los Boricuas and Disciples of Apocalypse, a horrendous "feud" between Butterbean and Marc Mero, and the return to a WWF ring of Jeff Jarrett, which was tied up with the WWF's contractual understanding with the last remaining territories of the NWA. Jarrett was due to face The Undertaker in the Dead Man's first PPV appearance since the emergence of his "younger brother" Kane. The bout was a showcase for the returning Jarrett but also a way to advance the Big Red Monster's story arc.


THE UNDERCARD


Taka Michinoku defeated Brian Christopher in 12:00 to win the Light Heavyweight Championship
I remember being rather hyped for this tournament at the time and it seemed set up for Christopher to win. The match starts out Lil Lawler gaining some heat by wiping his butt with a "TAKA" sign. He has the better of the opening encounters and plays up to the crowd well. Michinoku is soon showing of his strengths however and he pops the crowd with a springboard plancha to the outside. Taka then manages to make Christopher bleed from the mouth and after hitting a moonsault to the outside and Lawler comes to check on his boy. A powerbomb puts Too Sexy back in control but a lax count almost costs him on the reversal. He then lands a top rope dropkick and a fameasser and takes the time to play the crowd some more. He then slaps Taka a couple of times and throws a couple of kicks from the crane position. He signals to finish it and goes for a top rope leg drop but Taka moves, hits the Michinoku Driver and gets the win. Gerald Briscoe, Pat Patterson and Tony Garea present Michinoku with the title. This was a good story of the underdog winning but it would have been nice to see Taka get in a bit more of his exciting offence. Christopher was impressive. Whilst his bloodline undoubtedly played a big part the huge heat levels he had, he still knew exactly how to play up to it and he had some pretty good moves too.
ATTITUDE! Rating: ***


Los Boricuas (With Savio Vega) defeated The Disciples of Apocalypse in 7:58
Gang warfare continues but without the team captains (Crush was written off injured thanks to Kane). Savio accompanies Los Boricuas who rap their way to the ring. Vega is sent to the back before we get underway as Miguel and Chainz play to the crowd. The fans chant for Miguel to shave his back but the early action is pretty standard fare. Perez shows off his considerable talent once again as he hits some nice moves before appearing to injure his knee. Vega comes back to ringside and tries to sub himself into the match but the ref doesn't allow it. Meanwhile the DOA take control and Chainz soon hits Jesus with a death valley driver. Perez however makes a remarkable recovery to his Chainz with a leg drop behind the ref's back allowing the Boricuas to pick up the win. With Miguel front and centre this was actually pretty fun stuff.
ATTITUDE! Rating: **½


Butterbean defeated Marc Mero in 10:20 in a Toughman Match
Butterbean puts himself over in a pre-match interview and says he doesn't like the way Marc has treated Sable. A chat with Sable sees her say she's with Marc whereas Mero asks her if he'd given her permission to speak. The interview segments weren't particularly good but would be a world better than what was to come. The Toughman match would go for four two-minute rounds. Round 1 sees Mero try to avoid Butterbean and he gets knocked out of the ring at one point. After the bell goes to end the round, The Marvelous One hits his rotund opponent from behind. Mero starts round 2 with a knee to the back and chokes Butterbean with some tape. He has him on the ropes but Butterbean fights back. He struggles with his vision for a while which gives Mero control. After round 2 ends Marc goes for a drop kick. Butterbean controls round 3 as the crowd get a bit impatient before he lands a huge punch at the end but Mero is saved by the bell. Mero is out of it but gets water thrown on him so he is able to start the fourth round. Butterbean hits another big punch but Mero decides to use low blow and a stool, causing the DQ. Butterbean chases Mero to the back. This was essentially a poor man's Piper vs Mr T and even that was an abomination. This really had no business being in the WWF at all at this point in time.
ATTITUDE! Rating: ¾*


Goldust comes out with Luna. He is wearing pink and on a chain. He does a dramatic reading of Green Eggs and Ham… What the actual ****? This is Attitude at its worst here and is the type of thing people who aren't fans of the era will use as fuel. One of the worst things I've ever seen on PPV.


The New Age Outlaws defeated The Legion of Doom in 10:32 to retain the Tag Team Championship
We get a recap of the feud so far before Hawk goes into his most insane promo yet. He compares the Outlaws to a booger that he can't quite reach but when he eventually gets it he rolls it up and flicks it. Quite the metaphor there. He ends the segment with a variation on his famous catchphrase "OHHHHHHHH WHAT A BOOGER"! The Outlaws have now very much got their famous shtick and music on board. They call LoD dinosaurs but run off when Animal and Hawk come to meet them in the aisle saying they need to stretch a little more. They come out again and try the same thing but the some officials come out to block the entrance. Roadie says Billy is ill but they get dragged to the ring and the bell goes. Animal beats on Road Dogg with the belt as the Road Warriors dominate. James takes a pounding before they try to run away again. LoD bring them back but the confusion allows the Outlaws to use an ice box on Hawk's head and they take control. Hawk plays the face in peril for a while and when the hot tag eventually comes they set up for a Doomsday Device. Henry Godwinn hits the ring however and nails Animal with a bucket behind the ref's back. Hawk gets the bucket and takes everyone out, causing the disqualification. The in-ring action wasn't great as would become customary in NAO matches but the great heel work from Billy and Jesse made it fun to watch.
ATTITUDE! Rating: **½


Triple H (With Chyna) defeated Sgt Slaughter in 12:39 in a Boot Camp Match
Our pre-match package really puts over Sarge's legacy and Cobra Clutch. Hunter cuts a promo DX style saying it's his generation. Sarge is the latest person to come out to Kurt Angle's future theme tune as we work out that a Bootcamp match is basically hardcore rules. Things starts out with Sarge using his riding crop to get the upper hand. He dominates HHH around ringside using the barriers and stairs. Back in the ring he uses his belt before going for the Cobra Clutch. Trips manages to break free however and you can feel a little pop from the crowd as he gets his first bit of offence in. It is now Hunter's turn to control things on the outside. Trips wrestles the ring bell away from the time keeper but Slaughter blocks Hunter's attempt to use it. The Degenerate remains in control however using a belt and a chain passed to him by Chyna. Sarge makes a comeback but goes to the top rope. Hunter slams him off the top for a two count and then goes for a sleeper. Slaughter manages to prevent his arm dropping a third time however and reverses it into a Cobra Clutch. Chyna interferes to break the hold and takes out the ref. She grabs a chair but Slaughter throws powder in her eyes. He grabs the chair but HHH hits him with his boot. Hunter tries for another strike with the boot but Sarge ducks and locks in the Cobra Clutch once again. The ref checks to see if Hunter is out when Chyna gives Slaughter a gigantic kick to the 'nads. Trips hits a Pedigree to a chair and gets the 1-2-3. The action was plodding and dull at times but the story told was perfection as Sarge was built up great by Hunter so he could get the full heat of beating a legend in a very cheap way.
ATTITUDE! Rating: **¾


Jeff Jarrett defeated The Undertaker in 8:40
This was Jeff Jarrett's return match for the company and he cuts a decent promo putting himself over. He is pretty much running the same gimmick as his last run albeit with a less over the top look. He uses his speed early on to escape The Deadman's clutches but Taker takes control and the pace drops. Jarrett eventually gets a foothold in the match and works the leg for a bit before Taker takes charge again and the lights go out. Paul Bearer and Kane come to the ring and once again the visual of the Big Red Machine is superb. Double J tries to encourage Kane to attack his brother but ends up eating a chokeslam, which gives him the DQ victory. Kane then slaps the Deadman before walking away. Jarrett then tries to pick up the scraps by going for the figure 4 but Taker chokeslams him. The Phenom leaves and JJ plays up his win! Action wasn't great but it was a good reintroduction for Jarrett in addition to continuing the awesome slow burn of Kane vs Taker.
ATTITUDE! Rating: **¾


Mark Henry in the crowd and interviewed by Michael Cole. He says he will be back in the ring in a week or so. He picks SCSA to go over the Rock in the IC title match.


Steve Austin defeated The Rock (With The Nation of Domination) in 5:28 to retain the Intercontinental Championship
Rocky cuts a promo with the Nation and corrects Doc when he is referred to as "Maivia". He is perfectly assured in his new role and says he's the most dangerous Intercontinental champ as well as the people's champ. He gets huge heat as he comes out in contrast to the insane pop for Austin driving out in his pick up. Stone Cold attacks Rocky from the get go but the Nation are on hand to beat the champ down. Stone Cold manages to stun D'Lo on his truck. The bell to start the match rings and the crowd is at fever pitch. They trade blows and you have a sense of witnessing something special (see Bray vs Reigns recently). They trade near falls before Nation get involved again. Faarooq eats a chair shot when Austin moves and the Rattlesnake then throws Kama into the truck. Rocky takes control in the ring though and he works over Austin whilst playing up to the crowd. He eventually goes for a People's Elbow but misses and Austin stomps a mudhole. He goes for the Stunner but we get some interference which sees him mistakenly hit the ref with his finisher and try to cover him. Rocky has some brass knucks but when he goes for a knockout punch, Austin blocks it, hits a Stunner and a second ref counts the three. You could feel just how good and ready for megastardom these two men were at this point. As good a 5 minute encounter as you'll ever see.
ATTITUDE! Rating: ***½


THE MAIN EVENT


Ken Shamrock defeated Shawn Michaels (With Triple H & Chyna) by disqualification in 18:27 in a Match for the WWF Championship (Shawn Retains)
The heel character that Shawn Michaels had created in the autumn and honed in the aftermath of Montreal is fully on display from the very first here, with Shamrock the shooter doing all he can to get a hold of the elusive champion, who has no wish whatsoever to trade bombs with the World's Most Dangerous Man. However, Shamrock is able to take advantage of HBK's cockiness to pound him in the corner, immediately involving the crowd. There are very few wrestlers on the planet who bump like Michaels at his peak, and he takes his trademark 360 over the turnbuckle to the floor. Outside, Chyna and Hunter give Shawn an advantage on the face of things, but Ken manages to get his hands on the champ anyway; the story here is of Shamrock's absolute badassery, and the match is entirely booked around that fact, illustrated by the former UFC fighter twice throwing Michaels off the second rope as HBK attempts to mount him for turnbuckle right hands. The second time, Shamrock roars out of the corner with an elbow smash and a body shot.

It's constant power wrestling from the World's Most Dangerous Man, whose consistent booking since his debut has made him one of the hottest properties in the sport at that point in time. He blocks and reverses a suplex, and pounds Michaels with yet more bodyshots, before crotching him on the top rope. It's almost as if the sports entertainer has no answer to the shooter's intensity, but then the degenerate spots an opportunity to cheat; it's excellent storytelling, as the ref's body is used to block the dreaded belly to belly and a low blow is got in. Shamrock, reeling, gets dumped to the outside to be hit by a trademark Michaels plancha. The score is evened even further outside by HBK's stable mates; Chyna shoves Shamrock into the ringpost and Triple H puts the boot in before laying the World's Most Dangerous Man's prone form out for Shawn to hit a picture perfect splash off the apron. Great stuff to watch.

With Ken now firmly where Michaels wants him, the pace actually slows down, and this is where I feel the match goes wrong a little.Chinlocks of doom and endless sleeper holds are not what you expect from a 1997 Showstopper match, but that's what we get. It's also certainly the case that Shamrock is far from the most endearing babyface in peril. His selling isn't good enough to really justify the lengthy passage of Michaels wear down treatment, and then once we're into the classic moves of doom- the flying elbow off the top, tuning up the band- Shamrock's comeback is sudden and consists literally of the belly to belly and the ankle lock, at which point Chyna and Hunter rush the ring to draw the DQ so that HBK can retain. It's a finish which feels underwhelming, to say the least, although it did certainly sell DX's modus operandi as a stable, and there is one more piece of intrigue as their beatdown of Shamrock is interrupted by an "outta nowhere" attack by a vengeful Owen Hart, setting up his feud with Triple H for 'Mania season.

Ultimately, this was a main event match that showed Shamrock's potential and showcased DX as the company's go to stable, but I can't help feeling that they could have done more with the match and that the whole thing had a slight throwaway feel because it was so obviously a one PPV programme.
ATTITUDE! Rating: **¾


OVERALL THOUGHTS


Funny pay-per-view this one. Aside from the Butterbean/Mero atrocity, there's nothing particularly bad on it, but there's nothing that quite jumps out as brilliant either. The storylines presented were interesting enough, and I quite liked the idea of theming the PPV around the rise of DX, who certainly got over here, but this show definitely suffers a bit for being a minor show taking place in the shadow of a massive controversy.

Yeah, there wasn't much going on that was terribly PPV worthy. When a five minute match picks up the MotN honours you have to say it felt more like an episode of Raw than a PPV. Still, star ratings wise it did no worse than Survivor Series whereas nothing would have topped what went down in Montreal for big time moments. I think the way to look at this particular version of In Your House was it did a great job of establishing the characters of DX, both present and future whilst gave us a glimpse into the future of what would become possibly the biggest Mania rivalry of all time.




D-Generation X: In Your House Overall ATTITUDE! Rating: **½




MVP - STONE COLD STEVE AUSTIN/TRIPLE H




You might have expected Stone Cold to have already scored an MVP award by now, and truthfully, he's been close a few times, notably at Wrestlemania XIII and Revenge of the Taker, but here, the man who would define the next three years of wrestling finally takes home the trophy due to his fantastic character work and intense brawling opposite the cocky, on the rise heel who would help him in overhauling WCW across the rest of the era, that is, The Rock. It's easy in retrospect to see what made Austin so wildly popular; every time his music hit, business truly "picked up". The arrival in the truck, the stunner to D'Lo on the bonnet of the truck, and the beauty of a five minute match that followed showed exactly what the Rattlesnake brought to the product. The Rock and Triple H certainly ran him close for MVP honours today, but I think Austin's command of character and irresistible rise to the main event just sneak him home. But Maz begs to differ...

You might have expected Hunter to have already scored an MVP award by now, and truthfully, he's been close a few times, notably at King of the Ring and One Night Only… Okay, I better take my own direction here. The fact is that Rock and Austin wrestled a close on perfect short match where they showed off a lot of the attributes that will make them the best in the business. You could argue that it is relatively easy doing it against each other though. Hunter on the other hand did an amazing job with a man who, whilst undoubtedly a legend in the industry, was well past his sell by date in '97. His ability to build Sarge up to look way beyond credible was great and then to grind out the cheapest of cheap wins really helped establish a character that had been tweaked since the birth of DX and left Hunter with less of a solo identity. He went on to further cement his faction's modus operandi in the main event with some good support work for Shawn. For me it's a no brainer but we'd love to see if you can help us split these two men who would soon become massive rivals. They will both go on to take a load of these MVP awards during this series I am sure but who draws first blood, Helmsley or Austin?


THE ONE TO WATCH


This week in One To Watch we take a look at the increasing WWE emphasis on characters, with perhaps a decreasing emphasis on the in ring product. The New Generation was certainly defined by excellent action in the midcard and in headline matches, spearheaded as it was by two of the very best ever to lace a pair of boots in Bret Hart and Shawn Michaels. Through 1997, we begin to see a shift, with Austin taking off as a "cool heel", eventually turning face at Wrestlemania XIII without substantially altering his character, and Bret Hart turning heel and turning into the truth telling Anti-American. The Attitude Era is often cited as the time when wrestlers became "themselves with the volume turned up" and there's evidence of this all over the place as the year wears on. Dwayne Johnson is clearly uncomfortable inhabiting "The Blue Chipper" at Wrestlemania and Cold Day In Hell, but suddenly re-appears reinvigorated as an arrogant member of the Nation of Domination in the autumn. That character has become recognisably The Rock by Survivor Series and is in full flow by D-Generation X: In Your House. Meanwhile, Shawn Michaels is exhibiting tweener tendencies as early as his guest commentary stint at Wrestlemania, and takes his "Playgirl centrefold" persona into the summer, before turning full blown heel on 'Taker and becoming the degenerate. His stablemate Triple H goes through a similar transformation. During his feuds with Goldust and Mankind you can see him evolving out of the cartoonish Blueblood gimmick into something more contemporary, until it bursts into life in August through the partnership with Michaels. Through the year, there are many, many excellent matches, with Maz and I rating two at five stars and several others at four or better. Come 1998, the type of in ring action presented would shift substantially, and it'll be interesting to explore the trend as it develops.

That shift had been pretty clearly happening over the last couple of months. We've discussed Austin's injury previously and how it made him alter his style. It was lighter on the technical side and heavier on the brawling which worked well in popping live crowds but wasn't always pretty to watch. Bret Hart, the excellence of execution had now gone and Shawn Michaels would soon be out of action too. They had adapted their styles brilliantly in 1997 to incorporate the brawling style that was becoming popular very well indeed but they would no longer be a factor. It seemed everybody coming up behind them was either a straight up fighter or very character driven. You can start with the main event of this PPV and Ken Shamrock. This was a guy plucked from a great UFC career. He still had a lot of shortcomings in the ring but was sold as "The World's Most Dangerous Man", a guy that could simply kick your ass in as unpretty a way as possible. Whilst he'd never make it to the very top, crowds were popping for this guy, particularly when he'd see red, go mental and just suplex anything in front of him.

Elsewhere on the card at IYH: DX there was Attitude flowing out of almost every match. Rocky was showing it as member of the Nation of Domination and was getting heat in almost everything he did. From his facial expressions to his movements, to his emphasis in the ring. His moveset was used to antagonise rather than be aesthetically pleasing. The fact is that The Rock was a master of mixing those two together but that would get stronger as the era went on. Triple H was another master of finding the right blend between working the crowd and wrestling a strong match. Again, this would grow throughout the era and here he was trying to push the DX character. He would personally suffer a little with this at this stage. The Rock would be surpassing his faction leader Faarooq pretty quickly whereas Trips would be in Shawn's shadow for a couple of months before breaking out further.

Shawn's departure would see Hunter draft The New Age Outlaws into DX and they were really putting themselves on the map at the moment. As I have stated before, it's hard to find a great NAO match but as heels or faces their antics made them a constantly entertaining tag team. Their work against a team who were insanely over as fighters was a perfect blend and they would soon be feuding with another pair of brawlers. Elsewhere on the card you had a decent in-ring talent in Marc Mero who was paired with a boxer in a feud based off his jealousy towards his wife. Even in the light heavyweight division, an area that is generally based off in-ring work, the focus was on Brian Christopher's heel character. This emphasis on using matches to build characters as well brawls is something that would grow during the first half of Attitude. It is what turns a lot of people off to this huge boom period in wrestling but we will be getting a chance to revisit just how bad it really was in the next few weeks.


FINAL WORDS


The mythology of the post-Screwjob world is shown to be exactly that with D-Generation X: In Your House. Not only is it a relatively weak show in wrestling terms, the buyrate was low, coming in as a 0.4, the same as Ground Zero three months earlier. You could certainly see Vince scrabbling around trying to create a new formula, while attempting to get through a filler pay-per-view and get 'Mania plans going. For that reason, the show is an odd historical curiosity, but as with all such low key events, the one that followed would be absolutely massive, for more than one reason.

Yeah this was a PPV that seemed a bit lost in the big picture and WCW had destroyed them in the buyrate wars. Starrcade was headlined by Sting defeating Hogan for their world title and featured a new phenomenon by the name of Goldberg making his PPV debut. WCW's showpiece event had done a 1.9 rate but WWF was about to embark on WrestleMania season, and Vince had a couple of aces up his sleeve.






-------





You can hear more from Mazza and Maverick on The Right Side of the Pond, part of LoP Radio. New episodes every are out every Friday at 9pm UK time/4pm EST.

On tomorrow's show however Maverick and Plan are suspended. Mazza and Joey Shinobi discuss Raw whilst Joey welcomes Your Ayatollah to Room 101.

Click here >>>HERE<<< to listen or download. You can also download LoP Radio shows >>>HERE<<< for iTunes or check out The Right Side of the Pond You Tube Channel >>>HERE<<<


You can check out Maverick's ongoing series looking back at Manias past >>>HERE<<<


You can like CPR Productions on Facebook




You can also follow us all on Twitter for "stimulating" conversation about all kinds of nonsense…


Follow The Right Side of the Pond on Twitter



Follow Maverick on Twitter



Follow Mazza on Twitter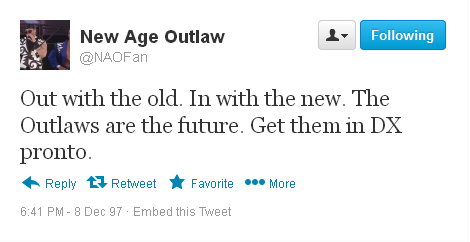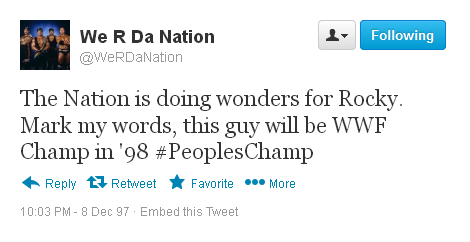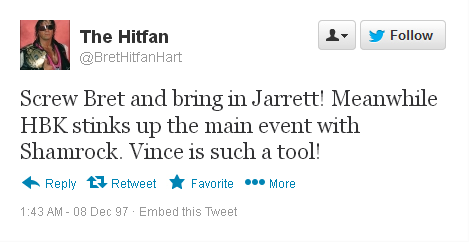 Mazza Marks... For Mania Macho Madness (CPR Productions)
The Devil's Advocate - So Much Universe
Smarks Court - Who Got NXT? (CPR Productions)
Mazza Marks... For Tag Teams (CPR Productions)