---



ATTITUDE! Badd Blood (CPR Productions)


By Maz & Mav
Mar 6, 2014 - 12:26:29 PM


'Sup, Lords of Pain? Well another week is in the bag and it is once again time for your regular dose of ATTITUDE! Before we get to that though I'd like to congratulate all the Hijack Raw Twitter accounts for their excellent job on Monday!!! WWE played the Chicago crowd beautifully taking pretty much everything that went down as their own. Of course the CM Punk chants played out throughout the evening but hopefully that will be the exclamation point on the whole thing. It is now pretty clear we won't be seeing Phil Brooks this Mania season and whether you are happy or sad about that, it is time to accept it and get behind the Yes Movement.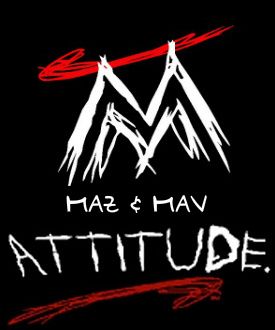 Mazza: So last time out we gave you a little detour off the normal route which saw Shawn Michaels win the European Championship and Degeneration X become the newest faction in what had become an extremely faction-heavy company. Vince was clearly looking to find WWF's answer to the New World Order and whilst throwing different groups together would result in a few good things sticking to the wall, it wouldn't be the the most important factor in turning the tables on WCW. I tend to look at Vince winning the Monday Night Wars as being down to a combination of things, some big, some small and today we look at the birth of a minor variation on the classic steel cage that would be home to some monumental moments for the company throughout Attitude.

Maverick: Ever since Wrestlemania XIII the WWF had been putting together a lot of compelling ingredients and were on the verge of finding something special. There are certain important markers scattered through 1997 that showed that Vince and co. could turn the wars around: Austin and Bret is one, the main event of Summerslam another, and here we find a third with the inaugural Hell in a Cell match. Meanwhile, backstage events were also heating up with unforeseen consequences for the future of the company. So without further ado, let's take a look at...








The Event: Badd Blood: In Your House
The Date: 5 October 1997
The Place: Kiel Center, St. Louis, Missouri




BACKGROUND AND BOOKING

On September 22nd 1997, Vince McMahon called Bret Hart into his office for a private talk. Vince confessed that, as he'd worried about previously, he would not be able to pay Bret his full salary up front as promised in the terms of the twenty year contract he'd signed a year earlier. The chairman was adamant that Bret would still get every cent he was owed, but that the money would need to be weighted towards the end of the deal. Vince also confessed that the pressure from WCW might force him to downsize considerably and that he wouldn't blame the Hitman if he wanted to negotiate with Ted Turner and Eric Bischoff, who had been keen on signing the Canadian to a deal the last time his contract had been up. In his book, Bret reports that he was devastated by this suggestion and unconvinced that WCW would be any place for him. Looking at the antics of DX though, he began to wonder if WWF was the place for him, either. The Border Wars angle was still going, but had lost a considerable amount of its heat and its spotlight. The Hart Foundation pairing of Bret and Davey were due to take on The Patriot and Vader in a flag match, but they were not the main event.

That honour went to Shawn Michaels and The Undertaker, whose feud picked up again with a vengeance. They were to compete in a brand new gimmick match "Hell in a Cell", where an enormous roofed cage enclosed the ring. Pinfall or submission was the only way to win. Degeneration-X would not be able to interfere in proceedings and HBK would be forced to face the music. This did not stop Michaels from continuing to revel in the role of "master antagonist" however, provoking his vengeful opponent at every turn. The winner of the match would get a shot at The Hitman at Survivor Series, making the contest even more significant.

Having been put on the shelf legitimately by Owen Hart's piledriver and been forced to vacate the Intercontinental Championship, against his will in storyline, Stone Cold Steve Austin was a man possessed and was bound to have some kind of impact on the title match between Owen and Farooq. But would he be screwing the younger Hart brother as a revenge act or screwing the Nation's leader so he could get his hands on The Rocket? Only time would tell. The Gang Wars were still in full flow, with the seemingly endless matches between the factions somehow having no significant effect in moving the story on. Therefore, a match between Los Boriucas and The Disciples of Apocalypse was booked for the show.

Elsewhere in the midcard, the tag straps were being hot potatoed all over the place. The Headbangers had only held the straps since Ground Zero and were here scheduled to defend them against The Godwinns, their fellow participants in the Wrestlemania XIII curtain jerker. The card was meant to be rounded out by Dude Love vs. Brian Pillman, but after The Loose Cannon did not arrive at the arena on time, his hotel room was searched, where his dead body was found. At the time, an overdose was suspected, but in fact Pillman was suffering from an undetected hereditary heart condition. Nevertheless, wrestling was robbed of one of its biggest personalities, one who was involved in key WWF storylines. It was a loss keenly felt by the entire roster, as Flyin' Brian was popular and well respected in the locker room.

Too many wrestlers have died early deaths over the years, but Brian Pillman was one of the first high profile casualties of the industry and his untimely passing had a massive impact both at the time and even to this day. You can see the influence of Pillman in the work of Dean Ambrose, Daniel Bryan, Bray Wyatt and others. He was pioneer as a character actor, a fantastic in ring worker, and by all accounts, as good a man and friend as it was possible to find in the business.

Rest in peace, Brian. You are missed.


THE UNDERCARD


We start out with an extremely Shawn-centric video package to put over the main event before Vince makes the announcement that Brian Pillman had been found dead earlier.


The Nation of Domination (Rocky Maivia, Kama Mustafa & D'Lo Brown) defeated The Legion of Doom in 12:16 in a Handicap Match
In the opening match of the night we get our first chance to see the heel Rocky Maivia. It seems like forever since his match with Mankind, which may or may not have been an attempt at a double turn five months earlier. Ken Shamrock was meant to be teaming with the Legion of Doom but was out injured. Hawk accepted the match for his team under handicap rules. It is immediately clear that there is a newfound confidence in Maivia. He was drawing a lot of heat now (for the right reasons) and knew just how to capitalise on it. We get some good early tough guy action as Kama (the former Papa Shango and future Godfather) makes a good foil for LoD. The heels make good use of their man advantage however and Rocky is composed and deliberate as he cheats to make Animal the Face in Peril. The new Nation continue to work well as a unit, something the original Nation struggled with. Eventually, after a few big teases, the hot tag comes and really pops the crowd. All men find themselves in the ring but as LoD go to hit Rocky with a Doomsday Device, Faarooq makes his way to the ring. The distraction allows Maivia to land a Rock Bottom to pick up the victory. This worked really well as a hot opener. The action was fun, the crowd were into it and it was intriguing to watch Maivia as what was essentially The Rock for the first time on PPV.
ATTITUDE! Rating: ***


This is the point of the night where Pillman vs Dude Love would have gone on and once again Vince explains what happened and is visibly shaken up by it. He says they have bought back the minis as a replacement match.


Max Mini & Nova defeated Tarantula and Mosaic in 6:44
I can honestly say that I had no idea what was going on here. That is due in large part to the announce team having no idea what was going on. The minis are in and out of the ring seemingly when they choose. Again there are some crisp moves on show but there seems to be very little glue holding them all together. Ross, Lawler and McMahon make some small jokes and try to keep up but it was pretty hard on the ears. This has to go down as simply a clusterfuck. If it was thrown together simply as something to fill a bit of time due to the unfortunately Pillman incident, then I can understand its place but still, hopefully it will not be something we will be revisiting any time soon.
ATTITUDE! Rating: ¾*


The Godwinns (With Uncle Cletus) defeated The Headbangers in 12:18 to win the Tag Team Championship
The tag title match gets the honour of having Sunny guest ring announce. Once again the charming, beautiful and charismatic original diva gets totally wasted. We have seen The Godwinns square off against The Headbangers twice already in this series and it hasn't been pretty either time. This time they don't have the luxury of a couple of other teams in the match with them either. There is a lot of stalling early on which includes Mosh spitting into the air and catching it in his own mouth. Not since the Bushwhackers have I been so disgusted by something in wrestling but it's a touch of the gross that would become a feature of Attitude. Talking of which, McMahon soon uses the line "Phineas trying to yank Mosh off, and he does"! Not sure if anything ever said on commentary has been more deserving of a #Pause. Anyway, back to the match and both sides control for a bit with the challengers taking control and making Thrasher the face in peril. The hot tag is a lot more of a meh tag and the Bangers come close as Thrasher powerbombs Mosh onto Phineas. The champs then go for a Stage Dive but it is countered into a powerbomb and the Godwinns pick up the win and the titles. The new champs beat down on the Bangers after the match until the refs announce they will be stripped of the titles if they don't stop. This was a poor tag match with the teams seemingly having no chemistry together whatsoever. At least the straps were off the terrible Headbangers. Whilst I had never been a fan of the Godwinns either, they were at least mildly interesting as a heel team.
ATTITUDE! Rating: *½


After a recap of the happenings surrounding Owen Hart and Steve Austin, we get JR hosting a little in-ring shindig. I am not really sure what the point is but we get video packages for a bunch of legends who are then paraded about. We are treated to a view of Gene Kiniski, Jack Briscoe, Dory Funk Jr, Harley Race, Terry Funk, Sam Muchnick and Lou Thesz. It was almost like a Hall of Fame class or something. Maybe it was white history month. Damned if I know.

We then have a backstage interview with Faarooq before Vince's gives another Pillman update. He says there was no foul play suspected but there was concern over a possible drug overdose.


Owen Hart defeated Faarooq in 5:51 to win the Intercontinental Championship
Owen comes down to a new theme tune which is rather disappointing. Austin comes down to ringside as he has the job of presenting the belt to the winner. He takes McMahon's headset as Hart taunts him with his "Owen 3:16 - I Just Broke Your Neck" t-shirt. The match starts but the focus is very much on Stone Cold. He goes to the Spanish announce table and asks if they are calling him crazy. He then heads over to the French table (yeah, they had a French announce table back then too), says "parlez vous Francais" and then says he is coming to Survivor Series in Montreal. By the time you realise there's actually a pretty important match going on, Faarooq is in control. He lands a powerslam and spinebuster before Neidhart makes his way to ringside. The ref gets distracted and in the confusion Austin nails Faarooq with the belt allowing Owen to pick up the win. The Hart Foundation members look confused by what happened but Owen walks to the back saying "I did it all by myself". This was a hard one to rate. I think there was a lot of potential for Owen and Faarooq to have a strong match but that was passed over for a quick affair focused on Austin causing havoc. It was entertaining for what it was and kept Stone Cold central to the event even with his injury but I can't help but feel this was a tad wasted.
ATTITUDE! Rating: **


Disciples of Apocalypse defeated Los Boricuas in 8:04
Gang warfare continues with some eight-man action and a rematch from SummerSlam. Los Boricuas finally have a new uniform which makes them look a bit more macho. The teams seem to mesh better here than they did a couple of months previously. The DoA were horrible but the Boricuas carried them well using their technical prowess against the bikers' brawling. We actually get a mention of the word "Attitude" during this match which could be an early reference to what the era would become known as. Anyway, the Boricuas dominate and cut Chainz off from the rest of the team. Eventually he gets the tag to Crush, all hell breaks lose and the Disciples leader hits a tilt-a-whirl to get vengeance for the SummerSlam match.
ATTITUDE! Rating: **¼


Bret Hart & The British Bulldog defeated Vader & The Patriot in 25:07 in a Flag Match
Before we get underway we have a couple of standard promos from each team which helps set the tone. It is also announced that the match won't simply be having to capture the flag, but you could also win by pinfall or submission. Before the bell can ring the teams start beating on each other. Smith pairs off with Wilkes whilst Vader and Hart go at it. Team America eventually get the upperhand and the bell rings as the crowd chants USA. The Foundation stall and play well to the crowd until the Patriot goes for the flag. It was a great start but now things start to get awkward. The match is being contested under normal tag rules, which makes no sense as every time anybody goes for the flag, the "illegal" partner simply breaks it up. It makes even less sense as the match can't finish by disqualification anyway. It's a damn shame too because the action is very good. After a few early attempts for the flag, the match settles with Wilkes playing the face in peril after Bret uses the ringpost figure four. Hart goes for the Sharpshooter but Patriot reverses it before Bulldog breaks it up. The action breaks down and all four men get involved before quickly going back to the face in peril routine. They go round in circles a bit until the action breaks down and Vader takes momentum. He goes for a moonsault and impressively lands on his feet when Davey Boy moves. The action spills to the outside where Bret hits Vader with the bell for the Foundation to take control once more. Patriot soon gets tagged in and he cleans house. He gets a two count on Bret when Smith makes the save following an Uncle Slam. A fan tries to rush the ring and Bulldog gets some kicks in before he is escorted away. Bret takes a Vader Bomb but when Patriot tried to roll him up, Hart rolls through and sneaks out the victory. A frustrated Wilkes attacks Bret post match. The last minute stip change really hurt this for me. If it was fought under tornado rules it could have been an all time classic. The confusion took away from a lot of really strong wrestling.
ATTITUDE! Rating: ***¼


THE MAIN EVENT


Shawn Michaels defeated The Undertaker in 29:57 in a Number One Contendership Hell in a Cell Match
Shawn was very billed as the "master antagonist" for this match, and you can just tell how much he was revelling in being a boundary pushing heel after his financially less than satisfying period as top babyface. The arrogance of the character shines through as he's interviewed before the bout with DX arrayed behind him. He seems remarkably unconcerned by the prospect of being locked in an enclosed cage with a vengeful Deadman; no-one can outperform the Showstopper. It's remarkable how much of this stuff got recycled into their Wrestlemania feuds in 2009 and 2010.

The shock of the new is very much sold by the announce team as the preparations begin for the inaugural Cell match. Commissioner Slaughter checking under the ring for foreign objects with a flashlight highlights for everyone the pains being taken to ensure a fair result. It's also one of those touches that present wrestling as a sport, which I personally always appreciate. By the time Michaels hits the ring, the crowd is amped up for some gladiatorial combat, and the Heartbreak Kid shows the first signs of feeling spooked when The Undertaker's music hits and the legendary seven footer makes his painstaking way to the ring. The feeling out process demonstrates just the kind of confident storytelling you'd expect from two veterans, with the Deadman stalking and Michaels trying to keep his larger opponent at a distance, until he tries to rush him and gets a big boot to the face for his troubles. Meanwhile, the announce team discuss how Vince McMahon has been blamed by HBK for being forced into this match; Vince's quip in response to Lawler "everything's my fault these days" anticipates by several months the creation of McMahon the character. These are important, transitional times we're inhabiting.

As the match is essentially a revenge tragedy, the revenger, 'Taker, has the advantage in the early going, dishing out one of the most hellacious beat downs you'll ever witness. From a huge backdrop that sends the Sexy Boy about nine feet in the air to contemptuous fling into the chain link of the cage, the Deadman is dominant and Michaels is in super sell mode. It's compelling to watch, seeing Shawn try to escape time and time again only to be ripped down from the cage and pummeled. It's literally a physical dissection, a match booked as physical torture. The cell structure is used over and over again in numerous ways, and Shawn looks utterly destroyed, which is a testament both to his selling and to the hard bumps he takes. Of course, that would take on a more sinister dimension at the Rumble, but we won't go into that quite yet. It's coming though.

By the time Michaels finally manages to reverse his opponent's dominance, he's out on his feet and has to roll in the ring for a breather as Taker lies prone outside the ring, sound psychology from a master of that game. With the momentum with HBK, the possibilities of the caged environment are fully explored with some sensational high flying; a flying elbow off the chain link, a springboard flying clothesline show trademark high impact athleticism, which is followed up by several shots with the ring steps, again showing how much more violent the WWE main event style was becoming. These strikes with the steel are sold very effectively on commentary, with Lawler calling them a "leveller" and Ross claiming they weigh "150 pounds". This theme is taken further, as HBK goes for a brutal piledriver on the steps. In the light of what had happened to Austin at Summerslam, it's somewhat surprising that the spot was allowed, but then, Michaels was always a law unto himself, so he may well have contravened company directives anyway. By the time the steel chair comes out, a weapon which has spanned the entire feud, the Deadman has taken a beating every bit as severe as the one he himself dished out to Shawn at the beginning of the bout.

With 'Taker tied up in the ropes, one is reminded of Wrestlemania IV and the Hogan/Andre re-match. Michaels runs right into a boot and is then backdropped right into a hapless cameraman, who Shawn precedes to beat on in order to garner extra heat as Vince and JR express their disgust on commentary. Back in the ring, the Showstopper maintains his advantage and is showing off the ultra-athletic style that made him a star. The set up to Sweet Chin Music is picture perfect, with the traditional flying forearm, kip up, flying elbow sequence preceding the tune up and the superkick. However, this is The Undertaker we're dealing with and he sits up in an ultra dramatic moment that sells the seven footer's supernatural gimmick to perfection. I'd be tempted to say that it feels outdated except that it works so damned well. Crucially, in plot terms, Commissioner Slaughter has the cell opened so that the cameraman can be helped to the back...cue the two competitors spilling out of the cell to the outside.

This is the comeback of the legendary Phenom, and it's perfectly pitched to emphasise the revenge angle, as Michaels, busted open and panicked, elects to climb the cell to escape his implacable foe, but like Frankenstein's monster, 'Taker follows slowly, steadily, with a sense of the inevitability of HBK's downfall gradually growing into the audience. Atop the cage, with anticipation at fever pitch, Michaels takes a backdrop onto the roof and is then military pressed for good measure. It's eye watering stuff and a tribute to how far these two are willing to go in order to get over this brand new gimmick match and the epic nature of their feud. On the way down, and this is perhaps forgotten due to the way Mick Foley trumped it a few months later, Shawn takes an insane fall off the cage through a table at ringside. People would be raving about it still if it weren't for Mick being even madder! The Sexy Boy's face is a crimson mask, the visual is utterly compelling, and it seems that he must lose very soon as the action flows back into the cell and into the ring, with Slaughter re-chaining the door. A chokeslam off the top, a truly vile chair shot to the head...but then the arena goes black and an eerie organ sounds over the PA…

Is there any better debut in the history of wrestling than that of Kane? As the Big Red Monster makes his way to the ring accompanied by Paul Bearer, the announce team go crazy. The stare down between the two seven foot behemoths is electric, but the fatigued Undertaker blinks first and gets a massive tombstone for his troubles. A destroyed Shawn Michaels is able to barely cover the prone Deadman for the win. But he doesn't look much like a winner.

What a match! Almost seventeen years later, it stands up as the very greatest cell match and a jewel in the crowns of both participants. If Attitude had been gradually creeping in through the first few pay-per-views Maz and I have reviewed, it came running through the door with this one. Magnificently, exquisitely violent.
ATTITUDE! Rating: *****


OVERALL THOUGHTS


What a main event that was. Just a perfect blend of storytelling, high impact action and innovation. "The original and the best" is a phrase that gets thrown around a lot in all sorts of media. Often that reasoning can be put down to it being the best simply because of the originality. Not here though. It could be the first or the last and still hold a very strong argument for being the ultimate in cell matches and as such it becomes our second five star encounter of the series. Whilst it was a match that could make you forget everything that went on before it, we still have an important night of action to sum up. It was a mixed bag of tag action ranging from horrible to pretty strong. Funnily enough the tag title match was at the lower end of the scale, only just out-performing the minis mess. The Gang Warfare factions kept things ticking over at the top end of the scale nicely with Rocky Maivia in a starring role. The flag match hit the extremes of the scales by itself with the stip change really hurting it.

I do wonder how much Pillman's death had to do with that. Were they given more time due to there being a match less? Did that in turn result in a change in stipulations? All I know is that if it was kept to tornado rules and capturing the flag, it could have been epic, even if they sacrificed ten minutes of action. Where the time should have gone in my opinion was the Intercontinental Championship match. The Austin stuff was amusing but took the focus away from Faarooq and Owen, two more than capable workers. Five minutes of playing second fiddle worked from a storyline perspective but it could have easily happened with Austin making his way to ringside after the men involved had ten minutes to show off their skills. Of course there was dark cloud hanging over the event from start to finish with Pillman's death. The company didn't do a great job of handling it either. Vince speculating on the reasons could have easily turned into a PR nightmare. There was also a point where they were mixing it into the kayfabe storyline with Goldust and Marlena which felt very awkward. Still, can't be too harsh on Vince. It can't be something they can ever get used to, despite having to do it on a few more occasions over the next few years.

There's something very eerie about watching the event back, knowing that Pillman's death had only been announced to the wrestlers something like an hour before showtime. Guys like Bret, Owen, Davey and Foley were firm friends with Pillman and for those performing on the night, it must have been very difficult to get him out of their head. As Maz alluded to, the balance of the show seems off and the booking of the minis match takes on a sinister sort of feel as everyone was well aware of what it was replacing. Unfortunately, we'd have another night like this in 1999 at Over The Edge, and an even more sinister one in 2007 when Chris Benoit no-showed Vengeance. Nowadays, you'd have to think that the pay-per-view would have been cancelled both out of respect and due to the last minute changes needed, but at this point, with WCW ahead in the wars, the company simply could not afford to refund buys or ticket sales. They needed that revenue and needed it badly, as witnessed by Vince trying to renegotiate Bret Hart's contract. Nevertheless, there's some strong wrestling on the card, particularly the opener, the flag match and the stellar main event. Personally, I enjoyed the flag match and didn't think that the confusing rules did that much to hurt it. When you put Bret and Davey up against Vader and a competent guy like Del Wilkes, you were always likely to get decent action. As for the main event, there aren't many better in the whole history of the company. It's that good.




Badd Blood Overall ATTITUDE! Rating: ***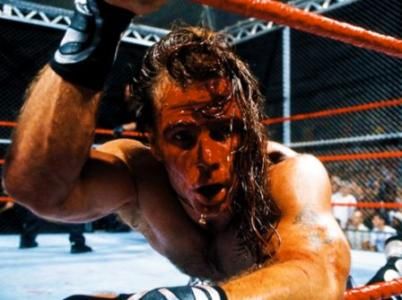 MVP - SHAWN MICHAELS




In an incredible achievement to go alongside the many others in his hall of fame career, Shawn Michaels becomes the first man to achieve a hat trick of MVP wins, and in consecutive pay-per-views at that. In association football, what American readers will know as soccer, we call the perfect hat trick one which consists of goals with left foot, right foot and head. Shawn's hat trick of MVP wins involved one for the insane bumping for which he was renowned, one for a perfect piece of heel character acting and this one for exploring the possibilities of a brand new match type, whilst also displaying the two attributes from One Night Only and Ground Zero. After a while, one tends to run out of superlatives for HBK, be they positive or otherwise, but his combination of athleticism, charisma and risk taking made the main event what it was, and once Kane was in play, Michaels was smart enough to step away from the limelight and allow that new story room to breathe. The Boy Toy will soon be forced to give up his in ring career, so it's fitting that this late-97 peak of his is adequately rewarded with these three MVP titles.

I am not one for throwing GOAT-esque superlatives in Shawn's direction but there is no doubt that he is a brilliant pro-wrestler. 1997 was a year where backstage issues overshadowed his on-screen work and whilst that clearly had an adverse affect on his in-ring achievements for the year, this triple header of performances in the autumn could well be the strongest in his career. I have never been a huge fan of HBK's character work. It's an area I think is vastly overrated by many but the key to his hat trick of MVP awards was the establishment of his degenerate heel character. It had a strength that was sorely lacking during his run as a face champion even if he was putting on strong matches. It is interesting that both he and Bret did not manage to establish really strong characters until they were on their way out of the door. If we had seen the Anti-American and the Degenerate during the New Generation, I wonder if the WWF would have even had to be playing catch-up in 1997.


THE ONE TO WATCH


When it comes to Badd Blood there is no shortage talking points. The passing of Brian Pillman is one. We were robbed of a great performer who had barely scratched the surface of his WWF potential. A program between the former Hollywood Blonds partners over the WWF Championship could have been very fun indeed. We also got our first look at the new and improved Rocky Maivia. You could see a huge change since he left the blue chipper behind. He found himself a faction where he fit in perfectly with guys that would help his growth until he was ready to break out as a huge star. Remind you of anyone else? Then of course there was the Cell. This was essentially the evolution of the cage match and it would become a huge part of the WWF landscape throughout Attitude and beyond. But there can only be one thing on the agenda today and that is the debut of Kane.

Glenn Jacobs, the man behind the mask, was no stranger to the WWF. His first spell with the company had him play the role of Jerry Lawler's Dentist, Isaac Yankem. You really can't make this shit up. It was New Gen at its cheesiest (today he'd clearly just be called Yankem). It was surprising that he was remembered at all for anything but how badly the gimmick sucked, but he pulled it off, only to be given an even worse gimmick down the line. When Scott Hall and Kevin Nash jumped ship to WCW, Vince thought it would be a good idea to have new wrestlers portray their Razor Ramon and Diesel gimmicks. Jacobs got to be Big Daddy Cool in what was one of the most ridiculous moves I have seen in the WWF, and I have seen a whole lot of stupid over the years. Thankfully Glenn kept his chin up and it was a case of third time lucky. Well, I say lucky but it might not be the case. Sure, the Kane gimmick was brilliant, particularly in the early days, but every gimmick needs to be delivered well by the performer to really succeed.

Kane wasn't the first monster to be thrown at The Undertaker. A good debut guarantees nothing. Hell, I thought the Giant Gonzalez debut was excellent too (hairy costume parts notwithstanding) and that turned into one of the most horrible things in wrestling history. Gonzalez was just one of many monster heels brought in to feud with Taker over the years and the only one with any kind of staying power was Mankind. Of course in Foley we are talking about an exceptional talent and an intriguing character. Maybe it takes both to make it when somebody with the Deadman's aura is the company gatekeeper. Kane certainly had the story. Paul Bearer had been referencing his existence almost immediately following WrestleMania. Whilst you'd have to think the WWF were planning on bringing the character to life at this point, I have no idea if they had a wrestler in mind (on a side note, at the time I was convinced Kane was played by Bryan Clark aka Adam Bomb). Anyway, the story of Kane had gradually built momentum throughout the year and just when you were so enthralled in his match with Michaels, boom… he arrived.

The visual of him being lead towards the cell by Paul Bearer was great. Of course we have seen the character on TV for more than 15 years now, but at the time it was so menacing. The red costume screamed danger. And that mask. It was something else. They had taken the most evil creation the company had made in the Undertaker and designed an uberevil version. The Cell was the perfect setting for the debut too. The structure had been promoted all night. The announce team had built it up. D-Generation X hadn't even bothered trying to get in. Shawn had tried to get out to no avail. The door had to be unlocked to remove the camera man and that was the only way the participants could go on their guided tour to the top. It was solid. The whole point of it was there was no way in or out. That was until Kane ripped the door off with the ease of tearing a page out of a book. He destroyed his brother and gave Michaels the victory that looked like he could never have achieved on his own. It meant Shawn could move on towards the title and allowed the Brothers of Destruction to start a lengthy, strange and thoroughly intriguing Road to WrestleMania.

Looking back it was just such an incredibly patient storyline build and it's very hard to imagine WWE pulling off such an epic moment today. Paul Bearer was referencing 'Taker's "dark secret" for literally months; in fact his entire title reign had been blighted by his former manager popping up to remind him of what was coming...Kane was alive. By rights, such a hokey storyline- younger brother was burnt to death but actually not, and by the way, he was also a wrestler and coming for revenge- should not have worked in 1997 at all, but because they played it so straight, you were drawn into the moment and it just worked. The way that all of the imagery and panopoly associated with The Undertaker- the organ music, the lights going down, the slow walk to the ring, the long red hair- was used for Kane but twisted to be recognisably different was absolute genius, and the red and black colour scheme, mask and outfit were just so perfect. Most importantly, the character would go on to have incredible longevity, both with and without the mask. At the time, you might have thought that the Big Red Machine would end up being one of those numerous "monster of the month" characters that Maz mentioned above, but actually, he's still going to this day! Maz has mooted before on these pages his concept of the "four corners of Attitude" being Foley, Austin, Rock and Triple H, but without a supporting cast, those four corners would have collapsed in on themselves; Kane and his storyline brother The Undertaker were at the forefront of that effort to support the main players. We'll get to their special attraction match at Wrestlemania XIV in a few weeks, but suffice to say it was just the first in a series of bouts those two were involved in that helped stack up cards until a younger, even more talented cavalry- E&C, The Hardyz, The Dudleys, Kurt, Y2J- would show up and make the back half of Attitude the most memorable time in wrestling history. But right now, at the stage we're at, we must acknowledge Kane's arrival as something of a game changer, a blockbuster storyline that helped to sell a make or break Wrestlemania amidst all manner of real life turbulence.


FINAL WORDS


Well what a significant event that turned out to be. A prominent wrestler death, one of the most heralded five star matches in the history of professional wrestling and the debut of a legitimate legend. Badd Blood did a 0.6, an improvement on both Ground Zero and the UK exclusive One Night Only. Heading out of October, we find that it's impossible to avoid the elephant in the room any longer; next week we delve into the Montreal Screwjob. I mentioned in the Background and Booking section that Bret's contract was about to be voided by Vince McMahon, but of course, the subsequent negotiations with WCW and the awkward fact that The Hitman was still the reigning WWF champion would ultimately cause a conflagration that raged on for the next thirteen years.

As WCW were preparing to have the Hitman join their ranks they were riding a rather high wave. Halloween Havoc, their October PPV, did a very impressive 1.1 buyrate. It showed that Hogan vs Piper could still very much draw in 1997, especially with a cage involved. But of course pro-wrestling was about to change forever with one premature ringing of the bell in Montreal.






-------





You can hear more from Mazza and Maverick on The Right Side of the Pond, part of LoP Radio. New episodes every are out every Friday at 9pm UK time/4pm EST.

On tomorrow's show Maz, Mav and Plan discuss Raw. 101 Matches to See Before You Die returns as Plan and Mav look at Jeff Hardy vs CM Punk in a Loser Leaves Town match. Maz is also joined by Oliver as they take a look back at NXT ArRIVAL.

Click here >>>HERE<<< to listen or download. You can also download LoP Radio shows >>>HERE<<< for iTunes or check out The Right Side of the Pond You Tube Channel >>>HERE<<<


You can read Maverick's daily series looking at the history of WrestleMania in the forums >>>HERE<<<.


You can like CPR Productions on Facebook




You can also follow us all on Twitter for "stimulating" conversation about all kinds of nonsense…


Follow The Right Side of the Pond on Twitter



Follow Maverick on Twitter



Follow Mazza on Twitter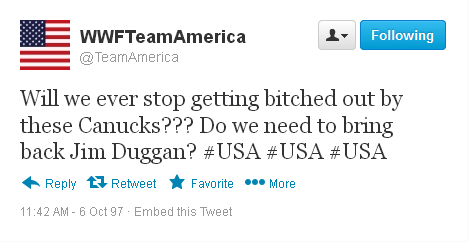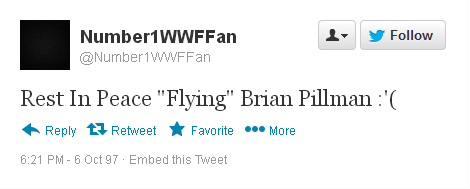 ATTITUDE! SummerSlam 1999 (CPR Productions)
My Eulogy by 'Plan - Columns Forum Feature
ATTITUDE! Fully Loaded 1999 (CPR Productions)
ATTITUDE! King of the Ring 1999 (CPR Productions)
ATTITUDE! Over The Edge 1999: An Owen Hart Tribute (CPR Productions)