---



June 2011 COTM - CPR Presents: The Ultimate Summerslam by Mazza


By Mazza
Jul 24, 2011 - 11:58:57 AM


'Sup Lords of Pain? It's me, your old friend Mazza back again to bring you some thoughts direct from my mind to yours. Since you last saw me I have once again been getting on with the column writing in the Columns Forum of www.lopforums.com and today I get to bring you the second installment in my new monthly series...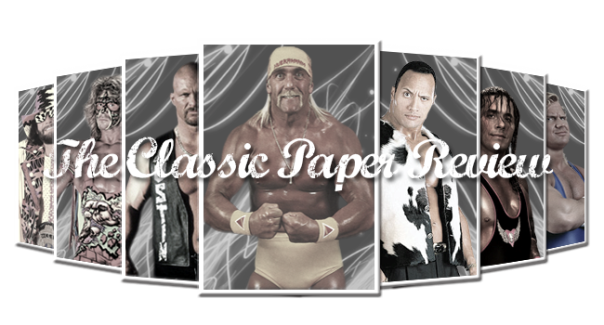 PRESENTS
THE ULTIMATE SUMMERSLAM




INTRO FROM DR CMV1

It's not easy putting together a fantasy card, especially for an event with the history akin to Summerslam's. Mazza was going to do that on his own, much like he did for all the WWE PPVs from the month of July (see column >>>here<<<). As it would turn out, he asked me to collaborate. You know the only thing harder than putting together a "Best Of" from Summerslam, using a wrestler only once, a particular title defense only once, and allowing only one match per card? Asking two people to do it…for there's bound to be plenty of disagreement. So, we went back and forth. He'd choose a match and then I'd choose a match. There was certainly some argument along the way. I will leave the revelation of the card up to him. I think you'll enjoy it. However, I must say that we did leave out a lot of great matches during the selection process. Rey Mysterio vs. Kurt Angle – one of my favorite matches of all-time and an underrated piece of magic from 2002 – did not make the cut because we chose another classic from the same year. Based on said selection, we eliminated one of Maz's top choices for the WWE Championship match. Nevertheless, I think you will find it hard to argue the choice we did make for the WWE title bout. If the current euphoria of the IWC is any indication, I'd be surprised if the World Heavyweight Championship match that we chose was not unanimously applauded, but it did prevent us from including one of the defining moments of the modern era in Randy Orton's becoming the youngest world champ in history. And, while we have featured some of the greatest superstars of all-time on our card, many a notable figure in WWE history is missing. The Rock did not make the cut; neither did Mick Foley nor John Cena. Without further ado, I'll pass you over to Mazza to introduce you to what stars and matches did make the cut, as he presents the Ultimate Summerslam!

THE ULTIMATE SUMMERSLAM

2005 – Rey Mysterio defeated Eddie Guerrero in 20:19 in a Ladder match for the custody of Dominick (Picked by Mazza)
This right here was the climax of what I believe to be not only the greatest feud of Rey's career, but also Eddie's. It all started out with Eddie and Rey, the tag team champions, wanting to go one-on-one with each other at WrestleMania 21 to steal the show. Mysterio won the match and a frustrated Guerrero would turn on his partner a couple of weeks later after they lost the tag team belts. It then became a case of Eddie not being able to beat Rey in numerous attempts. This eventually led to Eddie revealing a big family secret which turned out to be that he was in fact the biological father of Rey's son Dominick. With true WWE logic taking over, this ladder match was booked with the prize being a briefcase with Dominck's custody papers hanging high above the ring. The phenomenal psychology that was present throughout the feud is there before the bell rings. Dominick pulls away when Eddie goes to him before the match. Mysterio is not his usually bubbly fan **** self but instead methodically walks to ringside to kiss his boy. The match starts out in aggressive fashion and we see plenty of attempts at the briefcase and early mini-spots. Even the inevitable ladder match botches work in their favour as Rey has a sick looking fall from a collapsed ladder. With Eddie in control and going for the case Dominick gets involved only to be told "you're gonna learn the hard way what it is to be a Guerrero". Eddie then reaches back for a slap but Rey makes the save. We have some good action once more and some close calls before Guerrero finally looks to have the match sewn up. He climbs but Vickie comes down from the back and pushes him off the ladder. She then holds her husband down, allowing Mysterio to climb the ladder and retrieve the custody papers. Rey celebrates with his wife and Dominick whilst Eddie throws a tantrum in the ring. Mysterio comes back in and nails Eddie with the case as an exclamation mark on the match. I absolutely love this match and my only fault is that it wasn't always as smooth as we were accustomed to seeing in matches between the two. Aside from that though the match had everything. Dominick was a real pro in his actions for an eight year old and his interaction with Eddie was tremendous. The Guerrero and the Gutierrez families really put on a great show in one of wrestling's truly memorable feuds.
CPR Grade: A

2000 – Chris Benoit defeated Chris Jericho in 13:02 in a Two out of Three Falls match (Picked by Dr. CMV1)
The Canadian Chris' seemed to be constantly feuding with each other during their time in the WWE and whenever they locked it up in the ring, you could pretty much guarantee that it would be very good at worst. Interestingly, for guys with the technical prowess that Benoit and Jericho possess(ed), the first fall starts out as nothing but a brawl but they soon go to their bread and butter of submission attempts, counters and athleticism. Benoit manages to lock in the Crossface pretty early and Jericho taps out. After winning the first fall, the Rabid Wolverine goes straight back to his finisher but this time Y2J manages to get to the ropes. Benoit remains in control and continues to work on the shoulder but somehow Jericho manages to counter a German Suplex attempt into the Walls of Jericho and gets the submission to take the match to a third and final fall. The action once again goes back and forth with some great counter wrestling which ends with Benoit countering a cradle and getting the victory with the help of the ropes. This was definitely what you would expect in a match between these men but I have to say that the 2 out of 3 falls stipulation seemed a but odd. It wasn't a particularly long match and all they did with the first two falls was get quickish tap outs so both men could fight another day. The finish was also a little cheap for a big PPV and it came out of nowhere. I think it would have been better served having a few more minutes or two less falls but it was still Benoit versus Jericho which, as I said earlier, at its very worst is still extremely good.
CPR Grade: B

1991 – Bret Hart defeated Mr. Perfect (with Coach) in 18:04 to win the Intercontinental Championship (Picked by Mazza)
As a kid (and an adult) I would put Randy Savage and Ricky Steamboat's WrestleMania III classic on a pedestal. SummerSlam 1991 however would be my second "go-to" wrestling tape and it was all because of this match. Curt Hennig was the perfect heel (pun intended) and Bret Hart was the rising singles superstar. From the get-go the excellent in-ring action is complemented by some brilliant announce work. Roddy Piper and Bobby Heenan put today's announcers to shame by insulting each other whilst still putting over the men in the ring to perfection (yep, again). This was definitely a near perfect (am I overdoing it?) old-school wrestling match with a mixture of excellent psychology and counter-wrestling. The action shifts excitingly back and forth until Hennig lands the Perfect-Plex which Bret amazingly kicks out of at two (this was back when a kick out of a finisher was a big deal). Bret then goes into the original five moves of doom before going to work on the legs. The Coach interferes which allows Perfect to hit a low blow but as he goes for a leg drop to the stomach, Hart counters into a Sharpshooter and Hennig gives up almost immediately. This match never fails to drag me in. It stands the test of time extremely well indeed and should be essential watching for anybody in FCW if you ask me. Choosing this match over a whole host of excellent Bret matches at SummerSlam was a tough call but I definitely stand by the decision.
CPR Grade: A

2008 – The Undertaker defeated Edge in 26:43 in a Hell in a Cell match (Picked by Dr. CMV1)
Edge and Taker's 2008 feud was pretty epic. They battled over the World Heavyweight Championship and eventually his relationship with Vickie Guerrero would help The Rated R Superstar emerge victorious, forcing The Deadman to retire after winning a TLC match. When footage emerged however of Edge getting it on with their wedding planner (Alicia Fox), Vickie got revenge by reinstating Taker and booking a Hell in a Cell match for SummerSlam. Edge had lost his title to CM Punk cashing in his Money in the Bank briefcase but even without a title, the match would headline the PPV. Both men seemed to realise this and went all out in a hard hitting match that was full of weapons and spots. We got to see massive Spears from Edge through the cell and through the announce table as well as a Chokeslam by Taker from the top rope, through two tables. The battle finally sees The Deadman emerge victorious with a camera shot, con-chair-to and Tombstone. After the match, Taker puts an exclamation mark on the feud by Chokeslamming Edge from a ladder and through the ring. This was definitely a fun cell match with lots of high spots, a decent pace and a true rivalry behind it. It doesn't make my top three cell matches, nor does it top the TLC match they had a couple of months prior but it still very much deserves its spot on this card.
CPR Grade: A-

2001 – Kurt Angle defeated Steve Austin in 22:30 by disqualification in a WWF Championship match (Austin retains) (Picked by Dr. CMV1)
Whereas it is almost universally accepted that the InVasion storyline was a flop, the bitter feud between Kurt Angle and Steve Austin was definitely a silver lining. Kurt went undercover to try and take down the Alliance whereas Stone Cold turned his back the Vince to lead the former WCW and ECW stars, complete with WWF Championship. The fight is intense and begins in the aisle and in the ring we get a mixture of Austin's brawling and Angle's wrestling base (including seven belly-to-back suplexes). There doesn't seem to be a whole lot of structure to the match but that kind of adds to the feeling of pure hatred that is on show. Kurt gets busted wide open on the outside but continues to exhibit his 3 I's. Austin is always immensely entertaining as the psycho yet badass heel and that complements Angle's hero role very nicely indeed. We have kick-outs from Stunners, Angle Slams and even moonsaults. We have escapes from Ankle Locks and Million Dollar Dreams. Stone Cold dominates the late stages but Angle refuses to stay down for a three count. When Kurt finally gets on a role, Austin takes the challenger out with a low blow as well as knocking down three referees. Kurt manages to hit Austin with an Angle Slam but Alliance ref Nick Partick comes out and calls the DQ against Stone Cold. I generally don't mind DQ finishes as much as some but this one really should have seen Angle take the title. It was all built up for it to happen and although cheapness was the name of the game back then, it created an anti-climax to what had been an excellent match. A better finish would have easily nabbed this an A-grade. I guess we can put it down to just another botch in the InVasion angle.
CPR Grade: B+

2002 – Shawn Michaels defeated Triple H in 27:19 in an Unsanctioned Street Fight (Picked by Dr. CMV1)
The back story here is a simple one. Michaels had been retired for four years and when he returned to the company, his old running buddy Hunter took him out claiming that he was weak. This coaxed HBK back into the ring for what was to be a one off non-sanctioned match against his former best friend. As the match starts they waste no time in getting into each other. Shawn starts out a little gingerly which but he soon brings a weapon into play with a trash can. It is Hunter however who takes control once the match settles and he methodically works over Shawn's back. He busts Michaels open and uses a whole host of weapons but cannot keep Shawn down. HBK eventually gets back into the fight with a low blow and soon busts The Game open and hits him with everything and anything he can lay his hands on. Now it is Hunter who won't stay down and this leads to our big spot as Shawn knocks Trips onto a table on the outside with a fire extinguisher before hitting a big splash from the top rope, through Hunter and the table. He then brings The Game back in the ring and lands a big elbow from the top of the ladder. Shawn goes for the finish but Hunter counters Sweet Chin Music with a Pedigree attempt. Michaels however counters again with a roll-up to pick up the three count. After the match, Hunter takes Shawn out with the sledgehammer before limping to the back. This wasn't the greatest brawl the WWE has ever seen but the magic of seeing a man who we thought would never be able to wow us again put on such a hardcore performance gives it a different edge. There was a little ring rust from Shawn in the first few minutes but it soon became un-noticeable. A great and brutal job by both men.
CPR Grade: A

2009 – CM Punk defeated Jeff Hardy in 21:42 in a TLC match to win the World Heavyweight Championship (Picked by Mazza)
This feud started when Punk won the World Heavyweight Championship from Hardy whilst cashing in his Money in the Bank briefcase after Jeff had beaten Edge at Extreme Rules. Hardy would win back the title but at SummerSlam, the newly heel (although straight edge) Punk would challenge the face (but strangely proud of his past mistakes) Jeff. Both men quickly use the tools around them to go for a quick win before the match settles with Punk in charge. Jeff soon gets back into contention with a nice sequence on the outside which eventually sees him land a chairshot. We get our quota of spots as Jeff crashes and burns through a table and then takes a very stiff looking superplex onto a ladder. Punk also takes some hits including a sick looking Swanton Bomb from the BIG ladder when he is on the announce table. This results in Jeff being placed in a neck brace and a stretcher as Punk gingerly makes his way into the ring. Hardy, like his retarded brother, will not die and gets off the stretcher and back into the ring. Both men climb the ladder and battle to take down the title. Punk however gets the upper hand and regains the World Heavyweight Championship. Punk celebrates with the title as the lights go out and we hear a gong. The Undertaker appears in the ring and hits the new champion with a Chokeslam to note the start of a new feud. Although not the greatest TLC match ever, it was definitely fun with the action constantly going back and forth. The final sequence on the ladder was a little tame and disappointing considering the massive Swanton spot that came just before it but all in all it was a very good title match.
CPR Grade: B+

1988 – The Mega Powers (with Miss Elizabeth) defeated The Mega Bucks (with Bobby Heenan and Virgil) in 13:57
If you don't know the story of this you definitely need to brush a little on your WWE history but I will give you the brief outline. Andre won the WWF title from Hogan after DiBiase paid off a ref. Andre sold the belt to DiBiase and the title was held up due to the controversy. At WrestleMania IV a tournament was held to crown a new champ. Andre and Hogan were eliminated in a double DQ and the final was Savage versus DiBiase. Andre helped DiBiase, Hogan helped Savage and Randy won the title. The Mega Powers (Savage/Hogan) would continue to their feud with The Mega Bucks (DiBiase/Andre) and it would result in this marquee tag match to headline the very first SummerSlam. Man, wrestling was so simple back in the days. Nothing about this match is extraordinary besides all four men's ability to tell a story (seven men and a woman if you count Elizabeth, Heenan, Virgil and guest ref Jesse Ventura) and work a crowd and that was all it needed to be legendary. Hogan plays the face in peril for the first half of the match and after Savage gets tagged in, it is soon his chance to be on the receiving end of The Mega Bucks' domination. The Hulkster eventually gets the big hot tag but Andre and DiBiase once again take control until Elizabeth shocks the world by slutting it up and taking off her skirt. Heenan, Virgil, DiBiase, Andre and particular Ventura all have absolutely golden expressions on their faces. The distraction allows The Mega Powers to take charge and Savage hits his elbow drop and Hogan his leg drop to DiBiase. Jesse is hesitant in counting but Macho Man forces his hand down to the mat for the third time and Real American rings out through MSG. This was not a technical classic. It was not a brutal fight. There were no cages. No cells. No tables. No ladders. No chairs. There was just good old fashioned and predictable wrestling and you know what, sometimes it is just a joy to sit back and watch it putting all your smarkiness aside.
CPR Grade: A-

THE VERDICT

Well there you have it, there is my Ultimate SummerSlam card. As the good Doctor said, it was not easy at all to put together. In fact, I am pretty sure that if I did the exercise of putting the card together ten times, I wouldn't get two cards the same. As such, I don't think I could ever be 100% happy with the final outcome but this is probably as close to 100% happy as I could get. The key to the whole card is Bret Hart who has a host of excellent matches at SummerSlam. None of the matches here got the illusive A+ grade which I bestowed upon last year's main event. I decided against adding Team WWE versus Team Nexus as Hart's participation was minimal and it would also rule out Edge and Jericho from other matches. In the end it came down to Bret's two Intercontinental Championship matches. I was at Wembley in 1992 for his epic match The British Bulldog and as much as it holds a special place in my heart, I had to go with match against Perfect from a year earlier.

Both the world title matches here fell into the B+ category. It was very noticeable doing the research that SummerSlam isn't filled with legendary title matches. In fact the two that jump out at me are from my least favourite era in wrestling (New Generation) but both Bret versus Owen and HBK versus Vader were ruled out due to mine and the Doc's insistence on using different Hart and Michaels matches. Brock Lesnar's matches against The Rock and Kurt Angle were both options as was Warrior versus Savage but I think the right choice was made for both the WWE and WHC title matches. As for the rest of the good Doctor's picks, HBK versus HHH is pretty much a no-brainer (although Hunter has a very impressive CV at SummerSlam). I wasn't so keen on putting in the Hell in a Cell match but it was better than I remembered it and it made good use of both men. Benoit versus Jericho was not as good as some matches the two have put on before but it was still worth putting both men on the card.

I know Dr CMV1 was not too happy about my inclusion of the Eddie-Rey match. The fact is that it took out a lot of good matches the men have had before and although I hadn't put a limit on it, even two ladder matches on the one card seemed like overkill. As such, this ruled out some very good ladder matches at the event including Tag Team TLC1 and Rock versus Hunter. As for the main event, I think The Mega Powers versus The Mega Bucks was a good choice to round out the card and it added some big names that would have otherwise been missing. Talking of missing names, Dr CMV1 opened by mentioning there was no Cena, The Rock or Foley. Mick would have in fact been my next pick if I had one for his I Quit match against Ric Flair and he was also considered for his Boiler Room Brawl against Taker and a brilliant cage match against Hunter. At the end of the day there were plenty of matches that could have made the cut which didn't but now you are reading this on the pages of Lords of Pain, I guess it is official!


So there you have it. Have I made any glaring errors? Have I totally overlooked an obvious gem? Do I deserve to be shot for leaving The Rock off the card? I would love to hear any feedback you have either in the Facebook comments below or you can email me >here<. Also, some of the matches featured here are still going strong in Dr. CMV1's SummerSlam Champions League tournament which you can check out >here< (there is also an excellent recap of Eddie and JBL's feud over the WWE Championship). Make sure you cast your votes. I will be back in the forums with The Ultimate September PPV sometime in... well... September. Keep an eye out for that or follow me on Twitter @MazzaLOP for updates (and some fun wrestling banter). Until then, I have been Mazza, thank you for reading and I hope you enjoyed.




----------------------

Guerrero vs Mysterio PART 1 PART 2 PART 3
Benoit vs Jericho PART 1 PART 2
Hart vs Hennig PART 1 PART 2
Taker vs Edge (beginning missing) PART 1 PART 2 PART 3
Angle vs Austin PART 1 PART 2 PART 3
Michaels vs HHH PART 1 PART 2 PART 3
Punk vs Hardy PART 1 PART 2
Mega Powers vs Mega Bucks PART 1 PART 2 PART 3

----------------------



May 2015 CotM: The Freedom That Isn't (rayhagan1)
April 2015 CotM: The 16 Horsemen- Tully Blanchard Meets Hard Times (Mr. Chop)
March 2015 CotM: The Bright Side: EC3, America, & Hope (mizfan)
February 2015 CotM: Sub'isms- In the Pines (Subho)
January 2015 CotM: The LoP SuperFriends- Lucha Underground Edition
December 2014 CotM: The Devil's Advocate: The A to Z of 2014 - Y Is For...
Trolls Don't Cry- CF Columnist of the Year Co-Winner Kleckamania