---



Welcome to the Underground 3.15: The Crane, The Serpent and the Flying Angel (Battle of the Bulls Continues)


By Rob Simmons
Dec 14, 2016 - 10:26:37 PM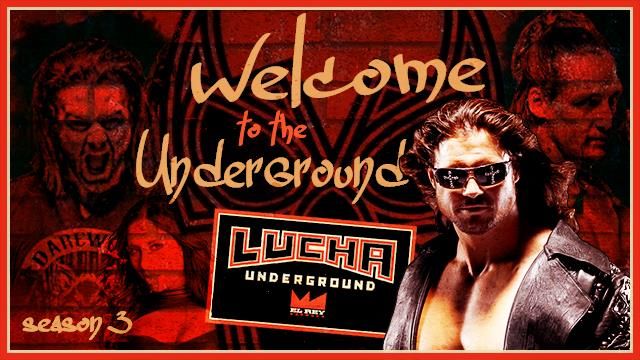 Banner by Trey Cox Graphics



"En La Sombras"

Shadows; they follow us everywhere, day or night. They know our secrets. They know our fears. They know our hopes and dreams. But it's those deep, dark mysteries that hide in the shadows that can consume us with their blackness. The Lucha Temple has more shadows than you can count, and there are those that NO ONE should venture into, no matter how strong of heart they are.

Lucha #1: Killshot vs. Dante Fox vs. Mariposa vs. Jeremiah Crane (Battle of the Bulls)

The tension is palpable as Dante Fox and Killshot stare each other down prior to the match. These two soldiers have battled in the worst of wars, but it's the one their waging with each other that may be the deadliest of them all. But there are two others in this particular fight, and Jeremiah Crane lets Fox know that with a kick to the face. Mariposa tastes the shoe leather of Killshot as the fight commences. Mariposa proves early on that she can stand with any man as she shoulder blocks Fox, Crane and Killshot down to the mat. The fight goes to the outside in no time, with Dante flying through the ropes with a Tope Suicida. Killshot strikes harder though with a Backflip over the top rope onto all three of his opponents below.

Crane throws a chair at Killshot's head, and proceeds to bring out the steel. He strikes Dante Fox clearly across the skull with the chair (Yikes!) and throws several more in the ring. He sets them up, attempting a Superplex on Killshot. Dante Fox joins in to assist, but it's Mariposa who delivers the blow with a Tower of Doom to all three men. Chairs fly everywhere as Mariposa starts heaving them at her opponents one after the other, not caring where they struck, just as long as they did. The men recover and a Mafia Kick Party starts until Dante Fox hits a Top Rope Codebreaker on Crane. Shot and Fox find themselves alone in the ring, each wanting to destroy the other man. Jeremiah breaks up the brawl with a Death Valley Driver and a Power Bomb but cannot get the victory. He works a submission on both Killshot and Mariposa. Shot goes for a suplex on Mariposa but she reverses it into a Stunner, followed by a Butterfly Effect on a chair for a 2-count. Dante hits a Seated C-4 on Crane but misses a 450 Splash, eating Crane's feet. The Cranial Contusion follows on Fox and Jeremiah Crane scores the victory.

WINNER: JEREMIAH CRANE

After the match, Killshot takes advantage of the fallen fox and delivers a kick to his head followed by a Double Stomp before leaving the ring.

ULTIMA PALABRA: This was a fantastic opener with some serious tension bubbling underneath from Killshot and Dante Fox. These two have an interesting dynamic, with Killshot very clearly wanting to mend the wounds between the two, but slowly realizing that this may be out of the question. Fox just wants to bring the pain, and it doesn't matter who he delivers it to. Most impressive was Mariposa in this match, proving that the women of the Temple are no joke. I found myself cheering (wink) for the crazy sister of The Moth. Of course it was the wild card, the man from the Last House on the Left, Jeremiah Crane that kept everyone off balance, and eventually scored the pinfall moving to the finals. While I'm not sure if he's got a chance against Cage or The Mack, his unpredictability may certainly be to his benefit.



***************



In the locker room, Taya is filming Jack Evans and PJ Black, or at least attempting to as both men would rather play air guitar than work with her. The LU Champion arrives, and Mundo tells them that play time is over. One of them better win the Battle of the Bulls match later or they may have to turn in their bandanas so he can find a new crew.



***************




The polarizing Sexy Star is working out, preparing for her rematch next week with Johnny Mundo in a steel cage. Her kickboxing skills are impressive as is her heart. As she opens her locker, she screams aloud, as a giant tarantula sits inside. Where did this come from and who put it there? Time will tell who is playing mind games with Sexy Star, but with a title match next week that's the last thing she needs right now.



***************



Lucha #2: Kobra Moon vs. Drago

The history between Kobra Moon and Drago dates back millennia, but their future is yet to be decided. Kobra Moon asked for this fight tonight, but she seems hesitant to do much at the beginning, slithering about the ring as Drago uses his technical skills to take her down. It's all Drago on offense early on, hitting a Dropkick to Kobra, followed by a clothesline in the corner and a Super Kick. With each blow, Kobra looks up at Drago, perhaps attempting to lure him back to her side. Drago fights on, with a Backbreaker Slam. Again she stares him down, but a kick to her head stops the glare.

As the battle seems on the verge of ending, one of Kobra's Serpent warriors hit the ring. He delivers a Pop-Up Power Bomb to Drago, sending him hard to the mat. Drago's partners, Fenix and Aerostar hit the ring to assist him. A DDTJ by Aerostar sends the Serpent to the mat. Kobra Moon calls to the back, bringing forth another of her Tribe, a giant 7-foot beast of a man; or perhaps there's little man there at all. He clears Fenix and Aerostar out with two giant boots, followed by a Double Choke Slam. The crowd chants Luchasaurus, but Kobra Moon calls him VIBORA. Vibora picks up Drago and delivers a Tombstone Piledriver. Kobra and her tribe drag Drago out of the ring and take him away with them as his partners are left lying in the ring.

WINNER: NO CONTEST

ULTIMA PALABRA: Kobra had no intention of fighting Drago this evening, using the match as a ruse to get back at her tribe's former General; the man she said betrayed her tribe over 1000 years ago. The two Serpents she brought with her took out the Trios Champions as if they were small children, especially the giant Vibora, who towered over the Champs. With Drago now in their clutches, he may not have any other choice then to do the Serpent Tribe's bidding, whether he likes it or not.



***************



Mariposa makes her way down the hallway, passing an irate Sexy Star. The two stare down, then a brawl ensues. Sexy tells Mariposa that after what she did to her before that she better think twice about starting something again, leaving the spider in her locker. Mariposa tells her it wasn't her; that if she were to leave something it would be beautiful, like a butterfly. Sexy, angered by Mariposa's arrogance as well as by her ignorance, punches the wall in anger as the hunt continues.



***************



Lucha #3: Jack Evans vs. PJ Black vs. Son of Havoc vs. Angelico (Battle of the Bulls)

Our final Fatal 4-Way begins, with two sets of partners going at it in a Single Elimination match. As expected the WWU work together, but Angelico and Havoc are having none of it, sending Evans and Black outside the ring early. They both take turns leaping over the top rope; Angelico with a front flip and Havoc with a Tope Suicida. They sent the WWU back inside and Jack accidentally rolls onto PJ for a cover before he kicks out. They isolate Angelico after sending Havoc outside the ring, taking their shots at him with kicks to the head and chest, but Angelico's wiry frame allows him to fight back. He hits a Pele kick to Evans, who was sitting atop the ropes. He places Evans on his shoulders, but Havoc climbs the ropes and hits a Double Turtle Stomp to the back of Evans, then to the back of PJ Black.

It appears that the WWU are content to work together, while Angelico and Havoc appear to be going at it alone; working together only when necessary. Angelico attempts the Fall of the Angels on Evans, but he reverses it into a pinning attempt. Havoc hits a Sprinboard Cutter but cannot score a pinfall. Evans and Black attempt a Doomsday Device but Havoc flips off. With Havoc and PJ outside, Angelico hits a Top Rope Superplex TO THE FLOOR on Jack Evans, who lands on an open chair. Angelico gets back in the ring with a leaping Knee Strike to PJ then goes to the top rope. Evans pushes Angelico off into the barricade, leaving the WWU alone in the ring. PJ Black lays on the mat, telling his partner to pin him. As Evans goes for the pin, PJ rolls him up for a surprise victory.

WINNER: PJ BLACK

ULTIMA PALABRA: The Fatal 4-Way is now set, as it will be Cage vs. The Mack vs. Jeremiah Crane vs. PJ Black for a shot against the Lucha Underground Championship. The last of the matches was good, but compared to the opening contest it fell a bit short. Angelico, rusty from his time off, seemed a bit slower than we've seen him in the past. The odds were stacked against him as well, with the WWU working together, and Havoc at his heels as well. Ultimately it was the conniving PJ Black who got the upper-hand on his own partner, taking a sneaky pinfall victory, securing at least one spot for the WWU in the final Battle of the Bulls 4-Way Elimination Finals.

As we leave the Temple, El Dragon Azteca is with a recovering Rey Mysterio, still broken from his encounter with the Monster Matanza. Azteca tells Rey that he knows what he has to do now; he knows his path. Rey tells him that it's a battle he cannot win; that Matanza is too big, too strong. Azteca tells Rey that he doesn't care; that it's his time now and he's going to kill Matanza. Rey sits on the bed, unable to stop his protégé; unable to do anything except heal to fight another day.

Until next time,
Roberto Out!




http://www.fabbly.com
Chair Shots Presents: 1218 LBS
Chair Shots Presents: Great Balls of Fire- Several Intriguing Matches and One That's Not
Chair Shots Presents: Is Impact Wrestling About to Start a Turf War?
Chair Shots Presents: An NXT Live in Bel Air Experience
Chair Shots Presents: The MITB 4WD Review
Chair Shots Presents: The Lucha Underground Cueto Cup (32-Luchador Tournament)