---



Welcome to the Underground: EXCLUSIVE Interview with Lucha Underground Exec Producer Eric Van Wagenen


By Rob Simmons
Apr 11, 2017 - 8:27:27 AM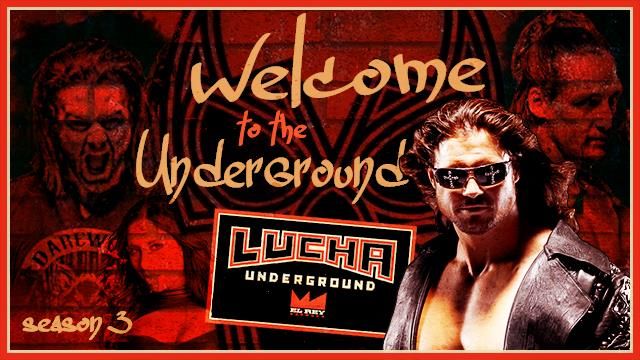 Banner by Trey Cox Graphics



What do the Amazing Race, Celebrity Apprentice, Tough Enough and Lucha Underground all have in common? On the surface you'd think nothing, but in reality they've all had the same man working behind the scenes as Producer, Eric Van Wagenen. Eric has worked with some of the baddest men in sports and television, including "Stone Cold" Steve Austin, "Sugar" Ray Leonard and "Rowdy" Roddy Piper. Now, Eric is the Executive Producer of one of the most innovative shows ever to be associated with the world of Professional Wrestling, Lucha Underground. In doing so, Eric adds one Dario Cueto to the long list of interesting personalities on his long resume.

Welcome to the Underground and LordsofPain Radio had the opportunity to interview Eric recently about the world of Lucha Underground; its current season and upcoming future. Check out "The Global Revolution" on LOP Radio (blogtalkradio.com/lordsofpain) for almost a full-hour interview with our very own Mizfan, with content not found here.

So let's get to it, shall we?

Eric, The Netflix deal seems like great exposure for Lucha Underground. What can you tell us about the deal and will future seasons potentially be shown as they air or will full seasons air after they've been shown on El Rey?

The deal was obviously a long time coming but we are all extremely happy that it was finally made. The different Netflix territories all had different levels of interest, and so the only deals that currently exist are for North America and Latin America. I imagine if the show does well in those two markets there will be interest throughout the world, so for those fans that are outside of NA and LA there is still reason to be optimistic. The original deal is for seasons 1 and 2 but we are all feeling very positive about a deal for future seasons. Most likely entire seasons will be uploaded at once - after the season finishes its initial El Rey airing.

One of the big topics of discussion has been the long break we're in the middle of in Season 3. What exactly happened there and do you think it hurt the LU momentum at all? What's the status of a fourth season?

It's never a good thing to go off the air when you are trying to build momentum from week to week, but this was a call from the network. El Rey has been a tremendous partner for us and if it is in the best interests of the network to hold off on finishing season 3 then I won't complain. I'm not sure what their exact reasons are for the hiatus, but I suspect that perhaps they are going to use our season finale (Ultima Lucha 3) to help launch new programming from El Rey. It's a fairly common network practice to use a popular show to help introduce an audience to a new show, but I understand the fans' initial concern. We are happy to help support the network however we can and encourage all of the LU fans to do the same. In a weird way it may help us as it will allow new Netflix fans the chance to catch up before May 31st.

There have also been some issues surrounding a few LU stars, namely Pentagon Dark and Sexy Star. Pentagon has changed his name, and Sexy has unmasked and is now wrestling under her own name. What is their status in terms of Lucha Underground and the future of their characters as they are today? Obviously with Sexy unmasking, that plays a huge part in the Lucha Libre traditions. And to follow-up, where does the relationship with AAA stand today?

As far as everything they have told me, they both are ready and willing to return to LU for season 4. Whatever issues they have with AAA I'm hoping will be resolved soon, but I still plan on using them moving forward. There are many AAA contracted luchadores that have an additional contract with Lucha Underground, but there are just as many LU contracted performers that don't have a relationship with AAA. We are fine working with both.

Based on some Twitter comments from Ricochet, it sounds like he's not particularly happy with the long break and his status with LU. What is the status of the Prince Puma character in regards to Lucha Underground and Ricochet's standing with the company? Would it ever be necessary, would you ever consider re-casting Puma?

I fully sympathize with Trevor's situation. Because of our airing hiatus, his non-compete clause has lasted a lot longer than any of us would have imagined. I know he has to make important decisions for his future and the timing of this has left him in limbo for now. He was very clear with us about his intentions to test the free-agent market after Season 3, and I would imagine he is due for a big contract - no matter where he signs. The TV series is prepared to move on with or without him, but we are not likely to re-cast Prince Puma. Should we need to, we are much more likely to stick with Lucha Libre tradition and pass on the mask - not the character - to another performer.

One of the key plot points of this season has been this "higher force" that's pulling Dario Cueto's strings. We've seen him in the limousine, but only in the shadows. Will we be seeing an unveiling of the character this season?

When it comes to teasing characters, Chris DeJoseph loves the long play. Matanza was teased for an entire season before he was introduced. There are still some things that need to fall into place before that character is revealed so I'm not 100% sure when it will happen… but it will happen eventually.

A lot of LU stars seem to be having quite a bit of fun with their new personas in the Temple. Sami Callihan (Jeremiah Crane), Shane Strickland (Killshot) and Willie Mack have really seemed to stand out this season. Who else can we look forward to seeing break out in the second half of the season?

Those guys are all big in the second half of season 3, but also the Reptile tribe and Rabbit tribes make a big impact, but if I had to name the breakout star for the second half of season 3 it would be Dante Fox.

There have been talks of a possible full-length movie, or at least that's been a rumour. Is this really a possibility, and would you foresee it being the culmination of the war that's building in the Temple?

The goal of LU has always been to create a supernatural universe that would lend itself to movies, toys, comic books, etc. I think it would be more fun to establish an origin story feature, delving into the violent history of the Aztec tribes and the Cueto family and how they arrived at Boyle Heights. We don't dare think about a culmination story since we are all hoping we will be doing this show for a while.

Wild personal question time. Do you need any new writers? I know this guy who writes a great column on LordsofPain.net called "Welcome to the Underground."

You never know… how's your Spanish?

Yeah, unfortunately I can order off a menu. That's about it.

I'd like to thanks Eric for taking the time to sit down with me, as well as Mizfan for both print and podcast interviews. Speaking to him it sounds like we've got some incredible stuff on the horizon, and while the Lucha Kliq is anxiously awaiting the second half of the season, it sounds like it's going to be worth the wait. From our conversations, Eric and the Lucha Underground team are in this for the long haul, and are looking forward to bringing us all sorts of Temple craziness for years to come. Rise up Lucha Kliq! Spread the Lucha Underground word to everyone, because OUR continued support and interest will keep the Temple fires burning for a long time.

Until next Lucha,
Roberto Out!




CD mastering service
Chair Shots Presents: 1218 LBS
Chair Shots Presents: Great Balls of Fire- Several Intriguing Matches and One That's Not
Chair Shots Presents: Is Impact Wrestling About to Start a Turf War?
Chair Shots Presents: An NXT Live in Bel Air Experience
Chair Shots Presents: The MITB 4WD Review
Chair Shots Presents: The Lucha Underground Cueto Cup (32-Luchador Tournament)