---



Welcome to the Underground 3.17: The Ultimate Opportunity Is Handed Out!


By Rob Simmons
Dec 28, 2016 - 11:06:18 PM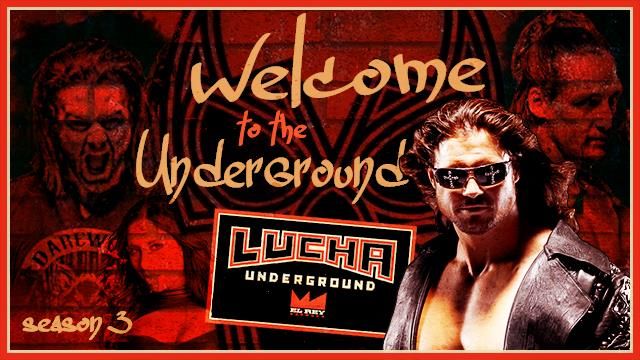 Banner by Trey Cox Graphics



"The Gauntlet"

2016 has been a year of great change in politics, in life, and especially in death. Loss seemed to be around every corner. Yet in the Lucha Temple, Death is sometimes just the beginning, and tonight is surely a night of new beginnings, and possibly endings.

Prince Puma kneels in the Darkness; a Darkness that we know all too well. The Master approaches Puma, asking him if he's ready to start his journey into Darkness. The journey, which will send Puma to places not for the faint of heart, begins tonight. Puma, or what's left of the man we once knew, is ready to pounce.

Lucha #1: Jeremiah Crane vs. Mil Muertes (w/Catrina)

As Mil enters the ring, Jeremiah's focus is more on the Dark Lady of the Temple than on the Man of 1000 Deaths. He glares at her with both longing and disgust. As the bell rings, Crane strikes first with a big thrust kick to Mil's face, but Muertes levels Crane with a shoulder block which sends Jeremiah back to the Last House on the Left. With Crane in the corner, Mil REIGNS down on him with ten clotheslines in the corner. A vicious Snap Powerslam practically drives Jeremiah clear through the mat. Mil drags him to Catrina, who taunts Crane with a lick of disdain. With the referee distracted by Catrina, out of nowhere Prince Puma hits the ring. He blasts Mil with a Kendo stick before quickly exiting the ring. Crane hits a Mafia Kick on Muertes and quickly covers him for the three count.

WINNER: JEREMIAH CRANE

After the match, Puma reenters the ring, driving the kendo stick across the fallen Muertes. At the announce table, the normally vocal Vampiro has grown eerily quiet, watching intently at the destruction being caused by Puma. Mil rolls to the outside, hastily making an escape. Puma hits the ropes, backflipping onto the seal, but instead of kneeling on the Aztec symbol, Puma walks towards the announce table and kneels in front of Vampiro.

ULTIMA PALABRA: The business between Jeremiah Crane and Mil Muertes is far from over, but tonight it was secondary to the return of Prince Puma, a man seemingly resurrected from the dead. But this isn't the same Prince Puma that the Believers remember. This is a darker, more violent version of Prince Puma; a man willing to do whatever it takes to defeat Mil Muertes, even if it means turning to a man that knows only death, destruction and despair. Prince Puma has lost his way, and the Master is not one to pass up corrupting a lost soul for his own gain.



********************



Backstage, Sexy Star runs into the rarely seen Ricky Mandel, looking like a World Wide Underground roadie. Apparently Mandel has quite the man-love for the Mayor of Slamtown, and perhaps is looking to hold a position in his administration. Mandel hands Sexy a package that he found for her in catering. Sexy opens the mysterious package, finding yet another spider waiting for her. Who is stalking Sexy Star?



********************



Texano is working out, preparing for his encounter with Cage later tonight. Famous B enters, telling him that he's not connecting with the fans, and that he needs someone that can help with that. Texano tells him that he doesn't need Famous B's assistance, but B tells him to think about, and that he'll be watching later tonight.



********************



Lucha #2: PJ Black and Jack Evans vs. Angelico and Son of Havoc

Before the match starts, Vampiro tells Matt Striker that he won't talk about what just happened between him and Puma. We head to the ring, where the WWU take on former partners Angelico and Havoc. There's a lot of Trios Title history in this match, but it's Angelico looking for revenge in this one, as he was taken out by the WWU, putting him on the shelf for some time. Unfortunately, this match never seems to get into a good flow, as the World Wide Underground continued to use their deceptive tactics to keep Havoc and Angelico off balance

Trying to get back into the match, Angelico hit a Knee Strike and a Pele Kick. Son of Havoc followed up with a Flying Cross Body to both Black and Evans, followed by a Top Rope Knee Strike from Angelico. It was at that point that disaster struck as Angelico once again injured himself, dislocating his elbow, taking him out of the competition. PJ hit a 450 Splash on Angelico before he rolled out of the ring. With Havoc essentially now fighting alone, PJ Black hit a Spin Kick followed by a Corkscrew 450 on Havoc for the victory.

WINNERS: EVANS AND BLACK

ULTIMA PALABRA: I've got to think that this match was cut short by yet another Angelico injury. It appeared that when Angelico came of the top rope with the Springboard Knee Strike, he awkwardly used his arms, which appears to be where he dislocated his elbow. Unable to further compete, that left Son of Havoc at the mercy of the WWU, and a quick improve finish ended the match within a minute or so of Angelico's injury. I really like Angelico, and I think his offense is truly unique, but the injury bug is really starting to catch up to him. His presence in Season 3 has been minimal at best, so hopefully this latest injury doesn't keep him out for a long period of time.



********************



Dario sits in his office, staring at the box containing the "Unique Opportunity" which will be won by either Cage or Texano. Sexy Star storms in, demanding Mariposa. Apparently Sexy is still convinced it is Marty's sister that is sending her the spiders. Dario says she's all hers, as Sexy leaves Dario to covet the prize in front of him.



********************



Lucha #3: Cage vs. Texano (Best of 5- Cage leads 2-1)

Texano knows his back is against the wall and comes out with a quick start on Cage. He hits a Death Valley Neckbreaker on Cage, followed by a Basement Clothesline. Cage has yet to get out of the box, but changes that with a series of kicks and an Exploder Suplex on Cage. As the action heats up, the impact of the fight knocks a turnbuckle pad off, exposing the steel beneath. The works to Texano's advantage, as he drops Cage face first on the steel, busting him wide open. Texano hits a Super Kick and a Sit-Out Power Bomb to finish Cage off with a 1-2-3.

WINNER: TEXANO, SERIES TIED 2-2

Dario comes out, excited at the violence being displayed for his Ultimate Opportunity, which he says is really freaking awesome. He says we're not going to wait, and Match 5 will start RIGHT NOW!! Texano is pumped to continue his assault, but Cage slumps in the ring, blood pouring out of his forehead. Oh yeah, Dario says this match is ANYTHING GOES!

Lucha #4: Cage vs. Texano (Anything Goes- Best of Five Finale)

Cage is hurting, barely able to stand as Texano delivers fists to the damaged forehead. He tastes the blood of his prey, biting Cage's head, wiping the blood on his chest like ceremonial warpaint. He chokes Cage in the corner, but Cage strikes back with a DDT, giving him a chance to breathe. The Machine tries to fight back, but Texano is back on him, biting at his forehead before delivering a Top Rope Rana. Cage hits a Basement Dropkick to Texano, again giving him a chance to recuperate. Texano rushes at Cage, but he sails over the top rope. The Machine takes flight, soaring over the top rope with a Somersault Plancha.

The action spills into the crowd, with Cage driving Texano into the bleachers with a Suplex. The brawl continues, with Cage taking a Spinebuster to the wood as well. Back to the floor, Cage is sent into the ring post, then his head slammed on the announce table. They both brawl back through the crowd, but Texano sends Cage to the floor. He flies off the railing with a Flying Body Press to Cage below. Texano throws Cage through rows of wooden chairs before grabbing a steel chair from ringside. With Cage on his knees, he drives the chair hard into Cage's head.

PUBLIC SERVICE ANNOUNCEMENT :: I love Lucha Underground as much as anyone, but I'd be remiss if I didn't address the recent and growing number of unprotected chair shots to the head. We saw one a couple of weeks ago, and in this match there were two; one of which we haven't gotten to yet. I understand that the violence is part of the allure of the Temple, and something that its Believers thrive on, but with all the recent discussions on CTE and concussions, and the damage they cause to the brain, there's no place in wrestling for unprotected chair shots to the head. END PUBLIC SERVICE ANNOUNCEMENT

Back to the match, Texano takes his bull rope to the back of Cage. He sends him in the ring and attempts a pinfall, to no avail. Cage fights back, grabbing the steel chair and driving it so hard onto Texano's head that the chair actually broke (SEE ABOVE). Cage hits a knee strike, but Texano counters into a Crossface. Cage rolls out of it, into a pinning attempt. Cage is fired up now, hitting the Discus Clothesline on Cage. He takes Texano's bull rope and drives it into his back before picking up Texano and finishing him off with a Lucha Driver for the victory.

WINNER: CAGE

After the match, Dario comes back out and tells Cage that he'll give him his Ultimate Opportunity in his office, as the Believers are too small minded to understand. As they enter the office, Dario gives Cage the mysterious box, which inside contains a Gauntlet. Cage is unimpressed, telling Dario he doesn't want it, that he's not a Renaissance Fair kind of guy. Dario asks him to try it on, and when Cage does, the Gauntlet cracked with BLUE ENERGY, energy that seems to now course through the veins of The Machine. He grabs Dario by the throat, lifting him off the ground. He tells Dario he'll keep it after all. As he leaves, Dario sits back in his chair, thrilled at the moment that he just witnessed; thrilled at what the future now holds.

ULTIMA PALABRA: The fourth match was a bit short, with Texano knowing he needed to strike hard and fast. The final match though was quite the epic event, showing why Cage is truly one of the most exciting Luchadors in the Underground. Texano, who I've never been quite fond of, showed me something as well, taking his game to a whole new level previously unseen in the Lucha Temple. Despite his best efforts, Texano came up short however, so perhaps he does need Famous B to set him back on the right path.

But what of Cage? The Machine, one of the most unstoppable forces in the Temple, now wields the power and essence of an Aztec GOD in the Gauntlet that now adorns his right hand. As a man that prided himself in his independence, Cage is now a puppet of Dario Cueto and the "Higher Power", whether he knows it or not. Will we see a change in the Machine in the near future? Will the man that once was unstoppable, now be undeniably ALL POWERFUL. And a better question for Dario Cueto will be whether or not he can control Cage now that he's got God-Like abilities.

As we finish 2016, I would be remiss if I didn't hand out an End of Year Award for the MVP of Lucha Underground 2016. I've listed my Top 3, and I'd certainly be interested in seeing yours, so be sure to pop in with a comment below.



LUCHA UNDERGROUND 2016 MVP



3. SEXY STAR- without a doubt Sexy Star is one of the most polarizing characters in Lucha Libre. Her in-ring work is the subject of great debate among LU fans, but what is undeniable is her character, heart and ability to connect with the Lucha Underground Believers. As the first ever Female LU Champion, Sexy Star had a remarkable year. 2017 will be a turning point for her, as the "Sexy Star" character is essentially no more, but will continue through Season 3.

2. KILLSHOT- one of the breakout starts of 2016 and Season 3 has to be the former military soldier Killshot. His matches are without question some of the most entertaining of the season, including a Weapons of Mass Destruction match with Marty the Moth Martinez. Now, with the ongoing story featuring his presumed dead friend Dante Fox, 2017 is bound to explode into all out destruction. I'm hopeful for some gold around Killshot's face at some point in 2017.

1.JOHNNY MUNDO- 2016 was a year of amazing accomplishment for the leader of the World Wide Underground. He captured the Trios Titles with his partners in the World Wide Underground. He captured the Gift of the Gods Championship, which he then cashed in to become the reigning and current Lucha Underground Champion. He's only the second ever Triple Crown Champion in Lucha Underground history, taking his place alongside Fenix. To top it all off, Mundo became the "Mayor of Slamtown" and what better place to be in charge of.

What do you think dear readers, about this week's episode and of 2016 in the Temple? Hit me up with your questions, thoughts, and comments below. You can also hit me up on Twitter at the handle below.

Until next time,
Roberto Out!




Fabbly.com
Chair Shots Presents: 1218 LBS
Chair Shots Presents: Great Balls of Fire- Several Intriguing Matches and One That's Not
Chair Shots Presents: Is Impact Wrestling About to Start a Turf War?
Chair Shots Presents: An NXT Live in Bel Air Experience
Chair Shots Presents: The MITB 4WD Review
Chair Shots Presents: The Lucha Underground Cueto Cup (32-Luchador Tournament)