---



Welcome to the Underground 3.16: STEEL CAGE MATCH! NEW #1 CONTENDER


By Rob Simmons
Dec 21, 2016 - 9:52:32 PM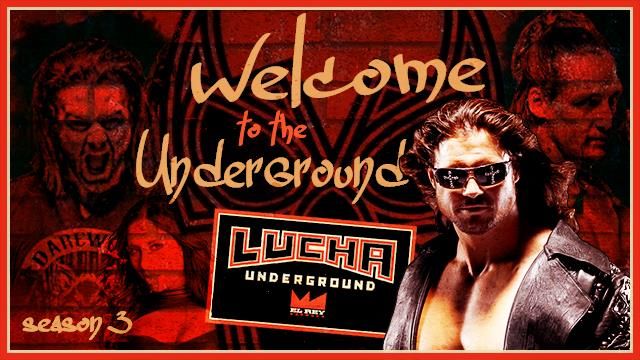 Banner by Trey Cox Graphics



"Battle of the Bulls"

'Tis the season for giving, but quite often the gifts presented in the Lucha Temple are those of pain and misery. But tonight, two very important gifts will be received; that of the #1 contendership and a Steel Cage Match for the LU Title. Cage, The Mack, Jeremiah Crane, and PJ Black have earned their way into the Battle of the Bulls Final, and one of them is set to take their place one step below the biggest prize in the Temple. Who will unwrap the first gift? Let's go to the lovely Melissa Santos to get us started.

Lucha #1: Cage vs. The Mack vs. Jeremiah Crane vs. PJ Black (Battle of the Bulls Final)

The finals of the tournament will be a Fatal 4-Way Elimination match, so Crane, The Mack and PJ Black strike first, attempting to take out the biggest Bull in the match, the Machine Called Cage. Their efforts are for naught however as Cage cleans house, taking them down one by one. PJ Black gets in a few strikes using his speed, but missed a Moonsault on Cage. Crane and Black work together to try and take down the big man, but The Mack joins the fracas. With Crane and Black both down, Big Willie hits a Standing Moonsault onto both men for a pinfall attempt. Crane, perhaps with a Death Wish, gets into a punch-off with The Mack, asking for the punishment. He clears the ring of both Willie and PJ Black. Like a bullet, Jeremiah throws himself through the ropes onto PJ Black.

The Mack flies as well, somersaulting over the top rope. Not to be outdone, The Machine takes flight, landing on Mack and Crane. With three men outside, the Darewolf hits a beautiful Top Rope Moonsault to the floor below. Back in the ring, Jeremiah has Cage in an Electric Chair. PJ Black climbs the top rope and launches himself at Cage, but he's caught mid-air and Cage hits a Power Slam from JEREMIAH'S SHOULDERS! Once again Cage cleans house, but from the back Texano appears, looking to get a measure of revenge on Cage as they head into their next match in the Best of 5 Series. The distraction allows Crane, Black and The Mack to triple-team Cage, making him the First Elimination!

CAGE IS ELIMINATED

The pace slows considerably as the three remaining men are feeling the effects of the quick pace to date. Crane has The Mack and Black down in the corner and hits them with a Double Broski Boot. He grabs PJ and hits a Snap Brain Buster, practically knocking him out. He then hits a Power Bomb on The Mack for a 2-count, then transitions it into a Calf Killer variation. PJ comes back in but gets hit with a Death Valley Driver. Crane hits the Cranial Contusion, but wisely rolls out of the ring. This allows the Mack to hit a Top Rope Stunner on Crane, eliminating Jeremiah from the match!

JEREMIAH CRANE IS ELIMINATED

PJ and The Mack, both visibly winded now engage in a slap-off. PJ hits the DX crotch-chop and attempts a Stunner on The Mack. Mack shakes off the moves and hits a Stunner of his own, sending PJ Black flying through the air. Mack covers him for the 1-2-3 victory!

WINNER AND NEW #1 CONTENDER: THE MACK

ULTIMA PALABRA: My bets for this one were on either Cage or The Mack, and I was quite shaken to see Cage eliminated first. Texano's interference certainly makes a lot of sense, considering Cage has been getting the upper-hand on him at every turn. Now, with Texano playing him own mind games, will Cage be off his game going into match 4 of their series. Again, I was incredibly impressed with Jeremiah Crane, but it appears that Crane only has one speed, which borders on the verge of chaos. The Mack winning was certainly a great moment of the season to date, both for storytelling purposes and for the effort he puts forth in the ring. Since his arrival, Mack has gained more and more supporters and his tenacity and fight make you want to cheer for him. Now, with a shot at the LU Title on the horizon, let's see if Big Willie can take the biggest step of his career.



*********************



In the Temple bathroom, Fenix and Aerostar are searching for their partner to no avail. Kobra Moon enters, telling the Lucha SuperFriends that Drago is hers now and that he's returned to their tribe. Aero tells her that he'd never do that; that he made that vow millennia ago. Kobra calls forth Pindar and Vibora to attack the Trios Champs, as they brawl throughout the bathroom. Fenix and Aerostar fight valiantly, but they are outnumbered and out-sized by the giant Serpent generals. Vibora, Pindar and Kobra Moon lay them out, standing tall over our fallen heroes.



*********************



As Sexy prepares for her rematch, The Mack arrives. Sexy leaps into his arms, congratulating him on his victory. The friendship between the two is unparalleled, and incredibly heartwarming. He tells her that it's her time now to take back the title, and not to be mad when he beats her for him. She tells him she'd be honored to face him. It's time for Sexy to see if she can finally solve the puzzle that is the Mayor of Slamtown.



*********************



In Dario's office, Jeremiah Crane wants a match. Dario tells him he doesn't know what he's asking for, but if he wants it, he can have it next week. Crane grabs a chair and pops a ceiling tile in Dario's office. Dario wants to know what he doing. Jeremiah pulls down what looks like a Ouija Board, and tells Cueto he left it there WHEN HE WAS A KID!!!

As Crane enters, he meets Catrina in the hallway. She tells him that he shouldn't be playing with stupid toys anymore since he lost his shot tonight. He asks her is she remembers when they played with it together back when they were kids. He tells Catrina that next week, he's got a match with her new man, and Pasqual Mendoza will wish that Catrina never resurrected him from that building when she did. He tells her that he'll finish Mil Muertes and then she'll be his….and THEN HE WALKED RIGHT THRU HER! GHOST DRAMA!!!!



*********************



Lucha #2: Sexy Star vs. Johnny Mundo (Lucha Underground Championship Steel Cage Match)

Sexy arrives first to the ring, now surrounded with walls of steel. The Mayor of Slamtown enters next and we're reminded that Johnny Mundo has been in ALL THREE cage matches in LU history, and that he's also 2-0 vs. Sexy Star in their short history. Mundo spits at Sexy, who slaps him in the face in retaliation. She kicks at Mundo then sends him into the cage as Johnny is the first to meet the steel. As he whips Sexy into the ropes, he tries to make a quick escape over the top but Sexy stops the attempt. Pulling him down, Sexy tries to make her escape as well, but Mundo pulls her down. He beats her down, rubbing her face back and forth across the steel grating, punishing her against the cage. He goes to spear Sexy into the cage, but she moves and Johnny hits hard.

She tries to climb out again, then hits a Top Rope Rana on Mundo. Both battle on the top rope, trying to prevent the other from escaping. Sexy kicks Johnny, crotching him on the top rope. Neither are able to escape though and the battle continues with a Backbreaker by the Champ. Mundo now takes control, ramming Sexy's head into the cage as she hangs over his shoulders. He drops her like a sack of potatoes then hits a Disaster Kick to Sexy's head. He goes for an escape again, but Sexy grabs him in the corner, dropping him with a Sit-Out Power Bomb to the mat, followed by a Leg Drop. She climbs the ropes trying to escape, but Johnny hangs on. She kicks him down, now with nothing to prevent her from escaping.

BUT SEXY MAKES THE SAME MISTAKE MUNDO MADE IN THE LAST CAGE MATCH!

Sexy chose not to exit the cage, instead climbing to the top of it and hitting Mundo with a Flying Body Press off the top rope. She hopes for the pin, but Mundo kicks out. Again, both Mundo and Sexy are atop the cage, but as Johnny tries to escape, Sexy pulls him back in by the hair. As she attempts to gain the upper hand, Mundo UNMASKS SEXY STAR! Sexy, not wanting her face to be revealed, drops to the mat, covering her face. As the referee assists her, Mundo climbs over the top rope, exiting the cage for the victory.

WINNER AND STILL CHAMPION: JOHNNY MUNDO

As Mundo celebrates up the stair, a defeated and disgusted Sexy Star remains in the ring. Johnny hits the top of the Temple, but is met by The Mack, who hits a Stunner on Mundo, laying him out on the steps. He grabs the title, looking towards the ring at his friend as if to say "I've got you!"

ULTIMA PALABRA: Sexy Star, despite her dominance over the World Wide Underground, is now 0-3 against Johnny Mundo. Mundo's willingness to do just about anything always seems to be the deciding factor in his victories over Sexy, using the WWU, Taya in disguise, and tonight unmasking Sexy to gain the advantage. At some point, Sexy will NEED to defeat Johnny Mundo. Her entire being won't be satisfied unless she finally sends him down in defeat.

As for Mundo, his reign as Lucha Underground Champion is already gaining steam, defeating the former Champion single-handedly. Next, he will have to face the ominous presence of The Mack, a man that is not only fighting for his friend Sexy Star, but fighting to prove that a street kid from South Central can make it to the top. The Mack doesn't play games, but he WILL go to the same depths as Mundo will, so Johnny's trickery won't work on Big Willie. Mundo will have to dig deep into his bag of tricks if he wants to remain the Mayor of Slamtown.

As we exit the Temple, we're transported to the lair of the Serpent Tribe, and its Queen, Kobra Moon. Drago is chained to the wall as Kobra asks him if he's ready to submit to her finally. He tells her never, as Kobra tells him that eventually he'll be hers. As she leaves, the Dragon breaths fire; fire of anger, fire of desperation. But will Drago's fire stay lit, or will it burn out in surrender?

I leave you with a little Holiday present. Johnny Mundo's music video for "Welcome to Slamtown"




What do you think Believers? Will The Mack defeat Johnny Mundo? Will Drago escape the clutches of the Serpent Tribe? Will Jeremiah Crane and Katrina have Ghost Sex? Hit me up with your thoughts, questions, comments and general wordage below, or hit me up at Twitter. The link is right below.

Until next Lucha,
Roberto Out!




www.fabbly.com
Chair Shots Presents: 1218 LBS
Chair Shots Presents: Great Balls of Fire- Several Intriguing Matches and One That's Not
Chair Shots Presents: Is Impact Wrestling About to Start a Turf War?
Chair Shots Presents: An NXT Live in Bel Air Experience
Chair Shots Presents: The MITB 4WD Review
Chair Shots Presents: The Lucha Underground Cueto Cup (32-Luchador Tournament)