---



Welcome to the Underground 3.14: The Battle of the Bulls Tournament Begins!


By Rob Simmons
Dec 7, 2016 - 3:51:02 PM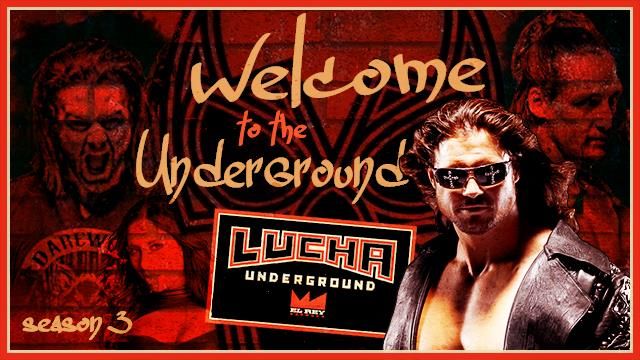 Banner by Trey Cox Graphics



"The Bulls of Boyle Heights"

Dario Cueto is a man of opportunity; a man of ingenious ideas, which tend to be for his own twisted enjoyment. Tonight, the Temple sees the beginning of his latest creation, The Battle of the Bulls Tournament. Four Fatal 4-Way Matches with the winner of each competing in a final FIFTH 4-Way. Whomever proves themselves the biggest Bull will face the Lucha Underground Champion for the title.

Angelico hits Dario's office, aching for a shot at Johnny Mundo. Cueto informs him that Johnny's lawyers are very good and he can't make that happen, but he CAN put him in the tournament, and if he wins, he'll get Mundo. Angelico tells him that once he wins the tournament, Mundo won't need a lawyer, he'll need an Undertaker.

Lucha #1: Cage vs. Texano vs. Joey Ryan vs. Dr. Wagner Jr. (Battle of the Bulls)

The first of the Fatal 4-Ways includes two men that are in an epic battle of their own, Cage and Texano. Currently in the midst of a Best of 5 Series, these two men know that each and every "unique opportunity" is one that's worth fighting for. Dario Cueto's newest snitch, Joey Ryan, will take any advantage given to him, and will probably do so in the slimiest of ways. The wild card in this match is Dr. Wagner Jr., a Lucha Libre legend currently fighting on the fringes of the wars that are waged in the Lucha Temple.

The match was one of advantages, with each of the four men having extended periods on offense. It was apparent early on that the power of Cage and Texano would need to be dealt with by the smaller Ryan and Wagner, but there's only so much you can do against men that size. It mattered little where the action spread, as Cage and Texano rarely let each other out of their sights. The tide turned with Joey Ryan on the top rope, as Dr. Wagner and Texano attempted a double suplex. Their effort was thwarted as the Machine took all three men to the mat with a Tower of Doom. A double Fall-Away Slam to Dr. Wagner Jr. and an interfering Famous B took them out of play. It seemed as though Texano would grab victory though, but it was Cage striking Texano in the head with his own bullrope that would secure the victory for the man from the 559.

WINNER: CAGE

ULTIMA PALABRA- Fatal 4-Way matches tend to be a bit of a cluster and this was no exception. The opener of the night followed the standard formula with each man getting their chance at offense before being overtaken by one of his foes. As I mentioned, it seemed a given that either Cage of Texano would win this to further add fuel to their already existing fire. With Cage picking up yet another victory on Texano, you have to wonder if he's now in Texano's head, with their next Best of 5 match upcoming. Texano must win, something he's been unable to do but once against the Machine.



***************



Dario is with Sexy Star and he tells her that the WWU screwed her out of the title, but tonight she'll have a chance at redemption. Tonight, Sexy will face PJ Black, and if she beats him she'll get her rematch against Johnny Mundo in a STEEL CAGE! However, should she lose, she'll NEVER fight for the LU Championship again.



***************



Detective Reyes is with Captain Vasquez, telling her that Dario knows he's a cop. She tells him that now that Meehan cannot be trusted, she needs him in the Temple. She tells him that when his arm heals, he'll return as an entirely new man, holding up a Lucha Libre mask.



***************



Lucha #2: Sexy Star vs. PJ Black

Matt Striker and Vampiro remind us of the adversity that Sexy has faced in her life and career; adversity that made her the strong woman she is today. PJ Black must not know his history however as he seems to be taking Sexy Star very lightly, despite her being a former Lucha Underground Champion. His arrogant smile never leaves his face throughout the match, despite Sexy putting up quite the fight. He does his best to degrade her, locking her in a Pendulum and swinging her head into the bottom turnbuckle. That only seems to fuel the fire in Sexy even more as she fights back with chops and kicks to the Darewolf.

Sexy locks in a choke hold, but PJ turns it into a suplex. He hits her with a beautiful Springboard Moonsault and ascends to the top rope to finish her off. Again it's his arrogance that leads to his downfall as he takes too much time playing to the crowd, allowing Sexy the opportunity to crotch him on the top rope. Sexy scales the ropes and hits a Top Rope Head Scissors, but PJ rolls through it and locks in a Styles Clash on Sexy Star. She kicks out at 2, and PJ attempts a second Moonsault but Sexy moves out of the way. She hits a Spike DDT on Black, but Jack Evans arrives at ringside. She goes after Evans but Jack grabs her. PJ goes for the kick, but Sexy moves and Black's boot finds Jack's face. Quickly, Sexy rolls up PJ Black for the 1-2-3 victory.

WINNER: SEXY STAR

ULTIMA PALABRA- As usual, Sexy Star is a very polarizing figure in the Lucha Temple. She's got the utmost support of the Believers, but her in-ring performances continue to be hit and miss. Tonight, she didn't have the right dance partner, as her chemistry with PJ Black was pretty inconsistent. It's pretty clear that without the right combatant in the ring with her, it's tough for Sexy to carry a match, despite her willingness to put everything she has into it. As with a lot of Believers, I'm very torn on Sexy Star. I love the character; I don't always love the in-ring work.



***************



We find ourselves in Kobra Moon's lair, as she sits on a gold serpent throne. She tells us of their tribe, once strong and powerful, led by three of the most ruthless generals in history. They were all-powerful, until one of those generals turned on the tribe. Now, Kobra calls forth two Serpent warriors to bring the traitor to her; the traitor that was once a Dragon but is now nothing more than a man. She sends these two Serpents to bring her Drago, who she'll make bow at the feet of his Queen.



***************



In the bowels of the Temple, Dario visits his brother one last time, begging him to be in the Battle of the Bulls Tournament. Matanza yells "MYSTERIO", reminding Dario that he wants Rey. Dario tells him that when he returns he'll get Mysterio, but right now his protégé El Dragon Azteca Jr. has returned to the Temple after suffering injuries gained by his own thirst for vengeance. The Monster lovingly grabs his brother through the bars, rubbing his head……then SLAMS it into the bars of his cells, dropping Cueto to the floor. As we leave, Matanza's hand reaches for the key; the key that will lead to his freedom.



***************



Lucha #3: The Mack vs. Marty the Moth Martinez vs. Mil Muertes vs. El Dragon Azteca Jr. (Battle of the Bulls)

Immediately, all three men go after Mil Muertes, attempting to take him out early, but the power of Mil is not to be trifled with as each man goes down one by one. It is the smallest man in the match that takes the first gamble, hitting a DDTJ on The Mack before being cut in half by Mil Muertes' Reaper's Trident. The Moth goes head to head with Muertes, telling him to punch him harder. Not to ignore a request, Mil slams ten clotheslines into the deranged skull of Marty before dispatching him outside the ring.

The Mack takes the advantage with a Mafia Kick to Muertes and a Back Suplex for a 2-count. But The Mack finds himself on the outside, as El Dragon Azteca flies over the top rope with a Somersault Plancha. Mil Muertes, not known for high-flying, hits his own high-impact move with a Trident through the ropes, driving Azteca onto the Mack and Marty below. Back in the ring, Mil decks Dragon with his right hand of stone before taking a Stunner from The Mack and a Cutter from Marty. They cannot keep Muertes down however as Azteca finds himself again alone with the Man of 1000 Deaths. With Muertes down, Azteca hits a 450 Splash to Mil but does not go for the cover. He goes up for a second one, but from out of nowhere, Matanza arrives, Power Bombing Azteca onto Muertes. Azteca attempts a DDTJ on the Monster, but he's caught in mid-air with the Wrath of the Gods.

From the back, a bloody Dario Cueto comes out, holding the key high in the air, telling Matanza to come back with him. As Matanza leaves Marty tries to steal the pin, but the Mack kicks him off. He hits the ropes and nails a beautiful Running Stunner on Marty and pins him for the victory.

WINNER: THE MACK

ULTIMA PALABRA: While the Believers in attendance were mostly in the corner of El Dragon Azteca Jr., I was rooting for the man who picked up the win. The Mack has been on the verge of big things for quite some time now, and this might just be the victory that launches him into LU Title contention. I enjoyed this match a lot more than the first 4-Way as the interactions were a lot better in terms of storytelling. Marty's face-off with Muertes was a tale of a man who strikes fear in everyone going against a man too crazy to know what fear is. The Mack and Marty worked briefly together, and they did it well, despite their past history involving Sexy Star. Azteca, still determined to prove himself, once again let his inexperience be his downfall as he did not take the pin attempt when it was right in front of him. Because of that, The Monster took the opportunity to destroy the up and comer.

So now, going into next week, we have Cage and The Mack as half of the Battle of the Bulls Final Fatal 4-Way. We know Angelico is involved in one of the matches next week, and I'd bet money on him making it to the final match. There was a lot going on this week, with a lot of backstory being played out leading us into the next portion of the LU season. Oh, and if you thought the NINJAS were scary, then you're going to freak the hell out over the SERPENTS. That's the stuff of nightmares.

So Believers, what did you think of this week's show? Is the Battle of the Bulls something worth running with? Hit me up with your questions, comments, thoughts and general ideas down below or hit me up on Twitter. Just click that link below my name and you'll go to my page. Welcome to the Underground is one of the longest running Lucha Underground reviews on the internet, and one of the timeliest as well, so thanks for coming along for the ride.

Until next Lucha,
Roberto Out!




LED Curing Light
Chair Shots Presents: 1218 LBS
Chair Shots Presents: Great Balls of Fire- Several Intriguing Matches and One That's Not
Chair Shots Presents: Is Impact Wrestling About to Start a Turf War?
Chair Shots Presents: An NXT Live in Bel Air Experience
Chair Shots Presents: The MITB 4WD Review
Chair Shots Presents: The Lucha Underground Cueto Cup (32-Luchador Tournament)