---



TripleR Presents: Oliver's Weekly NXT Review (12/18/13)


By TripleR
Dec 20, 2013 - 9:30:22 PM


Well, this will probably be the last NXT Review that I'll be posting for Oliver. I've been glad to have the chance to bring this to you on the MP, and to see that the readers have embraced it. But never fear dear readers, it isn't going away. Oliver has just become the newest writer to join the LoP Main Page. He'll be doing this himself now, so congrats Oli! Welcome Aboard!


Greetings, NXTians, and welcome to The NXT Review! This week, it's the 200th episode of NXT. Who would have thought that way back, when Daniel Bryan took on Chris Jericho on the very first episode of NXT, it would still be going now? Faces have changed, locations are different, but still the good ship NXT sails on. What do we have this week? A hell of a lot, that's what! Bo Dallas defends his NXT Championship against Adrian Neville again – but this time in a lumberjack match! There's no escape for the champion this time, after his lucky count out victory a fortnight ago. Elsewhere, The Ascension will have their open challenge answered, and Triple H is going to have something to say! And more! Much more! So without further ado, let's dive right in to…



The NXT Review: 18/12/2013 – The One With The NXT Legal Team



The COO of WWE opens us up this week, strutting down to the ring as the crowd claps on. Come on guys, boo this man, he's an evil bastard on a weekly basis – you can't cheer and clap him. The Game changes a 'Triple H' chant into an 'NXT' one, as that's what he likes to hear, and puts over the talent that has come out of NXT – like Damien Sandow and Antonio Cesaro, who only appeared on NXT after they'd be called up to the main roster from FCW. Triple H negates to mention Big E Langston, so the crowd chant 'five' until the Intercontinental Champion gets a nod. Hunter says NXT is going to continue to improve, and that the future begins here before congratulating the NXT Universre and calling it their show. Hey, if this is my show can I fire Alex Riley? You know, I feel like Triple H really loves NXT – he always seems passionate when coming down to say how good it is and praises it to the rafters. I know it's viewed as his creation, in a way, but it's nice to see how much he seems to like it come through in his promos. Anyway, on with the show!




Alright, Sami Zayn and Tyson Kidd! This team works for me a lot, on paper – Kidd's mat work tied to Zayn's more highflying offence looks like a good pairing. Hey, Alex Riley isn't on commentary! It's Tom Phillips, Byron Saxton and Tensai! Hurrah! Kidd and Zayn both have had their issues with Kruger, while he's trying to get in with the Real Americans via Antonio Cesaro, so this is a pretty well built and logical tag match. Cesaro is super over with the crowd, in fact I think his pop is bigger than the one Triple H got. This should be fun – let's get it on!

A big 'we the people' chant fights for space with a 'Sami Zayn' one, but it's Kruger and Kidd who lock up first, and Kruger takes his opponent down with a sholder block. Kruger blocks a hip toss attempt, only for Kidd to flip over the head of the mercenary and take him to the mat with an armbar. He tags out to Zayn – but Kruger wants no part of it, running back to his corner as quickly as possible. Cesaro tags in, and it's Zayn vs Cesaro! The crowd are going ballistic with 'match of the year' and 'this is awesome' chants before they even lock up! Cesaro offers a test of strength and Zayn is understandably tentative, causing the big man to desperately try and grab him but the Canny Canuck skirts out of the way. The Swiss Sensation forces Zayn down to the mat with a knucklelock and he has to bridge out of a pinning predicament. Cesaro starts throwing bombs with fists, elbows and knees to the head, and he then throws his rival into the corner by the head. The former El Generico reverses and mounts him for one, two, three, four punches before Cesaro forces the break by pushing him off. Zayn controls him in an armbar and tags out to Kidd, who comes in with a variation on a sunset flip over the top ropes and gets a two count before locking in a headlock. The Hart Dungeon graduate sends Cesaro off the ropes and ducks under his running opponent, but when he attempts a leapfrog the Swiss Sensation catches him in midair and turns it into a tilt-a-whirl backbreaker! Outstanding stuff from the Real American – I always forget just how impressive his strength is until he pulls something like that off and it's just mind boggling how someone could do it. This has been a really interesting match so far, with Kidd and Zayn having the upperhand, but I think the tide is changing now.

As you'd expect, Cesaro and Kruger have cut the ring in half and are keeping Kidd grounded in their corner. Kidd finally gains some traction, rolling up Kruger for a two count, but Kruger kicks out and then cuts him off from reaching Zayn with a huge spinebuster that gets a two count of his own. That allows him tro drag Kidd back to his own corner and tag out to Cesaro, who nails Mr.Natalya with a European uppercut and a big delayed gutwrench suplex for a two count. Cesaro locks in a headlock, and as Kidd tries to fire back he swaps positions with Kruger, keeping him under control. Kruger stomps down his rival in the corner before tagging back to Cesaro, and they double team the smaller man and take him to the mat. Cesaro goes for the neck wrench, keeping Kidd down, but he breaks the hold with a hip toss…and gets destroyed with a huge clothesline! That looked brutal. And Cesaro takes Zayn out with a big boot in the corner! Kidd's isolated completely now, and Kruger comes in and gets back on him with another rear chinlock – Tyson fires back but Cesaro gets tagged in and the two go for a double team…no, off the ropes Kidd kicks Cesaro in the head! Kruger gets sent to the outside, and Cesaro misses a splash in the corner! Make the tag Tyson, come on come on! He's a long way across the ring though, and Kruger gets a tag in and cuts him off…but Kidd sends him to the ropes! Zayn gets the tag and takes it to the South African with clotheslines and a calf kick, and he knocks Cesaro off the apron…big cross body on Kruger for two! Kruger's in the corner and Sami goes for the big Yakuza kick, but the mercenary knocks his teeth out with a knee! The Slice…no, Sami ducks and converts it into a Blue Thunder Bomb! 1…2…no, Cesaro breaks the pin up! Kidd sends Cesaro to the outside and then nails a senton through the ropes! Big boot from Zayn! 1…2…3! Zayn and Kidd win!

What a match! Man, that's the way an episode of NXT should start, some great action in there, I loved it. Everything was perfect, and I really hope that this whole 'Kruger as a Real American' thing comes off, because he and Cesaro looked absolutely incredible. With WWE having a lot of trios matches right now, having a three man stable would be great and the Swiss Sensation, South African Mercenary and Jack Swagger could be awesome together, just three big brutes battling their way through people. Zayn and Kidd looked ace together as well, and if they continued to team together I'd be cool with it – something about them works, although I don't think we really saw the best of either man here. If this is some kind of future tag team, though, I'm all about it. The closing act of this was terrific action, thrilling and high octane, and I always like the middle section of matches when the heel team cuts the ring in half and isolates one man. Don't ask me why, I guess it's just the logical thing for teams to do in my eyes and so it works. A cracking start to the night!

And it only gets better! Natalya is looking pensive backstage, presumably watching her husband on the telly, when Emma turns up! She dances around Natalya who gets pretty pissy that someone with more charisma than her is breathing the same air as here – must have a hell of a time in her local coffee shop, then – and Emma is kind of sad because the 'big reality star' gets uppity with her for just having fun. The Dancing Dingo says Nattie has no more time for the little people in NXT unless it's for a title match, but the Pink and Black "Attack" says that Emma only got her title shot threw winning a silly dance off. Don't throw shade at the importance of dance offs, Natalya, they are an essential cog in the WWE machine! Anyway, when Natalya describes Emma's dancing as "awesome" our Australian heroine just says 'I know' but is mad pissed that she called dancing 'silly' – dancing's in her blood, like wrestling is in Natalya's, but wrestling brought Emma to the dance and the challenge is laid down for the number one contendership to Paige's title. They both agree that this is all kinds of fabulous and then march off in separate directions. Hey, Emma's going to get that title shot! Surely, right? I mean, they aren't going to **** about with what is the biggest women's match they could possibly run, right? It's about time we saw us some Emma vs Paige again, and I am completely down with Emma vs Natalya happening as long as a) the outcome is right and b) Natalya bringing the same intensity she did to her match with Paige.




I can't work out if Sasha is gradually adding moreand more to her entrance attire or not, it's like she keeps going back to the create-a-wrestler suite and slightly tweaking it before coming out. Today she has a coat, sunglasses and necklace, but it all seems extra glittery. Paige, on the flipside, keeps it simple – black leather jacket, title belt. Done. That's my kind of entrance attire, except I normally opt for the hoodie with the hood up and the zip down. But otherwise, just nice and simple.

Sasha talks some smack at Paige in the opening bits, but when she turns to communicate with her BFF cohort at ringside the Norwich Nightmare grabs her hair and pulls her around the ring. Sasha breaks that 'hold' and comes back with multiple slaps to the chest and back, before she charges in on Paige in the corner. The Raven Haired Mistress sends her over the top rope and onto the apron, but is distracted by Summer on the outside and that lets Sasha send her face first into the mat. With Paige now in the corner, Banks stomps on her and then goes for a sleeper to keep her opponent becalmed. The Boss of NXT has her opponent on the ropes now, down on the mat and with a body scissors locked in, and Paige fights and scraps to break out of it, finally driving Banks into the corner. The Boss doesn't blink though and comes back with a big slap to the chest, but when she goes for her springboared armdrag in the corner Paige just pulls her off the top rope and throws her across the ring! Finally, she's got some separation, and she uses it to gather her breath and then connects with three short arm clotheslines and a dropkick to the sternum. She hits the ropes, but Summer Rae grabs her foot! The bitch! Sasha looks to take advantage – but Paige moves! Sasha hits Summer! Paige Turner! This one's over!

Well, that was pretty good, if short. I think I'm always expecting more when I see Paige hit the ring, and I'm starting to do the same with Sasha, Summer and Emma now as I know they're all capable of doing really, really good things between the ropes, so when I get something that's not quite as good as I expected I feel pretty disappointed. This wasn't as good as the match these two had when Sasha turned on Paige a while back, but was certainly good for what it was. I suppose the main story is what will happen with the BFFs now – will Summer turn her back on Sasha as the result of one mistake? Might we see the two break apart in the not too distant future? It could be interesting to see the two go at it with each other, but I'd rather they stuck together. Also, where's Charlotte – didn't she join the two of them before? And yet she's been nowhere in their recent appearances, which is a little odd. Paige is now approaching 200 days as NXT Women's Champion and has had about four defences despite winning every match. I struggle to comprehend why she wouldn't have the title on the line in these things, especially if she's going to keep winning – she looks like a pretty lacklustre champion if she's hardly defending the title, despite making regular victorious appearances.

Hey, Enzo Amore got himself a leopard print wheelchair because he broke his leg! I'm not saying it was all my idea, but…well: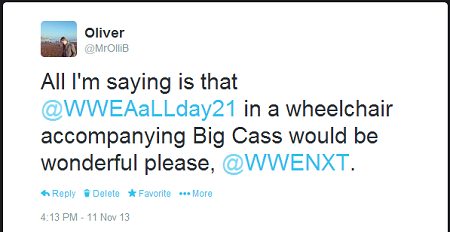 Coincidence? Anyway, Enzo and Big Cass have t-shirts! They say 'SAWFT' and have a finger pointing out of them and I want one. Amore is pretty pissed off about somewhere not being wheelchair accessible, but then the dulcet tones of Aiden English come in and the two go to investigate – English asks them what's so funny and Enzo says 'you' without a moments hesitiation. The Artisite explains that one day he'll be on Broadway singing to the rafters while people like the Realest Guys in the Room sell tickets on the door. Amore ain't having none of it – belching into a microphone makes English just as much a singer as standing in a garage makes him a car! Big Cass has got pipes that blow exhausts! Cass and English get confused over the latter's use of the word 'moi' – 'moi' means 'you', says Cass, pointing at English, but as he explains it actually means 'me'. Yeah, 'you'. No, 'me'. You get the picture, right? It's funny, you have to watch it perhaps. Anyway, that leads to English challenging Cass to a singing competition, and the NXT Universe decide who is the true talent. Cass agrees, and promises to drop Aiden like an unnecessary theatre elective. As they walk away, Amore and Cass warm up their pipes – S-S-S-S-S-S-S-S-S-S-S-SAWFT! This was great. Solid gold from all involved, well done, five stars, segment of the year.

Who will step up to take on The Ascension? Find out next!




Who have they got? Some strange music hits and…it's The American Pitbulls! John Cahill and Derrick Billington! These guys are off the charts talented, according to Tensai on commentary, who has wrestled them in Japan apparently. They keep putting over how well world travelled they are, but I've never heard…oh, come on, let's give it up now, shall we? It's Eddie Edwards and Davey Richards, we all know who they are. The best thing is that in trying to retcon them out of existence they have instead come up with NXT's very own legal team. Have you been sacked by a maniacal boss for no reason? Had a storyline career ending injury that you're going to come back from in two months? Call Billington and Cahill: No Win, No Fee Wrestling Lawyers.

'Billington' (Richards) starts off against Viktor, and he dodges him in the corner and then nips around the back for a waistlock. He transitions into a wristlock, but Viktor turns it around with a short arm shoulderblock as the crowd chants 'pitbulls' at them. Viktor tries to send Billington into his corner, but he counters and avoids a cheap shot from Konnor, then takes the Scalpel of The Ascension down with a hard wristlock for a one count. Cahill tags in and flies off the top rope to hit a double axehandle on his opponent, but then Viktor sends him to his corner and Konnor comes in, keeping on top of his opponent and leaving him on the mat. He whips Cahill off the ropes, but Billington gets a blind tag and the two hit a double hip toss on Konnor! They're getting some good offense in here, and send Viktor to the outside...but Billington gets caught in a flapjack from Konnor and that takes him down and allows The Ascension to work their whole 'cutting the ring in half' schtick. Billington nearly reverses out of a back suplex with a somersault but lands on his head and Viktor keeps on top of him with a European uppercut. Because it worked so well last time, they repeat the side suplex spot but this time Billington manages a full rotation and kicks Viktor! Tag to Cahill who flies in with strong right hands to the face of his opponent and a shining wizard that knocks him out! He goes for a cover but Konnor breaks it up…and gets sent to the outside! So does Viktor! Stereo suicide dives from the Pitbulls! This is great stuff by these guys, and Viktor just kicks out of a cover back on the inside! A tag to Billington and he hits a diving headbutt for a two count! He comes off the ropes, but Viktor ducks a clothesline and hits a running knee. Konnor gets tagged in and wipes out Cahill, and The Ascension nail Fall of Man on Billington to give them the win.

Well, that was a bit more interesting than the standard squash victor for The Ascension…hang on a sec, here's Hunico and Camacho! They stare down The Ascension from the ramp, and when Cahill looks to take advantage of the distraction they hit their double powerbomb on him then wipe him out with the Fall of Man – sending a clear message to their most recent contenders. Anyway, as I was saying before I was so rudely interrupted – far more interesting than the standard Ascension squash. The 'Pitbulls' looked impressive in pushing The Ascension to a limit that only the better teams on NXT have been able to match recently – if 'Billington' hadn't landed on his head in that suplex reversal, it would have been a flawless performance. I wonder if it's a sign that WWE are taking them very, very seriously indeed and are looking favourably at signing the pair and keeping them as a tag team. Who knows? Regardless, the storyline between The Ascension and Hunico and Camacho is clearly going to rumble on despite their recently being a clear winner in their title match and the whole point of the open challenge being that The Ascension had no completion left in NXT, but whatever – more Hunico is good Hunico, as far as I'm concerned.

Kofi Kingston shows up backstage and says he likes NXT. He gets interrupted by Lana, who challenges him to a match on behalf of Alexander Rusev in Russian, so then has to repeat it in English. Tum-te-tum – I look forward to lifelong midcard jumping bean Kofi Kingston being annihilated by Alexander Rusev. I will laugh as he tears your dreadlocks out, Kingston. Laugh a lot. (I don't like Kofi Kingston. More on that story next week, assuming that I find time to do it when the episode airs on Christmas freaking Day.)




The lumberjacks are basically everyone that has never mattered on NXT and Tyler Breeze. Guess which one will have a significant part to play in the match ending! Bo Dallas is the most hated man in wrestling right now, I think – although I'm wondering if it's got to the point where people hate him because hating him is awesome fun, rather than actually hating him, because heel Bo is the best damn character going right now. Howard Finkel does our introduction – let's get it on!

A 'Breeze is Awesome' chant goes up during the opening lock up, and Bo bails on that in the corner, forcing the break. Dallas knees his way out of a second lock up and looks to send Neville to the outside, but he front flips off the ropes and hits a calf kick. Bo tries to escape on the outside, but the lumberjacks throw him right back in – 'get your hands off me' says Bo – and Neville rolls him up with a bridge for a two count! Dallas then connects with a right hand to the midsection and then rains blows down on his opponent, before succeeding on sending him to the outside. Breeze tries to throw him back in, but Neville blocks it and slaps him in the face, immediately getting the fans in the arena to turn on him! Back in the ring, he gets on top of Dallas, but the NXT Champion manages to fight his way back into a corner by pulling Neville's hair. He whips Neville across the ring, but the Geordie gets a boot up and knocks him down to his knees, before landing some stiff kicks across his chest. Bo ducks a fourth one and throws Neville outside, where he is immediately thrown back in by the lumberjacks into a pinning predicament. While Dallas locks in a cravate, Breeze looks on furiously from ringside. Bo has got Neville on the mat and the crowd are chanting 'Bo-ring' at him – he doesn't care, though, and puts the Man That Gravity Forgot down with a body slam. When he looks to get him back up, though, he gets caught with a boot to the head, only to then take the knee of Neville out and keep him grounded. Bo pulls Neville into a back elbow and is keeping the pace nice and slow here, leaving Neville with nothing he can do and eventually turning him inside out with a short arm clothesline that gets a two count. Dallas looks for his springboard bulldog, but Neville throws him off the headlock! Kicks and forearms from Neville now, and a low dropkick gets him a two count. Neville with a huge enziguiri! A standing shooting star press…1…2…NO! So close there, Dallas just gets the shoulder up! Neville plants Bo with a bodyslam and he's looking for the Red Arrow…Bo rolls out of the way but the lumberjacks come to stop him escaping…and Neville hits a senton on all of them! Everyone's down, and Neville throws Dallas back in before going up top for the Red Arrow again, but somebody distracts the referee and Breeze pulls Bo out of the way! Dallas with a pin and that gets him a three count! Dallas retains!

I love that Bo Dallas just keeps retaining, whether by luck or judgment. It just keeps building his heat. The only thing I'd like some more of is Bo Dallas promos, because they've suddenly become my very favourite Bo thing, even if they are kind of terrible – Dallas is like Dixie Carter, in that what he says in his promos is hilariously great heel work but his delivery is terrible. His promo on his return from the Bo Dallas vs The World tour was an absolute gold mine, but his delivery was so bad. It's almost at the 'so bad it's just funny' stage, though. Both guys looked good here, but for the second week in a row the main event has kind of been a bit average. It's odd, I don't get it – the quality elsewhere is super high, so maybe that has something to do with it, but if it wasn't for the title being on the line here I'd have taken the tag match as a main event instead. It was good, for sure, but I think it could have been more than just good.

NXT MVP:



Leo Kruger!



I sometimes think I don't give Kruger enough credit in these reports – the guy is an impressive beast, and over the past few weeks has really impressed me both in and out of the ring.

NXT MVP's
18/12/2013 – Leo Kruger
11/12/2013 – Bayley
05/12/2013 – Paige
13/11/2013 – Corey Graves
06/11/2013 – Kassius Ohno
30/10/2013 – Aiden English
23/10/2013 – Sami Zayn
16/10/2013 – Tyler Breeze
09/10/2013 – Realest Guys in the Room
02/10/2013 – Emma

Episode 200 in the books, and it was pretty good stuff from start to finish. Every match was nicely built to and executed and I think for the first time in a while I'd say there wasn't a truly weak match on the show, even if I was critical of the main event. Everything worked for me just enough to leave me feeling pretty satisfied.

Next week, Emma will battle Natalya to become number one contender for the NXT Women's Championship! Plus – will Colin Cassady be able to emerge from a singing contest with Aiden English victorious? And how much damage will Alexander Rusev inflict on Kofi Kingston? NXTians, next week we might run a little late due to the episode being on Christmas Day and me being away from Boxing Day onwards, so if I'm not on time I apologies. If we don't speak again, have a terrific festive period, stay safe when crossing the road and drink more hot chocolate! Au revoir!
Chair Shots Presents: Until Next Time....
Welcome to the Underground: Ultima Lucha Night One
Chair Shots Presents: A Real Man's Man, Dalton Castle!
Welcome to the Underground: Son of Havoc's Fury Road Leads to Ultima Lucha