---



Chair Shots: The Ring of Honor World Title Tournament


By TripleR
Jul 17, 2013 - 12:45:28 PM




Welcome back to the column that's about to go on vacation for a week- Chair Shots! But before I hit the beach, maxing and relaxing, I decided to drop one last column concerning an organization that I've been pretty hard on lately- Ring of Honor. If you listened to the first edition of "Trippin' Out" on LOP Radio (cheap plug!), Shockey and I discussed a lot of what's currently wrong with the Ring of Honor product. They've pulled the plug on their live iPPV's, the status of some of their more prominent contracted talent is up in the air, and currently they are without a World Champion. Well in a few short months, the last part of that is going to change as Ring of Honor is about to start a 16-man World Title Tournament, with the first round match-ups set to be announced later today.

Now the status of their last champion, Jay Briscoe, is very much up in the air, and up until yesterday so was the status of his brother Mark. However, Ring of Honor announced that the last and final entry into the RoH World Title Tournament was none other than Chicken himself, Mark Briscoe. Noticeably absent from the tournament though are both members of the American Wolves, whose contracts are supposed to be up on August 1st. Now will they be gone from Ring of Honor? Well that's anybody's guess, but they won't be involved in this tournament. So without further ado, let's take a look at possibly the biggest event in Ring of Honor history:



Ring of Honor's 16-Man World Title Tournament















The Favorites
Kevin Steen (RoH Record 121-73-2)- 1-Time RoH World Champion and RoH Tag Team Champion
Mark Briscoe (RoH Record 167-101-9)- 8-time RoH Tag Team Champion
Roderick Strong (RoH Record 179-151-6)- 1-Time RoH World Champion, Tag Champion, TV Champion; Survival of the Fittest 2005
Michael Elgin (RoH Record 43-43-2)- Survival of the Fittest 2011

These four men have the best chance to become the next Ring of Honor World Champion. Kevin Steen holds the distinction of being the man that Jay Briscoe beat for the Ring of Honor title, and has been at the forefront of Ring of Honor storylines for quite some time. He most recently turned "face" again, after splitting from S.C.U.M. and was heavily involved in the storyline to rid Ring of Honor of their presence. His Ring of Honor record shows that he is booked strong, having one of the better winning records of all the competitors.

Mark Briscoe, while not ever holding a singles title in Ring of Honor, most certainly cannot be overlooked as a favorite here. He will wrestle his first round match against Adam Cole, in what should be a hard-hitting rematch. Whether or not Mark will be 100% from the injuries sustained at the Du Burns arena in Baltimore is anybody's guess, but he'll certainly bring his own style of redneck violence to the tournament.

Roderick Strong, while not in the Main Event scene as of late, is a proven champion in Ring of Honor. He's the second Triple Crown Champion in Ring of Honor history, and has had a taste of the gold once before. Strong's problem, as is a lot of Ring of Honor's stars, is that he's pretty damn boring. It's fine that Roderick is a suplex master, but take that away and you're left with Boring McBlanderson. With his credentials however, he's got to be considered at the top of the list.

Last of the favorites in my opinion is Michael Elgin. While he has yet to win a singles title in Ring of Honor, he was the #1 Contender for the belt before it was stripped from Jay Briscoe. According to RoH rules, he should have been handed the belt by forfeit, but he wouldn't accept that and chose to fight his way to the belt. I see this tournament as a way to firmly cement Elgin as a fan favorite fighting through all comers to become RoH World Champion. In fact, I see this entire tournament as a stepping stone to elevate Elgin to the next level

The Middle of the Pack
Adam Cole (RoH record 39-54-2)- 1-Time RoH Television Champion
Matt Taven (RoH record 13-14-2)- Current RoH Television Champion
Michael Bennett (RoH record 37-37-1)- Top Prospect Tournament 2011
BJ Whitmer (RoH record 65-102-9)- 4-Time RoH Tag Team Champion
Jay Lethal (RoH record 70-61-9)- 1-Time RoH Television Champion, 1-Time Pure Champion, Survival of the Fittest 2012
Tommaso Ciampa (RoH record 31-10-2)- March Mayhem 2012

These six men, while certainly stars in their own right, will probably just fall short of any chance to win the Ring of Honor World Championship. Matt Taven is currently the Television Champion, and is in the middle of quite a good run as such, so I don't really see him being elevated higher at this point. The problem with most of the Ring of Honor roster, is that there is really not a huge amount of "Star Power" amongst them. Out of the six men listed, the man I'd see that has the biggest chance of going deep in the tournament is Jay Lethal.

Jay Lethal has been a consistent performer for many years now, including a pretty good run in TNA. He's incredibly over with the crowd, and has held a couple of titles already in the organization. Is he a World Champion kind of guy? Well that I'm not so sure about, but if anyone in this group goes to the end it will probably be him.

No Chance in Hell
ACH (RoH record 5-13)
Adam Page (RoH record 1-8)
Silas Young (RoH record 3-33)

One thing you may have noticed about this 16-man tournament is that there are 17 men listed. That's because there will be a "play-in" bout much like the NCAA March Madness Tournament does. On July 27th, Ring of Honor newcomer Adam Page will wrestle Silas Young for the spot in the tournament brackets. Now let's be completely honest here, neither man has a chance to win this. Page has wrestled 9 matches for Ring of Honor, and has lost 8 of them. Silas Young, who holds the distinction of looking like former Pittsburgh Steelers coach Bill Cowher, has a 3-33 record. He's basically a Ring of Honor "jobber". While I suspect that Page will win the spot, expect to see him out early in this one.

As for ACH, well he was one of 5 men to be voted into the tournament by the fans. Also included in that vote were C&C Wrestle Factory, ACH's parter Tadarius Thomas, and QT Marshall. As of yesterday, ACH was winning this vote handily, and Ring of Honor just announced his official entry into the tournament. ACH is quickly becoming a huge crowd favorite in Ring of Honor. He's very quick in the ring and has some really innovative moves. However, he's currently 5-13 in Ring of Honor, and will more than likely exit the tournament fairly quickly.

The Wildcards
Paul London (RoH record 10-11-1)
Brian Kendrick (RoH record 10-13-1)
Sonjay Dutt (RoH record 2-22-1)
Karl Anderson (RoH record 2-2)

These four men are the big question marks in this tournament. A lot of people, including myself, have questioned why Ring of Honor would bring in outside talent for this event. The answer quite frankly, is because Ring of Honor doesn't have 16 men that it could currently put in a World Title Tournament and make it seem plausible. As it is, some of the entries have almost no chance to win this thing. With all members of S.C.U.M. currently written off television and the status of Davey Richards and Eddie Edwards up in the air, Ring of Honor felt the need to bring in four veterans to round out the field. In retrospect there's an easier solution to this whole problem, don't have a tournament with 16 men in it.

As it stands though, the only real thing that any of these stars bring to this tournament is name recognition. London and Kendrick are former WWE Superstars and Tag Team Champions, Sonjay Dutt has spent considerable time in TNA, and Karl Anderson is a huge star in Japan (and former partner of Tensai). The chance that any of these men become Ring of Honor Champion is slim to none. I'd have much rather either seen a smaller tournament, or Ring of Honor names that aren't in the tournament like the four men who missed out due to the fan vote.

What really jumps out at me is aside from a few top names, most of the stars in Ring of Honor either have losing records, or records that hover around the .500 mark. That's because there's really no hierarchy so to speak in the company. Wrestlers trade wins and losses like baseball cards on an almost nightly basis. That's why stars like Adam Cole, Matt Taven and Michael Bennett aren't bigger names in Ring of Honor than they are right now. It's a flawed system, and it plays heavily to their lack of ability to generate real storytelling and interest in matches outside of what they're currently doing. They have a lot of average wrestlers, with average personalities, with average records. Yet these are the 16 men that have the BEST chance to be the next Ring of Honor World Champion.

What do you think readers? Can Ring of Honor generate some excitement around this tournament? People are definitely talking about them more so than in the past year, but what they need is the conversation to be a positive one, not one surrounding all the issues they have at the moment. With TNA struggling to maintain its financial solvency, Ring of Honor could once again challenge for #2, but only if they start running things like a legitimate contender, not a backyard organization.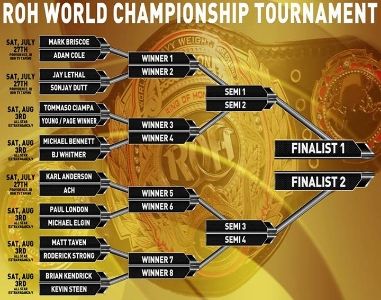 Until next time,
Trip Out




Chair Shots has its own Facebook page now. Find it here.
Chair Shots on Facebook

Chair Shots Presents: Until Next Time....
Welcome to the Underground: Ultima Lucha Night One
Chair Shots Presents: A Real Man's Man, Dalton Castle!
Welcome to the Underground: Son of Havoc's Fury Road Leads to Ultima Lucha