---



Chair Shots Presents: The Truth Hurts!


By Rob Simmons
Jan 6, 2017 - 9:31:14 AM



Banner by Steven F'N Bell



You want the truth? Truth is I'm pissed off. I've given this place everything I have for years now, and it's gotten me absolutely nowhere. When I first got here, I sort of lurked around for a while. I did some stuff under another name for a while, but that never seemed to catch on so I disappeared again, until I was ready to come back. Even when I did, I had to reintroduce myself to everyone, even to people I had already previously met. Everybody here is a bit self-centered if I'm being honest, and that's coming from me of all people. So it shouldn't have really been a surprise to me at all that no one remembered me. Hell, unless you're one of the big names here, you'll be lucky if you're remembered in a year. Names come and go so quickly it's like we have a revolving door. But I've stuck around dammit, and what has it gotten me? Ooooh, people like me. Big Freaking Deal!

You probably think I'm just bitching right about now don't you? Well put yourself in my shoes for a little while. I've won a few things in my time here, but at the end of the day I don't think I'm really all that respected. That's the really frustrating part, especially when you put in so much time, so much of your heart and soul into something. It's nice to hear that your peers respect you and consider you one of the best, especially when you are; when I AM.

I don't want to sound ungrateful, because I've had some success. When I finally made it to the top I was thrilled, but it came after being passed over time and time again by others that I personally consider myself better than. So yeah, I got there, but I was bitter as Hell about it for a long time. But instead of letting it eat away at me I just did what I always do, be the BEST DAMN THING here, each and every time. And like I said, it paid off. I got the top prize, but it came with a price much like all things do. Just when I got to the where I wanted to be I got injured and had to step away for a while. You'd think when I came back I'd have been able to just step back into where I stepped out of, but in this place it's just not that easy. In this place it's not about what you've done in the past, it's about what you can do for me TODAY.

So here I was, back of the line having to work my way back up to the top, having to battle newcomers just to get back to where I belonged. It was mine already dammit, why did I have to work to get it back? No, instead guys that were barely here 5 minutes got my spot; took what was rightfully MINE and called it their own. Well let me tell you all something, there's only one ME and I'm as good as it gets around here. But I did what I had to do, I worked myself back up from the bottom. I won a couple of things along the way, proving once again that I can back up what I say. Yet people higher than me; people who think they're better than me refuse to admit when they've been bested. They get their panties all in a bunch when you call them out for being inferior.

I see all the End of Year stuff that people put out. But what I don't see is my name anywhere in their selections. I don't see ME being called the best, despite the fact that everyone has nothing but nice things to say about me. Yeah I hear the "oh he's really good at what he does" and "he deserves to be back up top" nonsense, but those are empty words; words that never, and I mean NEVER get backed up by actions. Instead I see the names of people who do nothing but whine and bitch all the time; people who have to YELL about how good they are just so they feel validated in their pathetic existence. I don't NEED to hear how good I am from anybody, because I already know that I'm just that damn good, but as usual I'll get passed over again for the same old names that I see over and over and over again, because that's the way this place works.

So yeah, I'm pissed off. I'm done doing this because everybody wants me to. I'm done doing this because it's good for this place. I'm done doing for anybody else. You know what I'm here to show the world now? ABSOLUTELY NOTHING! From here on out, it's about ME! It's always been about ME!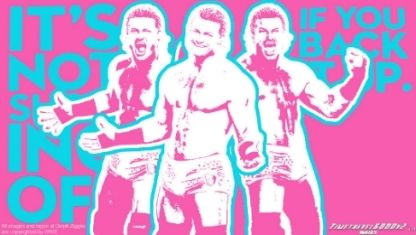 Until next time,
Rob Out!




Click here
Chair Shots Presents: 1218 LBS
Chair Shots Presents: Great Balls of Fire- Several Intriguing Matches and One That's Not
Chair Shots Presents: Is Impact Wrestling About to Start a Turf War?
Chair Shots Presents: An NXT Live in Bel Air Experience
Chair Shots Presents: The MITB 4WD Review
Chair Shots Presents: The Lucha Underground Cueto Cup (32-Luchador Tournament)