---



Chair Shots Celebrates Black History Month: 28 Greats in 28 Days (Days 6-10)


By TripleR
Feb 10, 2013 - 1:18:15 PM





Today is a 2 for 1 special, as I promised in yesterday's trivia question. While never, ever coming close to being a top guy in the world of professional wrestling, today's selections are important for many, many other reasons. So sit back, relax, and let's get to it.



Day 10: S.D. Jones and Johnny Rodz






Hey Trips, why the hell are you spotlighting two glorified jobbers in a series that's spotlighting Great Black Professional Wrestlers? Well other Trips, that's an easy question to answer. Before Raw, and Smackdown, before the times when the top stars would get into the ring with each other each and every week on free television, superstars were built on TV by wrestling enhancement talents- "jobbers" if you will. In the era I grew up in, you rarely saw top stars get in the ring with each other on TV. That was what drove fans to the house shows. There were not two more important jobbers in the history of the WWF/E than S.D "Special Deliver" Jones, and Johnny Rodz.

Jones wasn't always a jobber actually. He started his career in the NWA, winning several tag-team championships under the name Roosevelt Jones, tagging with his "cousin" Rufus R. Jones. They even had a pretty well received feud with Ole and Gene Anderson. He also won gold with Porkchop Cash, defeating then Hollywood Blondes. But his major exposure came as part of the WWF/E, alongside Johnny Rodz, as gritty battlers who pretty much lost week in and week out. In fact, if you look at their WWF/E records, both men on average lost approximately 80% of all their matches.

Jones did have a couple of high profile matches in the WWF/E, teaming with Andre the Giant against Ken Patera and Big John Studd in a match that saw Andre's hair be cut after the match. Jones also made an appearance at the first Wrestlemania in 1985, losing to King Kong Bundy in 9 seconds (which was actually closer to 25 seconds).

Rodz followed a similar path to Jones, as he did wrestle in other organizations outside of the WWF/E. In NWA Hollywood, Rodz wrestled as the "Arabian Wildman" Java Ruuk. His most successful feat in that organization was when he won a battle royal in 1976. Rodz was involved in a funny incident when wrestling Chief Jay Strongbow in the WWF/E during a house show at Seton Hall University. A group of students came to the show wearing Arab headgear and became chanting "Java Ruuk" during the match. The chant was so loud that Strongbow broke character, and broke down in hysterical laughter during the match.

But much of Rodz's success came after he retired as an in-ring competitor. He went on to become a very successful trainer and mentor to many of the tops stars wrestling today. Below is a list of just some of the talent that Rodz helped mold.

• Bully Ray
• Devon
• Tommy Dreamer
• Tazz
• Bill DeMott
• Matt Striker
• Prince Nana

To say that Rodz's influence in the sport is still ongoing is an understatement. Bully Ray and Devon are both very successful in TNA. Tommy Dreamer became the face of ECW, and developed an incredible following. Bill DeMott had a successful in-ring career, and is currently using what Rodz taught him to train the up and coming stars in NxT.

I've always been a big supporter of using jobbers in the world of wrestling. When Ryback first debuted, he was being fed jobber after jobber and it cemented his status as a beast of a man, often putting two jobbers on his back for the Shellshock. I don't know that his rise would have been as successful if the WWE didn't take the steps they took with his initial matches.

While Jones and Rodz will never be remembered as top stars in the ring, they DO hold a very important role in the history of the WWF/E. Rodz was even inducted into the Hall of Fame in 1996 by Arnold Skaaland. While Jones is not yet a part of the Hall of Fame, I can see a possible induction for him somewhere down the line. While Rodz continues to train new stars, SD Jones passed away in Antiqua in 2008 after suffering a stroke. So kudos to the jobbers; may they forever be remembered.

Wow, I actually found a match where they wrestled each other.




Day 11 Trivia Question:
Junkyard Dog wasn't the only wrestler to don as mask as Stagger Lee. I did as well. Who am I?




Day 9: Abdullah the Butcher



When I first took on this undertaking, I figured how hard could it be? Hustle wrote a daily column for what seemed like an eternity, and Chrisss, Crow, and Zzzorf have done them as well. I give a lot of credit to all of them for how much dedication is required for a daily series. I estimated that by the time this is done, I will have written approximately 30,000 words for you all. Hopefully you're enjoying it as much as I am preparing them. I've learned a lot, and hope to continue doing so. Today's entry is a bit controversial, as fans of wrestling either consider this man a true innovator, or a disgrace to the business. Whatever the case, let's take a look.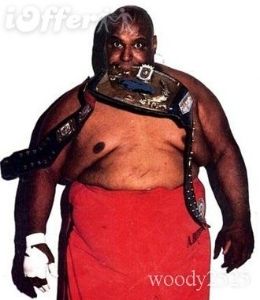 Blood soaked mats.

Scarred foreheads

Forks to the skull.

These are all things that frequently occurred whenever Larry Shreve, otherwise known as Abdullah the Butcher stepped in the ring. This almost 400 lb. behemoth earned the nickname "The Madman of the Sudan," by inflicting pain and torture on his opponents on a nightly basis, and if you didn't know any better you would think he was having the time of his life doing it.

Abdullah debuted in 1958 at the age of 17, and after several failed gimmicks, he eventually took on the guise that made him famous, and infamous, worldwide. While other black wrestlers were encountering racism in the territories they wrestled in, Abdullah found a way around that by not staying in one place for very long. As opposed to being a regular roster member in any one organization, Abdullah moved from territory to territory, being brought in as a hired gun whenever the situation called for it. He was more of a special attraction than anything else, rarely staying in one place for more than a couple of months. Since Abdullah's character was portrayed as speaking no English, he was frequently paired with the heel manager of the territory he was working in. During his long career, Abdullah was managed by no less than 16 different managers, including Paul Jones, JJ Dillon, and the Grand Wizard.

Not only did he wrestle in the United States, but Abdullah became popular all over the world, wrestling in Japan, the Caribbean, Australia, and New Zealand. His battles with Carlos Colon and Hercules Ayala in Puerto Rico became legendary, and during that time he was declared the first WWC Universal Heavyweight Champion. However, as was the case, Abdullah didn't remain there long.

He eventually turned up in WCW, wrapped in a giant gift box as a birthday present for Sting from his then rival Cactus Jack. Sting feuded with Abdullah and Cactus for quite some time, culminating in the infamous "Chamber of Horrors" match at Halloween Havoc, where the goal was to strap your opponent into an electric chair and flip the switch. Unfortunately, as was the case with a lot of things that went wrong in WCW, the switch to turn the chair on fell mid-match. Cactus Jack, thinking he had Sting secured in the chair, went to the switch, which was already in the on position, and flipped the lever up and down, trying to play it off as planned. Sting had freed himself, and put Abdullah in the chair instead. With some of the worst theatrics ever seen on a PPV, Abdullah was "electrocuted", thus ending the feud.

So what makes Abdullah so controversial in professional wrestling? To some, he is one of the true originators of the hardcore style, but to others he's a crazy lunatic who enjoyed what he did way too much. You can compare what he did in the 70's and 80's to what New Jack (a man I chose to leave out of this series) did in ECW. So if I've left out New Jack, why included Abdullah? Well, plain and simple, Abdullah is a Hall of Fame wrestler, albeit a very controversial selection when it occurred.

Personally, I've never been a fan of his matches, and neither are a lot of wrestlers. Hulk Hogan and Billy Graham both chastised the WWE for Abdullah's induction. Billy Graham's own words sum up how he felt about the selection.

"It is a shameless organization to induct a bloodthirsty animal such as Abdullah The Butcher into their worthless and embarrassing Hall of Fame and I want the name of Superstar Billy Graham to be no part of it."

He dislike stemmed from consistent rumours that not only did Abdullah cut and scar opponents without their consent, but has knowingly continued to wrestle while having Hepatitis C. Abdullah has continually refuted those accusations, claiming to not have the disease, nor to have ever cut anyone without their agreeing to it. For those that have met Abdullah, who now owns and frequents a restaurant in Atlanta, they will tell you that while a seemingly nice guy, there is a little bit of crazy there.

Currently, Abdullah is semi-retired, but has vowed to once again step inside the squared circle and inflict his own brand of violence back onto the wrestling world. So what do you think readers? Is Abdullah a credit to the sport, or a disgrace? I leave you today with some video evidence. You decide.





Day 10 Trivia Question
Tomorrow's a 2 for 1 special. The two of us, in our wrestling careers, lost close to 80% of our all-time matches. Who are we?




Day 8: "Pistol" Pez Whatley



What's up people? We're back for another day and another look at one of the great black wrestlers of the sport. Today's entry is one that you may not be as familiar with, but he definitely carved out a niche for himself in the Southern territories. He's a man that was highly regarded as one of the hardest working, nicest guys in the business.




Born in Chattanooga, TN, Pezavan Whatley (yes, Pez is his real name) always seemed to have sports in his blood. He played football and wrestled for the University of Tennessee-Chattanooga, and holds the distinction of being the first black wrestler at that school. After college, he briefly competed as a power lifter, but took his wrestling background and transitioned it into the world of professional wrestling beginning his career in 1975.

Whatley wrestled primarily in the south, and eventually ended up in ICW, a promotion run by the father of the "Macho Man" Randy Savage, Angelo Poffo, where oddly enough he became a member of the Convertible Blondes alongside Rip Rogers and Gary Royal. Whatley, obviously not white and not blonde, would wear a ridiculous blonde wig to the ring as part of the trio. One of his most notable feuds Whatley had in ICW was with the "Hands of Stone" Ron Garvin. During one of their matches, a stipulation was put in place that the loser would have to wear a mop on their head until they won another match. Whatley lost, and was forced to wrestle with a mop, and went on a horrendous losing streak, normally caused by Garvin himself interfering in Whatley's matches. Eventually Whatley would win, but he would be known as "Mop Head" for quite some time after.

After about ten years in the southern circuit, Whatley eventually ended up in the NWA, where he was put in a team with the "Boogie Woogie Man" Jimmy Valiant. As was the case with a lot of the wrestlers we've seen so far, racism played a role in Whatley's time in the NWA, but it was done so for storyline purposes. During an interview, Valiant referred to Whatley as "the best black athlete in professional wrestling." Whatley took Valiant's comments as racist, and turned on his partner, beating him down and cutting off part of his signature pony-tailed beard. Whatley turned heel, renaming himself Shaska Whatley, and joined the army of his former nemesis Paul Jones, and feuded with Valiant for quite some time. Alongside other Army members, The Barbarian and Baron Von Rashcke, Whatley did whatever he could to humiliate, punish, and destroy his former partner. The feud culminated in a "Hair vs. Hair" match (seen below), which Whatley lost and was shaved bald as a result. What people didn't know was that Whatley and Valiant were the best of friends behind the scenes. They grew up within miles of each other and immediately hit it off.

"I liked him right off the bat," Valiant said. "Pez was always laughing. He was a real sweetheart."

In the late 80's, Whatley would wrestle for Bill Watts' United Wrestling Federation, and as we've already noted in this series, Watts was as far from subtle as you could get in his racial stereotypes. He teamed Whatley with Tiger Conway Jr. and named them "The Jive Tones," having them dance and shuffle to the ring like sideshow attractions. The team didn't last very long, and Whatley moved on to work in the Continental Territory, under the booking of Eddie Gilbert.

He was renamed Willie B. Hert, and under that moniker became the top face of the territory. He would feud with Eddie Gilbert and Paul E. Dangerously (Paul Heyman), stemming from an attack on Whatley's real-life teenage son, who was brought in for the angle. He would have decent success in the promotion before eventually going to work in Japan for a while. Fans of old-school WWF/E matches may also recognize Whatley as an enhancement talent (a nice term for jobber). While he managed to have great success elsewhere, the WWF/E never saw him as someone they could do anything with.

Eventually Whatley retired form in-ring action in 1995 and became one of the trainers of WCW's Power Plant. Whatley eventually succumbed to heart and kidney disease, and during his battles he was actually pronounced dead twice while on both the heart and kidney transplant lists. Eventually though, Whatley suffered a fatal heart attack in 2005, never getting the transplant he was waiting for. A true talent, who never achieved success on the main stage, but Whatley is fondly remembered by the wrestling world.





Day 9 Trivia Question:
I once ate half of Gordon Solie's microphone. Who am I?




Day 7: Tony Atlas



We're a quarter of the way through the month, and I really, truly appreciate those who have been following, and those who have commented. I've found myself learning a lot about the history of black wrestlers, and hopefully you have as well. For a little treat this month, I have nailed down two guest columnists who will be stepping in to bring you their own take on a couple wrestling stars. Who are they? Well, you'll have to keep up every day to find out. As for today, we've got one of the strongest men of his era. So let's get to it.




Tony came from humble beginnings in Roanoke, VA. As he got older, he got into bodybuilding and power lifting, sculpting his body into a work of art. Tony won numerous titles in those sports, and became Mr. USA three times during his bodybuilding career. He transitioned to professional wrestling in 1975, working for the National Wrestling Alliance, however throughout the course of his career Tony wrestled in almost every major federation in the United States.

For a large part of his career, Tony was predominantly a tag team wrestler, teaming with the likes of Tommy Rich, Thunderbolt Patterson, Mr. Wrestling II, and Kevin Sullivan When Tony began wrestling for the WWF/E, he was paired up with "The Soulman" Rocky Johnson and eventually captured the World Tag Team Title from the Wild Samoans. On screen, Atlas and Johnson seemed to have a great pairing, but as Tony wrote himself in his book, not everything was as it appeared.

"My problems with Rocky came to a head in the ring one night in Hamilton, Ontario. For the finish of our match, I was supposed to pick up my opponent over my head and press slam him. Rocky would then come into the ring and cover him: 1, 2, 3.

There was supposed to be a code of respect among the boys. We were very protective of our finishes. If somebody had a strong finishing move, nobody else would use that move…..When I press slammed my opponent, Rocky jumped into the ring, pulled the guy to his feet, and began a whole new match with the guy. He went six minutes before he beat him with a dropkick. In my day, we called that killing my finish. Nobody had ever gotten up from the press slam.

When we got back to the dressing room, I told Pat Patterson, "Don't put me with Rocky again! He killed my finish! We can't work together! By the way, here's your belts."

I took my title belt, picked up Rocky's belt, and slammed them both into Pat's chest. Pat took a bump backwards, and as I turned from Pat, I once again sucker-punched Rocky square in the face. I would have hit him a second time, but the guys all jumped in and covered him."

Another thing that kept rearing its ugly head was the way Atlas was portrayed on-screen during this time. It wasn't uncommon for Tony to do promos where he would eat fried chicken or watermelon through the course of the interview. It was unfortunately the climate of those times, as Tony was basically portrayed as a stupid black man who perpetuated every stereotype that existed.

One thing that Tony would never forget was the day he was a witness to the murder of Bruiser Brody while working for the WWC in San Juan, Puerto Rico. Due to Brody size, Tony actually carried Bruiser down to the ambulance, because he was too heavy for the paramedics to move on their own. The incident was something that would stay with Tony forever.

Atlas battled a drug issue for some time, but in 1990, the WWF/E brought him back for another run, a run that Tony claims saved his life. He was basically homeless at that point, living on a park bench, when Vince McMahon tracked him down to return to the federation as Ugandan Warrior, Saba Simba. The gimmick was incredibly racist, as Atlas was once again portrayed as an ethnic stereotype. However, despite the indignity, it was better than the alternative Tony was facing at the time.

Tony would have one more run in the WWE, working on the ECW brand, and working as the co-host/bodyguard of Abraham Washington, where Tony was once again portrayed as a buffoon, with his only real role to be to laugh ridiculously at Washington's jokes. Atlas currently remains under a Legends contract with the WWE and was inducted into the Hall of Fame in 2006. Despite all the racial stereotyping he was burdened with, Atlas became a true legend in the business.





Day 8 Trivia Question
I'm named after a children's candy. Who am I?




Day 6: Junkyard Dog



Welcome back everybody. In lieu of making the initial thread enormously long, I decided to break each column up into 5 wrestlers each. If you missed the first 5 we looked at, just scroll a little further down and you can catch the spotlights on Rocky Johnson, Ernie Ladd, Kamala, Butch Reed, and Bobo Brazil. Today, we're going to take a look at one of the most popular wrestlers of his time, regardless of race.




The world of professional wrestling is a strange, strange place. Who would have ever thought that in an era when black men and women were fighting for their equality, that one of the most popular wrestlers of the time would come to the ring with a collar and chain around his neck as if he were somebody's property? Sylvester Ritter was not an ignorant man. He graduated college with a degree in Political Science, and had a budding football career ahead of him. However like a lot of football stars who turned to wrestling, injuries changed the course of Ritter's life.

His career began in the late seventies, but it wasn't until the early 80's, when Ritter went to Bill Watts' Mid-South Wrestling was the legend of JYD born. If you know anything of Bill Watts' history, you know that he was pretty much your typical Good Ole' Southern Boy. So when Ritter came to Mid-South, Watts proclaimed him the Junkyard Dog, sending him to the ring with a shopping cart filled with junk and a dog collar and chain around his neck. In retrospect, Watts stereotyped him as cross between a slave, and a homeless man who carted all his stuff around from place to place. Despite the ridiculousness of the gimmick, JYD began to get a fan following. It wasn't uncommon that black wrestlers became fan favorites, because for the most part they were always cast as such. In the early, racially intolerant days, promoters didn't want to portray a black man as a heel, for fear that the fans would be scared for their safety. How ridiculous is that notion? But you have to remember, back then fans BELIEVED that wrestling was real. They BELIEVED that these men were what they portrayed in the ring. And that idea alone, made every racially biased gimmick all that more heinous.

But JYD got over, and he actually became the most popular wrestler in the Mid-South territory. His famous feuds with Ted Dibiase, The Fabulous Freedbirds, and his ten-year feud with Butch Reed go down as some of the greatest feuds in Mid-South history. During his feud with the Freebirds, Michael P.S. Hayes would often cut promos driving home the racial divide, often referring to JYD as "boy." The two ended their feud in one of the first ever Dog Collar matches, a brutal encounter from all accounts. From there, a feud with Ted Dibiase ended with JYD losing a "Loser Leave Town" match. Shortly after, a masked man by the name of Stagger Lee debuted; a man obvious to everyone as the Junkyard Dog. The name Stagger Lee was significant because of its legendary story about a black man sticking it to the white establishment, which has been sung about by many recording artists though the years. Dibiase was never able to unmask Stagger Lee, and after the 90-day clause was up, JYD returned. He then started the long feud with Butch Reed, but during that feud he left for the WWF/E.

JYD showed up in the era of Hulkamania, and quickly won over the crowd. He brought young children in the ring to dance with him, and even recorded a song for the WWE album called "Grab Them Cakes." Despite his six years in the WWF/E, and the fact that he was one of the most popular wrestlers on the roster, JYD never once won a championship. He feuded with the likes of Greg Valentine, Adrian Adonis, Jake Roberts, and Harley Race, but he was forever a mid-card wrestler with insane popularity. From 1990-1993 JYD went to the NWA/WCW, where he feuded with Ric Flair for the NWA World Championship, but again, as was the case with most black wrestlers, did not capture the gold.

JYD retired shortly thereafter, showing up at a few indie shows here and there, before dying in a car accident in 1998 at the age of 45. He was inducted into the WWE Hall of Fame in 2004 by Ernie Ladd. One can only wonder what the legacy of JYD would have been had he not died at such an early age, but for those that saw his wrestle, he was without a doubt a great entertainer.





Day 7 Trivia Question:
Easy one today- I was once referred to as the Black Superman. Who am I?

Until next tomorrow,
Trip Out!

Find me on Facebook:TripleR

Follow me on Twitter:@TripleRLOP
Chair Shots Presents: Until Next Time....
Welcome to the Underground: Ultima Lucha Night One
Chair Shots Presents: A Real Man's Man, Dalton Castle!
Welcome to the Underground: Son of Havoc's Fury Road Leads to Ultima Lucha